Dogs are a common sight here at JK HQ, whether it's visits from our very own JK Dog, and other staff pooches or customers dogs running around the yard outside. Most of us take our dogs away on trips, too, so a few of us were really surprised by the recent surveys by the Dogs Trust, among others.
They showed that despite the fact that 69% of dog owners regularly take their dogs along for car, nearly half of those questioned on the survey (44% to be exact) didn't know that dogs had, by law, to be restrained. It's all listed under Rule 57 of the Highway Code, which we'll go into later.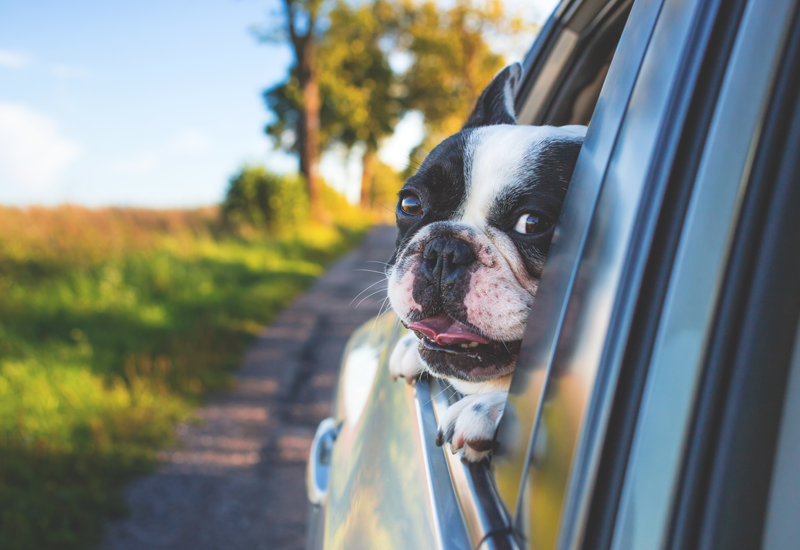 So if, like so many of us at JK you're a dog owner and want some ideas on how to keep your dog safe on a long journey in your VW, we're here to help!
To help keep dogs everywhere safe in the car, we're now stocking a series of EzyDog harnesses, which are ideal for use in the whole range of VWs, from Beetles and T2s, right the way through to the latest VW T6. Available for all sizes of dog, each harness is fully crash tested and fits your dog comfortably!
Dogs at JK:
Dogs are a huge part of life for much of the JK Team.
A lot of us have dogs of all shapes and sizes, and bring them with us when we go out in our VWs, whether it's for a quick trip to the shops or an epic road trip.

We have regular visits from Benji (also known as JK Dog), the giant white Labradoodle belonging to Mark. JK Dog loves falling asleep in inconvenient places in the office, and really enjoyed the last SAS Beach Clean! He's pictured next to JackJack, an Australian Sheepdog from a nearby company who loves sneaking into the JK Offices for a quick rummage in the bins. There's also Rob Steward from the Sales Team, with his (now grown up) puppy, Snoopy, and Chet Barrow on a 10k run with his dog Alba.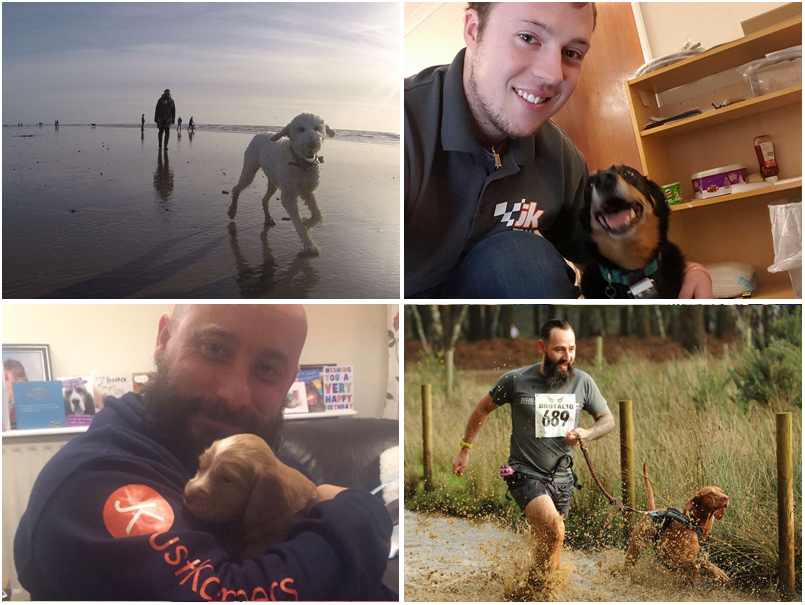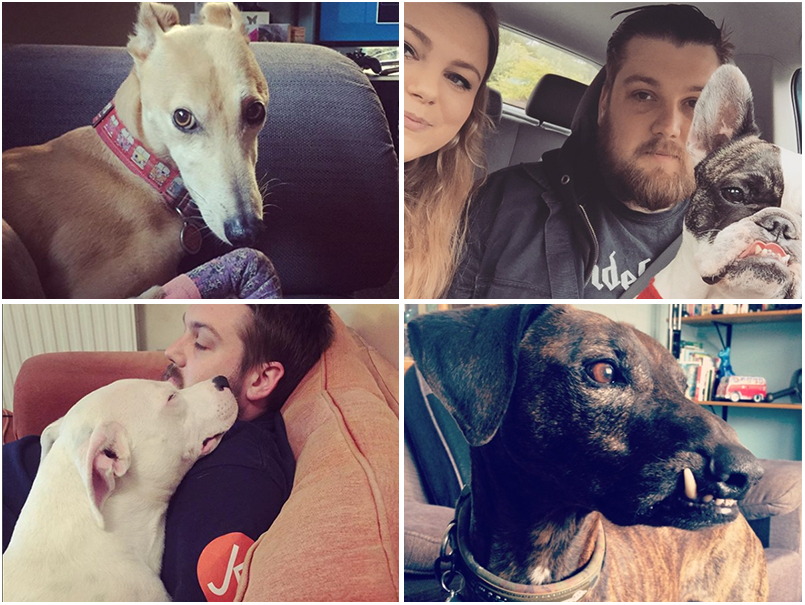 Chris Marshall, also from the JK Sales Team, sent us loads of photos of his dogs, including Beans the French Bulldog, Poppy the Lurcher, Pheobe the Staffy and Watkins the Lurcher. Watkins had nose cancer, which is where his grin comes from!
Pete Fisher, who works here at JK HQ, is even part of a dog rescue organisation called PDAW who rescue dogs from Romania and Spain.
Every year at the JK Open Day we see hundreds of dogs playing in the camping field, which is always great, and we've got a lot of really cool new products for pets on their way to JK HQ for the new year, so keep an eye out for those!
In fact we love dogs so much we've come up with our own range of doggy products. Take a look here.
EzyDog:
We've experimented with dog guards, crates and carriers as a way to keep our canine friends safe on the road, but they're all quite a lot of hassle to install / set up / coax a dog into, and so we decided that harnesses were the way to go.
It's important to us that we always stock the best, highest quality products here at JK, and so EzyDog was the logical choice for us. Their dog harnesses are fully crash tested and made from tough, long lasting materials which will resist car accidents and chewing from dogs.
We tried one out on Hooper, who is the latest addition to Shaun & Carolyn's family. Shaun heads up Sales, which Carolyn works in Marketing here at JK HQ, so they were both keen to try the EzyDog harness on Hooper. Despite looking miserable, he actually took to the harness with no problem at all!

It really is easy:
It doesn't take long at all to set up the harness to fit your dog securely, and once you've got it done once you'll likely never have to change it (unless your dog is expecting puppies, or gets into the secret treat stash!).
There's a simple, five-step process for getting your wet-nosed friend ready for an exciting trip in the car:
Unlace the webbing from the alloy buckle.
Adjust the webbing to the right length for your dog.
Secure any excess webbing under the storage tabs.
Lay the harness out on the floor and have your dog step into it with its front paws then secure the Mag-Lok clip.
In the car, thread the seat belt through both handle loops, secure the belt, then remove any slack.
It might take some time to get them used to wearing the harness, but it with it they'll be much safer.
Rule 57:
It's a little boring, but super important: driving with a dog in the car that isn't properly secured could cost you your driving licence. It's also incredibly dangerous for you and your four-legged friend.
Rule 57 of the Highway Code states:
When in a vehicle, make sure dogs or other animals are suitably restrained so they cannot distract you while you are driving or injure you, or themselves, if you stop quickly. A seat belt harness, pet carrier, dog cage or dog guard are ways of restraining animals in cars.
Rule 58 concerns animals being herded, which is likely irrelevant for many of you, but Rule 57 is really important. If you don't secure your dog properly, then not only could you invalidate your insurance and lose your drivers license, but you could also risk their life and yours.
Car insurance companies may even refuse to pay out on incidents where an unrestrained dog is involved, as it's likely that the dog was a distraction and that the driver was in breach of Highway Code Rule 57, as above.
The police also seem to be clamping down on unrestrained dogs in cars, as it's a real danger to the dog, the driver and any passengers. Being caught with an unsecured animal in a vehicle can result in up to 9 penalty points and a £2,500 fine.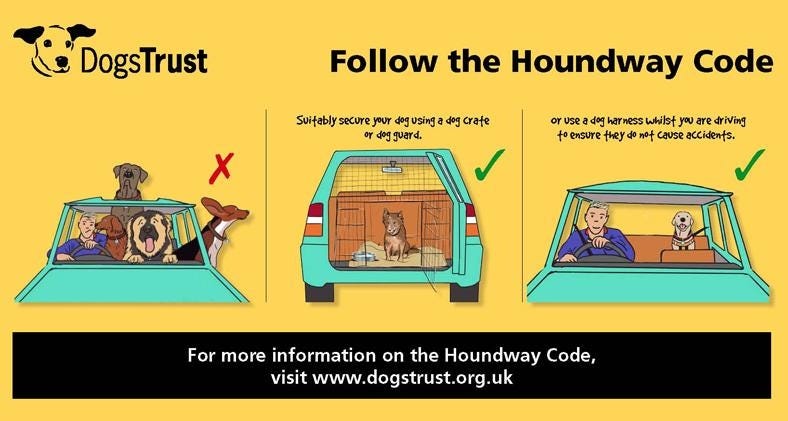 Tips on Dogs in Cars:
Here's a few tips from the JK Team to help you make sure your dog enjoys a ride in your VW as much as you do:
Make sure they're properly restrained, ideally with a crash tested harness.
Give them one of their favourite toys or blankets, so they feel at home in the car.
Don't let them hang their heads out of the window. We all know they love doing it, but it's potentially really dangerous and will signal to the police that they're probably unsecured.
If you can avoid it, don't feed them for a couple of hours before going out in the car, to avoid carsickness. We learned this the hard way with JK Dog!
Carry some water with you, in case they overheat and need cooling down.
Image Credits:
Many of these are free stock photos that we sourced online, as we found it really difficult to get our own dogs to sit still for long enough to get a decent photo! The images which are shown in blocks of four, however, are JK staff dogs, all belonging to members of the JK Team.
A big thanks to Chris Marshal, Chet Barrow, James Guest, Rob Steward & Mark Reynolds for letting us use their photos!