As you may have heard, we've recently imported a number of rare Volkswagens from Brazil, which we brought over to display at the VolksWorld Show 2016 to give people a chance to see these wonderful, unusual VWs up close and personal.
Now that the show is over for another year, and we've had such amazing feedback about the vehicles we imported, these 'dubs are now for sale!
This blog is originally from 2016, and so these vehicles are all happy in their new homes.
Keep an eye out, though, as there's every chance we'll have more cool and unusual vehicles for sale soon.
In the mean time, check out our JK Marketplace.
We have a VW SP2 on the way over to JK HQ, and many more vehicles in the pipeline, so it's time to clear some space and help these beautiful vehicles find a new home here in Europe.
All shipping and taxes are paid for either European or UK buyers. Cars which are sold in the UK will be supplied with full MoT, so will be ready to register in your name, making you the 1st UK registered owner.
We're also selling our eye-catching Lil' Bugger, in order to make more room at JK HQ, and because we can only drive so many vehicles at a time!
We're particularly excited about the prospect of selling the Lil' Bugger, as we want to see what creative new use it'll be put to!
In no particular order, the vehicles for sale are:
1973 Brazilian VW Variant
1965 Brazilian VW T2 Split Screen Microbus
1980 Brazilian VW Brasilia
1975 Brazilian Puma
1975 VW Lil' Bugger Minihome
The Brazilian Variant - SOLD

VW Brazil launched the 1600 Variant in 1969. This model was both made in and unique to Brazil. Although they are referred to as the Brazilian Type 3, apart from the name 'Variant', the only thing it has from a Type 3 is the 54bhp engine. The car is based on a Type 1 platform.

The models you see on display are second generation VW 1600 Variants. This revised styling with a more modern front end was introduced in 1971 and used headlight units from the VW Type 4.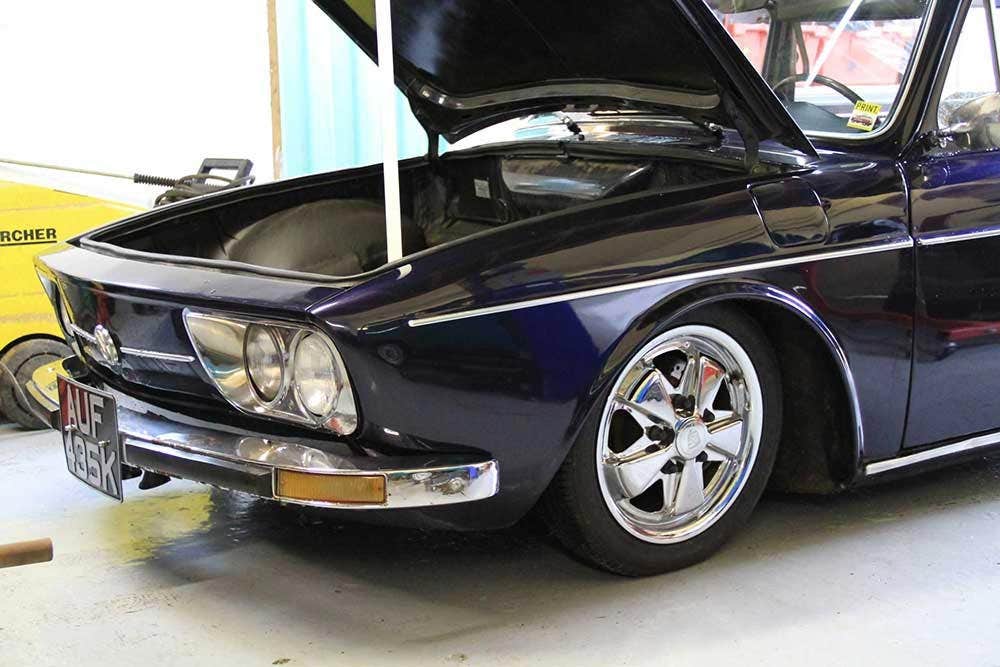 In 1971 the new, restyled Variant was selected as Brazilian Car of the Year by the magazine Autoesporte.
Production of the VW 1600 Variant ended in 1977 at which time 256,760 had been made.
| | |
| --- | --- |
| Specs. | |
| Model: VW 1600 Variant | Length: 4138mm |
| Manufacturer: VW Brazil | Wheelbase: 2400mm |
| Produced: 1969 to 1977 | Width: 1.98 |
| Engine: 1584cc | Weight: 925 kg |
| Top speed: 135kmh / 83.9mph | Fuel capacity: 40Litres |
| 0 to 62mph: 21.2 seconds | Fuel Consumption 8/L per 100km |
The Split Screen Microbus - SOLD
The Brazilian Bus story starts during the year of its release in Germany as the Brasmotor Group imported the very first Type 2 in 1950. By 1953 they had moved on to assemble CKD (Completely Knocked Down) kit form Kombis from Germany.
Production of Type 2s increased in 1957 to the point where 50% of the vehicle components were of Brazilian manufacture. Elements such as engines and transmissions were still imported from Germany. By the end of the year VW Brazil had produced 371 vehicles. The following year 4819 were made and from here on sales soared.


The Brazilian Type 2 differed from the German version in numerous ways with older elements being retained long after they had been superseded elsewhere. The Split Screen Type 2 was also made in Brazil long after VW Germany had introduced the Bay Window. They soldiered on right up to 1976!
Sadly, for enthusiasts today, the Brazilian Type 2 was the workhorse for a nation in which the majority earned very low incomes. This means they were literally driven into the ground and the fact only 10% of roads in Brazil are paved means the ground literally! Outside cities the majority of them have long since rusted away. Those used in the city confines, where many drive aggressively with a disregard for road regulations, that have not rusted away are battered and bashed and full of filler. Some of these vehicles have even made it into the hands of inexperienced buyers in Europe, and have given Brazilian Type 2s a reputation of being sub standard vehicles.
This 1965 15-window Micro Bus is one of very few to have survived in such a highly original condition. We have imported it to show you what a Brazilian Split Screen was actually like.
| | |
| --- | --- |
| Specs. | |
| Model: VW Type 2 Kombi 15 Window | Length: 4280mm |
| Manufacturer: VW Brazil | Wheelbase: 2400mm |
| Produced: 1963 to 1976 | Width: 1.94m |
| Engine: 1192cc | Weight: 1297 kg |
| Top speed: 110kmh / 65mph | Fuel capacity: 40Litres |
The Brasilia - SOLD

In 1973 VW Brazil launched the Type 321 or Brasilia which had modern and straight lines with large areas of glass. It was based on the Type 1 Karmann Ghia chassis, so had the same wheelbase as the Beetle. Therefore, it shared the Beetle's economic benefits and robustness, but was more spacious, thanks to clever design by Marcio Piancastelli.

The Brasilia was small on the outside but big inside! It became a very successful car, with production reaching one million vehicles. It was exported to Chile, Portugal, Bolivia, Peru, Ecuador, Venezuela, Paraguay, Uruguay and the Philippines. Kit form Brasilias were exported and assembled in Nigeria. VW of Mexico also built the Brasilia from 1974-1982.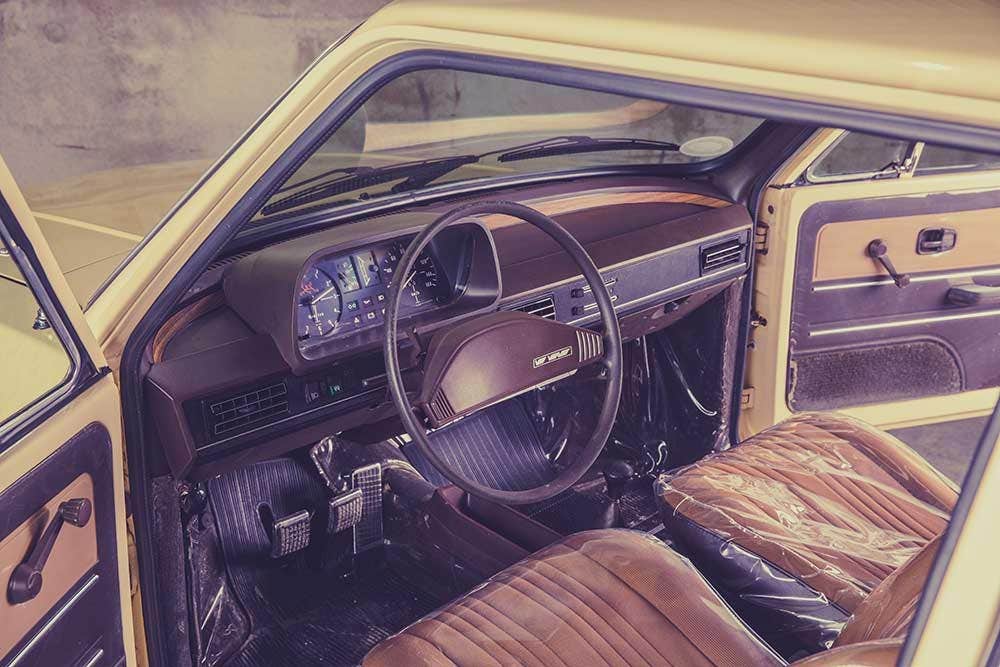 The Brasilia was lighter, quicker, more modern and cheaper than a VW 1600 Variant, but it was more expensive than a Beetle, as it was aimed at middle-market buyers. Such was the popularity of the car, that sales of the Variant dropped off and the VW Brasilia became VW's best selling car in Brazil.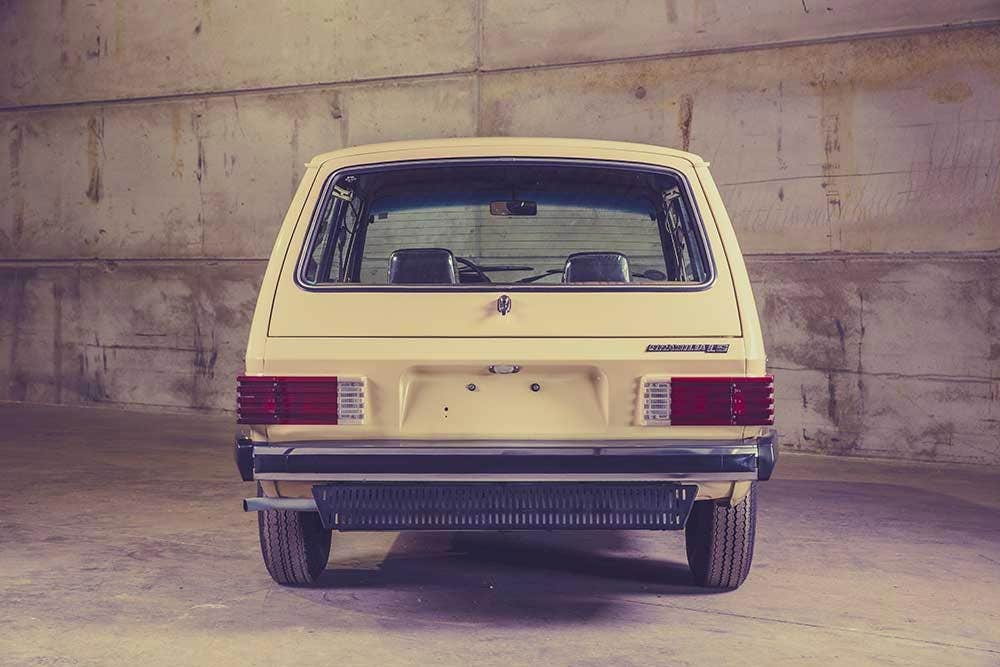 This example was built in 1980 and is the top specification LS model with a twin carb 1584cc engine. It has covered less than 5,000 miles from new and is 100% original having lived for years in a private car collection in Sao Paulo.
| | |
| --- | --- |
| Specs. | |
| Model: VW Brasilia | Length: 4001mm |
| Manufacturer: VW Brazil | Wheelbase: 2400mm |
| Produced: 1963 to 1982 | Width: 1.61m |
| Engine: 1584cc | Weight: 890 kg |
| Top speed: 138kmh/86mph | Fuel capacity: 46Litres |
| 0 to 62mph: 23 seconds | Fuel Consumption 8/L per 100km |
The Puma - SOLD

The Brazilian specialist car manufacturer, Puma, built cars from 1966 until 1995. The VW based Puma GTE was launched in 1969. The car used full VW mechanical components, a Type 1 floorpan and 1584cc engine sanctioned and supplied by VW Brazil.

In 1973 the GTE was revised to use the slightly wider VW Brasilia floorpan. As the Puma GT is based on the same wheelbase as the Beetle it is a dominative sports car.
The car was very attractively styled, it encompassed elements of cars such as Ferrari, Lamborghini and the Datsun 240Z. Puma cars were exported in very limited numbers to the USA and Europe, a handful were even imported as new cars into the UK, of which the location of one example is known but the remains are in very poor condition. Around 350 Puma GTEs were also assembled in South Africa.

This example dates from 1975 and is a one of the best examples you are likely to see anywhere.
| | |
| --- | --- |
| Specs. | Top speed: 165kmh / 103mph |
| Model: Puma GTE 1600 | 0 to 62mph: 9.9 seconds |
| Manufacturer: Puma, Brazil. | Wheelbase: 2150mm |
| Produced: 1969 to 1987 | Width: 1.98 |
| Engine: 1584cc twin carb | Weight: 680kg |
| Output: 71bhp @ 4700rpm | Fuel capacity: 40Litres |
The Lil' Bugger - SOLD

This unique, eye-catching Beetle conversion was picked up from Utah, USA while Mark Reynolds, MD of JK, drive from LA to NYC with his wife in late 2014. Originally intended to be a complete motorhome based on a Beetle floorpan, this Lil' Bugger was being used to promote the owner's business when we found it, and doing a fine job of it!
Since we got it back to the UK, it's had a lot of work done to it, including an all new aluminium skin. Much of this work was done right here at JK HQ in our on-site workshop, with members of the JK Team dedicating their lunch breaks to giving the old gal a new lease of life.
The Lil' Bugger would make an outstanding catering vehicle or food truck!
With a deceptively large, Tardis-like interior there's enough headroom inside to be able to comfortably stand up all day, which would be a real bonus if you'd be working inside it all day.
We added two-part stable doors, which allow you to hop in and out easily, but also let you use them as a 'counter' for serving food or taking payments on either side of the vehicle.
It's also ready to be turned back into a 'motorhome', with more than enough space inside for you to get truly creative with it!
These conversions are extremely rare, especially in Europe, and the chance to own one really doesn't come around very often, so this could be an amazing opportunity for you to take the leap and own a truly original food truck / promotional vehicle / holiday vehicle / whatever you can imagine! The interior is largely a blank canvas, and we're really excited to see what the new owner will decide to do with it.