As lockdown began back in March Mark had a list of things planned to do on his VWs, including attending some great shows which he was looking forward to. Mark felt he was slightly "robbed" by the whole thing.
So after a few days of dealing with the disappointment, he decided to write a list of the jobs he needed to get done, so when the lockdown was lifted and we were all allowed to be let out, he'd be ready and not catching up spending valuable time fixing his VWs! Mark found it very therapeutic to list out all the jobs, get the parts, fix the problems, and then use his VW on every dry day.
So now we enter a difficult winter period, it's time to write a new list, knuckle down and tick off those jobs.
If like us you feel more in control when you have plans in place, to help you realise that completed restoration project or that road trip you've been planning we have some suggestions that might help you on your way (both figuratively and literally!)…
Here's a selection of Mark's suggestions to maximise the time we've been given.
Stick up some pictures of where you plan to go, to keep you focused
Perhaps you dream of surfing in Cornwall, going to "Carfest", driving the North Coast 500 or just enjoying a chilled family holiday. To help you keep focused, why not stick up some pictures of your dream trip, so when it's cold and unenthusiastic, you'll remember why you are fixing your VW.
We will be working on our VW's this winter too
There are almost as many VW's at JK as there are members of the team. And most of them have long 'To Do' lists for their VW's; whether that's for general maintenance or restoration projects. So, most of the team will be busy in the evenings and at weekends too.
Everyone has their own way of getting jobs done, but it seems the JK team like a whiteboard! Here's Mark, Steve, and Chris's winter jobs list! A list will help you focus on what you need to get done and help you stay on track without becoming distracted. It's also a great way of organising parts required.
Have a separate list for each job if it's an extensive restoration – otherwise, it can be a bit overwhelming. It will help you stay on top of things and you will also benefit from the satisfaction that comes of crossing those jobs off too!
Mark's to-do list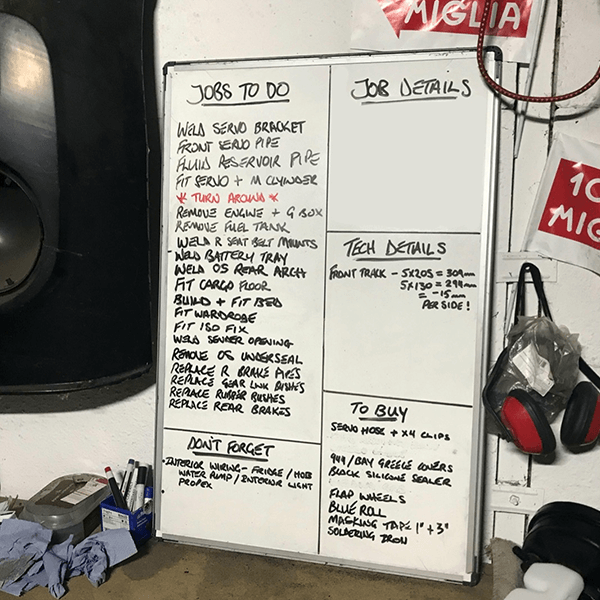 Steve's to-do list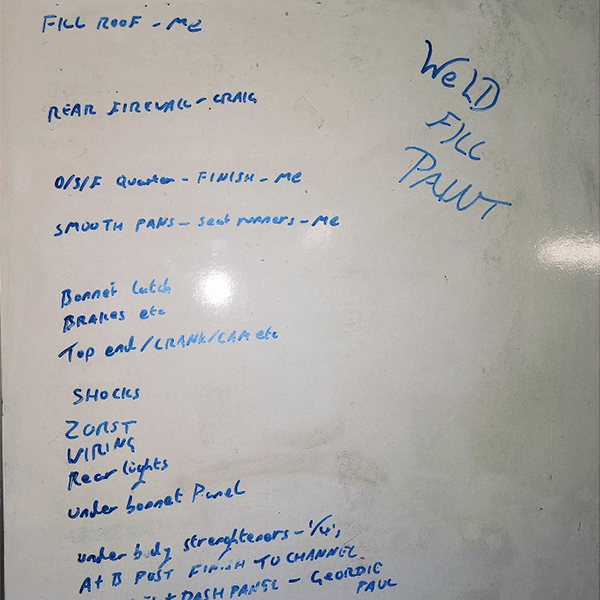 Chris' to-do list
Muck out and mendMuck out and mend
It is well worth investing a bit of time and effort into making some space to fix your VW.
Muck out; why not sell and unwanted things and buy what you really need or want! After 12 years in the same house, Mark found that he had accumulated a lot of "that'll be useful one-day" things in his garage. He decided to have an eBay weekend, listed lots of things, sent them to their new owners, and then 'reinvested' in some tools that he wanted (rather than needed).
He is particularly pleased with his 1970's Hazet tool for adjusting VW tappets!
If you are working outside, or lucky enough to have a garage to work in, having a clutter-free space, where you can find the tools and spares, makes life so much easier. If you are doing a resto be diligent. Use small bags and label all parts in groups as you take things apart.
You'll find it very easy to lose track of what thingamy bob goes on to what whatchamacallit! If you have space store relevant parts grouped together, in separate boxes or shelves. You'll thank us later!
Never too old to learn something new
Some of the fun of fixing your VW is learning something new. On the JK website, we have over 60 how-to videos and over 180 tech sheets on how to fix your VW.
In addition to these resources, we also supply a comprehensive range of VW manuals, we love nothing better than popping the kettle on and consulting our workshop manuals. 
Planning On Better Times Ahead
Where will you take your VW next year? Whilst some of the JK team is focused on Hessisch Oldendorf VW Show, the German vintage VW show (that Mark says all VW fans should try to attend at least once in their lifetime!) others are planning epic road trips or staycation camping trips to the seaside.
With a wealth of 'virtual visiting' content available, now, you can take a mosey and get a sense of where you are planning to go. You will also find loads of information that will help you to plan the ultimate journey.
We'll all be looking to maximise every opportunity to get out in our VW's and really make the most of those precious opportunities. Taking time to do a bit of research will ensure you'll be able to make the most of your time – and give you a chance to indulge in some pretty good daydreaming along the way!
It's always good to have a plan on what shows or road trips you would like to do and ensure any work on your vehicle is completed in advance. Where are you looking forward to going next summer?
Got a drive, but no garage? Here's a possible solution.
At JK we like to try out the products we sell, so our MD Mark spent a day setting up temporary garages and settled on this range, which we feel offers you the best quality and value for money.
They are available in different lengths and widths, so you can have space to work on your VW in the dry. Not suitable for welding in, due to the heavy-duty plastic outer skin, but good for most other jobs! The door opens to 195cm's and on the tests, we found you could get a T2 Bay with a Westfalia roof, a T25, and a T6 4motion in (not all together though obviously! The longer versions offer plenty of room to work on your VW.
Be Safe, Not Sorry
Why does it seem more cars are catching fire?
Around two cars out of every thousand registered in the UK catch fire each year.
Fuel leaks
Leaked fuel from ruptured fuel lines also can rapidly ignite, especially in petrol-fuelled cars where sparks are possible in the engine compartment. Since 2011, suppliers have been blending a gradually increasing ethanol content into UK fuel –reaching the level around 5% known as E5 early in 2013.
Official approval already exists to continue raising the proportion to 10% –the E10 level, and quite simply, none of this is good news for classic vehicle owners, for old car fuel systems and Ethanol were never intended to meet.
What is Ethanol?
Ethanol is not a pleasant substance, being acidic, somewhat corrosive, a solvent, and also hygroscopic– it absorbs water from the atmosphere. Over time, water and ethanol form a mix denser than petrol, and in a process known technically as "phase separation" this pretty aggressive cocktail sinks to the bottom of the tank.
With E10, the process starts with a mere 0.5% water content in the fuel. Because on cars built before 2000 the components such as fuel pumps, fuel hoses, carburettors etc were not designed to allow for the acidic nature of ethanol, they now break down the rubber components, causing leaks and failures. And potentially fires.
Incorrectly fitted fuel hose and filters:
Today you should only be using fuel hose that is rated to cover R6, R7, R8, R11, this will be clearly printed on the hoses. Often when changing hoses owners or garages do not correctly refit the hose clips. An over-tightened hose clip can cut into the hose.
A loose or missing clip can cause the hose to leak or worse fall off. Do NOT fit fuel filters over distributors, you are introducing two extra points where a hose could leak, straight over a component that makes sparks.
Damaged car electrics:
As electrical components become old and often cabling has been added to, these too can cause an electrical fire, which will spread rapidly if fuel components then melt and fuel is added to the fire.
Here are some suggestions on how to stop your VW from becoming one of the unlucky ones that catch fire:

We've been looking for a simple to fit, cost-effective fire suppression system to fit to our own VWs but baulked at the price of some of the products on the market. So we went out looking for the right product at the right price and are pleased to introduce exclusively to Just Kampers, The Engine Fire Fighter.

Our VWs are part of the family, a lot of time and emotional investment is tied up in our vehicles. The Engine Fire Fighter is designed to protect you and your vehicle should an engine fire develop. Featuring a pressurised flexible tube containing FE-36, a non-corrosive non-toxic, environmentally friendly agent that leaves no residue and can be easily cleaned in event of activation. Even after 4 tests, we reassuringly found minimal damage to our test engine.

The Engine Fire Fighter is a simple and effective way to put out engine fires, that you may not even know are happening on a rear-engine vehicle. And takes less than 10 minutes to fit and no tools required. Available in two lengths, either 2m or 3m, the tube system is easy to install using the supplied ties and requires no other power or external trigger. In the event of a fire, the tube will activate when the temperature reaches 120 degrees Celsius extinguishing a fire and protecting you and your pride and joy.
Fuel cut off
This is a great solution, especially, as if the fuel hose burns through the fuel tank can carry on siphoning fuel through in an uncontrolled manner. Not a great situation, as it's literally putting fuel onto the fire.
The value is wired so it is only open when the ignition is on, turn the ignition off, and the fuel supply is cut off. It can also act as a 'secret' anti-theft deterrent if you hide an inline switch to the value.
So if you leave the vehicle you can turn off the hidden switch, so if it was stolen, it would run out of fuel within a few hundred meters.
There's no excuse to run fuel hoses like the one here! Make sure you check yours regularly.
Safeguard your car or camper against fires by carrying an in-car fire extinguisher.
You never know when accidents or emergencies can happen.
Ethanol safe fuel hoses.
With modern fuels, you need modern ethanol proof fuel hoses. At Jk we will only use on our own vehicles these two hoses J10583 and J11668.
Keeping your VW dry this winter.
If you are not lucky enough to have a dehumidified garage to keep your VW in, here are some ideas on how to be kind to your VW this winter.
Moisture traps
You'd be amazed at how much water a "Moisture trap" will gather in a week inside your VW if it's not in a heated dry garage. The only thing is you'll need to remember to empty the container! J11866 and J11867
Car covers
Not only do they protect your VW from the rain, but they also stop dirt building up on the paint and stops 'bird poo' from eating your paint. We offer a range with and without doors and for standard and hightop versions too.
View our entire range below :
Prevention Is Better Than a Cure
A few years ago, before we chose what rust prevention treatment we should use on our own VW's we trialled the market leaders, here is a video of the test:
The one we now use on our own cars is Ankor wax and then complement it with the range from Noxudol, who supply companies like Volvo with rustproofing products for the car production lines. We have also done a video on how to apply the rust treatments, it's the same principle whichever of the brands we stock, that you choose to use.
<
View The Noxudol Range Below :

We are all looking forward to seeing you out in your VW's next year. The only other thing to do is to get ready to do lots and lots of waving!