Pre-Event Silent Auction Specials
Missed out on a camping ticket and desperate to attend? In need of some new camping gear and looking for a bargain? Want to camp at the open day but can't face putting up your old, divorce inducing, awning? Looking to increase your sense of "feel good" by making a difference to a worthwhile charity?
Well, we just might have the answer to all of these – rolled up in two very special pre-event silent auction lots.
These lots have been graciously donated by the very wonderful teams behind Outwell/Easy Camp and Kampa.
With retail values well over £500 each – these lots really aren't to be sniffed at!
So, "What do the lots include, and how can I bid?" we hear you ask…
Lot One – from Outwell. (Minimum Bid: £250.00)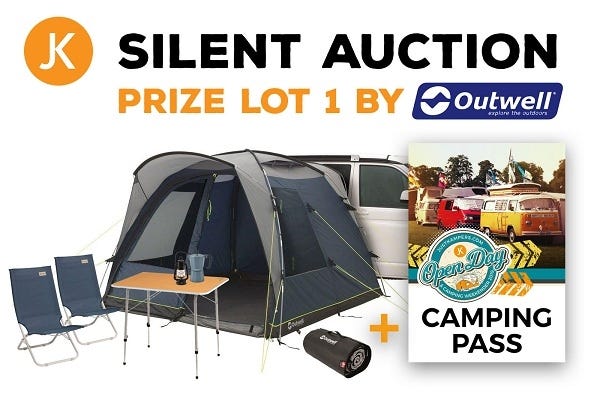 With an amazing retail value of £534.84, lot 1 includes:
J43084 Outwell Milestone Pace Driveaway Awning (Qty 1)
J43127 Outwell Milestone Pace Carpet (Qty 1)
J43095 Outwell Marloe Chair in Ocean Blue (Qty 2)
J43106 Outwell Manley Expresso Maker (Qty 1)
J43118 Easy Camp Menton Table (Qty 1)
J43126 Easy Camp Bushmaster Lantern (Qty 1)
J29319 Easy Camp Shore Windbreak (Qty 1) - Not shown in picture
JK Open Day Camping Pass- covers 1 vehicle and up to 4 occupants (Qty 1)
Lot Two – from Kampa. (Minimum Bid: £250.00)
Another mind blowingly good lot with a retail value of £589.55, lot 2 includes:
J42135 Travel Pod Action Air Awning (Qty 1)
J42139 Travel Pod Action Air Fleece (Qty 1)
J42261 Tub Chairs in Burnt Orange (Qty 2)
J42251 Low Camping Table (Qty 1)
J43093 Zebedee Light (Qty 1)
JK Open Day Camping Pass- covers 1 vehicle and up to 4 occupants (Qty 1)
These really are fantastic lots and to top it off, if requested we'll even pre-erect the awning for you so all you need to do on arrival is drive up and attach to your vehicle. How good is that!
A maximum of two bids can be placed per person- (so please carefully consider your bids as these cannot be amended). Bids can be made via email to [email protected]. Please include the Lot Number (1 or 2) that you are bidding against, contact name, email and bid amount for your bid to be considered valid. Auction opens at midday on 6th May and closes at midday 28th May. Winning bidders will be notified via email on the 29th May and must have made payment by 31st May to secure their lot. Please carefully read the terms and conditions below before bidding as by placing a bid it will be assumed that you have read and agreed to these terms.
Happy Bidding!
Pre-Event Lot 1 and 2 Silent Auction Terms and Conditions
By placing a bid on an item, each bidder agrees to these auction rules:
1. The auction will run from 12.00 midday on Monday 6th May to 12.00 midday on Tuesday 28th May 2019. Winners will be notified on Wednesday 29th May 2019.
2. The decision of the winners is that of Just Kampers and will be final.
3. By placing a bid you are entering into an agreement to purchase the item at the offered price.
4. The highest bid will be deemed to be the winner. In the extreme case of where an entry error has occurred, please contact us for the retraction of your bid. If this occurs, we reserve the right to offer the item to the second highest bidder.
5. All sales are final. There will be no exchanges or refunds. All items are "as is." Just Kampers has attempted to describe the items correctly, but neither warrants nor represents and in no event shall be responsible for the correctness of descriptions of the items.
6. All items have been donated kindly by the respective parties and as such any respective terms and conditions are applicable.
7. Payment for items purchased must be made in full to Phyllis Tuckwell Hospice Care by Friday 31st May 2019. Payment will be made to Phyllis Tuckwell Hospice Care via bank transfer. (Payment details will be supplied to winning bidders on notification of a successful bid).
9. Following confirmation of payments via Phyllis Tuckwell Hospice Care, all items are to be collected from Just Kampers Open Day on Saturday 8th June -with the exception of those wishing to utilise the weekend camping pass who may arrive on Friday 7th June – you will also need to inform us as to whether you would like the awning pre-erected ready for arrival or not. This must be confirmed no later than the date of payment. You will be responsible for taking the awning down and transporting all items from your winning lot home with you at the end of the weekend.
10. For persons wishing to bid but unable to attend the open day to collect; delivery can be arranged but this will be restricted to mainland UK only.
11. All items will be sold only above the minimum asking bid and all proceeds will go to Phyllis Tuckwell Hospice Care.
12. Just Kampers reserves the right to add or withdraw items, without notice, to or from the auction.
13. Just Kampers, their elected and appointed officials, members and employees, sponsors, and/or volunteers connected with the auction cannot hold any responsibility or liability from any risks or hazards related to the items won at the auction.
14. Only bids received by email via [email protected] will be deemed to be valid. Maximum of only the first 2 bids per person per item for the duration of the auction will be accepted.
15. Only these two, pre-event auction lots, are subject to these terms. Please see T's and C's relating to silent auction lots available at the event auction separately at venue.
16. Images are for illustration purposes only -please view the product pages for further information. Vehicles shown are not included in the lot contents (obviously!)
All proceeds from these lots will go to Phyllis Tuckwell Hospice Care and we'd like to thank Oase Outdoors (Outwell and Easy Camp) and Kampa who so generously donated the items in these lots.