More from this author
Pizza Pickup - Our next featured VW Based Business
Pizza Pickup...
Imagine the most delicious pizza, made to a secret Italian family recipe by a professional Pizzaiola, cooked in an authentic wood fired Pizza oven on the back of a double cab Splitscreen. Sounds like perfection to us. Nic from Pizza Pickup talks to us about the realities of bringing such a set up into reality.
Could you please introduce yourself?
Pizza Pickup - authentic Italian woodfired pizza from the back of a VW Splitscreen DoubleCab Pickup - we've been "rolling" for just under two years now - people love the van and the pizza goes down well too!
Pizza Pickup is your business and your gorgeous VW makes quite an impression. Where did the idea for Pizza Pickup start?
I decided I needed a mobile demonstrator oven for my wood fired oven business, "Italy Imported" (which sells the finest wood fired ovens, handmade to order in Tuscany) - it seemed crazy to have a moving, working pizza oven and not make pizza and so Pizza Pickup was born.
Why did you use a VW in particular? Are you pleased that you did?
I wanted to use a classic vehicle (definitely not an ubiquitous Citroen H van - they're everywhere on the streetfood scene) and there really was only one choice - the Double Cab Pickup.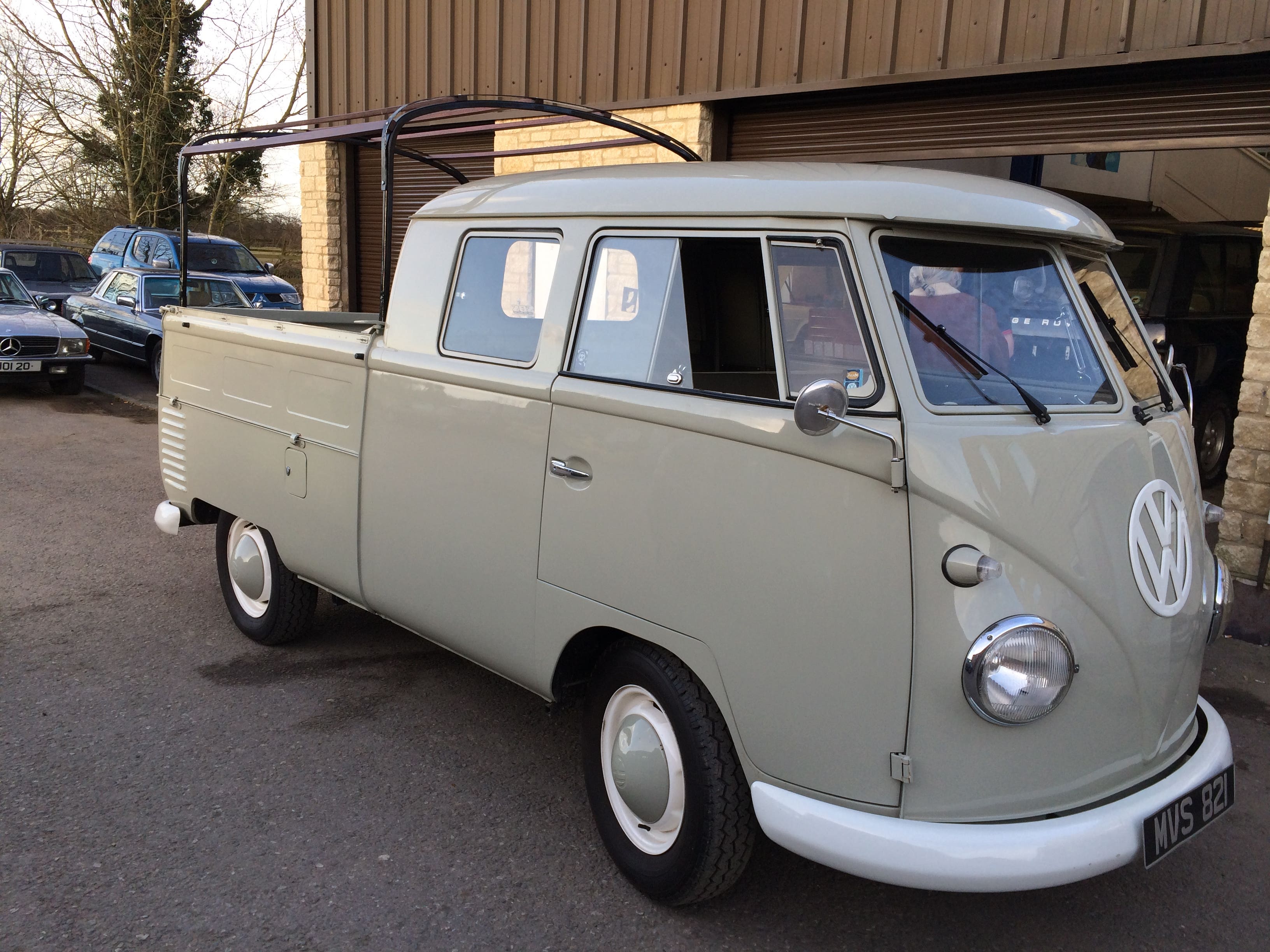 Pizza Pickup: Before
Did you have any history of VW's before Pizza Pickup?
I grew up with Beetles - my dad (who is Italian) had a Porsche 356 back in the 60s (when people would say to him in Italy "A Porsche . . . what's that?") and we always had a Beetle on the scene - the distinctive aircooled sound of the engine triggers many childhood memories.
Do you have any pictures of your beautiful Pizza Pickup Split before and after? What changes has there been to the Split for it to become what it is now?
No changes were made at all - I was very keen not to "butcher" the van - I know it is quite special being an original RHD doublecab. It is totally stock - original engine and still six volts - the suspension was beefed up a bit but that's it - the oven is basically a box that just sits on the back.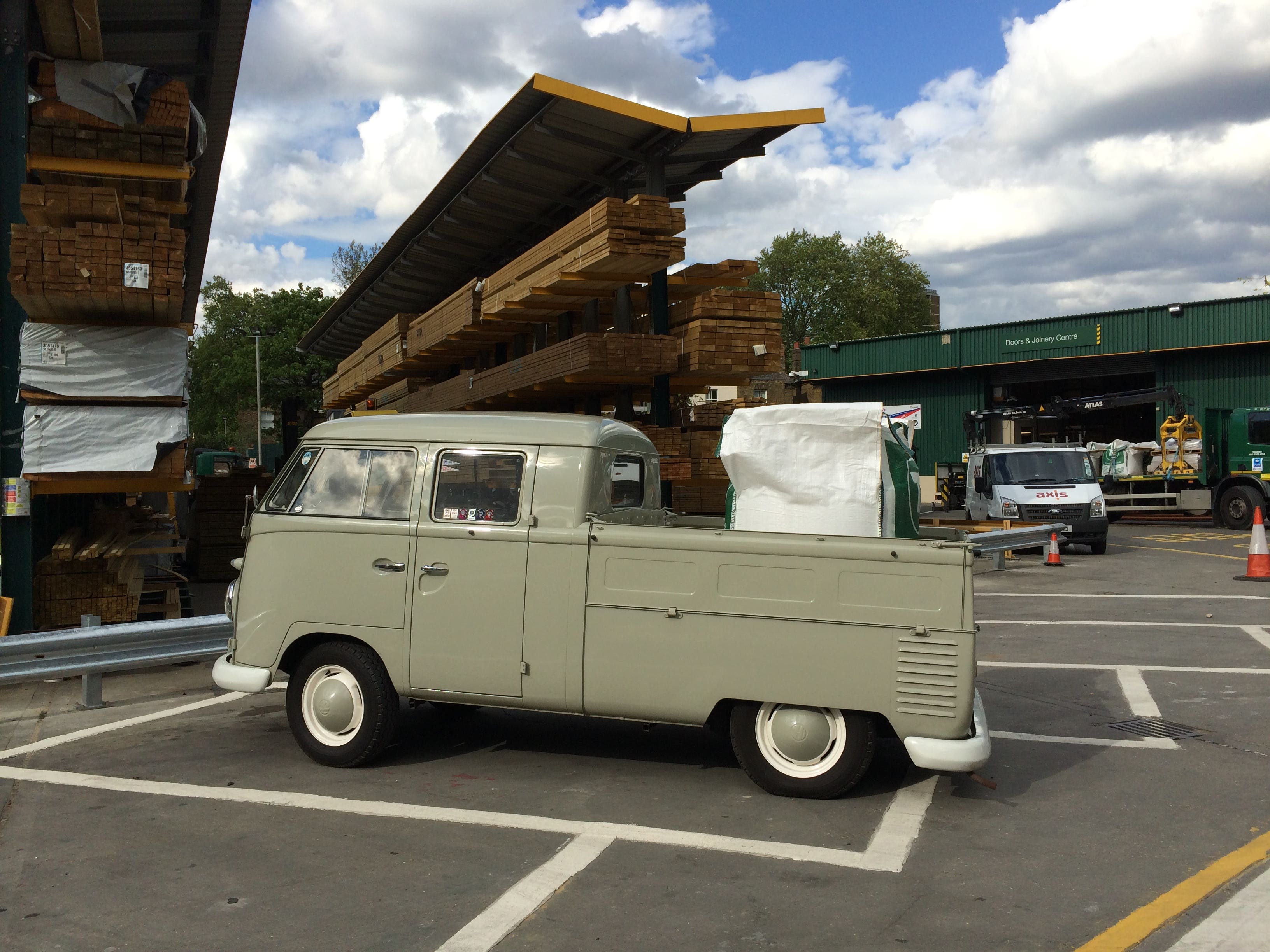 Testing the weight!
Did you have a very clear vision of what you wanted it to become? Has it met your expectations?
I had a clear idea of what I wanted the end result to be but when it was finished I was very happy that it looked better than I had planned.
As an importer of Pizza ovens we're sure that you have all the necessary knowledge to create such a beautiful mobile pizza van – was it relatively easy thing to achieve or slightly more difficult in reality?
The thing that took the most time was getting the insulation right - bearing in mind the inside of the oven can get up to 500c I really wanted to avoid burning the DoubleCab to the ground - other than that it was relatively straightforward, mainly thanks to the simplicity of the design of the Italy Imported ovens.
Pizza oven about to go on.
Who makes the pizza? We're assuming you have some Italian blood and so we have some rather romanticised ideas about special secret recipes etc.!
When visiting my Dad in Tuscany, he took me to a really good pizzeria he'd found - we ended up going regularly and I asked the Pizzaiolo if he wanted to come to London to make the fantastic pizza he was making in the Pizzeria - he jumped at the chance. We do use a secret recipe and in the beginning everything had to be translated into Italian as he didn't speak English - now we have a little team and less of a language barrier as I sent him to nightschool.
Everyone has highs and lows! What so far have been yours?
Indeed . . . getting ready for the first event we did nearly killed me (or that's how it felt . . .) however when the day came we absolutely smashed it - we made over 650 pizzas on that day. Afterwards, I decided that nothing would be as difficult as that first event - which is sort of true although I learn something new each mission we go on.
Do you have any pearls of wisdom for anyone starting out or considering a VW based business?
Everyone loves to tell you what you should do, but it isn't necessarily the best advice! Stick with your idea, keep it simple and do whatever you're doing to the best of your ability.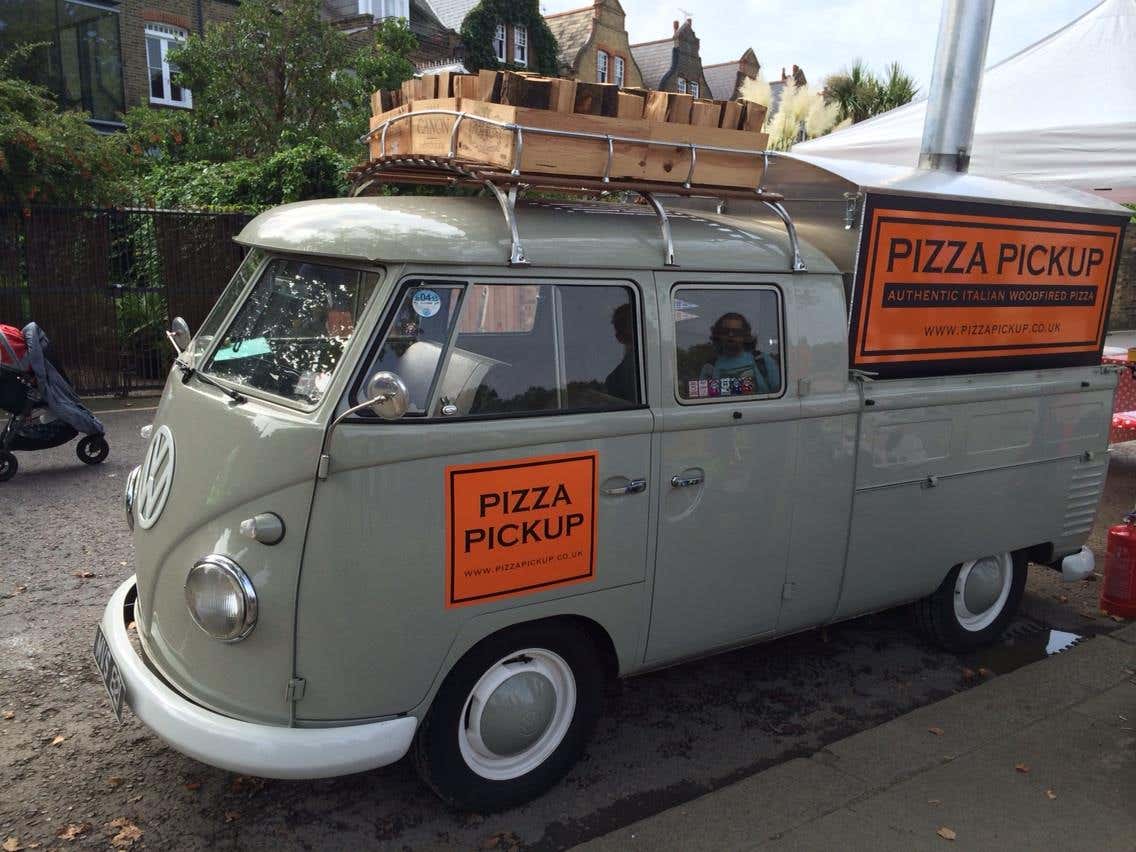 Pizza Pickup is attending the JK Open Day and will be serving their yummy pizza! Personally we can't wait. We look forward to seeing you there!
You can find out more about them on their website:
If you have a VW based business and would like to be featured please contact: [email protected]s.co.uk