5 days, 4 countries, 1853 miles and more rare VW's than I can list here...
So, what is the Peter Max Muller Race and Bad Camberg?
The "Old Timer Old Speed Club" organise a "by invite only" event every 2 years that coincides with either Bad Camberg show or the Hessisch Oldendorf VW show. The cars are period correct, predominantly tuned early VW's and Porsches. To find out more about the club here is a useful link http://www.petermaxrennen.org/p/riquirements.html
Peter Max Muller was a famous German racing driver from the period that these cars represent and the event, although called a race, is, for legal reasons as it's on the roads, a "Gentleman's Navigational Rally"! But still very competitively driven.
Bad Camberg is one of the founding vintage VW shows in the world, the first one being held 40 years ago. The events are every 4 years, and this made 2019 the 11th event. It draws a worldwide audience, bringing together some of the rarest VW's in the world.
Our road trip...
Sunday 16th June
Sunday morning saw us cruise down to the Eurotunnel, where we met up with the first 4 or 5 VW's heading for the Peter Max Muller Race and Bad Camberg. Coming out into a sunny France, having left a very grey UK, we headed in convoy to the legendary BBT HQ Belgium. Where Bob, the owner of BBT and his family, kindly asked myself and Chris, my traveling companion for the road trip to a very relaxed dinner where we put the world to rights over excellent food and a beer.
Monday
After a leisurely breakfast, all the PMMR entrants were invited to BBT HQ for a private Tour of new BBT showroom, at the time we were not allowed to take photos as it was not officially open until the Thursday and Bob did not want pictures ending up on Facebook etc before its offical launch. Inside Bob has assembled an amazing collection of cars, some for sale, and what must be the worlds neatest collection of used parts. I was lucky enough to find there we wiper mechanism needed for Jack our faithful Oval.
As a now much larger convoy we headed off late morning to drive the 400 km's to Bad Camberg, where we were able to leave anything not needed for the PMMR over the next few days. At a small nearby village of Waldems, we were given a very warm welcome by a local VW collector and given a tour of his "VW Barn", which will later in the story become the finishing point of the PMMR. If you look at the photos, you'll see the owners immense love of detail for all things vintage VW and I was not overwhelmed by the place but felt "at home" and very welcomed.
Tuesday
Having stayed overnight in a hotel in Bad Camberg, we got up and as a convoy drove to the Hausmann Museum. Now to say this was an impressive private collection, does not do it justice. The building is period correct to a 1950's VW dealership in every respect but is in fact only a few years old.
The attention to detail even went as far as the soap in the toilet is in the shape of a Beetle. Richard Hausmann, the owner, has amassed an amazing collection of cars and period-correct tools, furniture and more to make an authentic home for his collection.
After the opportunity for a good look around we were fed and watered in the true German style of beer and sausages.
By now more and more cars and visitors were arriving until his large carpark was full and the sun was setting.
Wednesday
Up early the next morning to check Jack over and be back at the museum for a 9 am Drivers meeting. We were told again for legal reasons as it's on the roads, this is a "Gentleman's Navigational Rally"!
And so, with the waving of a large German flag so the ceremonial start to PMMR began.
Leg 1 was a 130KM run to what must be the world's maddest collection of mechanical 'things' www.museum-kiemele.de For me it was a clear message not to buy more junk off eBay. My mild OCD for order, broke out in hives, when I saw the mass of random mechanical things filling acres of space!
Leg 2 was a cross country run of 110KM to the Porsche Museum. The traffic in Stuttgart was shocking and we resorted to using our phones for satnav, which seemed to show us that there was solid traffic on all approaches! Once there, we were allowed to park literally in front of the museum and we were then given a tour of the Porsche workshops, where they preserve rather than over restore the cars. We then had a tour of the main museum, before heading off to the V8 Hotel. Now I've read about it and even gave a weekend away there as a JK competition, but it's way cooler in the flesh that I'd imagined and the car sales are huge and open until late so you can just have a wander around and dream.
Thursday
At dinner, on Wednesday, we were asked if we wanted to skip legs 3, 4 and 5 and instead visit with 3 D+S owners the original Dauenhauer und Stauss factory in Stuttgart. YES PLEASE. We were given a very warm welcome by the granddaughter of the founder and her children and grandchildren came along too, to see 2 of their great grandfather's creations. An amazing experience. If you want to know more about D+S coach-built VW's, which is a huge topic on its own have a read here. https://en.wikipedia.org/wiki/Dannenhauer_%26_Stauss
If you are inspired to own one now, talk to Tino, he might sell you his. https://www.bavarian-pickers.com/
So, after spending longer than planned at the D+S factory we rushed to the race starting point which as a random lorry layby an hour south of Bad Camberg. With much revving of engines and testosterone running high, we were yet again reminded it's not a race!
Broken into different classes we were given a map, with different places marked out, each place making set number of points. So, it's from start to finish, collecting the number of points your class needed, in the shortest time possible. So, do you do the shortest route but have to go to 6 places for a longer route but one 4? We opted to the 4 places, not realizing one was at the highest point in the area and got stuck behind dawdling sightseers on a twisty country lane!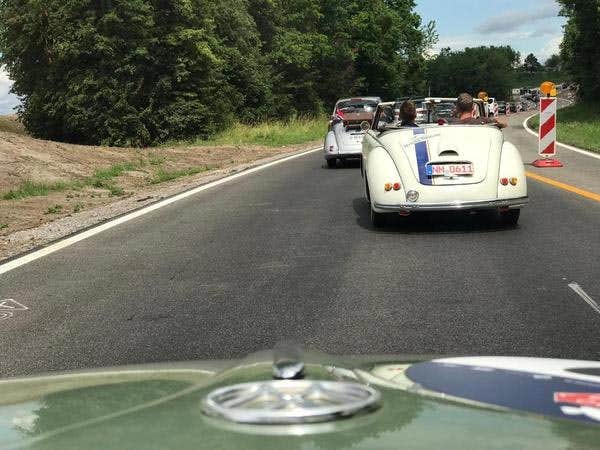 We arrived at a respectable "middle of the pack" with "Must try harder" written on our minds if we are invited back in two years for HO21.
The finish was at the VW Barm for beer and German snacks. It suddenly poured with rain, so I made a dash to put plastic bags over Jacks air filters, as they seem to be a bugger for filling up with water! But the rained did not dampen the spirits of the PMMR teams.
After which we all headed to the Lottermann's dinner, that the show organisers hosted in Bad Camberg. It was a truly international dinner of a few hundred VW hardcore fans from around the globe.
Friday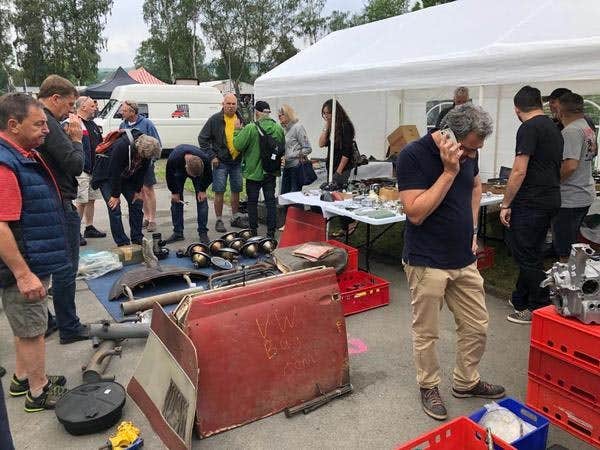 With a long shopping list of really random early VW parts, we were up early and at the show looking for bargains as the traders were unloading their wares onto their stands. Bargain was not a word I used at the show. But still, if you want NOS 2 year only Ghia wiper arms, they are not going to be cheap.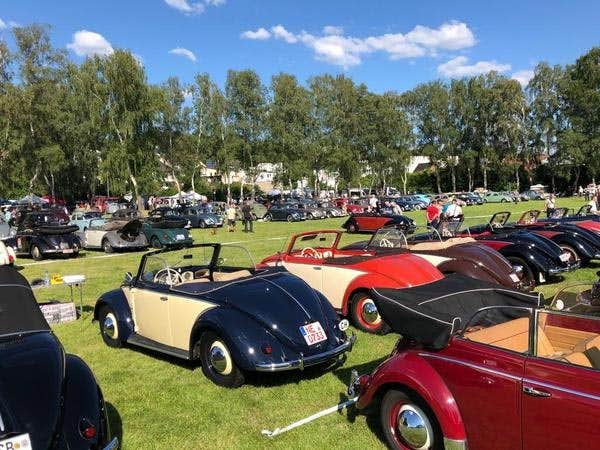 There was an impressive display of vintage VW's all lined up in model order, very German, but very impressive. The day was topped off with seeing lots of friends and making new ones, buying a few more parts.
Saturday
After another whip around the show and parts for sale, we headed back towards the UK as both Chris and I had family things to attend to. I'd become a proud grandfather a week before I'd set off on the trip! Who knows, in a few years I might be taking Dylan, our grandson on a VW road trip!
Highlights
D+S factory and the private collections
Finding a vintage Hazet angle poise lamp for my Hazet Assistant toolbox.
No breakdowns (1 broken hand brake cable and a lot of brake dust from heavy braking to clean out when I got back home)
Useful links:
Who was Peter Max Muller?
http://www.petermaxrennen.org/
Who can enter the next Peter Max Muller Event?
http://www.petermaxrennen.org/p/riquirements.html
Bad Camberg VW Show
https://www.lottermann-veteranen-treffen.org/english/vw-meeting-2019/
BBT Belgium
Can't wait 4 years...
Next big international vintage show is Hessish
Have you enjoyed a roadtrip that you would like to share? Drop us a line at: jkworld@justkampers.co.uk