Our Guide To Driveaway Awnings For Your Camper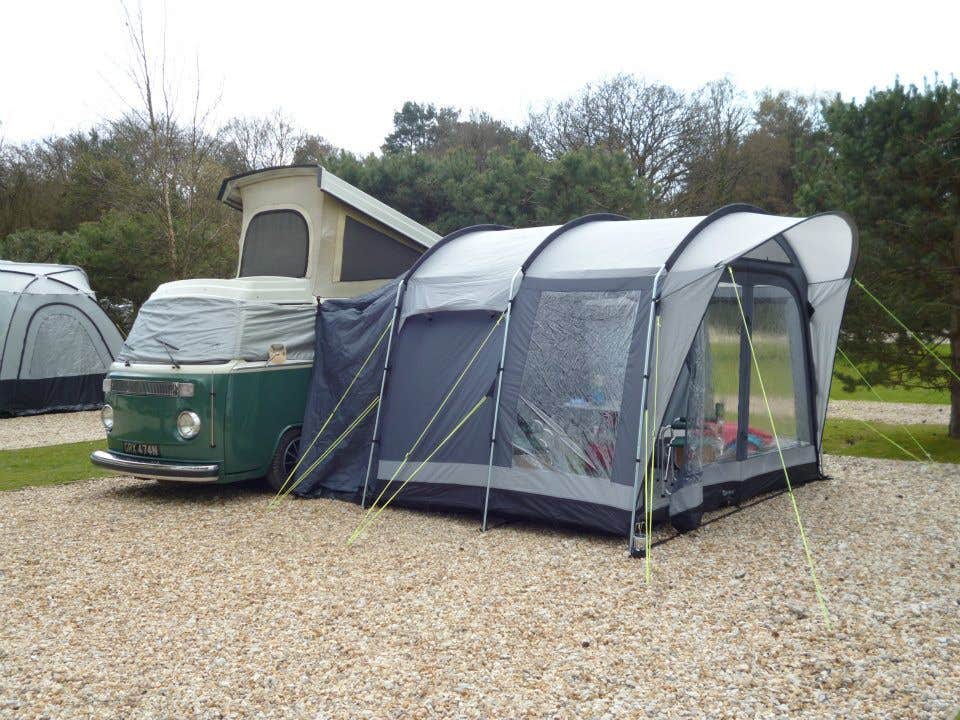 So in order to make a personal recommendation I guess I should probably introduce the family and explain how we use the awning so you can see if it would be relevant to YOU!
We are Carolyn (Caz) and Shaun – both work at JK, and, we have two children (boy 10 and girl 7), and Doris the bay (age 42!). Although we still all sleep in the van we do use an inner tent for any extra family members that join us on our camping trips!
Primarily we use the driveaway awning to extend our living space, give the kids somewhere to play, store all the extras we don't want to carry in the van on days out, and, as somewhere to sip a glass of wine or a beer in the evening whilst the kids settle down to sleep in the van at night.
Why a driveaway as opposed to a tent?
Well I like the extended living space- I like that the van instantly offers you a place to sit with friends and chill – I like that I can nip through to the awning to stand comfortably to chuck some clothes on rather than do the "weird jiggle dance", (alas that is not a euphemism!), whilst laying on the rock and roll bed trying to pull jeans on without disturbing everyone else, I like being able to sit and watch the world go by and just nipping through to make a cuppa, I like being connected to those in the awning if I am the one making the cuppa! Personally I wouldn't have it any other way!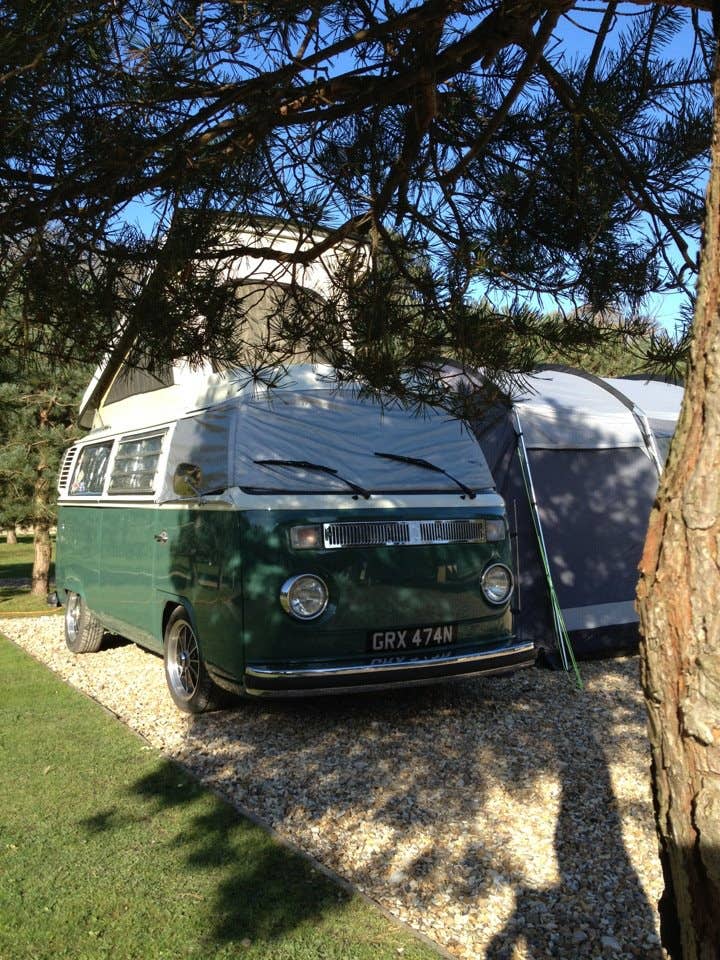 So what do I recommend…well I'd be a fool to recommend anything other than the awning we have owned and loved for the last four years. It is the Outwell Country Road Awning Bundle Kit J18232 – includes awning, inner, carpet and footprint or just the Outwell Country Road Awning J17151 but I would definitely recommend considering the Carpet J18049 too!
The boring bit – prior to working with us as a company Outwell had never produced a driveaway awning. They approached Just Kampers as a company who had produced many driveaway awnings, but more importantly were van owners, and asked for our help in improving their design. Over a period of months and much discussion we ended up with a product that has all the attributes and quality of the Outwell brand combined in a package that is practical in terms of use for van owners. This thing really works!
It has all the necessary advantages of a very high hydrostatic head (waterproofing protection), zip in zip out groundsheet, uprated denier fabric, strength and durability, is easy to put up and has a heap of well thought out design features!
In short we absolutely love it, several friends now also own the same awning after enjoying and being impressed by ours. Four years on am I looking to upgrade or buy new – absolutely not- I still love it!
I love the feeling of openness the large windows provide, I love the fact that you can easily close up shop at night, I love the quality….all in all it pretty much rocks!
Top tips- Mark with chocks or coloured pegs where the wheels sit when attached to the van - it makes life a lot easier when coming back from a day out to reattach, and, if you are using guys ropes up and over as opposed to pole attachment get yourself a couple of tennis balls – cut a slit in each push the end of the guy ropes into them and use them to throw over the van! Oh and even if you don't want the full bundle do consider the carpet- I almost laughed when someone suggested a carpet to me but it makes a huge difference to the feeling of comfort and cosiness you have!
Other awnings that may be of interest;
The JK Retro Awnings are always massively popular. Following a tried and tested design and available each year in different colours- it has always been a massively popular item with those seeking the retro look with the functionality of a more modern awning.
This year being offered in blue and grey (RHD J39799), orange and grey (RHD J39798) and green and grey (RHD J39797) they have been flying off the shelves. RHD versions are still available but with this year's LHD versions already sold out– you'll more than likely be seeing them being happily used at a site near you this summer!
The canvas has been further uprated this year to offer even more value for money so you do not have to substitute style with substance!
Remaining RHD colours are already low stock with no more expected this year – if you want one I'd grab it pretty quick before they're all gone….until next year!
Budget not an issue? Want to be the envy of the site? There's only one option go AIR! Our Vango range are quick, have all the desired features along with the quality and durability of Vango….with the added benefit of enjoying a nice beer in the sun within minutes of being on site whilst smugly watching your fellow campers still putting up their pole awnings! Available in a range of sizes there is sure to be one that suits your requirements whether it be as a day awning or for sleeping needs. (Idris Bundle J40234, Kela II Bundle J40235, Sapera II Bundle J40236 and Attar 380 Bundle J40237.)