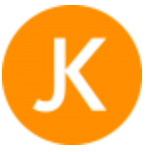 More from this author
Old Speed With A Twist
Old Speed with A Twist
Vintage Speed VWs are, by their very nature, nothing new. The whole idea behind them is to build cars inspired by those that were raced in the 1950s and '60s in road races and timed events across Europe, in an era when fuel injection, turbochargers and electronic ignition were either just twinklings in the eyes of enlightened designers or the preserve of high-end grand prix cars and aeroplanes. Race cars back then were simpler affairs, pretty much standard production cars with basic tuning tweaks made to the engines, a little more in the way of safety features and a little less in the way of weight.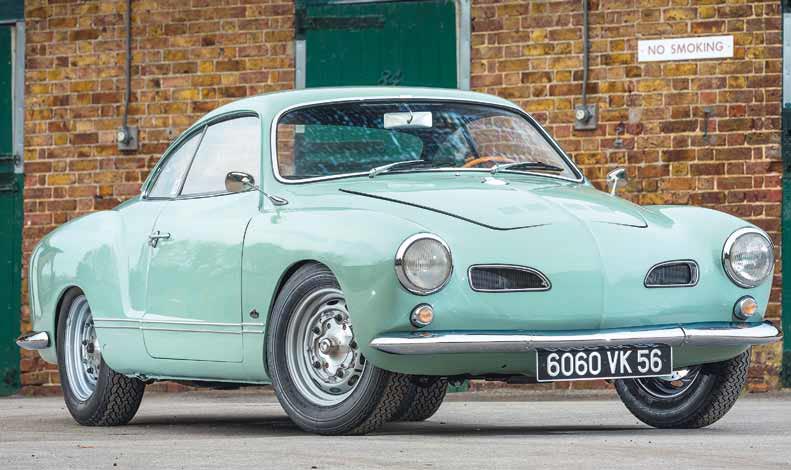 Old idea, new tricks
They didn't have body panels manufactured from state-of-the-art lightweight composites; they simply didn't have a back seat. They didn't have FEA-designed impact structures, rather a basic rollover hoop at most, and perhaps some harnesses to keep the driver and passenger more securely in their seats. But there's a famous saying in motorsport circles that you can't un-learn technology. Once somebody thought to use hydraulically-actuated calipers on steel discs rather than rely on bits of asbestos pushed approximately against the inside of cast iron drums, it takes some serious dedication to the cause to ignore such a clear and present improvement. Likewise, engine tuning parts. The real hard-core are seeking out vintage superchargers and the twin carb kits, but these come with a high price tag and offer small returns compared to those offered by stroker cranks and modified twin port cylinder heads, for example. Essentially, these days, you can have your cake and eat it. Unless you are building a car to compete in a specific race, or series, that bans certain modifications, if you want to have a car with the Vintage Speed look, but a bit more up-to-date performance, the world is your oyster.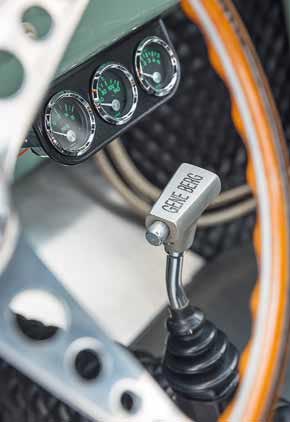 Frenchman, Christophe Cailloce, knows this only too well, having a long history of VW ownership, and a more recent history with racing Porsches as well (he's previously owned and raced a short wheelbase 2.0 litre Porsche 911 and currently campaigns a 914/6) it's fair to say he knows a bit about the benefits and enjoyment to be had from a bit of performance technology, and used this knowledge and experience when he set his mind to building a Vintage Speed VW. "I tried to imagine what a guy from the '60s might have wanted to go racing with, a car that would be a decent competitor to a 356."
You might think someone that has progressed from VWs to Porsches might find it hard to go back, as it were, but Christophe is a dyed-in-the-wool air-cooled VW guy, and besides, he already had this Ghia in stock.
"I actually bought the car in 1989, from St. Malo near where I live. It wasn't in good condition: rust everywhere, no interior, no seats, without bumpers, engine not running – a pretty sad vision indeed," he recalls. He admits now he had no idea how much work he was taking on but, still being a student at the time, he cracked on with the work in his holidays, collecting parts on his regular trips to the UK for shows and swapmeets. By 1995, it was solid again and painted in Rover British Racing Green, with a set of 14 inch Fuchs, some 911 seats and a 1300cc motor. That was motor was gradually upgraded to 1600, then 1641 and eventually to a full house 2007, built by his good friend, Eric Zerly. That gave Christophe the taste for power that turned him onto the products of Stuttgart, rather than Wolfsburg, and it also showed up some of the inherent weaknesses in the VW platform when it comes to racing.
Truth be told, the 2.0 litre 911 wasn't much better as a race car, hence the step up to a mid-engined 914/6, which Christophe reports is a different beast altogether. But the Ghia held a special place in his heart and so, in 2006, when Christophe decided to revamp it, he knew exactly the route he wanted to take.
The Interior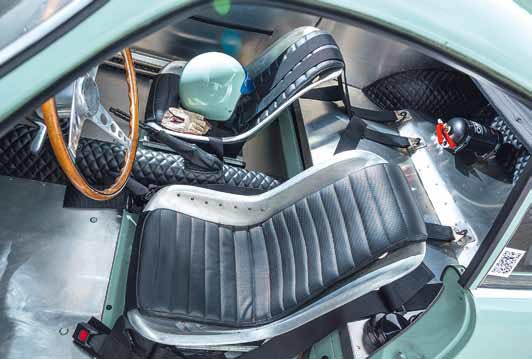 Assuming they knew what it was at all, the average person on the street would look at this car and say, 'ooh, look at that pretty Karmann Ghia' but take one look inside and it immediately becomes clear this car is no longer the stylish cruiser it once was. The treatment is more reminiscent of 1960's racing Ferraris than anything that ever came out of Volkswagen. The bare ali panelling and floor coverings are beautifully juxtaposed with the black quilted vinyl on the tunnel and inner wings, while the perforated vinyl seat pads add just a dash of comfort to the swoopy 356 Carrera-style buckets. Drilled pedal covers, a drilled and flanged foot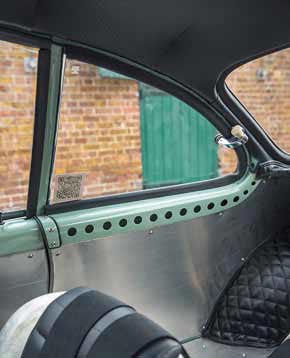 rest, exposed brake and oil pipes and OMP harnesses are all in keeping with
the theme, while relocating the battery to under the bonnet helps keep things neat, tidy and safe in the cabin.
The amount of weight saved by drilling a few holes in the handbrake, the doors and under the rear side windows, and by replacing the window winder mechanisms and door pulls with leather straps is negligible overall, but it's all part of what makes this car what it is. We love it.
Race-inspired
The car was taken off the road and delivered to a body shop for a full body restoration, with a few trick, race-inspired modifications thrown into the mix. "This project took way too long to complete," explains Christophe. "It's a long story and not a good one but, after many episodes of love and hate, my coachbuilder finally finished the job in 2012." Fortunately, on the mechanical side of things, Christophe had two more trustworthy allies – the aforementioned Eric, who runs air-cooled VW specialists West Passion in Caudan, Brittany (www.west-passion.fr) and another Eric, Eric Simon, a Peugeot technician by
trade, but a man who Christophe says has "simply immense knowledge, expertise and skills with air-cooled engines and gearboxes." He's happy to admit that "without these two very skilled persons amongst my best friends, this car would not be what it is now."
Cornering ability
So what exactly has Christophe ended up with? Well, in some respects, it's the Ghia the factory should have built. A car that has the performance to back up the looks. But it's more than just a big motor. There are disc brakes on all four corners and a dual circuit master cylinder, Koni dampers, anti-roll bars front and rear, a heavy duty steering damper, wider ventilated steel rims, Michelin radial tyres and a mild lowering job, all modifications done for improved roadholding and cornering ability, not for looks. Things become a bit spicier when you lift the engine lid, and here's where the car deviates somewhat from the current Vintage Speed philosophy, but hey, when that deviation comes in the form of a 2.2 litre IDA motor and beefed up, close ratio transmission, who's complaining?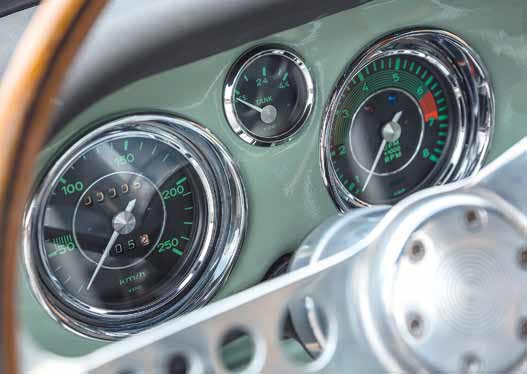 Naturally, the engine has such improvements as full flow oiling and a remote oil cooler, in this instance mounted up front in the nose cone, with air ducted in through the nostril vents. It also benefits from the extra airflow afforded by a Porsche 911 fan/ alternator, with a glass fibre shroud directing that airflow down over the cylinder heads.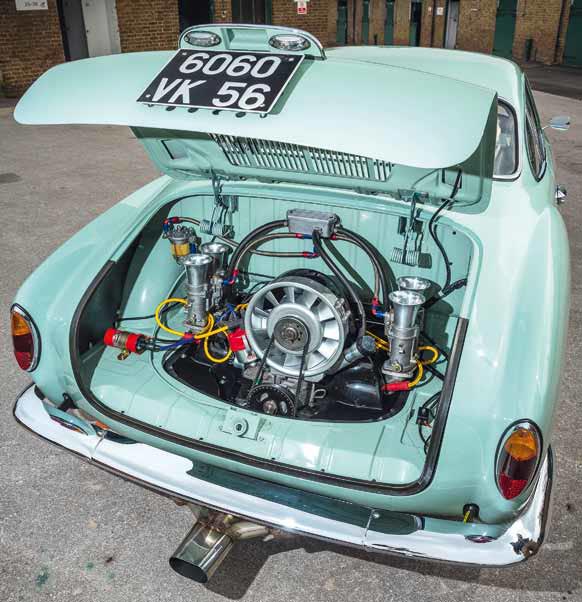 Inside, the competition feel of this car really starts to flow, from the moment you settle yourself down into the sculpted aluminium Porsche Speedster-style bucket seats, put your feet on the drilled pedals, place your hands on the wood rim steering wheel (that once called an E-Type Jaguar home) and survey the Porsche 356 gauges ahead of you. If anything, the Gene Berg shifter looks somewhat out of place, but then that's made up for by the positive action it affords. A couple of dabs on the throttle and a turn of the key and the motor barks into life, the one-off Sebring style exhaust, producing a glorious note befitting the car's race car aspirations. Yep, this is a car I could happily spend some time in.
Christophe freely admits that Ghia is still a work in progress, having rushed to finish it for its debut at this year's VolksWorld Show, so there are a couple of things that need attending to before he can really use it in anger. He'd like it to be a touch lower, not slammed, just a little closer to the ground – and says it really needs a narrowed beam. Again, not a fashion beam, but one that pinches the track in a touch so the 165 front tyres don't catch the wing edges on full lock. Sure, he could go down in tyre size, but then if he does that he may as well go back to drum brakes for all the use the discs will be. Talking tyres, and you know how much I like to talk tyres, at £300 odd a pop, the 185/70 Michelin XWXs on the back are by no means a budget choice, but then what do you expect from the factory-specified tyre for an early Porsche 911?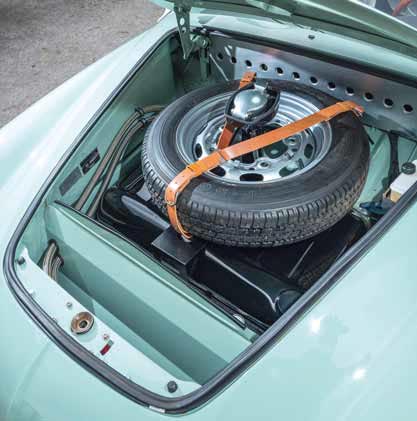 Okay, so this car is never going to give the driving experience of Christophe's 914/6, but it'll certainly be a completely different animal to the car that rolled off the Karmann production line in 1962, and we'd hazard a guess it will see more miles under its belt than the aforementioned Porsche.
The Underdogs
And you can expect a few of those to be on British soil too as, together with his fellow Underdog club members, Christophe certainly gets around, regularly visiting the Brighton Breeze, Slough Swapmeet, Classics at the Castle, The VolksWorld Show, as well as shows on home soil, including the biennial Le Mans Classic. On the overall experience, I cannot put it better than Christophe, so I'll let him have the last word: "Now, my only wish it have fun with my cars and my friends in The Underdogs – a group of close friends with a true, deep fondness for air-cooled German classic automobile performance and ingenuity, packed with a strong sense of humour, good food and wine."
If you ask me, that sounds like the perfect recipe for life.