We've just taken on around 3,000 extra square foot of warehouse, allowing us to hold even more top quality parts and accessories!
The new area is located next to the department where we make all of our own Preservation Parts panels, and will store the hundreds of new products that our Purchasing Team are busy adding into our system.
As you can see from the photos where our very own Ian 'Wiener' Wheeler is modelling, the new space is a pretty big addition to our already large warehouse!
The new wave of products we're bringing in includes LED semaphore bulbs, which we sourced to get Jack the Giant Slayer ready for the Mille Miglia, a whole range of deluxe Split Screen panels, fast cure Dinitrol and a front-hinging Westfalia elevating roof kit, among others.
All of these products will be available soon, once we've received them into stock and passed them through quality control, so watch this space!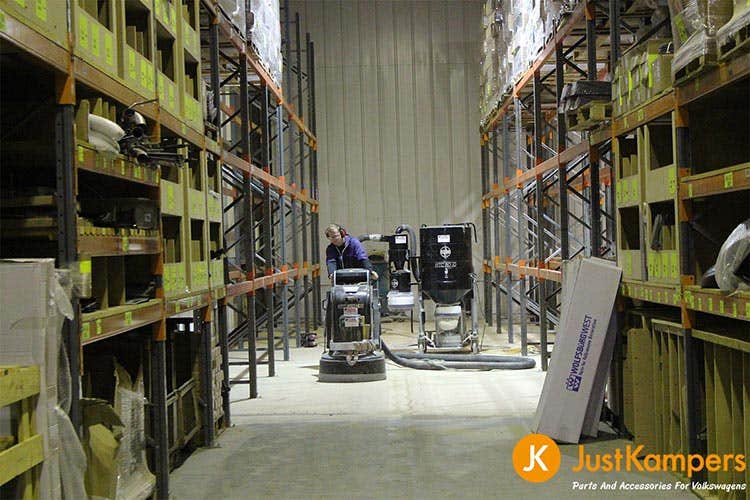 We first arrived at our current HQ back in 1999. At the time, we never thought we'd be able to fill the 2,000 square foot area that we'd taken on.
Eighteen years later, our dispatch department just about fits in the space that we took on back in '99, and we've expanded the warehouse out to nearly 40,000 square feet of warehouse stacked to the ceiling with parts and accessories for VWs from 1945 to 2017.
This expansion took place just in time for JK's 28th Birthday, which was on September 1st. It's been a long, exciting journey, and it's exciting to see that we're still growing and expanding our range!