As part of our 'New Kids on the Block' series, we spoke to Bethan Fletcher, who is (quite rightly) proud of her VW Beetle.
It's always great to be able to support the next generation of young people who are getting enthusiastic and excited about classic VWs, and Bethan is a friend of Meg Cave and Luke Harvey, who both work here at JK HQ.
Bethan writes:
So, this is the story of my bug!
My history with Beetles starts in 2014 when my friend Joe Bradshaw got his first beetle. At the time I just did not like the look or the sound of them, but over the year Daphne (Joe's Beetle) grew on me and I just fell in love with her! She's a 1971, 1200 model in Ford Electric Blue with a nice engine.
I met Luke Harvey in 2016, as well as his 1974 Formula V Beetle and his girlfriend Meg Cave, who is currently building her own Beetle up from scratch.
They took us to VW shows where we met new people and I got more and more interested in classic VWs! Tom Dunkley, who currently owns a MK1 Golf and James who owns 1303s Beetle are just two of the people we met at the shows.
VW shows is where this all started really, meeting all these awesome people and their bugs, now onto Vanessa, my own Beetle. If your wondering why she's called Vanessa it's because of her reg VEA274G!
We were at dubs at the park, in Bracknell last year. At this point I wasn't looking for a Beetle as my first car because I didn't have any money saved or a job. So we were all walking around the stands and came to this stand looking at the parts, then I start reading the board with Beetles for sale and there she was right at the top:
1969 VW BEETLE
1641cc, metallic turquoise, genuine bbs rs wheels
Restored in 2013, no issues sat around for 16 years doing nothing £2500!
Now if you know your VW's then the prices are going up and up every day for a decent, running Beetle or bus so everyone was stunned to see the price so good for a Beetle that was decent!

We all didn't believe it so we left and decided to come back to later on in the day if it was still there. Sure enough she was still for sale when we came back, we started talking to the guy who owned her. He told me; she was brought because his mate needed the money for other things and he didn't use her, he gave her to his wife and she never really used her and 16 years later she was still doing nothing.
He decided it was time for her to go to someone who could love her! She ran perfectly, although no MOT she should pass straight away. I then turn to everyone and it was just like I'd hit the jackpot everyone was telling me to do it! Buy her! It's a bargain! A couple days later I messaged the owner and arranged a day to come view the car, of course everyone tagged along. We turned up, poked about a bit arranged another time to view her, see her get started up, look on the inside! So we did and it was 3 weeks after the show I bought her! And I took her home on the 4th June 2016!
Ness had this super odd, billabug style roof lining and door cards, she had Porsche seats and a new style steering wheel and a white cover for the back seat to match the fronts. She has a roller pedal, well more like a skateboard wheel as her accelerator pedal! A complete smooth dash, no chrome trim, indicators on the bumpers, one piece windows which are tainted. She carries a 1641cc twin port with a 1600 gear box/
Now I knew nothing about her! She came with no papers or anything! So I decided to do some digging & try find old owners and contact them and I found Darren! He couldn't tell me a lot but enough to go by! He told me she was restored by a company which I actually now live very close to, she was to be a pair with his split camper he had but unfortunately never used her as much as he'd liked. Moving on forward from that, I talked to the guys who restored her and found out where they found her and what they did to her etc. Which was super interesting to find out! She's had a complete new floor plan, new front clip and new back wings which have been extended by 2" so the 9" BBS RS wheels under which still didn't fit.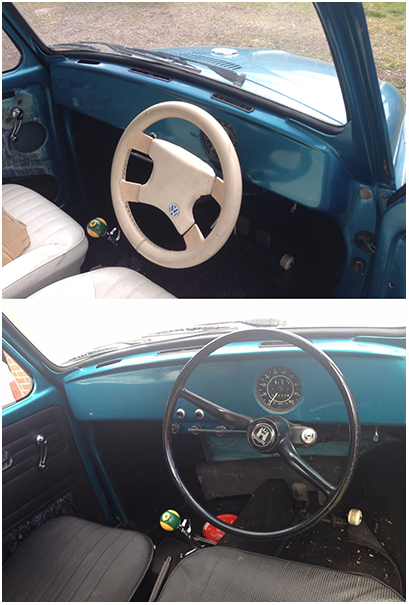 Now we move onto what I did next with her, I swapped out her BBS RS wheels for some lovely Just Kampers smoothies (4.5" on the front and 6" on the back) brand new tyres! Also changed out her old seats for some more original style seats and a new old stock steering wheel to match, new door cards and cut away all of the fish roof lining to find her original roof lining under nether which was a bonus, but if you've seen Ness then you know we're in need of a new roof lining.
So it's around end of November, December time that it was her MOT now to come, bearing In mind she hasn't been driven in a long time and we're weren't sure what to expect really. Unfortunately, she didn't pass first time but only on minor things. Massive advisory was to change my rear shocks asap due to the current ones being so stiff. Meaning my suspension was absolutely shocking. Her breaks weren't in good nick and needed looking at, also needed my steering box to be tightened up as she had way too much play.
However, she passed the second time! Now I changed her rear shocks (she had coil overs before hand) to oil shocks we let the jack down and she came down definitely better without any horrible noises, but she must have been lowered before hand as when she came down she looked like she was touching the floor. She had gone down to splines on the back.
2017 January 4th I passed my driving test! Paid my insurance and she's still my daily driver to this day, we made it all the way to Belgium and back no issues, been to many car shows! And many more to come through this year and years to come!
Met even more new people with bugs and this year so far has been amazing, and if you know me I talked/talk about Ness a lot! She literally is one in a million and means a lot to me!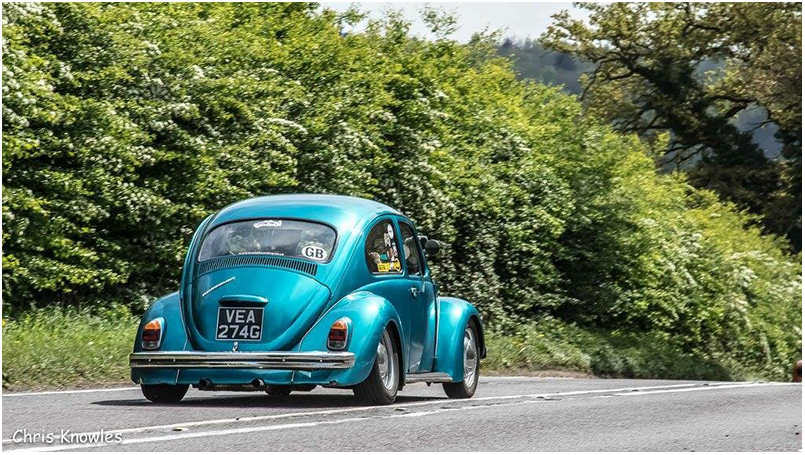 So now to present day I recent bought from Just Kampers; front lowered shocks, steering box, dropped spindles, front brake shoes and a few interior bits. I'm planning to drop the front of ness so she's not so bum down, nose up this should be happening in the next few weeks!