Rallying (and pit crews in particular) are all about triumph over adversity, thinking outside the box and problem solving – quite often with very little time to do so! What has been your most memorable, most successful bodgit and drive it fix?
"Ha-ha ...Yes, something that still makes me smile is receiving a call from Mike just as they are on the penultimate stage of the 2018 Rallye Trasmeria,
Mark and I were out spectating several km's from Service, but Berties gear coupler had gone, and could we go back and get the spare, so they could quickly fit it to do the last stage (which was up a massive hill)
Off Mark & I go… navigating the map (which is not something I got a badge for in the Girl Guides!) battling through the Service entrance which was now manic with spectators waiting for the big service return finale…
Got it !! handbrake turn and off we go back to the last stage to find them.
However! on route back to the last stage a message comes through from Bob & Mike... we've finished we have made it to the top of the last stage!
Finished ... but how? we have the spare!
Un-beknown to Mark & I, a heath Robinson moment had occurred on the Spanish hillside! As they relayed back, OH, "we don't need it, we chopped some wire from and old fence, bodged it back together, and prayed it would hold up to complete the final stage.
So, whilst Mark and I didn't get to see any of those stages, Bertie made it to the finish …Happy Days!" (SC)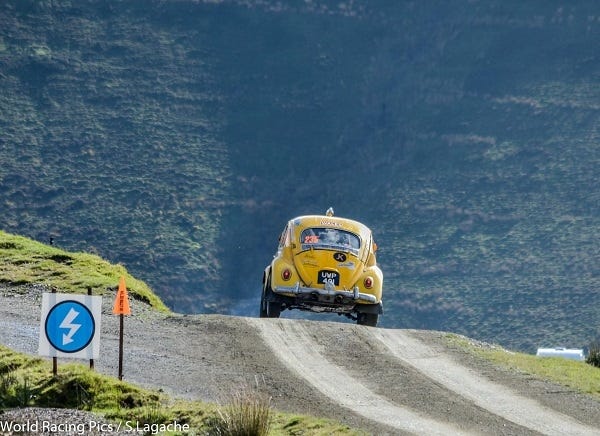 Image credit: World Racing Pics / S Lagache
"Bob is the true MacGyver of classic rallying. One careful look around the inside of Bertie and you'll see what I mean!! Over the years, I've seen him carry out 'on the hoof' repairs using bungees, gaffer tape and even engine repairs with a hot glue gun!! The electrical system includes bits of lamp flex that Bob used as a young man as a 'temporary' repair and then never got around to replacing!" (MM)
"Around two years ago on the Daysure Wales Rally GB we had a front damper mounting bolt shear before the first tarmac stage. We completed the days stages and back in service the boys found that the coil over damper we were experimenting with had failed. Also due to the defective damping on the front the track rod ball joint had almost pulled apart. It was at this point the head technicians from the VWMotorsport Rally team came over to see if they could keep the 4th team VW car going. It was then they realised that Bertie was completely different from the championship winning WRC Polo rally car, and they bowed down to the knowledge of our own skilled mechanics, Caddy, Dan and Mark. Mike and I left them to sort out the problems and when back to the hotel. When the boys got to the hotel, I was told that everything was sorted, so food, sleep and back at it in the morning. As we did final checks, I was told that we had to use the dampers we had on the rear of the car and no damping on the front. The dodgy track rod end ball joint had been changed. Off we went to do the last 6 or so stages…" (BB)
The rest of the team respond…
"I think, the removal of the front dampers and cable-tying of the front tie rod together so we could finish a class win at Wales in 2016. Especially as Gerard-Jan de Jongh and Richard Browne from VW Motorsport came and assisted!" (MW)
"Well… WRGB 2016, securing some seriously worn track rod ends with cable ties I was aware this had been done, we had just run out of options, but the rest of the team kept Bob in the dark. I spent the day trying to get Bob to not push too hard and failing! Never quite sure if Bertie was going to turn in when we got to a corner……. but of course, he did!" (ML)
Bob continues…
"We were successful in winning the K1Class.
On getting home, placing the car on axle stands and removing the wheels it was confirmed that the car had been running without dampers on the front. However, the replacement track rod ball joint was not possible due to the wrong part being placed in the stores. I then noticed that several heavy-duty cable ties had been placed around the joint which stopped it pulling apart. The boys had decided not to tell me although Mike was aware.
I can't really complain as it worked and worked well!" (BB)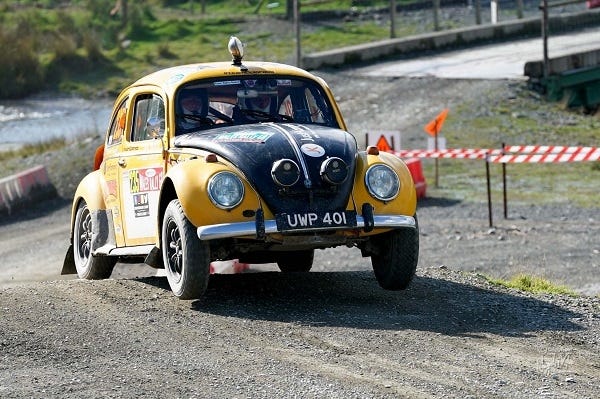 Bertie and the team continue to push hard
As a team which is your most favourite motorsport event and why? (Don't worry we won't tell anyone…)
"As part of the team, we've had fun at them all, but, despite the Wales Rally Gb stages being very demanding on a 60-year-old car and 69-year-old driver it is our favourite! it's still special, the whole atmosphere is buzzing." (SC & ML)
"With regards to my favourite event it's hard to say as they all have attractions, however Rally Trasmeria is such an amazing event, it is one of those that I try to compete on every year. It takes place in northern Spain, about 12km from Santander. It runs on closed roads and in the mountains of the area. The organisation is spot on and the reception from the spectators and the locals, who's villages are closed off because of the rally, is truly incredible.
One is made to feel so welcome and you would think you had just won a WRC event from the reception.
I also like the demo events as it gives us a chance to take people out in the car to experience Bertie at play." (BB)
"Like Bob, for me, I love the Rallye Festival Trasmiera in Spain. Even though it's not really an all-out Rally! The weather is great, the Spanish are amazing, the hotel is fantastic, and the atmosphere is just electric! Maybe not something that's picked up from inside the car, on stage, but as a spectator on the stages it's just awesome!" (MW)
What rally event have you yet to attend as Team Colorado that you would most like to tick off the list?
"An event on the bucket list is the Roger Albert Clark rally that runs around November bi yearly. It represents the old RAC rallies of the 60's, 70's, and early 80's, with usually about 5 days of competition using stages in Wales, England and Scotland, which means approximately 300stage miles. The only thing against it is the entry fee and running costs. "(BB)
"I think we would like to do the Roger Albert Clark Rally in 2019 - I also would like to do the Eifel Rally in Germany as we could combine this with a trip to Wolfsburg." (MW)
"I'd also love to do the Roger Albert Clark rally." (ML)
Bertie has a real rallying heritage!
What are the teams hopes for the future?
"Most importantly, to keep Bob, Bertie & Herbert fit and, on the road, and to keep having fun." (SC)
"I think we need to get the Type 3 "Herbert" on the road (or circuit) for 2019 - hopefully we have now found someone to assemble the engine for us, which is a HUGE leap forwards.
This will allow us to take Bertie off the road and go through him and get up to date with repairs, and still allow us to compete at weekends." (MW)
"Well the future all depends on funding as I'm sure the team would always support as many events we took on. This support together with the sponsors is something that I'm very grateful for as without it we may as well wash and polish the cars every Sunday and take up fishing! (BB)
Keep Bertie and Herbert rallying, maybe a few more international adventures." (ML)
The Driver Experience:
What is it like? Is it as adrenaline filled as we might expect. What does a driver's day look like at a rally event? Is it recce first. What happens…
"Well I hope I can claim to be that person. I honestly don't think there is anything different enables me to drive a rally car let alone a beetle. I just drive the car as fast as I can knowing that there are many more people that can do a far better job. I guess that having driven beetles for something like 56 years I have found the little faults in the car and now use them to my advantage. I think I was very lucky in having parents that loved motorsport and were always supportive. Also having Mr Bill Bengry as a family friend and mentor helped." (BB)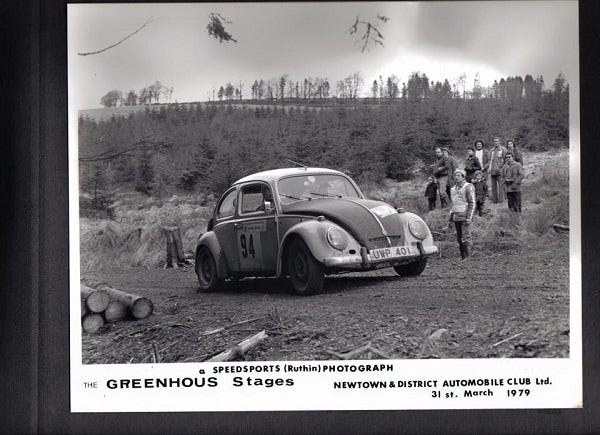 A great team is a necessity in order to keep Bertie rallying
The Co-Driver Experience
Give us the inside scoop on what it's like to be the co-driver. It must require complete trust in the driver's ability to relax enough to be able to do your job. Is that something that comes naturally or is it a relationship that is built over time?
The driver must equally have complete trust in your direction – is it stressful to have such a responsibility?
"Yes, there is a complete trust in the driver, Bob has a lifetime of rallying experience so why would I not have confidence in him, but if it is working properly it is a two way process it takes a while for both driver and co driver to work properly as a team. While the co-driver needs to trust the driver, the driver needs to have complete trust in the co-driver that he is getting the notes right but also that he will quick enough to say if he is not sure or has "lost the notes", a co-driver guessing would soon end in disaster. As a co-driver it is a great feeling when the driver is really listening to you and driving the car according to the notes you are delivering, this actually puts a lot of the car control into the hands of the co-driver, a great feeling but one only a co-driver would ever understand, but as you say it is also a big responsibility.
To co drive you need to be organised, I need to make an effort to be organised, but I can do it when I need to! The map reading has always been easy enough for me, doing this while in a moving is a skill that can be learned, the hard bit is not allowing yourself to be distracted by anything, anything at all, just miss one junction and it can cause serious problems.
A typical event will start by gathering as much info as possible, stage maps if I can get hold of them OS maps, google earth I will look at anything I can get hold of and gather as much info about the route and stages as possible. Second is fuel planning about 90 miles is our maximum range so we need to calculate fuel usage and plan where and when we will refuel.
Depending on the type of event we may get a road book and pace notes supplied in advance if this is the case I will go through all of these with a fine tooth comb and mark, time controls and anything else I need to watch out for, I will also mark any obvious hazards in the pace notes such as a sharp hairpin at the end of a long downhill straight section. On an event we are allowed to recce this will be done in the days before the rally, Bob will drive the stages and I will write notes in my own form of shorthand I also video the recce so I can review everything that was said later when I re write my notes as neatly and as thoroughly as possible, "write a page, check a page" great advise from Nicky Grist a true champion co driver, it is so easy for an error to creep in at this point.
On the day I need to make sure everyone knows where they need to be and when, everyone is given the time they need to complete whatever they need to do. On the rally just make sure we follow the correct route, re fuel when we should and enjoy the stages, make sure we both drink and eat enough, car management on stage (engine temp and oil pressure). I like having a plan B just in case, tablet with app in case the trip meter fails, spare intercom batteries, phone charger, spare anything that I think we might need.
I think you need to be a calm type of person to co drive and having good problem-solving skills helps. You just cannot allow yourself to think about anything else while on a rally stage it needs 100% concentration, I don't find this stressful, in a way it is relaxing." (ML)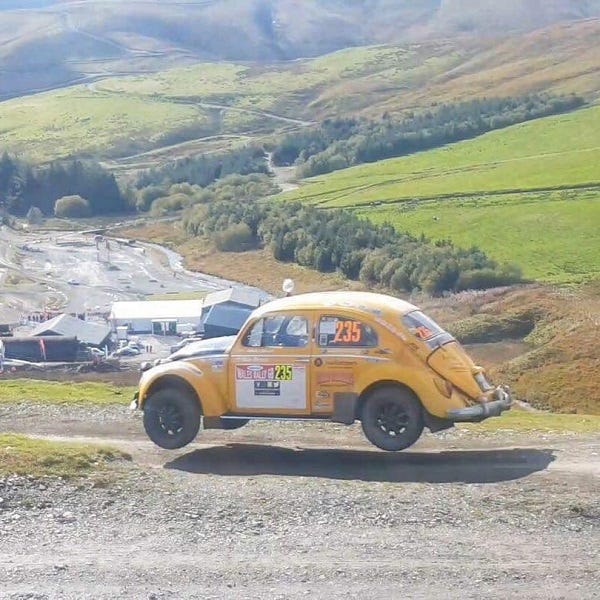 When you spend your time like this - a great pit crew really helps!
Pit Crew:
An invaluable position. Without a great crew behind the team the rally can be over just as soon as it's begun. Is it a shared job in terms of knowledge and resources or is there somebody on the team with overall responsibility to ensure the team are race ready? What does your rally experience look like? How do you prepare? What spares do you routinely have with you?
"My Rally experience is usually quite organised. It will start with making sure Bertie is prepped and ready to go, and so is Bob. Usually Sarah, Smurf, Dan and I will then head off to find a good stage or stages for some spectating. Smurf and I will be taking photos, keeping in contact with Bob and Mike throughout the day. We will meet them during the day (if its permitted, and time allows) and then be back at service to greet them at the end of the day.
Spanner checks on Bertie and then ready for dinner, oh, and maybe a beer or two!
We all share the "pit crew" title really, apart from Bob (Owner/Driver) and Mike (Co-Driver), although they do muck in also. We just kind of get on with stuff when it needs doing. Dan and I are usually left to work on Bertie, but Sarah helps also as does Mark "Smurf" when things are needed. - it's all a huge team effort. "(MW)
"I think I'd be classed as Field kitchen & general tell me what you want, and I'll do it if I can!
Which can be anything from booking accommodation, sorting passes, to re fuelling empty stomachs, along with basically anything else anyone might need, including a big smiley hug at the end of an event." (SC)
Any recollections you'd like to share…
"As a team, we have a laugh at every event. Bob is a real character and, thankfully, his mind has forgotten to tell his body what age he is! Whilst in Spain for the Rallye Transmiera, Bob and I decided to relax in the evening by making use of the hotel's spa facilities. We were a bit naughty and smuggled a bottle of fizz in with us, since we had the whole facility to ourselves. I poured two glasses and carefully waded into the pool to await Bob's arrival. Just as I got about chest deep in the water, I heard a loud 'Wahey' and turned around just in time to see Bob flying towards me with his knees pulled up to his chest. The subsequent tidal wave drenched me and left me holding two glasses of very chlorinated water! What age is he again?" (MM)