Why Team Colorado? What's the history behind the name?
"What else could you call a black and yellow beetle, luckily this type of Beetle does not have to be notified to DEFRA" (ML)
Confused? We were too; Bob steps in to explain…
"Back in the middle 60's I acquired Bertie. He was in a sorry state with green stains on the paint work from standing outside in Bill Bengry's yard. The car had the rally bits on but an old 1200 engine. Obviously, I was over the moon to have my own rally car which I could start working on and using it. I always wanted a yellow car and I sprayed the car yellow and added the Matt black bonnet. Well for some reason I was looking at details of beetles (real ones) and I noted that the one that blighted the potato farmers was a yellow and black beetle which was known as a Colorado Beetle. Well it just had to be Team Colorado, simples!" (BB)
How did you all become a part of this merry little band?
"I don't know how but I have been championing Bertie for a long time and have been very lucky to be able to mix Beetles, Rallying and friends.
Personally, I don't know why the others support and help in the way they do but without them I would not be out competing on rallies." (BB)
"I had worked with Bob for a few years and, one day, it came up in conversation that I enjoyed rallying and cars in general. Bob casually dropped into conversation that he dabbled in a bit of rallying but, little did I know, that I had been in the presence of a rallying legend! Bob invited me along to a day event and, from there, I was hooked!" (MM)
"I was introduced to Bob via our previous co-driver.
I'd also seen Bob and Bertie in some of the VW Books I've been collecting since the early 1990's. We chatted (for ages) and I think he appreciated that I knew and understood Beetle's and offered to help, which Bob accepted - I haven't looked back since." (MW)
"I first met Bob and Bertie at North West Stages in Blackpool several years ago, I was struck by Bob's enthusiasm for rallying, Bertie's character saying to myself I would love a ride in that car one day. Moving on to 2016 and Bob needed a navigator for Wales Rally GB…. he didn't need to ask twice!" (ML)
"I'd seen Bertie out on Rally's and events, but I really met this merry little band when Mike started to navigate /sit in the Silly Seat.
And what a lovely little band it is. Bob ... Bertie & Herbert's Dad, is a true gent, and the whole team are so friendly and passionate about Team Colorado its infectious." (SC)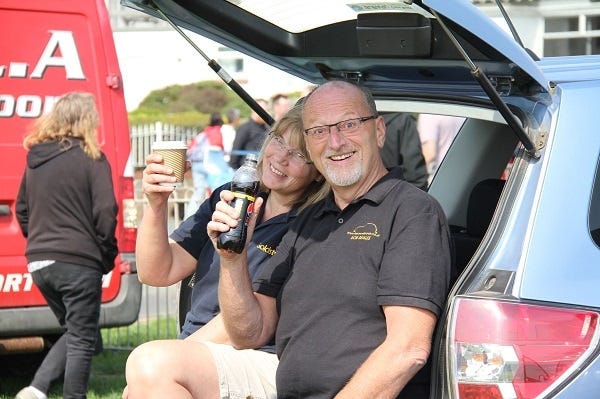 To keep the team together, particularly one rallying in a classic vehicle, it must take quite a lot of co-ordination and time. Who keeps the team ticking over, and makes sure you and the vehicles (be it Bertie or Herbert), make it to the meets?
"The whole team in their different ways, including partners who may not be able to come to events but give an absolute massive amount of back ground support to their partners." (SC)
"Well I sometimes think they are nuts the amount of support the give to me. I feel I'm very lucky to have friends like these.
Well, the organiser is Mr VW Doctor, Mark Walters, who sorts out all the problems, helps with advice, comes up with ideas and is an amazing friend. Always there with a helpful word. Photographer as well! Man of many talents.
Obviously, Mike Leflay is very important to the team as he keeps me on the correct straight and narrow. He also makes the interior of Bertie like a film set as he and his fiancée, Sarah, run a very successful business GOLDSTAR ONBOARD who supply (and fit if required) several camera types and combinations for a variety of sports which can include data logging, GPS tracking and live streaming. They also sponsor us for some of the events we enter.
Sarah supports Mike but is of great support to TC too. She is amazing at finding rooms to stay when on events and is in charge of catering.
Mr Mark SMURF Murphy, a colleague from my past work who enjoyed supporting Mark Walter with organising transport (service between stages) and photographer including videos.
The Mechanics are Dan Wierny and John Caddy Cadwallader. Dan has a very good way of getting on with the job in hand and checking all those little things I forget about!
Caddy has many many years of competing and servicing on events plus a very good engineering head for getting around problems that occurred when rallying. Both these guys are worth their weight in gold.
There is another guy who, although Bertie is not a Toyota, does help with his advices and comments. Mr Warner Lewis, of Lewis RallySport, is always there to help if we have a problem and allows me to use his workshop when needed.
I'd also like to mention all the long-suffering partners, and, thank them for allowing their other halves to come and play!
As I own and have Bertie at home, I get the short straw to swing the spanner's and pinch my fingers."
(BB)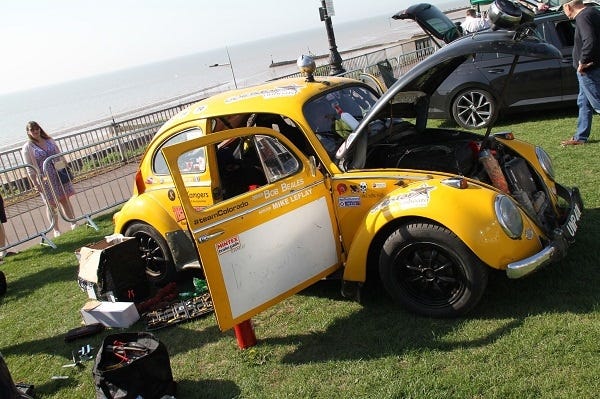 "All the team, except the recently retired Bob, have full time jobs that are separate to rallying. This has its own problems and issues but, as a team, we always seem to make things work. Mark plays a major role in organisation and does a fantastic job of nagging us all when needed (which is quite often!) and Sarah is an admin queen. This is really where the beauty of this team really shines through. Everyone does their bit and, often, friends, partners and anyone who stands too close for long enough can get roped in to helping. The feeling of family within the team is infectious and hard to say no to." (MM)
"Bob looks after the cars so he's ultimately in charge of getting cars to events. The issue usually is more getting the funding in place to allow us to participate and making sure we have more than just Bob and a car at an event - or they become very hard things to co-ordinate.
This is where more of the team come in. Some events don't need a co-driver (like demo-events) which takes some of the pressure off Mike having to attend.
I usually try to attend with Bob - we can tinker with the car and sort out any problems we may have.
For the more serious events (Bath Rally, Wales Rally GB and the like) we prep the car in the proceeding weeks and hopefully only need spanner checks at the events." (MW)
"All of us, Sarah does logistics, hotels, feeding everyone and just making sure everything is thought about. Mark, Bob and Dan look after mechanical prep with Smurf looking after PR and photo opportunities." (ML)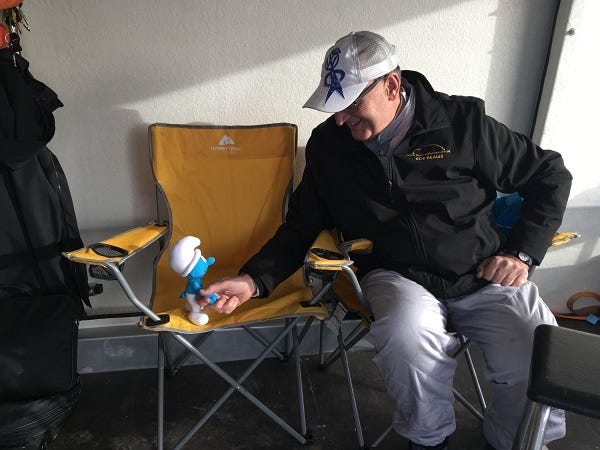 Anything motorsport has a definable buzz to it, a quality quite hard to find elsewhere. Many of us who have stood the other side of the pit barrier would easily recognise the comradery that accompanies the team and may have often looked on in envy, wishing they were a part of it too! Does your reality stack up to our perception?
"In my opinion, some teams could learn a lot from TC, by taking more time and effort to become a family, work together and have FUN!" (SC)
"I think that the reality probably exceeds your perception! Whilst in service, there is plenty of friendly banter, within and between all the teams. The various rallying teams are all in events to win and all are extremely competitive. However, whenever a team finds themselves in trouble, you can always guarantee that someone will offer a hand, and everyone works hard to keep all the cars running. We have certainly helped, and been helped, many times over the years.
A recent example was at the Rally GB Wales a couple of years ago. We were neighbours with a great bunch who were running Landrovers and had been sharing tools and laughs throughout the weekend. On one of the legs, Bertie manage to shed a spring in dramatic fashion. Upon returning to service, one of the Landrover guys took great pleasure in showing us a video he taken at the moment the spring had shot out. We all had a chuckle about it but were still scratching our heads as to what we were going to do to keep Bertie running. It was at this point that the Landrover team member revealed the runaway spring from behind his back!! Having seen the malfunction, he went above and beyond by running down to the track and recovering the spring, knowing that it was likely to be a crucial component. We couldn't thank them enough and have remained firm friends since.
Team Colorado stands out from many others, in that, we always try to get spectators and fans as close to the action as we can, and all the team's members take every opportunity to engage with anyone who approaches us. Wherever possible, we try to give people a seat in Bob's 'hot seat' because there's no better way to appreciate how hard Bertie makes him work. That team appreciation is always extended out onto the track by Bob and Mike who always give a toot on the horn to spectator's and marshals as they pass by, leaving smiles and cheers in their wake. "(MM)
"Yes! For sure!! There is such a buzz at the events, on the stages as a spectator and as a competitor. People love coming to talk to us, we love talking to them and discussing the history of Bertie, Bob and the Team." (MW)
"Yes! TC is how motorsport should be done, everyone is happy to help and do anything that is needed there is a great energy and enthusiasm in the team, that said there are challenges and hard work to be done but with a great team spirit this is never a chore." (ML)
There are obvious challenges associated with classic rallying and perhaps also some not so obvious! Are there any instances that stand out for you as a team?
"Well, as you would appreciate running a historic rally car especially a 60-year-old car, is hard work and requires a lot of attention to the suspension, transmission and engine.
When competing on forestry events the car takes quite a pounding, shaking everything in the car including the driver's teeth! For instance, this year the sump guard has been trashed and we were very lucky not to suffer engine failure as the sump plate sustained damage and only 2 nuts were retaining the plate in place!
Also, using an older car (1958) it becomes harder to locate the competition parts, maintaining the car up to MOT standards (although exempt but required by organisers for insurance of events) and funding the maintenance.
Obviously, we are self-funding except for several generous sponsors, however the we had a hard hit back at the start of the year in so much that the engine tuner had just taken delivery of the engine from Herbert (Type 3 1500s) to rebuild the short motor together with a rebuild of a spare Okrasa TSV34R engine for Bertie. To do this new (£700) and second-hand spares had been obtained. A call from the engine builder rocked my boat when he told me that his workshop had been devastated with a flash flood which contained foul water. He had power washed the parts, but I collected them the next day to find the all the new parts and both engines were still contaminated with silt etc resulting in excessive corrosion to all steel and cast parts. I'm unsure whether they can be reclaimed. I'm still waiting to hear if there is any chance if insurance cover, but it doesn't look good.
This has resulted on delays in getting Herbert out and Bertie having to run another year or so before any major work can be carried out." (BB)
"The challenges are always (for me) making sure we have the spares and tools available to cater for pretty much anything that may happen to the car, so we can repair it to allow us to finish the event.
This is where having the support of Just Kampers comes in as we can stock up on spares before an event.
I think, our biggest "automotive" challenge is keeping the engine together! with a rev counter that goes regularly past and indicated 8000rpm, the poor little 1300 does take some abuse!
Our other big challenge is Bob - Making sure he's not wandering off chatting to people, on time to places and generally on top form. He's not let us down yet, but we are all good at steering him.
One of our friends that videos some of the events has "lost" Bob - which involved him being live on the Internet trying to interview Bob, when he was standing right there, and Jordan couldn't see him! "(MW)
"It is always a challenge getting a 60-year-old car to withstand the rigors of rallying but with a great team it is achievable." (ML)
Why the classics? (Obviously we totally get the level of adoration but there may be less well schooled attendees that don't!)
"A true historic classic is all about originality, and have so much more character & passion." (SC)
"Historic Rallying is different to modern rallying either club or national as whilst competing in historic if you have a problem everyone will help you get going again.
It also gives me a big buzz if we can beat newer and faster cars with old Bertie!
Running the old beetle on events both in the UK and abroad always brings a smile and wave from the general public and spectators. We seem to get a crowd around the car when in service with all sorts of comments from; "my dad had one of these", to, the enthusiast who wants to see in every nook and cranny." (BB)
"I don't think I'd be doing what I'm doing if we weren't rallying a Volkswagen, and especially a Beetle. I love Beetle's and have done since the late 1980's - Beetles fit so well in to Motorsport and try as I might I just don't get drag racing. Rallying however - a totally different skill level!" (MW)
"It is just great to be a little bit different sometimes." (ML)
We couldn't agree more...
For more insight into the Team keep an eye out for Part Two!