We are proud sponsors of Matthew Phillips. A GB Paraclimber, Matt was born without his lower right arm. Not that it's ever stopped him from achieving anything he sets his mind to. We're really proud to be one of his sponsors. He is a seriously impressive athlete and thoroughly dedicated in training and mindset. We thought it was about time he gave us an update on his year so far and the challenging World Cup he has his sights firmly set on...
I'm Matthew Phillips a GB Paraclimber and a Just Kampers sponsored athlete. It's a while since I wrote a blog for Just Kampers and so I thought it was time to update you on my year so far and beyond.
The main focus of the year has been the fast approaching World Climbing Championships due to be held in Austria come September. This is the biggest and most prestigious climbing competition on the planet, think of it as the FIFA World Cup of climbing. With over 700 athletes representing 65 nations across the world.
I have been training hard for these and other competitions. A typical weeks training consists of 3 sessions of 2.5 hours with my squad, and, a 4th session of 2 hours with my coach on a 1:1 basis. As well as this wall time I do daily core and strengthening workouts at home.
Unfortunately, the GB teams' funding is still inadequate, and we had to pull out of our first International competition in order to be able to afford to send the team to the World Championships in September.
Therefore, my first international of the year was the World Cup in Briancon, France in July. A successful competition with 2 perfect qualifying climbs. So, I qualified for the finals in equal first with my competitor from Spain whom also cleared both qualifiers. I had a good climb in the final and made it to the last but one hold where the last move required a dynamic movement jumping to the last hold. I went for the last hold but missed. However, it was enough to secure a Gold on the podium as the Spanish climber fell lower down the wall giving him a Silver.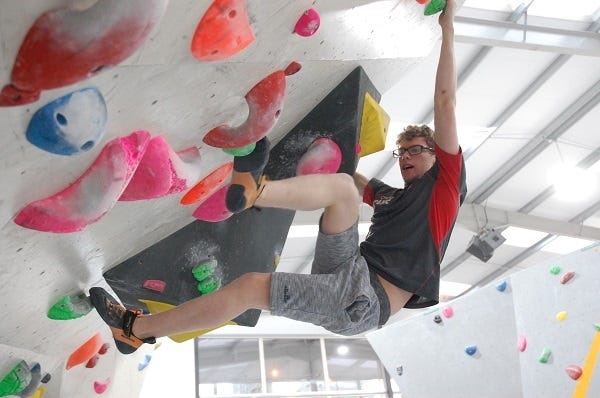 With the World Championships a few weeks away, I have just travelled to the city of Innsbruck where the event is being held. The purpose was a 4 day 1:1 training camp with my coach to the competition venue, funded by a grant from the Boost Charitable Trust. This was an incredible trip and I made massive gains. As a result, I feel I am climbing the best I have ever climbed putting me in a great place for the World Championships.
The World Championships are held in September, and, are going to be an incredible event with the whole city embracing it. With the most competition ever in my category it's going to be tough, but I feel the most prepared I have ever been. I am really looking forward to both the competition and climbing on the World stage.
The finals are being live streamed on the International Federation of Sport Climbing website and the schedule can be found on that site too. The competition runs from 9 -16th September and can be watched Live at www.ifsc-climbing.org
I would like to thank Just Kampers and its customers for their support again this year it really makes a difference.
Matthew Phillips
GB Paraclimber
To find out more please head to Matt's web page or follow him on his Facebook page or his Instagram.
To discover more about the GB Paraclimbing Team hit this link.