Mark Tells Us All About His Road Trip In The USA
25 Year Anniversary Road Trip!
For the last quarter of a century, Just Kampers has been our life, so Kerry and I decided to celebrate this landmark by taking a month off and driving coast-to-coast across the U.S.A.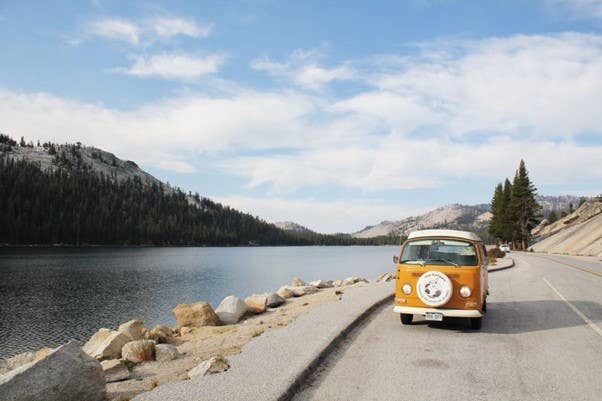 It was a trip we said we'd do one day, and this year seemed like the right year to do it. Once we'd made the decision to go for it, we needed to find a vehicle. We decided it had to be a white over orange Bay Window Camper as they were the reason we set up JK and we had one back in 1989. Completely blind, apart from the photos on the 'net, we bought a 1972 Westy. We arranged to have it delivered from Denver to EMPI in California, and flew over at the end of August to start from the West Coast.
I had put together a basic spares pack from JK and taken it with us, in case of emergency; a set of plugs, leads, distributor cap, rotor arm, points, condenser, clutch cable kit, fuel hose, filter and clips. Along with these essentials, we also shipped a J29329 rev counter, a J20105 cup holder and a J12095 blind spot mirror – all of which proved to be wise additions. We had checked everything before setting off, but had not even considered changes in altitude... So, we were in for a surprise as we found we had to drive up to 14,500 feet at one point (Mont Blanc is only a 1200ft higher!). The Bay may have slowly wheezed all the way up, but it made it. We covered 4278 miles in the '72 and we had very few issues along the way, this brought back good memories!
I also enjoyed every minute behind the wheel, apart from the scary crosswinds; the slower pace of life sitting at 55mph is so much nicer than constantly pushing speed limits. We were amazed to find 236,960 people followed the JK trip on Facebook, so we'd like to thank them, along with all of our customers who have supported us for the last 25 years.
Mark & Kerry Reynolds