More from this author
LoveDubCars...This months featured VW based business...
Introduce Yourselves.....!
Who are you....little background...VW history...
My name is James Calvert and I run our company with my wife Rachel, assisted by our two girls Poppy (4) and Rosie (2), we are very much a family run business.
Around 10 years ago, having had a particularly bad day at work in the public sector, a conversation was had in a pub, (all good idea are born in the pub), my wife started it by saying she wished she worked in the wedding industry, nice people, nice places etc etc.
Shortly after that conversation an old friend mentioned that he had just sold his old Bay window campervan, I'd never owned a VW prior to that point and never thought I would, but I had always loved then from afar.
All of a sudden the idea struck, a classic soft top beetle with a bride and groom in the back being followed by a VW campervan full of bridesmaids. I took my idea to the table. Before we had even left the pub the name was born, my wife came up with it and I loved it LoveDubCar, as everyone loves Dubs don't they?
An internet search secured our plan when we could only find around two others who were using VWs as wedding vehicles in the UK, now there are bloomin' loads of us out there!!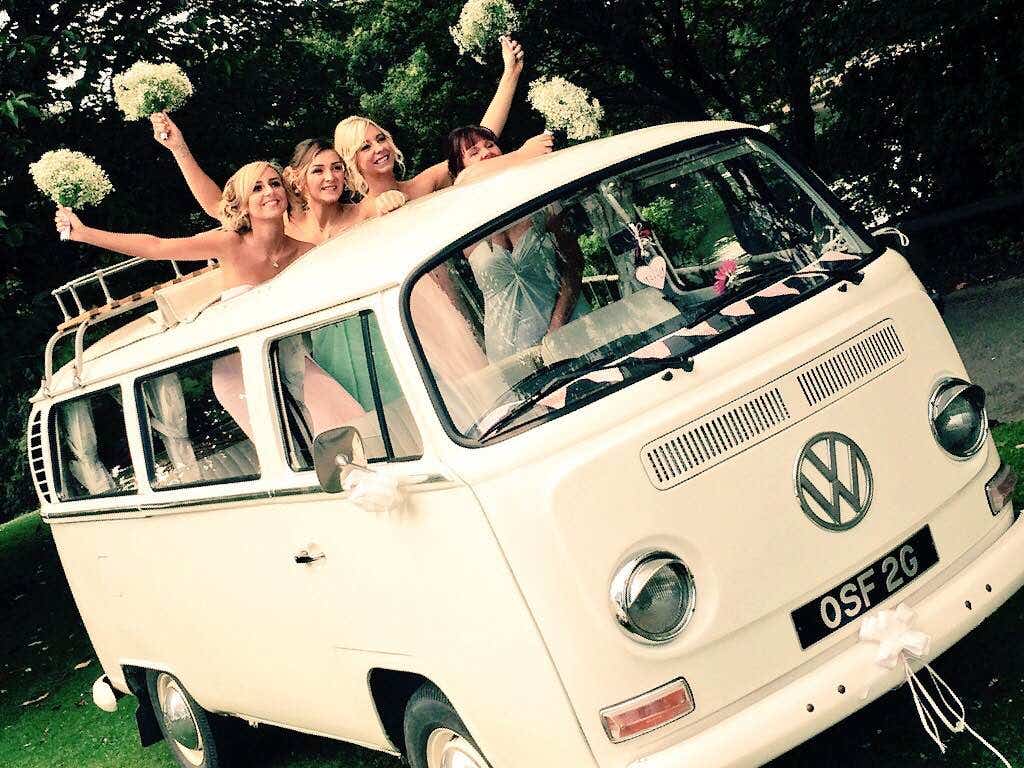 Introduce Your VWs....
Name , Type, Age, When and Where you got them...
The first vehicle we bought was Our early Bay 'Tilly' she is a 1969 right hand drive, originally Australian, we took the plunge and bought her on ebay. We had no real idea what we were buying but you have to start somewhere! However 'Tilly' was located in Essex and we are from the North East near Darlington. So I booked a flight from Newcastle and flew down to collect her, my first experience of driving a VW bus was a 5 hour plus drive on motorways! It should have been enough to put anyone off, but, Tilly did it and with a lot of help from Just Kampers, and a very good friend named Ray, we got her looking just as we had hoped.
At that time we couldn't afford the classic beetle also, so we part exchanged my wife's car for a modern beetle cabriolet, Alice. Alice isn't with us any longer but served us well as a daily driver and a wedding vehicle in her spare time.
Chaz & Mr Bennett we next to join the team. No sooner had we done our first wedding with Tilly & Alice we were contacted by a couple who had wanted VWs for their own wedding, and as none were on the market and they were VW nuts they did it themselves! They had sourced a lovely splitscreen and a classic Karmann beetle. Their business had sprouted overnight but, with jobs they loved and small children, it was all to much. So we took the plunge (again) and began to run before we could walk!
Chaz is a 1965 German splitscreen formed ambulance for the red cross, Mr Bennett an italian 1975 1303 Karmann Beetle.
Julio the splitscreen (Said Hoolio) was discovered in the corner of a farm yard, the owner had some VW parts and I was told he may have a fuel pump that I needed (I was learning quickly)! My eye was instantly drawn to Julio, it was a wreck but it was very different, with three doors down each side and with all forward facing bench seats Julio was a unique VW that Lovedubcars needed! It was going to be perfect for grooms transport and to carry quite literally a bus load of bridesmaids. This former city taxi of Sao Paulo Brazil, took a lot of work to be ready but, was worth it and is now a real head turner.
Digby the 2nd 1303 Karmann beetle is a 1974 model. Purchased after seeing him on a forum he used to be a daily driver on the south coast for a vicar - he was then sold and purchased by a new owner in south wales who had a dream of his then 3 year old son having it as his first car. Several years later, without Digby seeing the light of day once, he was pushed out of the garage and onto my trailer. The Father told me the sale had to happen as his then18 year old son claimed he wouldn't be seen dead in it!
Lastly, Monty our other 1974 Karmann Beetle is a 1302, he's a 1.6 injection so he can go like stink, we don't know loads about him other than he was originally from America.He was simply an offer I couldn't refuse! I was looking at replacing Alice the modern bug and a friend who works in restoration called me and offered me him at a great price, included in the price was a full repaint job in our original colour code of VW white that we use on all of our vehicle.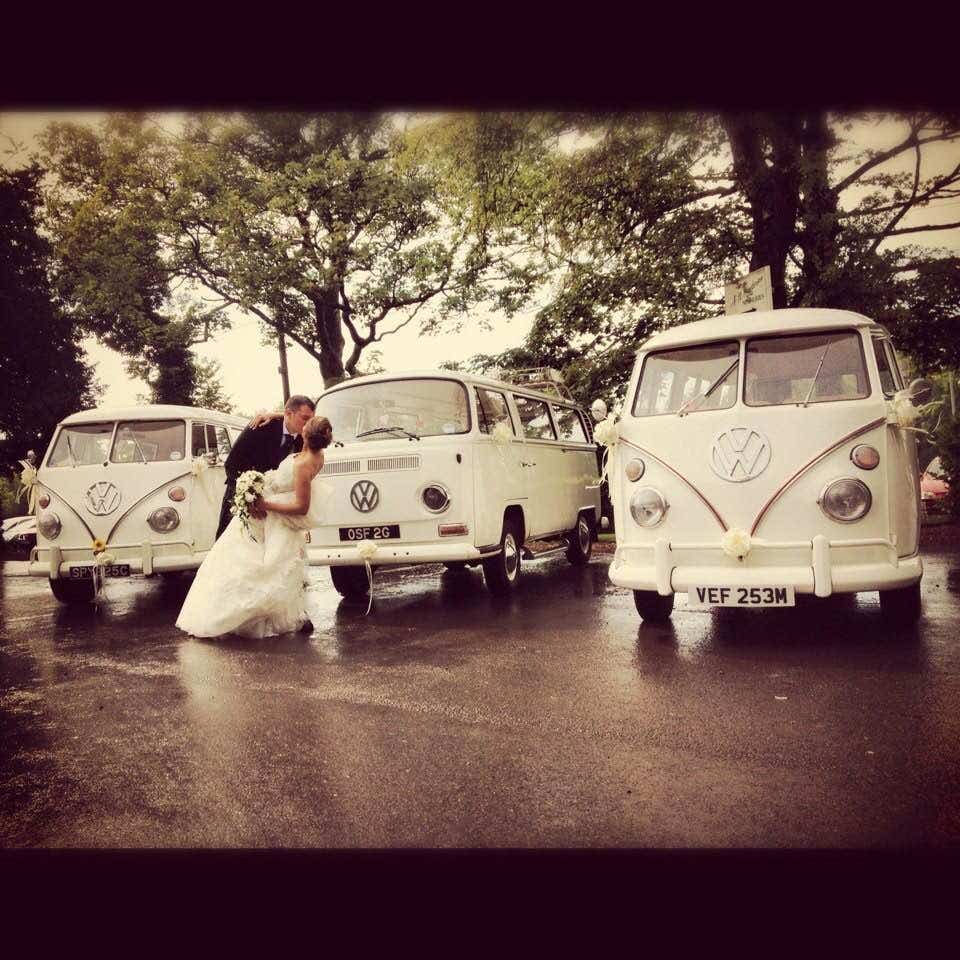 Introduce Your Business....
You guys own and run Love Dub Cars- wedding VW vehicle Hire. How did it come to be? Whose genius idea was it? You have quite a fleet of beautiful VW's. Was it easy to realise your vision or were there some bumps along the way.
Lovedubcars Ltd has gone from strength to strength over the last 10 years. It wasn't easy to realise our vision as prior to VWs becoming a popular part of the wedding scene some people just saw them as old hippy busses! Of course we weren't necessarily dealing with VW people, but couples who were looking at getting married, as well as their parents who may very well be paying!
I recall walking into a well known high street bank, once Chaz & Mr Bennett were offered to us, I had a business plan and a vision. Having discussed it with the business manager he sniggered and told me I was dreaming - he obviously wasn't a V'dubber! A remortgage was the only way to to push the business forward at that point and that's what we did.
How's it going?
You are old hats on the scene now having been in business for 10 years. Is it harder or easier than you expected? Do you love it? Would you recommend to others that they turn their VW passion into a business? Top tips...?
What's great now is that, although it has been a rocky road, it is one we would travel again.
When we started we had nowhere to park or show the vehicles. We used to meet couples in a pub car park and show our VW off to them, very professional.......thankfully they trusted in our vision!
We eventually rented a farm building from a farmer, a year later the farmer retired and sold us the barn, which we converted into our home. All 6 of our VW's now have pride of place in their own purpose built car port along the side of our garden.
We have certainly come a long way since that night in the pub with a daft idea!
Eventually we felt that Lovedubcars Ltd was as big as we wished it to be, any bigger and it would have become impersonal and less of a family business. Due to that we instigated a second business from the funds that Lovedubcars Ltd supplied. We now have a full event company www.tipichic.co.uk supplying giant tipis for wedding, events and anything else. It has simply become life changing. I am lucky enough to have a job where I play with VWs and tents all day, awesome.
So would I recommend others turn their love of VWs into a business...
Hell Yes. Go for it, but, expect it be hard and don't be surprised if it's still twice as hard as you expected.
If I was to give a top tip, it would be; remember to go with your instincts. By asking someone what you should do means that you value their opinion over your own. Asking for advice or opinions is fine, but, you should never underestimate the value of your own opinion and gut instincts.
And, reward yourself once the business has generated and not before! You will work hard and you will sacrifice a lot along the way, but, hard work and sacrifice isn't a result so don't go rewarding yourself too early!
Final Thought...
If you have an idea or an innovation go for it, too many good ideas and businesses are taken to the grave never having been attempted.
It's unlikely that you will lay on your death bed and regret what you did with your ideas, but, there is a high chance you will regret what you didn't do with them.
Life is for living, so go out and live.
Wow so we're feeling inspired....how about you!
For more information please contact...