As JK enters our 30th year in business we have convinced, Mark - (JK's founder) and Pete (Marks right hand man and Product Development Director) to offer up a, never before shared, insider account, to dust off the personal archives, share some stories and some ever so slightly dodgy pictures too. Some of their answers may surprise you!
Mark, time to bare your soul!
What were the realities of setting up a company so young – looking back do you think you were a bit naive to its realities or were you just very self-assured with a youthful exuberance and a total belief you could make it happen.
I set the company up on my 22nd Birthday (1st Sept 1989) because I could not get motor trade insurance at 21! At 22, I had no concept of failure. Anyway, we literally had nothing to lose, so it could only get better! I had no concept of what I was setting up. It was only supposed to last a few months until we would set off in a 1972 T2, to drive London to Cape Town. We'd been buying dried food, in preparation for the journey, which is what we lived off for the first year of JK, whenever money was 'extra' tight. My wife and I hate egg noodles because of that time...
As the business grew and you took steps to move to different larger premises were these coincidental or did they feel like big steps.
I'd love to say it was part of a concise business plan. But it was a succession of, with hindsight, lucky events. I remember moving to Wrecclesham workshop and thinking we'd have to sublet 50% out as it was so big! Within a year we'd outgrown the building.
Was it important to have good people around you sharing the load? Pete (Product Development Director) has been with you since the start.
Running a business, especially in the early days, is a lonely occupation as ultimately the buck stops with you. Staff and suppliers get paid before you do. But I've been lucky and had some great team members, some for nearly the whole journey. Pete and I knew each other pre JK and at the beginning, Pete did nights at JK, to help pay his mortgage, which back in the early 1990's was at 17.5% interest! As JK grew, Pete joined full time and became a shareholder and director along the journey.
What were the nuttiest things you did over the years?
We ran used parts out of a scrapyard in LA to the UK and Europe. Shipped NOS parts from the UK to LA, sold them to buy used parts to sell to Mexico and turn that local currency into parts from Mexico to ship to the UK and sell. (Did you get all that!)
But, the luckiest / nuttiest thing we did was turning up at VW's door in Mexico (no appointment just got a taxi there), and they granted us an export license. It was this that got us the introduction into VW Brazil, which was a monumental turning point for JK. VW Brazil granted us the sole license to import the VW Kombis to the UK. We set up a deal to only supply to Danbury, the rest is history. We imported 2850 kombis to the UK! I'm very grateful every time I see one driving down the road.
Mark so rarely wore a suit that Kerry made him put on the outfit he'd gone to the VW Brazil meet in just so she could take a picture!
Are there some decisions you look back on and think "Why on Earth?"
Too many, probably most of them shouldn't be brought up again!!! My view now is, "if it's too good to be true, it almost certainly is" so give it a miss. When you first set up in business you are a target for everyone to have a go at ripping you off. Almost certainly your gut reaction is right and so learn to have the courage of your convictions and stick to it.
What have been the biggest challenges and the greatest triumphs?
The biggest challenge has been to stick to a strong moral code, and not allow that code to be eroded. It's very easy in business to chase the profit and ignore the moral consequences. An example would be where we source products from. We could get, for example, thermomats made in the Far East for about 75% less. But a) the factory in question uses a lot of child labour and b) they are made of a sub-standard material that when it gets hot in the sun lets off dangerous gases. Yes, we'd have made huge profits, but Instead, we make them in Turkey to a really high standard and make much less money. This is one of hundreds of examples.
Another great triumph is how JK has been involved in charity fund raising for over 20 years. For example, via JK open days, which always raise a minimum of £10,000+. As a business we've always believed its important to give back and support others.
The JK Open Day and Camping Weekender has it's roots firmly set as being a charity fundraiser - we're proud to say it's also become a much loved event too
The business has grown over the years and of course there have been a lot of similar businesses that haven't made it. What do you think has been the difference?
Hopefully giving the customers what they want. It's important to us that no matter how or when you encounter the JK team you feel listened to and that we understand exactly where you are coming from. For us that bit has been easy because I've been a VW owner since I was a kid and so are over 50% of the JK team. We drive the same cars our customers do. We know what fellow VW owners want / need. Things like the JK Insurance was borne out of our own experiences. I had a crash, the insurance company only paid out about 50% of the car's value. Other owners were also having a similar problem 20 years ago. So, we went out and set up JK Insurance, giving the customer the same cover, WE wanted and deserved.
Age 17; Marks first Beetle
The VW community is very special and it's something that JK have always sought to support – do you think that it's quite an unusual thing to be a part of such a community and why do you feel it's important to support it.
I've been lucky to do a 'job' for the last 29 years that is also my hobby and part of the 'Reynolds' family. As a family, we have been lucky enough to travel all over the world in VW's of one kind or another. Along the way we've met some of the most amazing people. I've always seen the wider VW community as part of the JK Family and vice versa. Because of this we've always been keen to help, support and nurture it. That's why we were at the very start of the T2 Owners Club, helped promote Vanfest and Camper and Commercial magazine etc from their launches, and, today support 40+ grass roots VW shows in the UK plus many around the world too.
At its core JK is still a family business and will always aim to be so. Do you feel that your family has grown to include the JK team!
For me it's a blurred line between Home family and Work family. If you ask my kids they'll say my oldest child is JK! As a business, we celebrate each other's birthdays with a cake and candles in the same way you would at home. The same goes for new babies and weddings etc.
Marks first Bay - pictured with his sister.
When you look back and consider the last 30 years how do you feel in general, and what would like the future to look like.
I literally can't believe where the years have gone. In some ways, it's really the only life I've known. We're certainly not interested in becoming 'corporate pigs at the trough'. We'll always seek to support and be a part of the community, focus on new product and helping to keep those VW's on the road. My hope is that the future will look much like the past with steady, moral growth.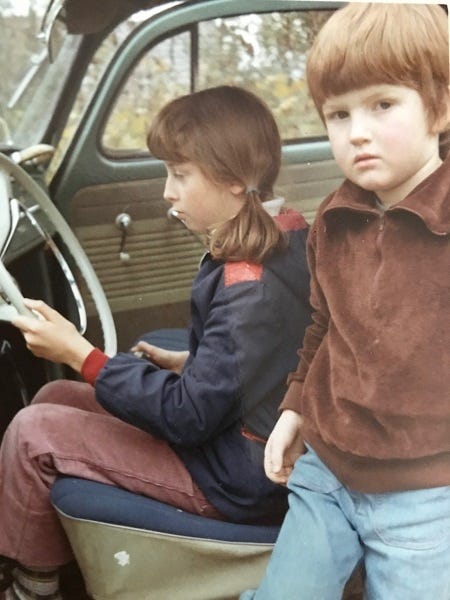 And lastly, if you had your time over would you do it all again?!
I think I was very lucky along the way, and if I could have the same adventures, luck and fun, meeting as many interesting people, then YES 100%.
Having said that if I'd paid attention at school, I'd love to have been an architect, but I spent too much time staring out the window looking at the cars!
We couldn't leave without at least one more picture of Mark. Here he is in a relatives Beetle, Wasn't he a cutie!
Pete, it's your turn to take a trip down memory lane...
You've been a part of the JK team pretty much since the start. Over the years you've been Mark's right hand man. How did your journey with JK begin?
I first met Mark through a mutual friend. He came to my house to buy my chopped Type 3 square back "The Toad". At this time Mark was working for Henley Beetles and I had my own small workshop.
At the beginning you all did the hard graft and JK was a workshop rather than parts based, obviously quite a lot has changed in 30 years. What stands out for you?
When I look back so much has happened in 30 Years. We've had a lot of adventures and met some amazing people along the way. It's difficult to pick out one event but certainly the most memorable for me was to be part of the JK team taking part in the Mille Miglia
As the workshop side of the business was wound down in favour of parts, JK even bought its own scrap yard in LA to secure parts to send back! Looking back what was the most extreme thing you did to secure that all important stock?
I had some great times on our trips to LA. In those pre-internet days we used to land at LAX and buy a copy of the Recycler (A free adds style newspaper), then scour the ads for cars and parts. Once armed with a list of possible leads we would set off with the most rudimentary map of Southern California, needless to say, we got lost and ended up in a few less than desirable neighbourhoods. In those days you would still see buses and bugs for sale parked in yards and on the side of the road, with by today's standards ridiculously cheap price tags. Pomona swap meet was another great resource. Miles and miles of stalls with rust free body panels, NOS and rare parts, we used to hire a pitch and start walking the aisles at 4 in the morning. By midday we would be exhausted, burnt by the sun, but have a van full of goodies. We had a storage unit we kept in Asuza that we would use as a base. Once the unit was full we would roll in a 40 foot container and load it in the yard ready to ship back to the UK.
There were some lucky breaks parts wise and quite a lot of Delboy-esque wheeling and dealing. Do you have memories of anything that you look back on and think "I can't believe we did/got away with that?!"
We had a load of NOS Split Barn Door panels that Mark picked up in Malta. At the time no one wanted early Split parts in the UK, so we packed them into Marks ratty Bay crew cab and set off to Germany to sell them to a couple of the specialist dealers. On route we picked up various other parts and panels and pilled them on to the open back truck looking something like the Beverly Hillbillies. As we passed near Wolfsburg we decided to stop at the VW factory and do the tour of the production line. At the end of the tour Mark asked the guide if we could talk to whoever was in charge as we wanted to buy some parts. Now I don't know if something got lost in translation, but we were taken to a separate building and asked to wait by a pair of massive Oak doors. After a few minutes the doors swung open and we were ushered in. The office we entered was impressive with wood panelling and a massive desk with a rather annoyed looking gentleman sat behind it. Now bear in mind we were two rather scruffy looking individuals who had been living / sleeping in a beat-up crew cab as we crossed Germany. The guy behind the desk asked what the hell did we want? Mark in his best Pigeon German / English explained we were from England and wanted to buy some parts for our workshop. The response was as to be expected, we were told to get out and if you want parts go to your local dealer. It was as we were escorted from the building that Mark noticed a plaque by the door that stated 'Geschäftsführer', the translation is managing director. So somehow us two had managed to get an audience with the MD of VW at Wolfsburg, not the parts manager we had asked for… no wonder he threw us out. Oh yea, the crew cab… on the way home it dropped a valve, we pulled the offending plug lead so that the piston didn't fire and limped all the way home fully loaded on 3 cylinders!
You've been Product Director for some time now. What part have you been most proud of being instrumental in having developed and produced? Could you give us an insight that people maybe wouldn't know about the process of getting an obsolete or new product to market?
We produce a lot of parts, many of them you probably wouldn't find very interesting but in many cases a necessity to keep our beloved VWs on the road, such things as the Type 4 oil filler neck and cap. Before we produced these, they were nearly impossible to find in a usable condition but an item I was very excited to have made. My favourite item we have produced is our ash tray cup holder, an item I use all the time myself and one that has a story. Shaun our sales director gets a cup of coffee every morning on his journey to work, driving a Bay he had nowhere to put his drink so used to place it between his legs and drive in. Often this would normally end up getting spilled on his legs he would come into the office moaning and of course to a load of ridicule. After a few months of this I decided to find a solution. A few hours in the fab shop, a couple of failed attempts and we had the first prototype. This was given to Shaun to use, from his feedback we made a couple of tweaks then put these into production. A simple solution but one that helped Shaun and was of benefit to our customers.
You're a proper old school car man and have owned more than your fair share of VW's amongst others. You're also a bit of a dab hand with a welder. What vehicles have you been most excited about owning or producing? Having asked that looking back is there anything that stands out for all the wrong reasons?
There is as you say many, but one stands head and shoulders above the rest. Ben my 1970 Bay Window I currently own, I had the crazy idea of buying a van in California flying out with my family and touring the PCH. It was an idea that became reality, we had a great holiday adventure then shipped Ben back to the UK. My family convinced me to keep "the holiday bus" and sell the 71 one owner Bay I owned at the time. Since bringing Ben home we have had various holidays and days out including trips to Europe, down to Lands End and have just returned from a trip to Scotland. He's a part of the family now and I hope never to sell him.
So, give us the inside scoop (be honest nobody will ever know!) what has it really been like to work for JK for such a long time and what do you hope the future holds for the company?
Emotional! The future, wow … with the changes in technology we can carry on bringing new and quality parts to market to help keep our and customers Bugs and Buses on the road
Lastly do you have any memories (any that you can share!) that make you chuckle and you think Joe Public might enjoy?
When Mark and I were travelling a lot to LA and Europe he did once point out that he spent more time with me than Kerry!