Janice Joplin sang, "freedom's just another word for nothin' to lose".
It's in an interesting line, suggesting we have to lose everything before we can become free. I agree with this sentiment entirely, even if I can't bear to part with my T25 Syncro Westfalia. When there's nothing holding you back, you find yourself in a position to make decisions that wouldn't seem logical when you have an expectation to be somewhere, with someone or doing something familiar. When we sold our house, our car and all our furniture, I had a sudden rush of freedom fall upon me. Simultaneously, I felt a burden immediately fall upon my shoulders. It's not a burden placed on me by anyone but myself. When faced with the opportunity to live in a camper van and venture anywhere, you begin to realise how much there is to see and do. You don't want to waste any time or money on anything but pursuing the adventure.
Our goal is relatively simple, camper van cooking adventures.
My first stop; Bordeaux. I usually skip on locations I feel could be pretentious, or places that simply require a brief stop to photograph the proof of being there. Instead, I opt for exploration that scratches beneath the surface of what might be considered Instagram worthy. There was a good reason for Bordeaux and it wasn't just the 14.5 billion wine industry. Bordeaux is home to some of the best sea food that you could imagine. Arcachon bay is a place where you won't see many tour coaches, or crowds of photographers. Instead, you see fishermen. Sailing off at dawn and returning at dusk with enough oysters to feed a city that's devoted to them. If you're lucky, you might get a chance to eat at the fishermen's eatery, where the fisherman shuck your oysters and present them beautifully at sunset, served with a glass of white wine and a few pieces of bread. It really was that simple, but a delight for anyone who looks beyond the guide of Michelin acclaimed restaurants.
Before leaving Bordeaux, we felt it was time to plug that gap on our wine knowledge. Having a camper van really does open up new opportunities for exploration. We decided to visit a family run Chateaux, hosted by Beniot and his family. There were three generations of wine making, and at 5 hectares, considered very small in the region. Beniot invited us to camp for the night on his vineyard, for free. After a few hours, it was clear we were about to have the most amazing experience yet. We enjoyed a late evening, tasting their wines and receiving the tour. Luckily, I had filmed it, as I would struggle to recall much else! But that wasn't the only highlight. The following morning my alarm was set for 5am. Why? I decided it would be good to jump on Benoit's tractor and help them to harvest the grapes. It only happens on three days of the year and miraculously, we landed at the perfect moment. I have never enjoyed a hangover so much! We even made a short film capturing it, which you can find on our YouTube channel.
As Autumn arrived, a different approach to vanlife ensued. The summer evenings outside were swapped for cosy nights in. The days got shorter and whilst you have some romantic notion that campfire will be your evening entertainment, the reality of living in the van doesn't make this so practical. Keeping the van clean, our clothes clean and ourselves clean is a priority. Campfires tend to bring all of this to a halt pretty quickly. We do still have them, when the time is right and when we have access to a lake for bathing. Laundry on the road is done every two weeks at a launderette, or at the self-service machines you find at some of the petrol stations. Forget washing them yourself, it uses a lot of water and you could easily spend a whole day trying to dry everything in the wilderness. A laundry visit takes two hours, which can be used to give the camper van home a good detailed clean.
We then decided to head across the Pyrenees mountains, towards Catalonia. Girona, what an amazing city. For those of you who love Game of Thrones, you would recognise many of the buildings. The famous "Shame" scene was filmed on the steps of the Cathedral. It really is as grand and marvellous in real life, especially at night. Dinner out with friends consisted of a taster menu. Squid ink Paella anyone??
Venturing down the Mediterranean coast line of Spain, we found ourselves amongst an unfamiliar crowd. Retired travellers. Some were great, some were grumpy. Some had some amazing stories of travel, others chose to pick problems in our choice of lifestyle and our vehicle of choice. Parking up for a few months in car park isn't for us, we prefer not to have any neighbours. But, if you want a cheap winter in the sun and like to eat out a lot, it may cost €180 to park up for a whole month! Showers, electric, water and even an on-site bar included.
Head inland and you will be blessed with remote lakes, glorious mountains and not a single conversation about how you shower. For the record, we do this outside, in swim shorts with a hot bucket of water and a Pyrex jug. We used to use a 12v shower that pumped water, but it really wasn't needed. We boil a kettle, pour it in to a collapsible bucket, top it up with cold water and then use the jug to pour. It really is simple and in under three minutes, we are showering, with no loss of storage space and we only use around 6 litres of water each.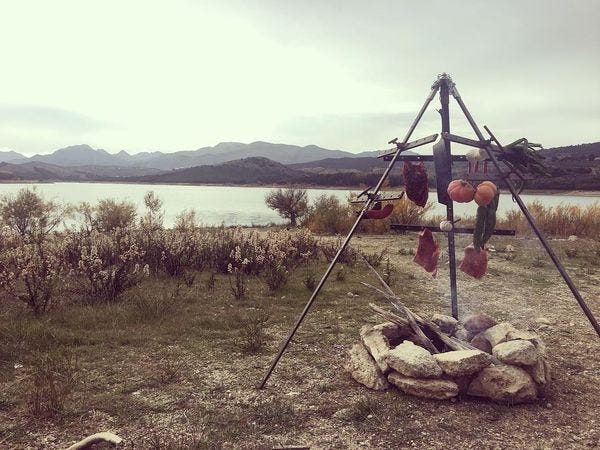 It was then time to cross the border to Portugal. The Algarve is nice, but very similar to the Mediterranean coast of Spain, with the same conversations. Head North! The mountain regions of the North are beautiful and not visited by many people in the winter. You are blessed with remote spots in the wilderness and a more traditional outlook on Portugal.
Heading West will lead you to Porto and down to the famous coastline of Sintra. A surfer's paradise. But be warned, the largest waves in the world are seen here, with people surfing 100ft waves!
At this point, our gastronomic adventure hit another peak. Nuno. A local, fascinated with my camper, who began taking pictures and became incredibly excited. It transpired that he owned a T25 ambulance and loved the vehicles. He also had one of the most dangerous jobs in the world, harvesting percebes (goose neck barnacles) off the cliffs of Sintra. It would require him to swim out into towering waves and climb rock faces as the waves crashed into him. With a spear, he would scrape them off the cliffs. Collecting €60-€100 per KG, I can see why he did it. He also knew many of the local chefs and restaurants. We became friends and spent a few weeks cooking on the cliff tops together, sometimes meeting his customers there too.
I also learnt so much about cod, Portugal's true national dish. Peri Peri Chicken does exist, but it is not as cherished as bacalhau (Salt dried Cod).
It was January and our journey in Portugal had come to an end. It was time to drive back to the UK to host a cooking show at the NEC. However, our return journey was particularly special with the addition of Eva, a dog from the Algarve, living in a shelter under distressing conditions. We offered our services to a charity, to transport Eva to her forever home in the UK. It was one of our Facebook followers, Darren, that decided to adopt her and to him we are eternally grateful. The conditions of the shelter were totally deficient. Thankfully, our act, along with many others from the charity, required the local government to begin planning a new shelter, that would allow dogs to see daylight and grass again. Mission Accomplished.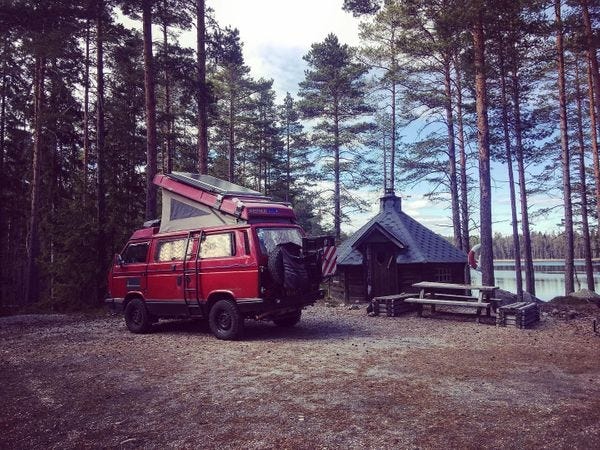 The next phase of our journey was breath-taking. At the JustKampers open weekend, we will be sharing a video about our time in the Arctic Circle. We write this article in May, on our return. Our adventure has seen us endure some incredible conditions. During our time in the Arctic Circle, we met with Jack Mac, from Bicycle Touring Apocalypse. Jack drives a Syncro too and for the first time in five years, it decided to break down whilst we were with him. What are the chances?! Thankfully, the JK team helped us out once again, shipping a quality stainless steel water pipe to the remote Lofoten islands in Norway. We changed the pipe during an arctic blizzard. Afterwards we defrosted in the westy, over a warming dish of salmon, with a creamy dill sauce.
We will be at the JK open weekend, sharing some recipes from our travels and generally relaxing by our fire. Bring a chair, maybe a drink and come and share stories of your Campervan Cooking Adventures.
See you soon!
Michael
You can follow the adventures of ChefCampers via their
FACEBOOK PAGE or ChefCampers.com. Make sure you catch their brilliant demo's at the Open Day.