Introduce yourself and your business: Hi I'm Lisa, mum of 3. I live with my husband and our dog, Trevor, in Dorset. My business is wedding transportation VW style...
(Image credit: Holly Driver Photography)
How and when did your love affair with VW's start? My passion for all VW started when I was a young girl. I always loved the Herbie films as a child. My dream was one day to get my very own bug.
(Image credit: Jay Franks Photography)
Tell us about your beetle: 'Valerie' is my beautiful 1974 beetle. She started off as a surprise wedding present from my parents back in 2010. She has been with us ever since. She's was sadly off the road for 6 years, whilst we were focused on growing our own family – 3 children later... back in May 2018 she had a full restoration. Undertaken by my brilliant brother and father it took about 10 months to complete. She is my pride and joy, she certainly gets a few heads turning.
(It all began with a wedding gift)
How did the business come about? When we got married back in 2010, we were looking for a wedding car and only really wanted a beetle. But sadly, never found one. So, my passion for my business came from that. I decided that I'd love to help other couples have a wonderful wedding with our beautiful little car.
(Another happy couple)
What changes did you make to the bug to make it better suited to its new use? We have taken out the front passenger seat to enable our brides and their beautiful dresses to more easily get in and out. We offer a free personalised back window car decal for the happy couple. Saying just married their names and wedding date on. While they have, they church service/reception. I apply the decal ready when they come out for their photos. It's and extra special detail and I find that the couples really love that personalised touch. Beyond signing the marriage deed it's one of the first times they'll see their new married name in script so for many it's a very poignant moment.
(Personalised decal's for the happy couples)
What's the best and worst thing about turning your VW into a business? Best thing is seeing the nervous brides face turn from relief to excitement when you turn up to transport her for her big day. Then there are all the waves from other cars and passers-by. It's a very special feeling owning a beetle and a real privilege to be a part of so many special days.
The worst thing is properly all the time cleaning and polishing before a wedding. Especially if you then drive a few minutes and it starts to rain!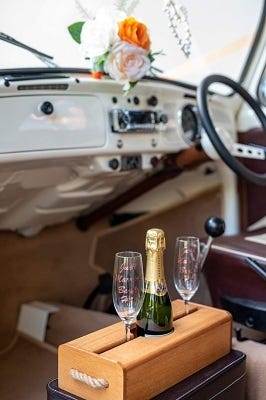 (The front seat was removed for ease of access -and provides space for some all important bubbles!)
What are your hopes for the future? Expanding my collection of cars to include a bay window and split screen. All to match my Valerie's cream and brown theme colour.
Contact details: Website/Facebook etc https://justmarriedbeetleh.wixsite.com/website
https://www.facebook.com/justmarriedbeetlehire
This VW based business is located in Christchurch, Dorset and covers the New Forest, Lymington, Christchurch, Bournemouth & Poole. (Although they may travel further!) Please message for more information.
Do you have a VW based business or a story you'd like to share?
Email: jkworld@justkampers.co.uk