We drive our classic (and modern) VW's. We love them just as much as you do. For most of us they are a part of the family, have names, personalities and are nigh impossible to replace.
We understand that you invest in them, in a way that is so much more than the financial outlay they require of us.
It's because 'we get it' that we truly understand the implications of offering an insurance product, that, should the worst happen, you can rely upon – and not just based on the product itself but the people behind it.
So, it's not just about providing the cheapest quote – although we are so keen to be competitive, we offer a Price Promise - it's about being there when the chips are down and making sure we support you through any claims process; in a swift, well executed and proficient manner. Because the last thing anyone needs is to find that an already painful process is made worse by the company you have paid to support you.
Just Kampers Insurance was borne out of frustrations experienced by our customers, and ourselves, when trying to insure our beloved VW's. We found time and time again that the products didn't offer the robust cover that we knew we needed a price that was fair. That you then paid through the nose to have extras that we felt should be included as standard.
Being in a unique position to offer such a service, through a trusted Insurance partner, has meant that for over 20 years we have been providing a service that, has offered those benefits and, is supported by our core belief in providing a package that remains true to our original ethos.
It's a service that has been supporting many a VW owner through the best and sometimes the worst of times.
There are all sorts of insurance product available through JKI. These can be tailored specifically to your needs, whether you are using your vehicle as a daily driver, a European road tripping adventure wagon, or you are the owner of a highly prized, garage stored classic, insuring a motorhome or a commercial vehicle.
What really sets JKI apart is, very simply, we are so confident in the level of service, and the product provided, that we were prepared to our name to it. After 30 years in the parts business - helping to keep your VW's on the road - it's a brand name that is incredibly important to us.
So, just like the parts side of the business, you can put your trust in us- as owners- to be there when you need it most.
Insuring your pride and joy? We consider these to be the most important aspects to consider in your insurance package:
We think this is the most important element of any classic car policy and one to not be ignored. When you have spent huge amounts of time and money into keeping your classics on the road, should the unimaginable happen you'll want to make sure that you get more than the market value for your car.
So, when it comes to renewing or taking out a new policy with Just Kampers Insurance, make sure you come armed with several photographs and or receipts for parts and labour which evidences any improvement, upgrades or restoration work undertaken on the vehicle. Once this has been easily submitted to the team at Just Kampers Insurance, we'll review and if approved, we will send you your agreed value certificate.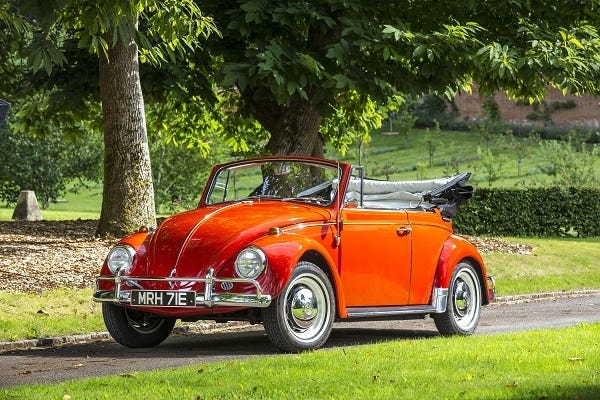 Salvage retention isn't normally a benefit that you would consider as important, however, we think it is, so much so, it's free! * Salvage Retention with Just Kampers Insurance allows you to buy back your VW should it be deemed uneconomical to repair. *Excludes motorhome and commercial vehicle policies
UK and European Breakdown Cover
Driving your vehicle is all about the journey and your journey can't commence or continue, Just Kampers Breakdown cover will reassure you that we will get you where you need to go.
Our breakdown cover starts at just £45.00 for cars and £89.00 for Campervans of any age. There is no callout excess or limitation of how many callouts you make during the term of your policy.
If you're looking to travel further afield or you need a home start plan, European Breakdown, Home-Start cover can be purchased for just £90.00 for cars and £110.00 for Campervans and includes all of our standard breakdown benefits.
Only need cover for a short period. That's not an issue, we have a range of short-term breakdown cover plans available too.
For further peace of mind, Just Kampers Breakdown operates 24 hours a day, 365 days a year. Our trained staff are equipped with the most up to date mapping technology and computers to provide a fast and efficient service using a network of over 1,800 Breakdown recovery specialists to get you back on track.
Why Insure with Just Kampers?
Many insurance providers simply cannot deliver the tailored policy your cherished VW deserves, this is where Just Kampers Insurance can provide you with the necessary level of protection you and your vehicle require. and to make things even simpler when you insure with us, we won't require you to supply proof of your No Claims Bonus, driving licence or address.
You can complete a quote and buy-in under 5 minutes, so no more filling out tedious online forms to be told you have to call to arrange a final price.
All policies come with £100,000 of legal cover free of charge!
Price Promise - Got a better quote elsewhere? – We're so confident we can match any like for like quote that if we can't we'll send you a £50 Just Kampers gift card if we are not the cheapest.
JK Parts Discount - Becoming a Just Kampers insurance policyholder also grants you access to 10% off parts, accessories and camping equipment at Just Kampers for the duration of your policy.
Did You Know?
Just Kampers Insurance can provide you with specific cover for a range of vehicles and their uses too.
Wedding Hire – If you're looking for classic wedding hire insurance for your classic Camper van or beetle or if you need cover for a fleet, or even if someone wants to borrow your vehicle for their big day, Just Kampers Insurance can help.
We understand that a wedding vehicle is used differently to standard vehicles, and our cover takes this into account, which means that we can offer incredibly competitive prices, Wedding cars are always special and often a memorable part of a wedding celebration, we can offer wedding hire cover in virtually any situation. Rates will be calculated individually, so please call us, or use the call-back option, to speak to one of our knowledgeable team.
Multi-Car Discounts - no matter what you drive, standard, modified or just your daily driver, Just Kampers Insurance can cover a wide range of vehicles, makes and models. Why not talk to us about our Multi-Car Discount and insure all your vehicles on one policy, our knowledgeable team can assist you with a quotation and see how much you could benefit from our multi-car savings
Limited Mileage Discounts – If the term "Suns Out Dubs Out" applies to you then ask our team about limited mileage savings, as limited mileage cars are for pleasure use only, we can reduce premiums due to the lower risk these represent.
We insure Motorhomes and Commercial vans too. If you're looking for motor home insurance, then we can build a policy which is as snug as your home away from home. Our insurance policies cover a range of classic vehicles like yours to ensure you're fully covered whether you are motoring in the UK or overseas. And if you rely on your van for work Just Kampers Insurance can help too. Speak to one of advisers today about a Commercial Vehicle Insurance Policy by calling us on 0800 240 4225 or Request a Call-back and we'll contact you at a time that suits you.
Just Kampers Insurance is about making insuring your car with us simple and trouble-free, if you have any questions or need some guidance to make sure you get the right cover for your VW, give us a call.
Just Kampers Insurance Services
Policy enquiries, Customer services & Claims
0800 240 4225
Mon - Fri 9:00 - 17:30, Sat 9:00 - 2:00
Sales & Policy Renewals
0800 240 4227
Mon - Fri 9:00 - 19:00, Sat 9:00 - 2:00
Claims queries 24/7
0344 381 4462
24/7, 365 days a year
Breakdown rescue UK and EU
UK 0330 123 0758 or 0800 032 5515
Europe 00 44 1245 408 480 or 00 33 (0) 549 348 373
Whether it's in the form of parts supplied or insurance cover we're committed to supporting you on your VW journey.