So Shauna…for the people out there who don't know…Who are you and what do you do?
I'm a 22 year old professional climber from the North West. I started climbing at the age of 4 and totally fell in love with it. I was lucky enough to find the one thing that I wanted to do more than anything at a very young and I worked as hard as I could to turn my passion into a career.
Why climb? What does it mean to you? How did you come to be a climber?
It's impossible to imagine my life without climbing now. I saw a lady climbing a cliff on the TV when I was three and asked my Dad if I could try it. A little while later we found a local climbing wall and I guess the rest is history.
As a professional climber you will certainly have hit highs and lows, whether it be training, in comp's with injuries etc….what has been your most memorable high and low…and how did you deal with both?
That's a really hard question to answer as I have so many memories of incredible moments. Standing on top of the podium at a World Cup for the first time felt amazing but then some of my fondest memories are times I've spent in amazing places with my best friends. The sport has taken me all over the World to compete and explore rocks. I feel so lucky to have seen and experienced so much.
I'm one of those really annoying people who always see's positives no matter what. I am a firm believer that everything happens for a reason and that with determination and positivity can always make a difference. I feel like I have come out of every injury and every undesired result a stonger, more capable athlete. So I guess I don't really have any lows…
So, JK have given you a VW T5 van so you can get on the road and enjoy some vanlife! How will that help you? What are you most looking forward to? What are you most worried about?
I have always wanted a van. I guess I crave the freedom. An opportunity sitting outside your house waiting for you to take it on an adventure. With training full time it's hard to find the time to get out and go rock climbing. But now that we have the van it's so much easier. Anything that makes getting outside, and, chasing the good weather more accessible has to be a good thing right? The only thing I'm not looking forward to is having the van, knowing the weather is good, and having to go training and not rock climbing. That just makes the days when I do get out even nicer though!
So Ned (Shauna's boyfriend, ridiculously good climber and the genuis behind Beastmaker) is going to be driving the van too – will you be hiding the keys?
The van has become a big part of both of our lives already. From weekend trips to Northumberland to work stops in London. It's amazing to have a little home on wheels. We both prefer staying in the van to staying in a hotel! It's definitely going to be essential for Ned as he has some big projects in mind.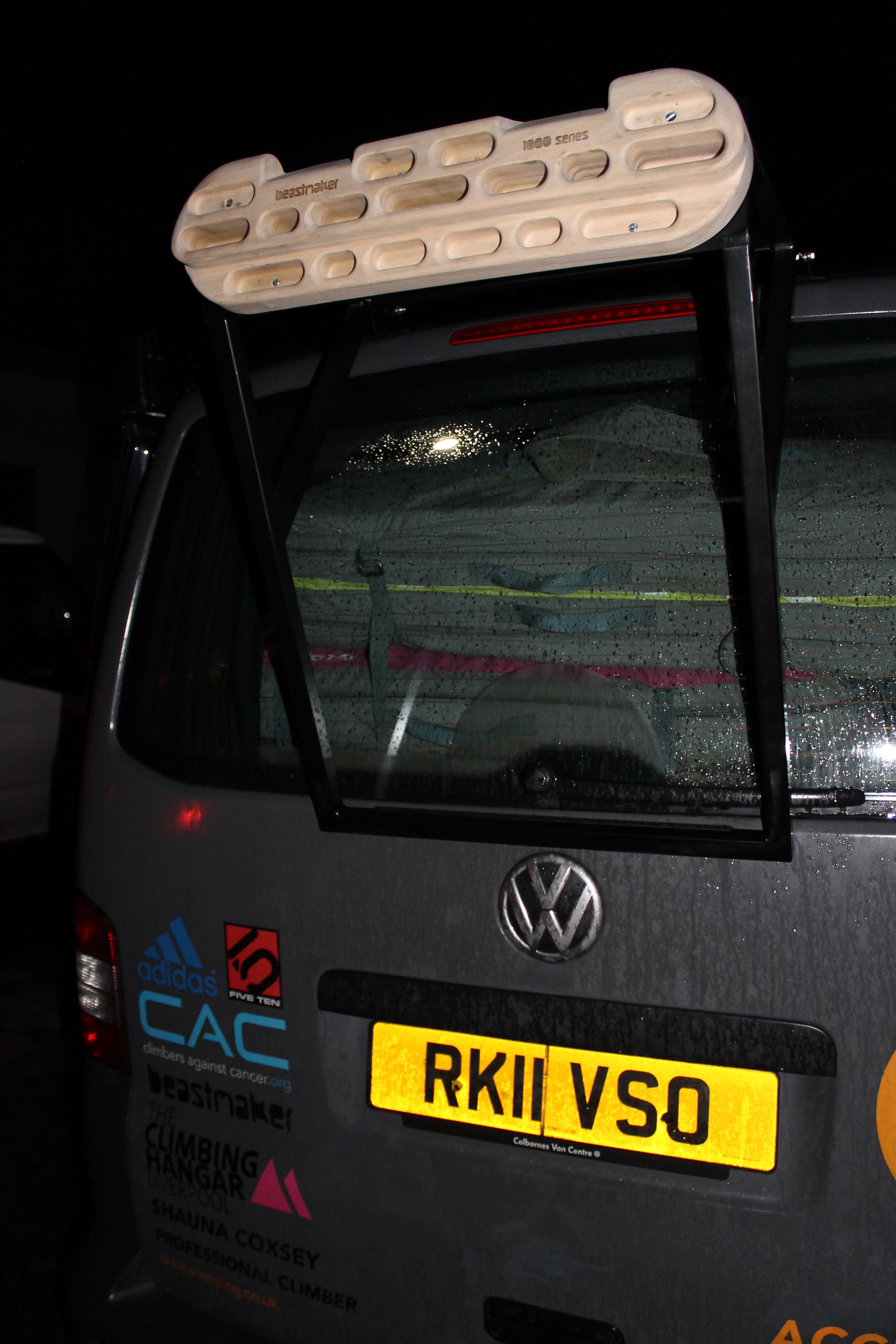 What is your favourite place in the world – climbing wise and non-climbing related?
I think it would have to be my house. I love my lifestyle and wouldn't change it for the World but I also love coming home.
What gastronomic gems are you most likely to serve up in the van?
Ned's totally mastered pancakes!
Do you have any previous experience of VW's or are you a newbie to VW life?
We're both newbies. We both also really don't like staying in tents! So having the van is amazing!
Climbing- can anyone do it or do you have to be superfit?
Not at all! Anyone can do it! It's super accessible for anyone of any age or ability and it is so much fun!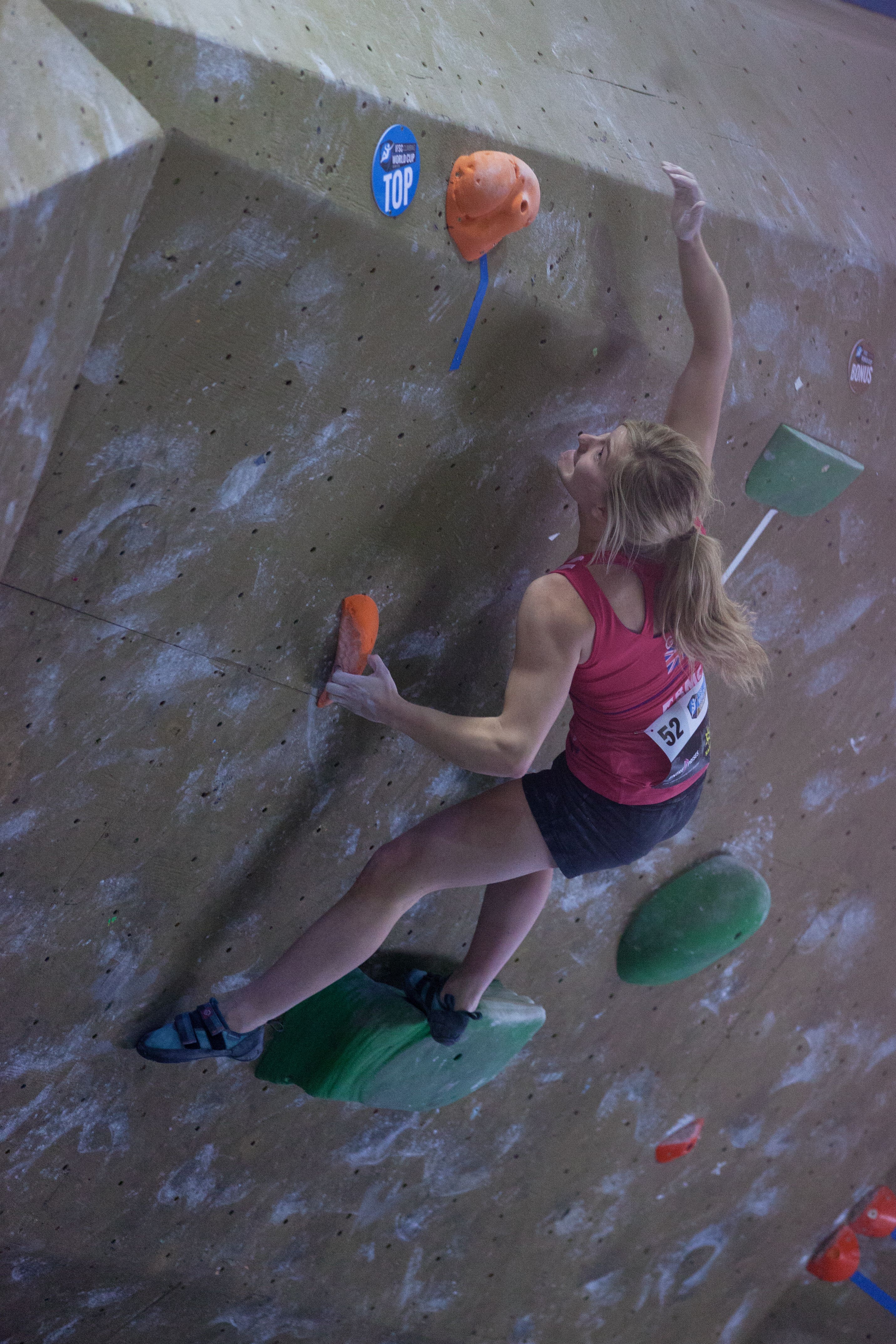 Top tip for newbies….
Have fun and don't take it too seriously!
Top tip for Intermediates…
If you want to get better climb more.
Top Tip for Proficient Climbers….
Do the things you're not very good at more
You are one of the organisers and advocates for the Womens Climbing Symposium…What's it all about and why is this so important for you?
The Women's Climbing Symposium is an event that aims to connect, develop and inspire women's climbing. It's an event I started 5 years ago with a friend. The plan was to air barriers that women faced in our sport. It's totally transformed over the past years and it's now a huge celebration of women in climbing and a day of personal development and entertainment.
www.womensclimbingsymposium.co.uk
Catherine Destivelle, the person who inspired you to become a climber, attended the Symposium. What was it like to listen to your climbing hero talk to a new generation of climbers? Must have felt pretty good to be a part of that?!
It was such an honour to have Catherine Destivelle talk at our event. Her story is so inspiring. She had pursued so many different areas of the sport and really made me realise how broad and incredible climbing is.
You have attracted some impressive sponsors through your dedication and success, with the likes of Adidas and Red Bull amongst others. Obviously the level of support from these sponsors has a positive impact but does it bring with it an extra pressure to perform?
I really could not ask for better sponsors. Adidas and Red Bull are unbelievably supportive and never make me feel pressured! I'm honoured to represent brands who are so passionate and committed to the positive development of my sport and their athletes.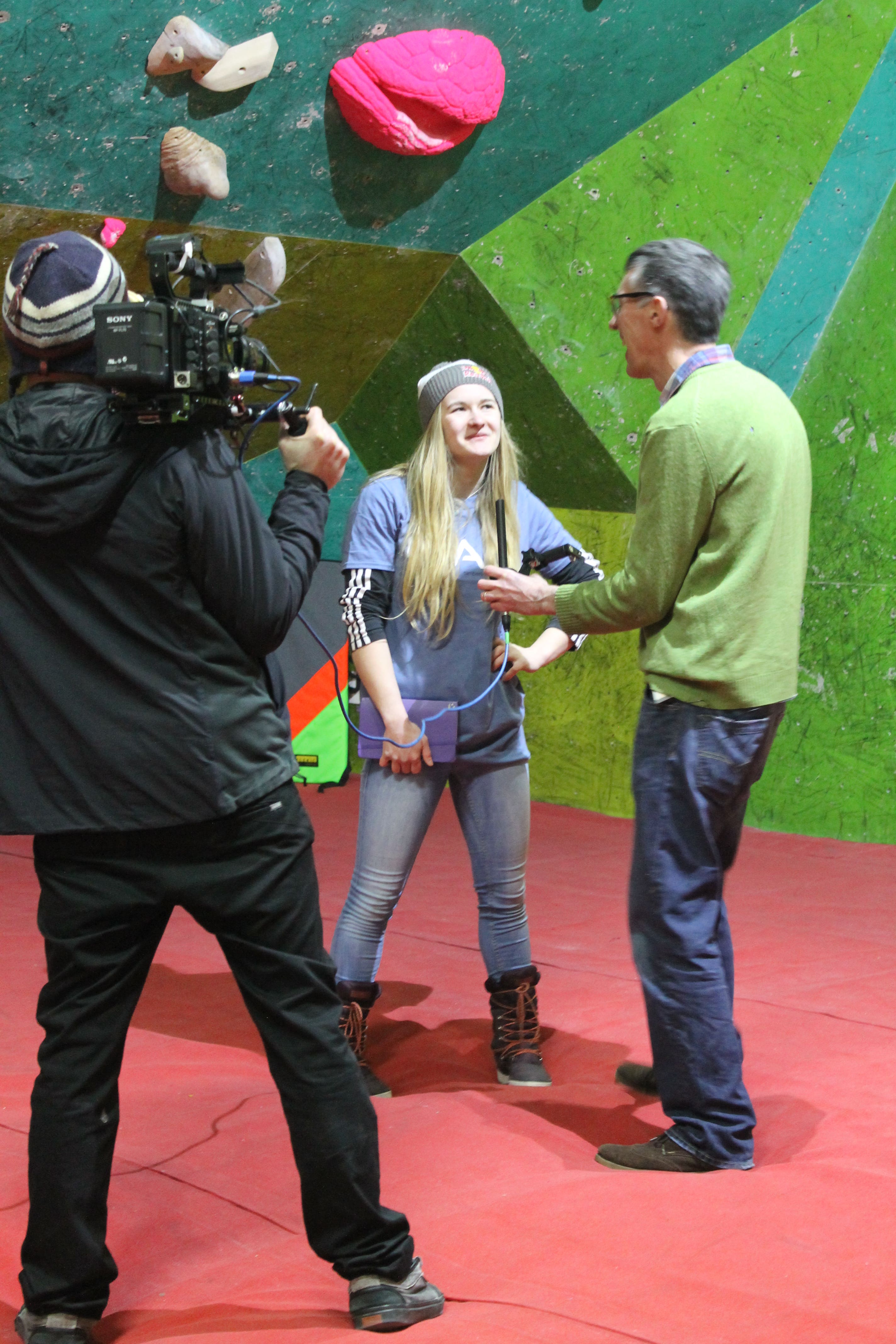 Anyone that see's the T5 out on the road will see all of the branding associated with you. Much of which will be instantly recognisable. They may not be so familiar with the CAC logo! What is CAC? What is your role for them? What does it mean to you?
CAC is the charity Climbers Against Cancer. My good friend John Ellison set the charity up 4 years ago after being diagnosed with terminal cancer. John decided he wanted to do something to help raise awareness and funds to contribute to finding the cure against cancer. John asked me to be a trustee for the charity when it began. Little did we know then how far it would come and the impact it would have on the climbing community Worldwide! Unfortunately, John recently lost his battle. The trustees and the climbing community are working hard to keep the charity going and keep it growing. His legacy will live on.
Do any of your climbing (or non-climbing) friends have vans? Will you be planning a roadtrip?
Lots! There are many ideas for road trips and we keep getting really excited about all of the different places we could go. However, as all of our friends know very well, getting Ned and myself to go anywhere without rocks near by is challenging!
Your perfect roadtrip would be……
Sunny, cool temperatures, lots of rocks, smooth roads, fires at night, Ned and yummy food. Not sure where that is though…
What's the last thing that made you laugh out loud?
My coach, Mark, he never fails to make me laugh.
A few of your favourite things….!
Well the shiny T5 sat outside our house is definitely one of my favourite things. Right now my big Adidas snow boots are too. Never leave the house without them in these temps!
Favourite food?
Hard! I really like food! I'm a big baking fan, so maybe cake.
Favourite film?
I'm terrible at choosing favourites. Totally depends on my mood!
Favourite thing to do on your down time?
Sleep!
Favourite thing?
Ned
Roadtrip essentials….in terms of roadtrip packing essentials for the T5 what will you be including as a priority?
Tea bags, frying pan (for pancakes), warm clothes, Ned.
First stop?
Fontainebleau! Best bouldering destination on the planet!
Just Kampers is proud to support Shauna and have provided her with a VWT5, signwritten especially for her, complete with Skyline Roof Kit, camping pod with stove, rock and roll bed and full electrics expertly fitted out by dubvanstyling.co.uk, as well as a whole host of camping goodies that she'll be using and enjoying over the year. She also has fully comprehensive insurance with Just Kampers Insurance giving her peace of mind wherever she travels.
We are looking forward to following Shauna, her adventures and the upcoming climbing competition season. We're sure that you'll be spotting the van as she uses it to travel from place to place.
"In life we are all climbers!" John Ellison : Founder of Climbers Against Cancer