Here's an amazing story of Josh and James Parry, who've been working on Josh's first ever car – a 1303 Beetle! They're both JK customers, so we wanted to share their story.
James Parry writes:
When Josh was 13, I told him that he needed to start looking for a car to "do up", because when I was 11 I learnt to drive on a field at my mum and dad's house. By 13 I had my first car - a 1303 Beetle!
Me and my dad restored it and it was on the road when I was 15. I then carried on with it lowering, wheels etc. so I had a really cool first car at 17. Fast forward to 2016 and Josh wanted a Corsa! I said 'No, it's a waste of time. By the time you have it on the road it will be "old hat" and out of date. Buy something retro!' 'Like what?' he said. 'MK1 or 2 Fiesta , MK3 or 4 Escort, a Mini, a Beetle…' All I got back was 'Ugghh, I don't want a Beetle they're rubbish!'. I said 'Name me a car that's been cool in the 60's 70's 80's 90's and this century, as I can't think of another.'
We had a little Facebook contest: I put a picture of a bug up and tagged him, asked his and my friends: cool or uncool? No surprise 94% said cool! He still wasn't convinced, so I kept showing him different styles: Euro, Cal, Resto, Rat, B289 - basically brain washing him into the fact that any style is acceptable on a Beetle.
Over the next few months I kept an eye out for a Bug, and an orange 1303 turned up on eBay. It had no engine or box, but I showed Josh anyway. He didn't seem overly impressed! The car sold for around £450 in the end. I showed Josh and he said "Aww, I'd have had that!". I told him 'If you don't tell me these things how am I supposed to know?!'.
Anyway I kept the car in my watches and two weeks later it was relisted. I phoned the seller straight away, and he seemed genuine enough. He'd had been messed around by the winning bidder, so I did a deal over the phone for £500 including a set of Empi 8's with new tyres, but no engine or box. I showed josh that it was relisted, he got really excited "Are we gonna bid , are we are we??". Cruelly, I said 'No'! His face dropped and he asked me why, I then told him that we'd already bought it! He paid £150 out of his money box towards it (I had to give the seller £150 worth of £2 coins!)
We collected the car from Wigan, smashed my tow van into a wall as part of the journey, and got the car home. Josh was delighted with it and seemed excited to restore it.
I spotted another 1303 for sale locally, incomplete but a lot of useful bits. I knew the seller and bought the car for about £150 for spares. Two weeks later the orange car went down to my garage / work. I own a tyre depot in Wrexham, but also run a small restoration business, as my original trade was a panel beater and painter.
Anyway, Josh came to work with me in the summer holidays. I had staff problems, so had no time to spend in the restoration side which meant Josh was more or less on his own. We all expected him to be fed up after 7-10 days but he shocked us all and stuck it out. I think he not only enjoyed working on his car but I think he enjoyed being in a "man's world" rather than school. He worked hard through the holidays: he cut out the rotten heater channel bottoms, fitted replacement panels and bolted them into place then I welded everything up for him, frame head wasn't the best so he made a repair panel himself out of 2mm sheet steel and again I welded it in for him.
He bare metalled all the floors inside and out, spot welded new channels amount the boot for the rubber seal, fitted a new front valance, fitted a new bottom in a door off the spares car, cut out the inner rear qtr panels to dig out all the foam around the wiring loom that had rotted out both quarter panels, help make repair panels on the English wheel and swage to repair the quarters , he bare metalled under the arches and most of the exterior, I showed him how to do filler work and he managed to prep everything bar the roof which unfortunately looked like Michael Flattly had done his river dance on it. This panel was left to me!
Josh also stripped the rear vent under the back window and all the engine bay with paint stripper and then shot blasted it all as it had all been undersealed and was a total mess. By early September the car was in primer and Josh was back to school. I thought it was madness to take the car home to a damp garage in primer as it would only deteriorate, so I took a week off work and the car was in colour by the end of it. I had a few more jobs to do such as wax oiling and cavity wax etc, which was done between jobs and the car was back home as a painted shell by mis-September!
We kept at it through the winter months and painted the remaining panels for the car, fitted the headlining and glass the attention turned to engine and box, I rebuilt the gearbox for him as the diff bearings were shot. The engine we built together: it's got a cb forged crank, scat c35 cam kit, 1641 barrels and pistons, standard heads but gas flowed, bolt together rockers, chromoly push rods and a lightened 8 dowel flywheel. Its finished in orange and chrome with a pair of 34 ict webers, and a turbo trip exhaust.
We got the car running by the middle of February, which was a major milestone and another great sense of achievement for him.
We came to the finishing off stages. Again evenings and weekends, but we brought the car back down to my works in March as it could now be moved out under its own steam! We worked on it in our spare time, so now electrics have been completely sorted by me, new carpets fitted, my friend gave Josh some leather Porsche tombstones and I had the rear seats trimmed to almost match. I gave him a Nardi steering wheel off one of the Lancia's I used to own, another friend gave me some audio bits and pieces another sold me a nearly new Alpine stereo cheap for him - everyone has been so impressed with what he's achieved and how hard he's worked that donations have come to a good cause as such!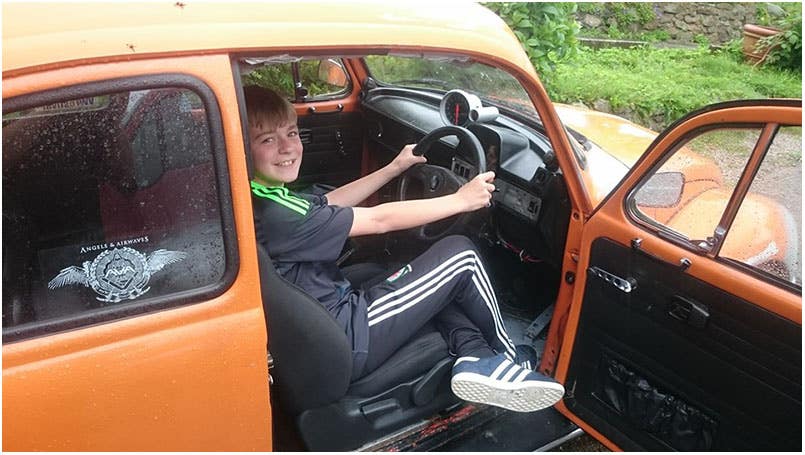 Final part of the story is that Josh turns 15 on the 6th of June (today!). The car now has an MOT, but Josh has no idea. We're on the home run now, so we're making one last push to get it finished and taxed.
I think it will be a great surprise to pick him up from school in it on his birthday as he will have no idea that its finished!
We're all incredibly impressed with the story of how Josh and his dad have got stuck in to this massive project. Not many teenagers these days have the drive, determination, skill and patience required to fully restore a car like this, and it's amazing to think of all the new skills he's learned and the time he's spent with his dad getting all of this done.
A massive Happy Birthday to Josh Parry from everyone here at JK HQ – we're looking forward to seeing the Beetle on the roads really soon!