Check out our top ten drive-away campervan awnings from our 2023 camping range. We've got some outstanding options in stock this year, ready to totally transform your camping set-up while you're enjoying the great outdoors this summer.
Whether you're going away for a quick weekend break, or you're setting off on an epic camping expedition, you'll be able to find the ideal awning for your camper with JK.
No matter your budget, or how much space you've got in your campervan, we've got the perfect awning for you and your family!
Dometic Club Air Pro DA Inflatable Drive-Away Awning
Part Number: J43710
Size: 260 cm wide x 240 cm deep x 225 cm tall
Weight: 29.7kg
Price: £1,250
A single inflation point will have you transform a mound of high-quality awning material into a spacious drive-away awning on moments, as the Dometic Club Pro awning inflates itself in no time flat.
Created using great quality materials, you'll be able to enjoy the great outdoors in all weather. The inside of the awning is spacious and comfortable, with large windows and curtains sewn in.
The connection height is 180 cm to 225 cm, making it suitable for a whole range of different campers.
Dometic HUB Inflatable Modular Shelter
Part Number: J45617
Size: 230 cm wide x 230 cm deep x 230 cm tall
Weight: 13.8kg
Price: £635
An incredibly versaile awning, whether you want to use it as a sun shelter, drive-away awning, or connect loads of them together with your friends to create your own little village, Dometic's Hub Shelter is fantastic.
Quick and easy to set up, the Modular Shelter can be inflated in moments, and has the option to attach walls, doors, windows, and even other Modular Shelters to the sides.
Easy Camp Wimberly Drive Away Pole Awning
Part Number: J45736
Size: 310cm wide x 320 cm deep x 200 cm tall
Weight: 11.7kg
Price: £248.99
Tall enough to stand up in, and spacious enough for a long trip away, the Wimberly drive-away awning is ideal for quick trips or epic adventures.
Simple to set up, with poles which slot together easily and flex nicely, the Wimberly will withstand the elements and keep you cosy whatever the weather.
Kampa Dometic Sprint Air Drive Away Awning Bundle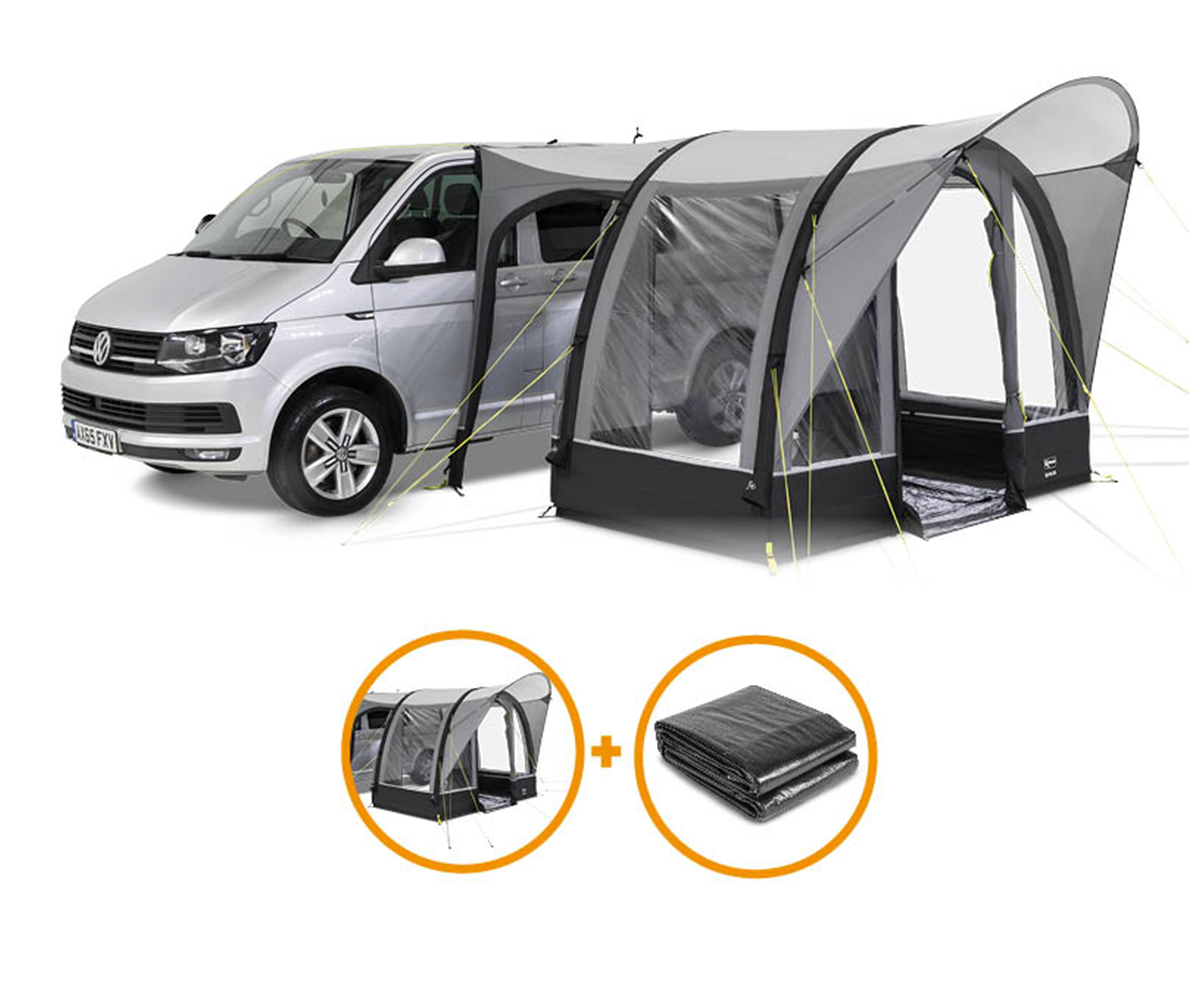 Part Number: J46233
Size: 280cm wide x 145 cm deep x 200 cm tall
Weight: 12.08kg
Price: £520
Kampa's Sprint Air gives you an easily inflatable drive-away awning, with a super lightweight, weather-resistant material which is really strong but packs away small.
There's two easy inflation points to allow you to inflate the awning, and the whole thing can be set up and stowed away nice and fast, so you can start enjoying your holiday even quicker.
Vango Tolga Inflatable Drive Away Awning (VW Grey)
Part Number: J45709
Size: 320cm wide x 320 cm deep x 210 cm tall
Weight: 17.6kg
Price: £710
The perfect blend of space saving design and light-weight construction, Vango's Tolga drive-away awning is built to last.
It can be set up in just ten minutes, the Tolga uses Vango's AirBeam technology to make pitching and packing away a breeze, as well as giving you a strong and sturdy awning frame for your camping adventures.
Kampa Dometic Trip Pole Drive-Away Awning
Part Number: J43717
Size: 270cm wide x 290 cm deep x 205 cm tall
Weight: 10.8kg
Price: £310
A high quality drive-away awning at a great price, Kampa's Trip has flexible fibreglass poles and an impressively waterproofed canvas which makes it ideal for the UK's unpredictable weather!
Inside the awning you'll have plenty of space for storage or an enclosed living area, with a clip-in groundsheet helping you keep everything clean and dry.
Designed for campervans between 180 cm to 210 cm tall.
Outwell Milestone Shade Pole Drive-Away Awning
Part Number: J43082
Size: 260cm wide x 260 cm deep x 220 cm tall
Weight: 13.6kg
Price: £520
Made to the high standard you've come to expect from Outwell, their Milestone Shade awning is an excellent addition to any camping set-up, with features to help you enjoy the great outdoors whatever the weather.
The fabric is waterproofed, and forms a shelter over the main entrance to the awning, which will keep rain or sun from bothering you while you're camping.
SummerLine Adventurer Inflatable Air Drive-Away Awning Bundle Kit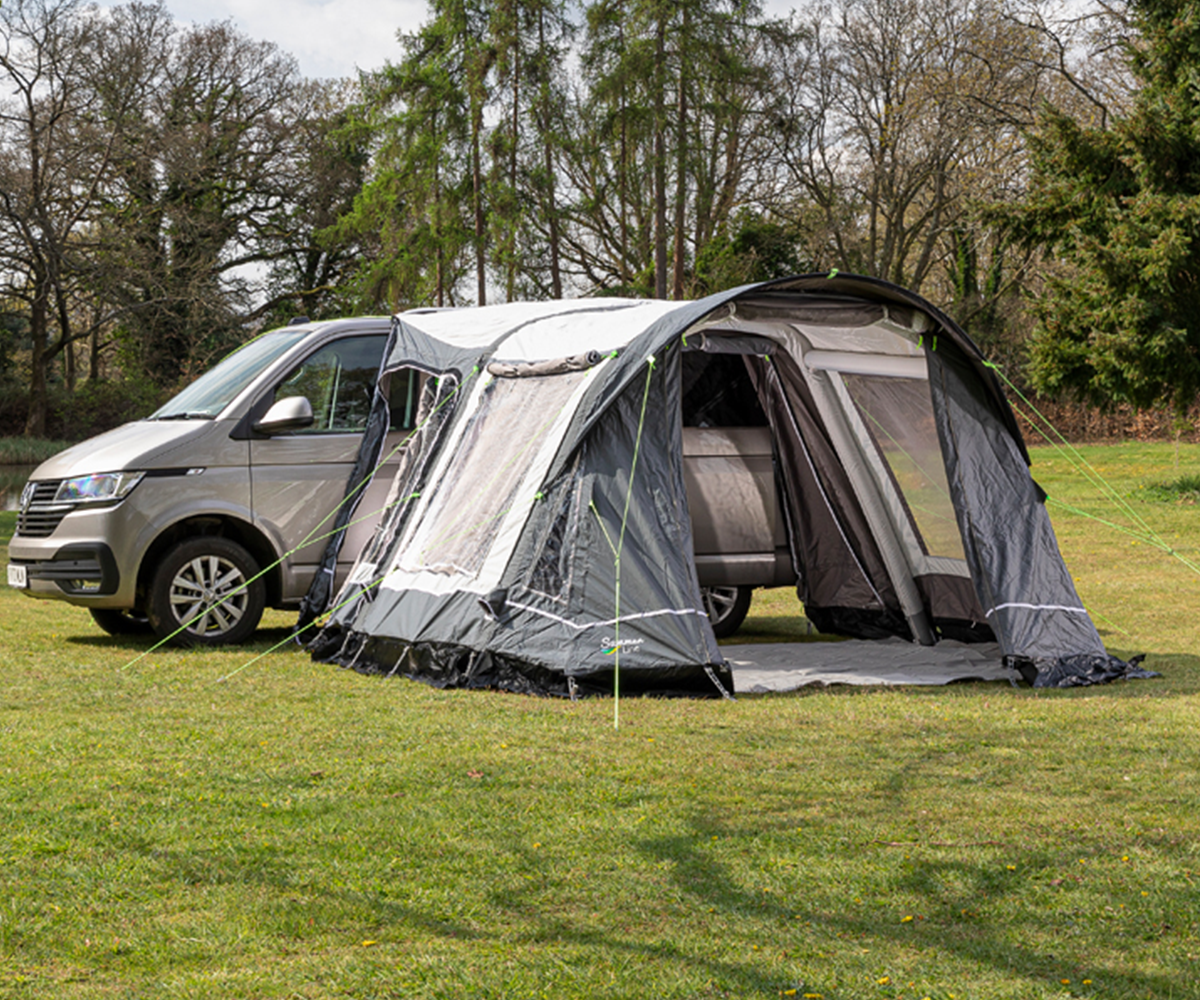 Part Number: J43082
Size: 340cm wide x 350 cm deep x 210 cm tall
Weight: 26kg (packed)
Price: £425.75
If you're looking for a simple solution to increase your camping space, then the Summer Line Adventurer Inflatable Driveaway Awning is a great addition to your set-up.
You'll save a huge amount of money with this excellent bundle kit, which gives you the SummerLine Adventurer inflatable awning, as well as a camping table and four folding chairs!
Vango Galli 3 Air Low Inflatable Drive-Away Awning for RHD Campers
Part Number: J42440
Size: 320cm wide x 465 cm deep x 210 cm tall
Weight: 23kg (packed)
Price: £1,100
Part of the top quality Vango AirBeam range, if you're looking to add some extra living or sleeping space to your camping set-up, but don't want to have to mess around with poles, then the new Galli III could be perfect for you!
The Galli 3 is held up and supported by the integrated AirBeam system, which completely removes the need for traditional metal rails.
Vango Magra Inflatable Drive Away Awning in VW Grey
Part Number: J45713
Size: 322 cm wide x 355 cm deep x 210 cm tall
Weight: 22.5kg (packed)
Price: £955
If you want to add loads of extra space to your camping set-up, then the Magra inflatable awning from Vango might be the perfect solution.
Designed for campervans and conversions, the Vango Magra is an inflatable drive-away awning with both a front and back entrance, suitable for left or right main van doors.
Check out Just Kampers' full range of drive-away awnings
These are just some of our favourite drive-away awnings from our 2023 camping range, but there's a lot more than that in stock right now at JK HQ.