Our new JK Solar Charging Screen from Just Kampers is here, and it's set to help make you even more independent while you're living your vanlife dreams, allowing you to access 120 Watts of solar power wherever you go.
Exclusive to Just Kampers, this is the only fully portable 120-Watt solar charging screen on the market right now, and we're so pleased with it we've applied for registered design status: application number 6196983.
We're really proud of this new product, which we've designed and produced alongside the award-winning TexEnergy, and have been using them ourselves all summer long to really put them through their paces.
Here's the key points:
• The JK Solar Charging Screen can be fitted to the inside or outside of your vehicle,
• It's fully self-contained, so you won't need to do any drilling or cutting to your camper,
• Comes with cables for charging your vehicle and leisure batteries,
• Allows you to charge three mobiles and a laptop at the same time,
• Uses twelve, highly-efficient solar panels to capture huge amounts of power,
• Folds away to be smaller than a tote bag, with a pair of carry handles.
Want to learn more? We don't blame you!
A more detailed overview of the JK Solar Charging Screen
What starts out as the size and shape as a tote bag folds out in seconds to reveal 12 highly efficient solar panels. Together they give you 120-watts of electricity straight from the sun, and the screen they're fixed to is ideal for mounting on either the inside or outside of your vehicle, setting up on top of your van or just laying out on the ground to soak up the sun.
Fixed to the back side of the solar charger is an outlet box, which includes a pair of USB outlets, a USB-C outlet, and a 12v DC outlet. The three USB sockets are ideal for charging phones and other mobile devices, while the DC port is ideal for charging laptops, larger devices and your vehicle's battery and leisure battery.
The outlet box itself is tucked away in a pocket which is sealed with a zip, and has enough space for you to store your own cables in there, too, for any devices you might want to charge up on the go.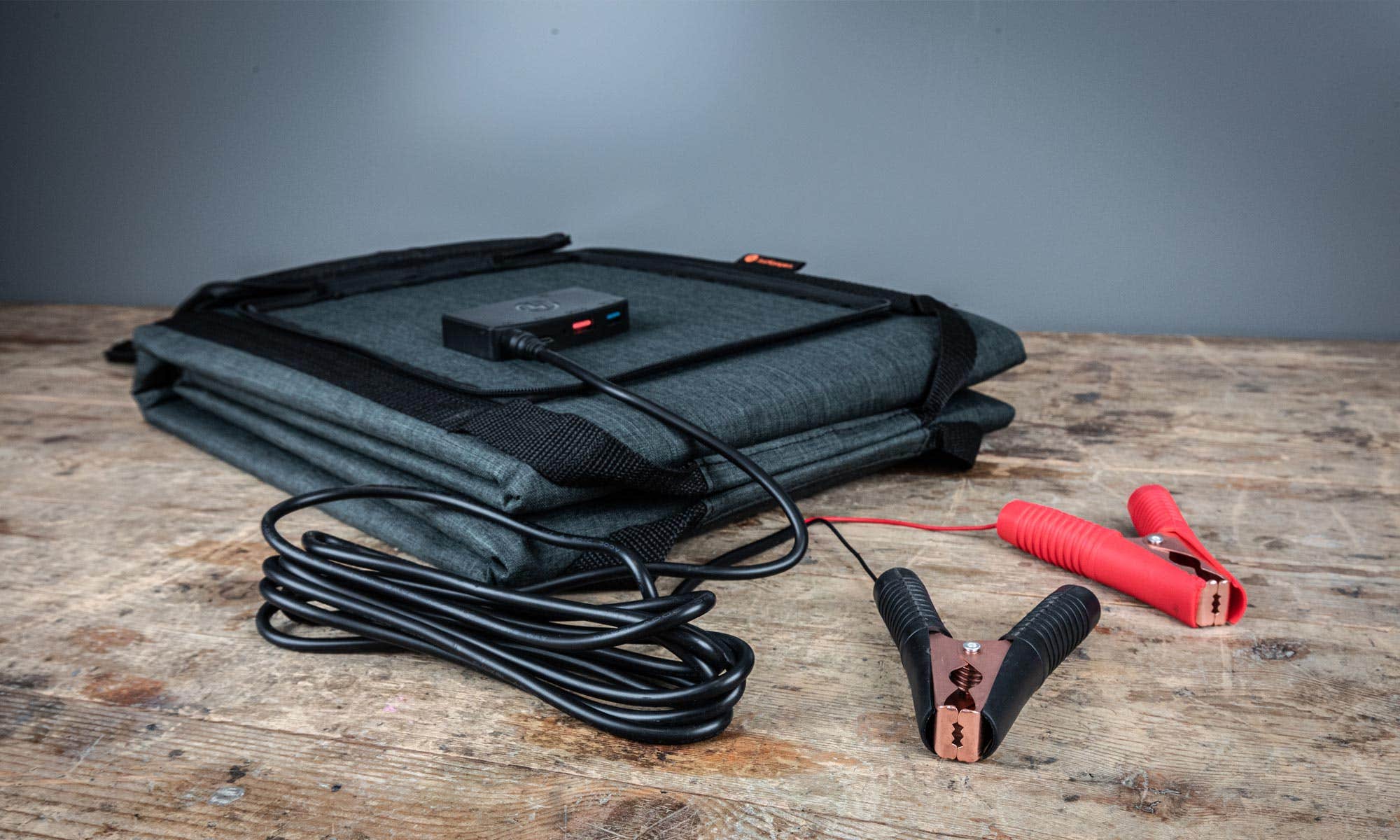 How does it work?
The JK Solar Charging Screen starts out as a little, folded-up bundle which measures 30cm by 37cm by 6cm and weighs just 3.5kg. It comes with a pair of comfortable carry handles, which makes it really easy to take with you on your adventures. Stow it away in your backpack, pack it in a cupboard or under a seat in your van, tuck it away with your gear or just carry it like a bag – it's small and light enough to go anywhere.
When you want to make use of the array of twelve solar panels, you can either lay it out on the ground or use the six, high-strength suction cups to mount the solar screen to either the exterior or interior of your camper.
The outlet box has safety systems which will prevent it from overcharging any devices and damaging them, so there's no need to alter or adjust anything or tweak any settings. Just set the screen up, plug your devices in, and live your best van life!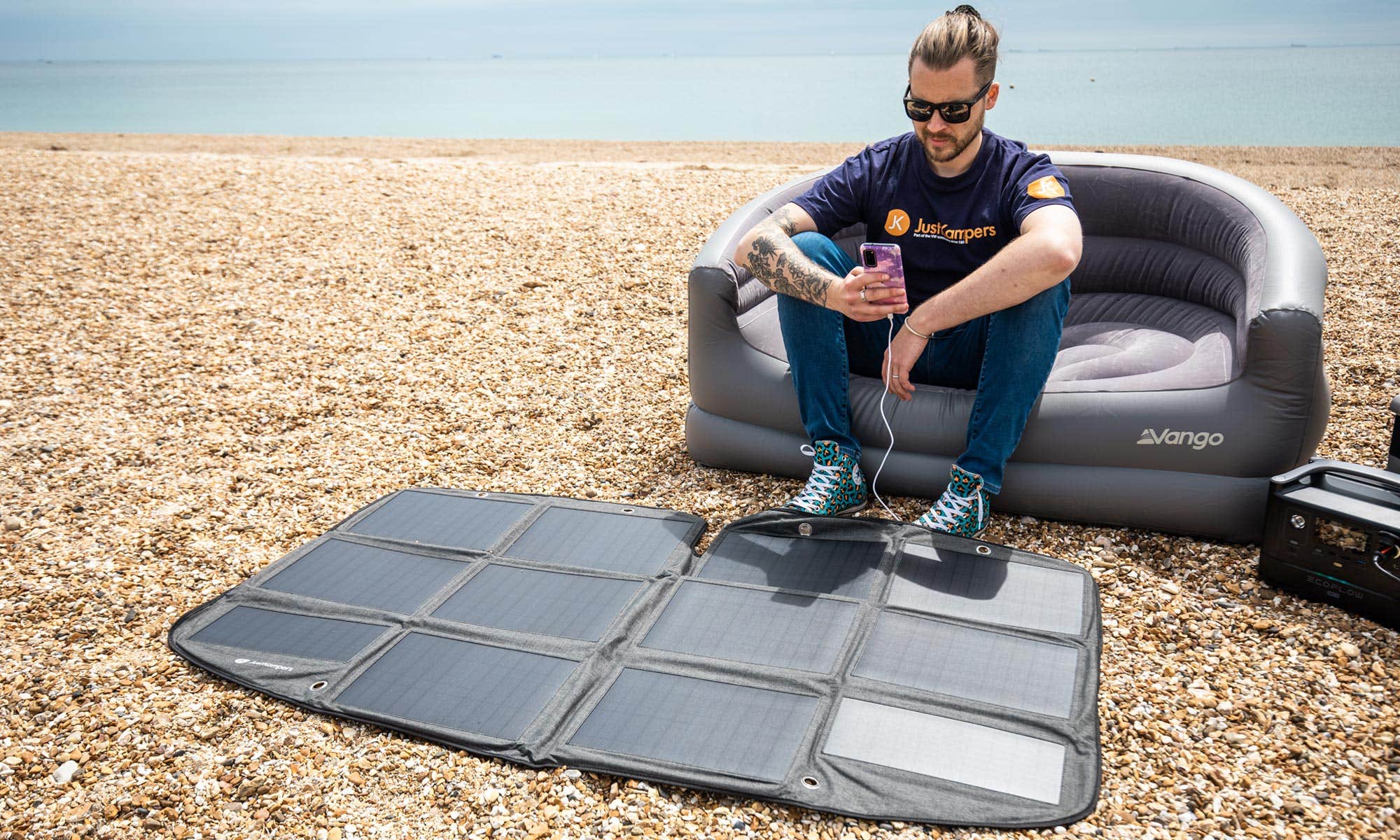 Fitting the charging screen to the interior of your van:
Mounting the JK Solar Charging Screen on the inside of your vehicle's windscreen is a great way to ensure your main battery or leisure battery remains fully charged while you're off on an adventure. You can do this by using one of the two sets of cables which are included in with the solar charger – either the 12v socket cable, or the cable with crocodile clips to attach directly to your vehicle battery.
Fixing the charging screen to the inside of your camper is also a really easy way of recharging phones, laptops and other mobile devices!

Fitting the charging screen to the exterior of your van:
You can also use the super strong suction clamps to fix the JK Solar Charging Screen to the outside of your camper, and get it mounted anywhere it'll fit and catch the sun.
We've had ours mounted to the exterior of our windscreens, the roof, the side panels, the sliding door, the tailgate – anywhere that's got a flat enough surface for the clamps will do great, and allow you to keep your devices and vehicle fully charged.
You'd obviously not want to go off and leave your charging screen mounted on the outside of your van while you're not there, but it's quick and easy to set up and take down again, so it'll hardly slow you down!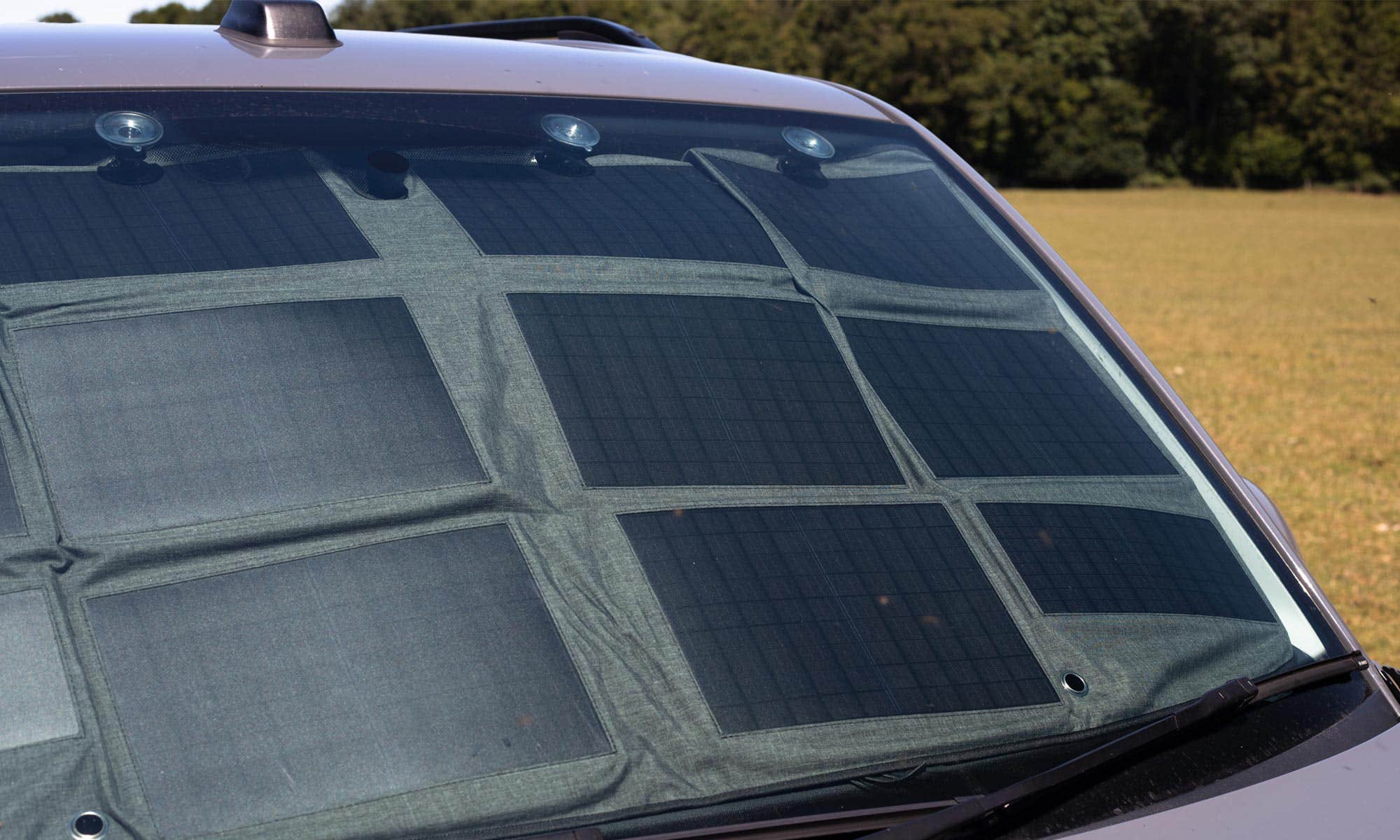 Will I need to modify my van?
Not at all! You can just mount the JK Solar Charging Screen, plug the cables in, and you're done. There's no need to do any drilling, cutting, bonding or anything else. The cables are tough enough to be closed in your van's cab doors, so there's no need for them to be fed through a specially cut hole or anything.
We sell a great range of solar panels, MC4 cables and the other parts needed to fit a solar energy system to your van, and we understand that cutting holes in roofs etc. can be really daunting, but you won't need to do any of that with our JK Solar Charging Screen!
What are the actual solar panels like?
Each of the twelve solar panels which make up the JK Solar Charging Screen are highly efficient, monocrystalline panels.
Without getting too technical, they offer approximately 21% efficiency, which is only around 1% less than is offered by industrial solar panels. This means that they're fantastic at converting sunlight into energy, and will keep your devices and batteries charged up no problem at all.
We mentioned that they're monocrystalline solar panels, and all this means is they use a number smaller solar cells, rather than a few bigger one.
Each of these solar cells is made from high-purity silicon, and means that the solar panels excel at capturing solar energy in lower light during the evening or from an overcast sky.

How big is the JK Solar Charging Screen?
When it's packed away to a small carriable case, it measures just 300 mm, by 370 mm, by 60 mm.
Fully unfolded and ready to give you 120 Watts of solar power, the screen measures 1582 mm, by 890 mm by 5mm.
The suction clamps measure 70 mm, by 70 mm, by 78 mm, and the whole things weighs just 3.5kg.
Two sets of cables are supplied with the JK Solar Charging Screen, one with a 12v DC charger connection which is two metres long, and one with crocodile clips which measures 3 metres long.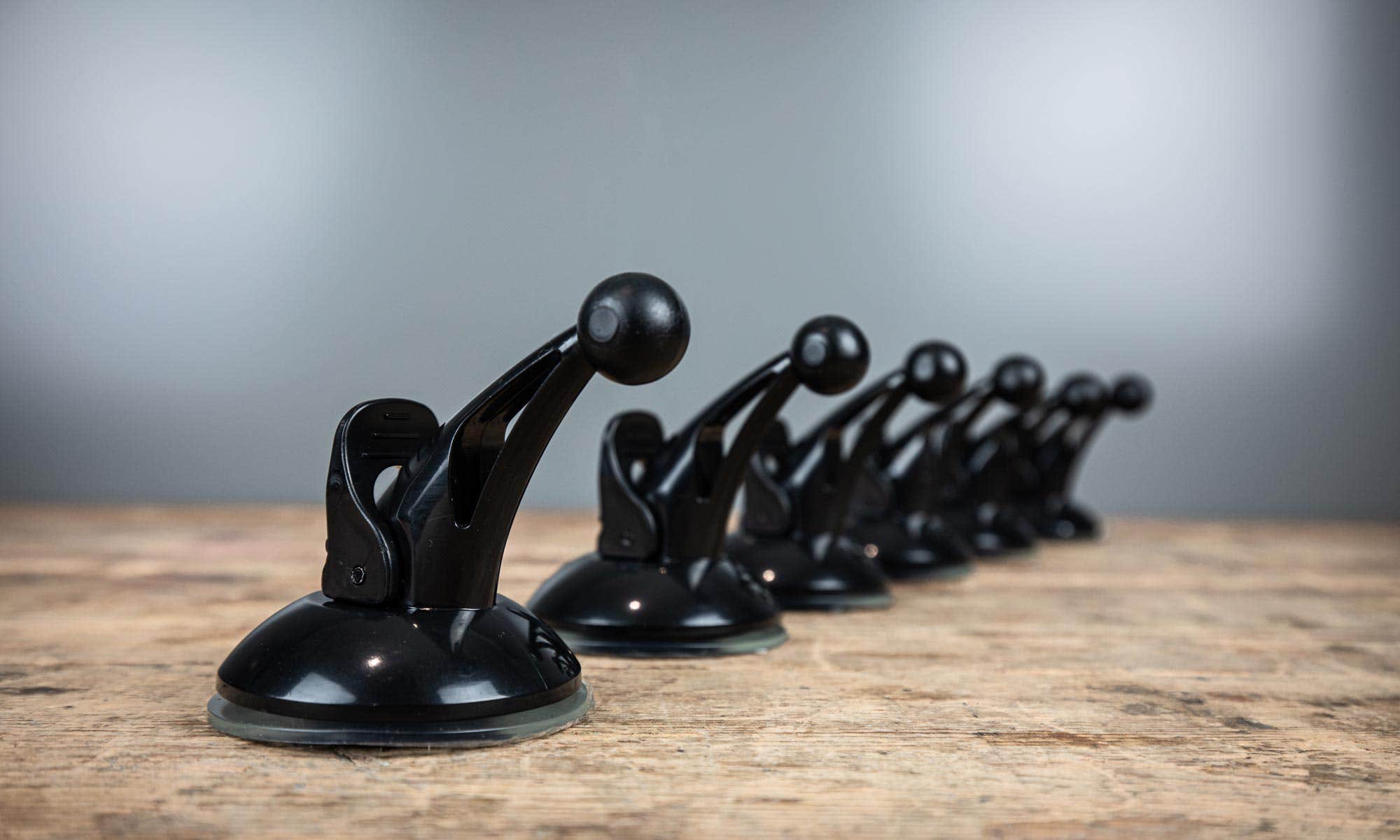 Who are Just Kampers?
We started out in 1989 as a small workshop in Surrey, UK, repairing and restoring classic Volkswagen campervans. As we began to stock more and more parts for VW campers and Beetles, we also began to design and create our own, and the JK Solar Charging Screen is one of our most recent creations.
Now, over 30 years later, we're one of the world's leading VW parts suppliers, producers and manufacturers, and ship tens of thousands of orders each year to customers across the globe.
To make sure the JK Solar Charging Screen is the best it can be, we worked with Jerry Ranger of Texenergy, who has received a number of awards for his innovative work with solar products, including two Queen's Awards for Enterprise, plus multiple ISPO Gold awards and a Red Dot award.
Click here to read more about the JK Solar Charging Screen, and to grab your own.