As we write this up it's the very end of February, which means its almost March, which means it's almost the VolksWorld Show!
It's all hands on deck here at JK HQ to make sure that our cars and new products are ready to show off at Sandown Park on 19 – 20 March.
One of the jobs we've done recently is cleaning the engine on Jack, the Oval Beetle that we used to take part in the Mille Miglia in 2017. Jack 'the giant slayer' has an Okrasa engine, which helped the JK Team climb over 220 places during the course of the 1,000 race around Italy.
A lot of people want to see the engine when we bring Jack to a show, and why wouldn't they? It's an amazing replica of a very cool piece of VW racing history, and helped us kick ass during one of the most gruelling rallies in the world.
However, like any 1950's Beetle, Jack has his fair share of oil leaks. It happens to us all, and it's nothing for Jack to be embarrassed about. Mark Reynolds, who founded Just Kampers back in 1989, decided he wanted to track down these leaks once and for all, so he could get them sorted and give the block a thorough clean.
"My VW doesn't leak oil, it's marking its spot"
It's as true now as it was when made these stickers back in the late 90s and early 00s!
Just because it's a known 'quirk' of classic VWs, doesn't mean it can't be fixed – if you're sick of standing in oil or cleaning up drips, now might be the time to tackle your dubs leaks.
Now that Mark has spent the time tracking down and fixing Jack's leaks, he doesn't even need the oil drip tray under him when he's 'resting' in Mark's garage!
If you've still got any of these stickers, or any Just Kampers goodies from the past, we'd love to see how they're doing!
Drop us an email with some photos to JKWorld@JustKampers.co.uk, it'd be great to see what you've got from our 30+ year history.
A quick How To guide
Here are Mark's top tips, since he's just done the job recently himself:
Before you start, make sure you're doing the job in the right place. Have a think where you're going to make a mess, and where the waters draining off to,
You don't need to remove the engine, but we did because we wanted to check the rear main oil seal,
Run up the engine to warm it through before you start. Warm oil and grime comes off easier than cold,
Cover all places where water can get in with either a plastic bag or a mechanics glove,
Make sure the bags or gloves don't come off mid wash, by cable tying them on and/or using some tape.
Securing gloves to your exhaust pipes and other areas definitely looks silly, but it's a great way to stop water getting in where you don't want it!
Take steps to make sure you don't get water into the oil. If in doubt, or you suspect some might have snuck in there, change the oil afterwards,
Spray the engine and any surrounding engine bay areas in a Gunk cleaner, and let it foam up,
Leave the Gunk spray to eat into the grime, and then brush in off again with a soft hand brush or paint brush,
Give the whole area a good jet washing, being extra careful of the areas where water might cause problems, like the places you've attached your rubber gloves,
If there are still stubborn areas of grease, loosen them up as much as possible and give them another blast with the Gunk cleaner.
Once you've got all the grime and dirt from the engine, it will be far easier to identify and fix any oil leaks, using new gaskets and seals. You can do this by running the engine up again, and having a look for any areas where oil is escaping.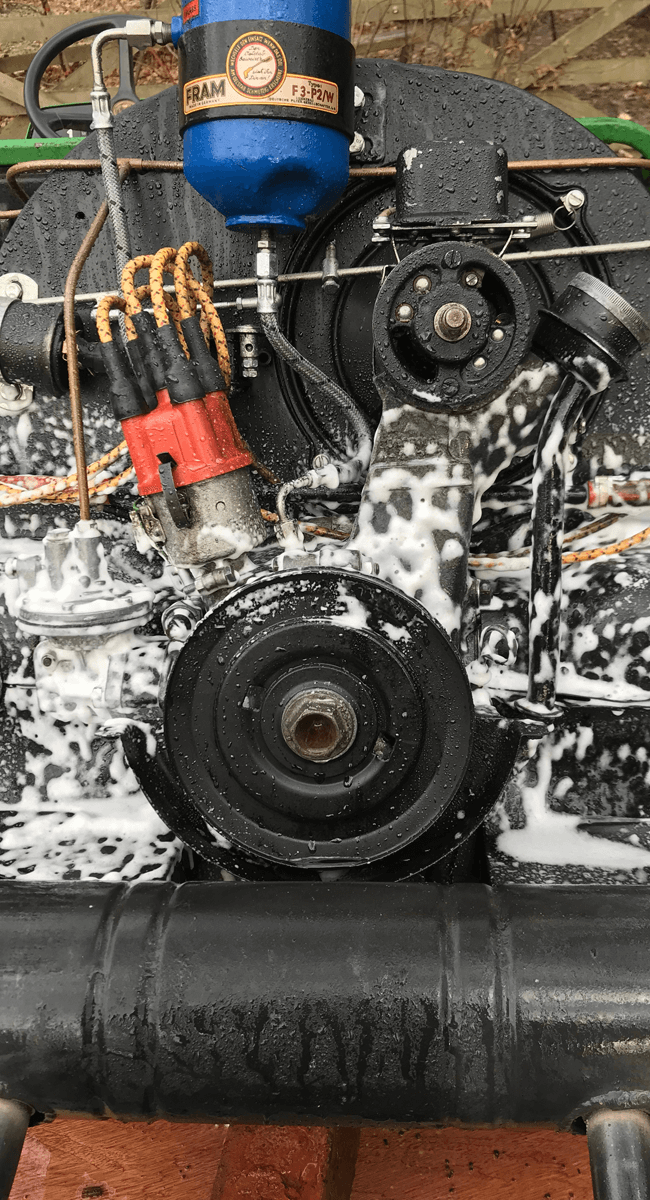 A before and after from when Mark covered Jack's engine in Gunk cleaner then washed it away - it's sparkling clean now!
Troubleshooting tips from Mark:
If you find your engine won't start after you've jet washed it, the first thing to check is damp in the distributor cap, as this is the most common issue and an easy fix,
We use Permatex Aviation Form-A-Gasket No. 3 Sealant Liquid on all gaskets, to ensure they're good and sealed,
There are definitely other makes of grease remover, but we found Gunk and Brake Cleaner are the two most effective methods, which is why we stock them!
Whether you're rapidly running through your supplies of blue roll, or you're in trouble for tracking oil into the carpet, fixing those leaks isn't as challenging or complicated as it might seem at first.