We here at JK, know just how difficult and unpredictable the Great British weather can be. To avoid future problems, we have put together a guide that will help you drive safely during stormy conditions.
Stormy conditions would cover anything from incredibly strong winds or heavy rain to thunder and lightning.
Driving in poor weather conditions
Driving from place to place isn't encouraged when a storm is underway, but sometimes you will have no choice but to continue your route. Driving in heavy rain can compromise your visibility and can also increase your likelihood of aquaplaning/ slipping due to a high level of surface water on the road. As this happens, the best thing you can do is to drive slower so that you have more time to react to unexpected events. This also reduces your stopping distance, should you need to perform an emergency stop or brake suddenly.
If the conditions become so poor that you don't feel comfortable driving, then your best option is to pull over in a safe location and wait for the poor conditions to subside. If you're on a motorway, pulling onto the hard shoulder is discouraged. Even if you are using your hazard lights, this isn't the safest option and especially in decreased visibility, other cars may not be able to see you until they are close to you. If you decide that you want to stop, your best option is to continue at a slow but sensible speed (so not too slow) until you reach the next junction. You should come off and then journey via smaller roads until you can pull into a car park or residential estate. Here you can pause your journey momentarily and quickly return to the motorway once the conditions have improved.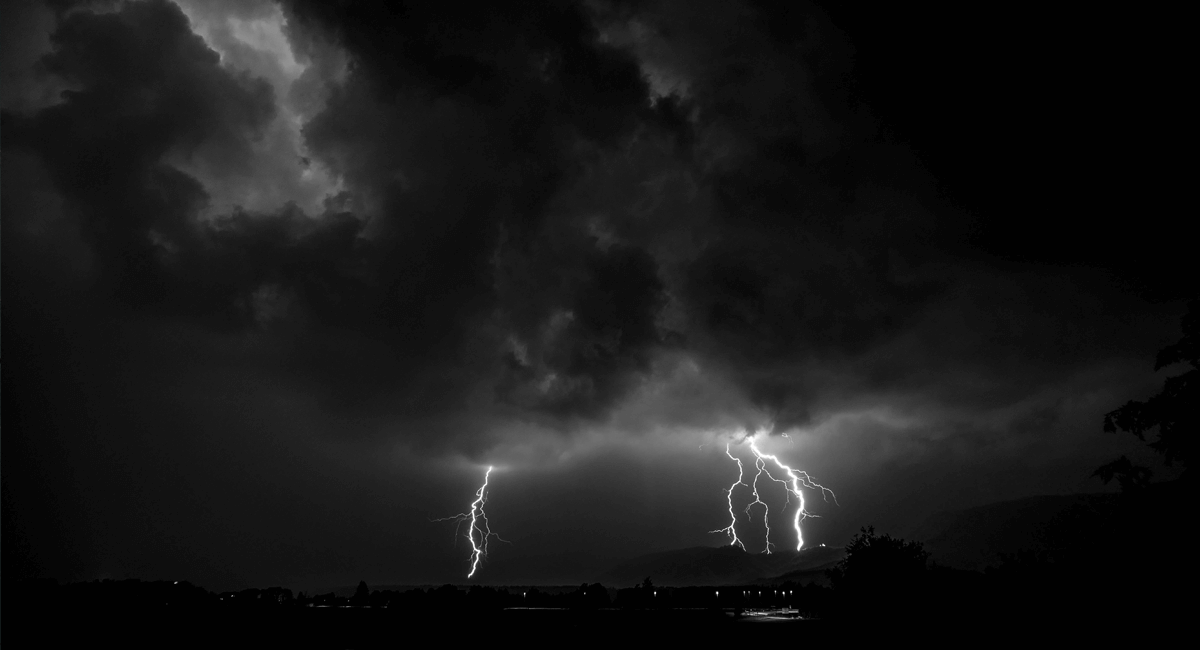 Image credit Luka Vovk, via Unsplash
Lightning
Driving in conditions which may later result in lightning is discouraged in vehicles such as convertibles, cabriolets etc. This is because in the unlikely event that lightning was to strike the car, the shell cannot provide effective protection for you. A car with full metal framing provides a faraday cage. This means that if lightning strikes, the car will block electromagnetic fields and keep you safe and isolated within.
In addition, you should try to avoid touching anything made from metal within the car, while the storm is taking place. This includes things like radios, phone chargers, GPS, door handles and other metal components. By doing this, you will greatly reduce the risk of injury, should your car accidentally be subject to a lightning strike. If you decide to seek shelter, you should try to avoid things like trees that stand high into the sky. By sheltering close to tall trees or buildings this can increase your risk of being struck, as lighting will choose the path of least resistance. This will usually mean travelling less far and therefore striking taller points.
Severe Rain and flooding
When intense rainfall happens, this can sometimes lead to flash flooding. As the rain falls too fast to absorb into the ground, or drain away, the water builds up and the lower ground can become heavily saturated with rainwater. As this causes flooding in roads, this can create substantial danger towards those who decide to travel through. Your best option is to find an alternate route, there is no point in posing a threat to yourself or your vehicle by risking driving through water. In addition, as water rises it becomes incredibly difficult to judge how deep the water is.
Most of us can relate to the mistake of driving through what looks to be a small puddle, only to feel a sudden bump as it turns out you've hit a hidden pothole! So remember that logic; not only is the depth of the water a mystery but you also cannot see the condition of the road surface. There could be tree roots, potholes and all sorts that could lead you to a breakdown. Avoid the situation and find an alternate route that travels along higher ground.
During severe rain it is also highly recommended that you use your dipped beams as you drive. This will alert driver in front and behind you of your presence on the road and will allow them to react earlier should they have to break suddenly etc. No matter what vehicle you are travelling in, it's always better to be safe than sorry, drive with your daylight running lights at the very least, preferably dipped beams and you'll increase the safety of yourself and others around you.
Image credit to Marcus Woodbridge, via Unsplash
Preparation
It's common knowledge that we tend to get the heaviest rainfall in the UK during the springtime and we experience the most road ice in the winter. To follow this, there are characteristics of each season that we can prepare for in advance. An example of this would be checking, sourcing and replacing bulbs for your foglamps. In the autumn, we tend to see much more mist and fog, and this is exaggerated as we tun into the winter months. So as soon as Autumn comes around, you should make note to check your bulbs and replace them if necessary. It's recommended that you also have some spares handy so that if they happen to blow when you need them, you can repair them immediately and be on your way.
Another example of this is adequate tread tyres, or maybe even winter tyres for the colder months. This could apply to spring and winter, or any season that you're aware is subject to heavy rainfall in your area. You will not want bald or low tread tyres if the conditions present a risk of aquaplaning. The same idea goes for conditions involving ice and snow as well. By having a set of new tyres ready, this will reduce the risk of problems in more severe weather. You should also check the condition of the tyre on your spare wheel if you have one. If this isn't used for a few years, the rubber can sometimes perish and it will need replacing when this happens, so be sure to check the wheel and tyre is usable should you experience a puncture.
An additional problem that we often face during stormy weather is high wind. This we are very familiar with as of late in the UK, especially after storm Eunice that swept through our land just this year. We are given plenty of warning as these storms develop and will be told when the weather could present a risk to certain areas. If you must travel to work or shows during times like these, it's best to travel in smaller vehicles, if you have the option to. By this we mean that you should avoid travelling in taller vehicles like VW Transporters and Mercedes Sprinters. When subject to crosswinds on the motorway, they will have a larger surface area and as their centre of gravity tends to be a little higher than cars, this can lead to instability. This in combination with heavy rainfall can make the risk of aquaplaning much more severe as you will not have as much grip to resist the strength of the wind and could be pushed into a different lane. Not everyone will have access to a different vehicle or have the option to share a lift with a friend or colleague, so that's why checking the condition of tyres and lights is important.
For coverage and updates on bad weather, visit the Met Office website via this link. Use this link to check the weather forecast before you set off, to check for any potential interruptions to your journey.
Image credit to Valentin Müller, via Unsplash
Classic cars in bad weather
As mentioned earlier, it's best to avoid driving any soft top vehicles in conditions involving lightning. So, any cabriolet beetles and the like, you should avoid driving as you will be at a higher risk of a lightning strike.
Just Kampers Insurance
If your vehicle is covered with Just Kampers Insurance, then never fear. If the weather gets the better of your situation and you end up stuck, then JK Insurance will have your back!
JK Insurance customers get UK and European roadside assistance and home-start cover from just £42.00 for cars, £47.00 for vans, and £90.00 for campervans annually. Which means that we can rescue you rain or shine, if you break down and need a helping hand.
For more information on Just Kampers Insurance, please visit our website via this link.