Just Kampers are tackling the infamous Mille Miglia
We've been dreaming of taking part in the race for years, and now it's finally happening! This spring, five members of the JK Team will be tackling the legendary Mille Miglia rally in Italy.
Now in its 90th year, the 2017 Mille Miglia rally will start from Brescia, northern Italy on May 18th and end on May 21st. Here's a proper look at the route we'll be taking.

By the time we've crossed the finish line we'll have covered over 1,000 miles of Italian countryside, villages and cities as one of around 450 race teams. This is widely recognised as one of the most gruelling rallies in the world, but that hasn't put us off in the slightest!
Having seen the very end of the race before, when Mark and Josh flew out to Brescia to watch the cars cross the finish line, we have some idea of what kind of competition we'll be up against!
We selected the members of the Just Kampers race team from among our staff to create a rag-tag band of friends and colleagues who'll be working together to hold our own against professional racers and multi-million pound sports cars.
There's a really stunning online gallery of some of the photography from previous events, which is well worth a look.
The car we're bringing to the race? A 1956 VW Beetle, of course!
We're keen to show that the humble Beetle can go toe to toe with the Lancias, Mercedes and Ferraris we'll meet on the track, and that a group of optimistic friends can smash this epic, 1,000-mile rally. We've have spent countless of hours turning our Oval-window Beetle into a period-correct racer in the workshop at JK HQ in Hampshire.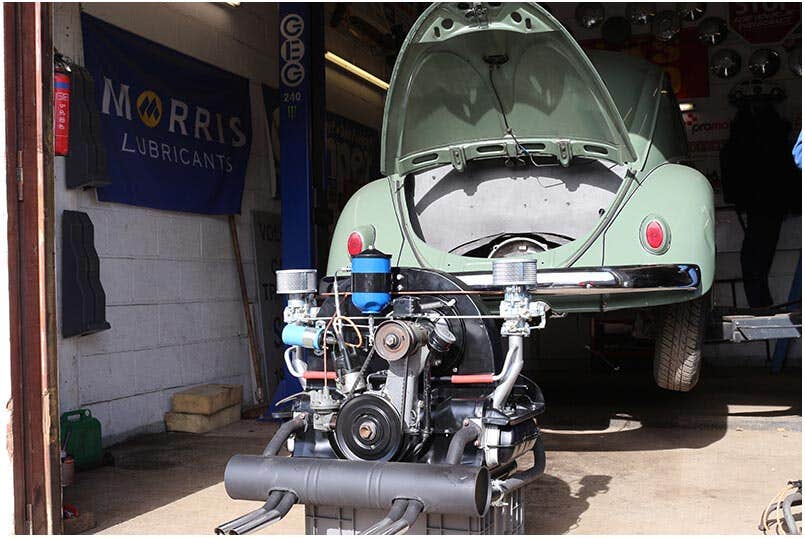 The whole team has been involved in sourcing, fitting and modifying parts and accessories to coax every ounce of power possible from the '56 Beetle. Our Workshop at JK is usually used for testing out the quality of new parts before they're added to our range. However, it's been temporarily converted in the HQ for the JK Mille Miglia Oval, where we've been using parts from our huge range, which fills the 30,000 sq. foot+ warehouse next door.
We've invested a lot of time tracking down period correct parts and accessories to make sure that the Beetle is not only as fast as it can be, but that it also complies to the strict criteria for what race cars can and cannot be fitted with in the Mille Miglia. Any items we didn't stock have been sourced and will be adding to our range, so it's been a really worthwhile experience for everyone.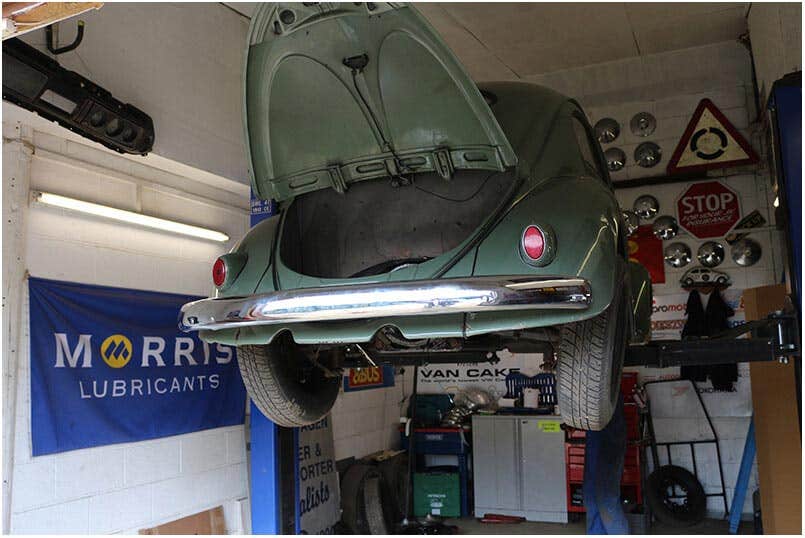 After all this work we're now so confident in the Beetle's abilities that we've dubbed it Jack, hoping it'll become a real 'giant slayer' and stand up to the more typical race cars that it'll be up against.
Sticking with the theme of using vehicles from the Just Kampers fleet, the support crew will be heading over in a VW T6 Transporter, towing a trailer and performing maintenance and repairs on Jack whenever and wherever they're needed. We'll tow Jack over on a trailer, as we obviously lack a fancy race car transporter!
Our JK race team for the Mille Miglia includes Mark Reynolds as the driver and his son, Josh Reynolds, navigating. Mark founded Just Kampers back in 1989, and his son works with JK as a copy writer.
Pete Dempsey, Alex Noel and Steve Gosling, who head up Product Development, Trade Sales and Marketing respectively, will be our support crew, responsible for chasing Jack around Italy with a trailer and a vanload of tools, spares and equipment.
We're under no illusions about how tough the race will be, though. We plan on spending every possible minute between now and the start of the rally practicing every aspect of the race, getting together every possible spare part from the shelves at JK, plus tools and any pieces of equipment we may need and, of course, brushing up on our Italian!
Wish us luck, and watch this space for an update on how we got on over there!