My name is Michael and I'm the Digital Designer at Just Kampers. This is a varied role that covers everything from working on the JK Website to producing our Email Newsletters and creating our "How To" videos… if it's going online, I'm usually the one responsible for making it presentable, or so the theory goes at least!
I'm a bit of a charlatan as my background is old school Fords. This was partially because my Dad was a Ford guy and didn't warm to my teenage ideals of driving a 'cool' VW Beetle or Bus. So I opted for the boy-racer route and owned a number of Mk1 Escorts, a Mk3 Escort (hideous) and a couple of Capri's before I moved to Canada for the best part of my twenties.
I arrived back in the UK in 2006 having just turned 30 and needed some cheap wheels fast. My sisters boyfriend was selling a Mk2 VW Golf GTI 16v with no MOT, which for £400 seemed like a bit of a steal and I had always fancied one in my youth so that is where the V-dub love affair began in earnest. I sold the GTI for a profit and moved on to a VW Bora just before I got married in 2010 and around this time became obsessed with the idea of a VW Camper… although I could see no way this was going to happen financially, so was considering a Mazda Bongo (or Ford Freda) instead.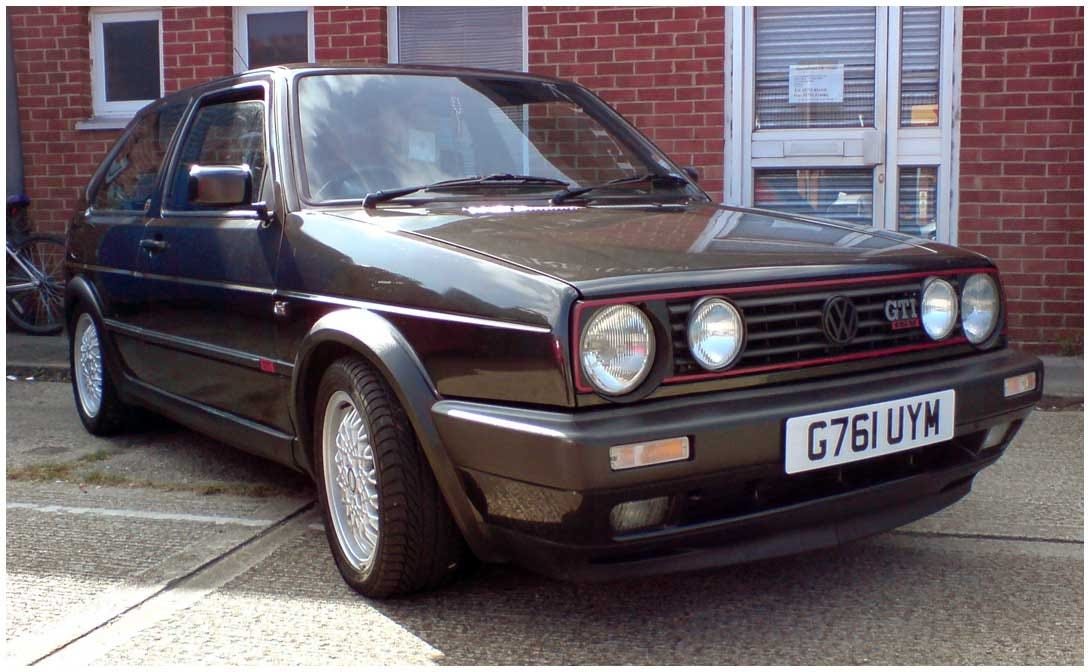 In 2012 I was elated to discover the part-time Graphic Design job I had applied for was with Just Kampers. Suddenly the dream seemed like it could be a real possibility but it took a couple of years before it became a reality. Little did I know that the photos of a manky looking old bus being sent back from Mark Reynolds' epic US road trip in 2014 would soon be offered to me as a project. With some help from my Dad I was able to buy the bus in 2015. Despite being covered in grime and host to now-vacant wasps nests, it was essentially a solid bus. The story goes that it was rear ended sometime in the late 80's and then sat in a tin shed baking for twenty years. In that time someone had re-purposed the engine but the interior was more or less intact, if a little heat-damaged.
So began 18 months of work to get it road worthy and liveable – you can find all the gory details here: https://www.justkampers.com/jkblog/jk-staff-cars-michaels-t2-bay-westfalia-40. My wife named it 'Henry' and we had our first holiday in him to Dorset in September 2016. We've had a few successful trips since with no breakdowns and I recently installed a reconditioned Vege Engine, so we plan to finally do a long dreamed-of trip to Spain this year (2018).
VW details:
VW: Type 2 Bay Window LHD with Westfalia 'Camp Mobile' Interior.
Name: Henry
Age: 49 (1969)
Engine: 1641cc single carb with electronic ignition and stock filter/exhaust.
Work Completed: Pop-top refurb including new tent. All window rubbers, door seals, door cards, front seat covers, floor, rear panelling and cabinet trim replaced. Bumpers, wheels, belly pan, tinware and engine bar shot-blasted and powder coated plus a refurb of the fuel tank. Battery tray replaced and a lot of paint 'dressing' to deal with surface rust as I wanted to retain as much of the original paint as possible. New ball joints, brake shoes, cylinders and a complete overhaul of the electrics, including conversion to UK spec lighting and the addition of a digital rev-counter, oil pressure, oil temperature and voltage gauges.
Worst Experience: The nearside rear wheel coming loose outside Southampton Police Headquarters after the rear bolts worked loose. Thankfully the one remaining bolt held it long enough to get over the intersection and a friendly mechanic named Matt from Quayside Motor Engineers lent me a jack to get the wheel back on.
Best Experience: Late season weekender at Holmsley Campsite in the New Forest; I discovered it was formerly the RAF airfield my grandfather had flown out of in WWII.
Top Tips: Always remove the paint from the bolt holes of freshly powder coated wheels and don't buy a second hand engine – unless you plan to exchange it for a reconditioned unit!
Any other VW's Owned: Mk2 VW Golf GTI 16v, VW Bora.