Hi, I'm Mark -MD at Just Kampers; I'm told MD stands for 'Makes Drinks'!
("Cheer's boss, mines white no sugar!")
I got my first VW back in the mid '80's as a 'bribe' from my parents not to ride a motorbike!
This first VW was a 1971 White 1200cc Beetle, that I named 'Green Onions' after badly painting the bottom half green. Not my best move, but, it started a lifelong love and relationship with all things VW. It's been a long and varied history, with VW's of all types along the way, so here are just a few highlights…
1956 23 Window Samba (sold for circa £3,000 in the early 1990's – if only we knew then!)
1972 Bay Window that we had the pleasure of driving, from LA to New York in, to celebrate 25 years of JK.
And, a host of other much-loved VW's along the way – you name it, chances are at some point, I'll have owned it!
Today we own 3 cars. They get used year-round except for very wet days.
1967 VW Beetle Cabrio', 'Ruby', named by my wife and daughter. I imported her from LA, a good friend of mine, Randy Carlson of Old Bug, sourcing her for me. I'd been looking specifically for a summer 1967 car so we'd, be the same age and, grow old disgracefully together!
With 73,000 from new she's a lovely car. Looks 100% stock, but, lurking within the 1500cc single port engine, are 1776cc barrels and pistons and a reworked cam etc. When it was done they had the original Solex carb reworked to cope with the extra power. So, a great combination of stock appearance and better performance.
In September '17 we drove her to Tuscany to celebrate a joint 50th Birthday; mine and Ruby's! A hassle-free adventure of 2700 mile over 3 weeks. We went down through the French Alps and back through the Swiss Alps. The only problem was the traffic fumes in the tunnels, so we had to keep putting the hood up for longer ones.
She's just passed her MOT with flying colours and so we are looking forward to more adventures together.
1956 VW Oval Beetle, called Jack. Many of you will be familiar with him. A JK shared car that Josh and I were enormously honoured to take part in Mille Miglia in, and, many of the JK team have taken all over Europe to different shows and events. Last year he covered just over 10,000KM's. Rebuilt to help us stringently test the parts we sell at JK. We bought him from a JK customer at the our Openday in 2016!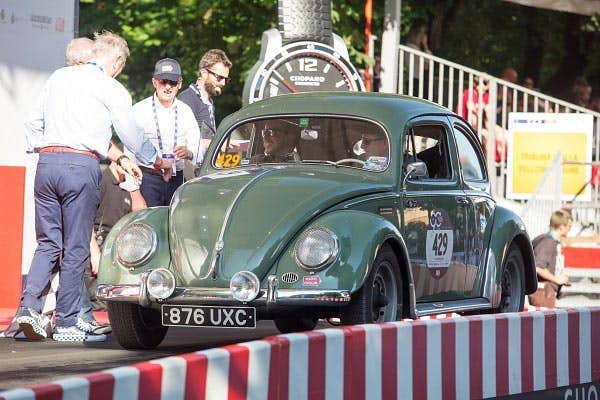 1965 Porsche 912. Well it's almost a VW! At least it's a flat 4 air-cooled engine. So far, still unnamed (any suggestions?!). He's a totally stock vehicle. I ordered his Birth Certificate, and, have made sure he's back to how he was born on the 19th June '65.
It's not that long ago that the 912's were the considered the USA "Students' classic car and relatively cheap. I bought mine before the sudden rise in Porsche prices and love him for what he is, not what he might be worth. I'm averaging about 1500 miles a year in him. I bought him 'Blind' from eBay – something I would actively discourage anyone else doing! He was listed as a 1967 car, but from what I could see in the pictures I was convinced it was an early production 912. Things like the 4-screw horn grill and 3 dial dash seemed to give it away. So, I took a punt and bought it! Luckily it was a gamble that paid off.
Best VW Experience:
I've been really lucky, I've had so many, but driving over the mountains in Yosemite National Park, and, the Rocky Mountains in Denver in a 1972 Bay. That was hard to beat.
Completing the Mille Miglia, with my son, in Jack the '56 Oval will be something that I'll always treasure.
Over the years I've met some amazing people and been to some great events too. HO17, was probably the best VW show I've ever attended, and I've been to a lot!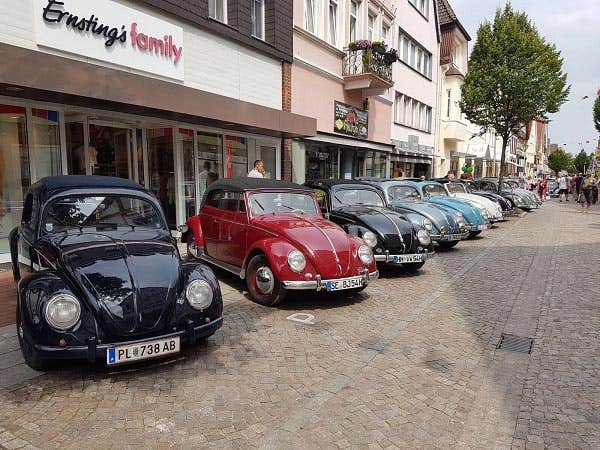 Worst VW Experience:
It's going back a long time now, but, it has the rear wheel falling off my Beetle on the way home from Sixth form back in the 1980's! I've had better days! Really though, I would have to say that all my positive experiences with VW's massively outweigh any hassle; so much so that I could not imagine life without them.
My top tips to any VW Owners would be:
Keep on top of the servicing, maintenance and any rust as much as possible.
Always check the oil; on Air-cooled especially.
Always carry some basic tools and spares (although, ironically, I've seldom needed them. I think of it as a preventative cure…)
Drive them, at every opportunity, and have fun!