Here's the latest update on the ongoing mission to get my 1972 Beetle, Kimberly, back on the road. You can see the first and second updates over on JK World.
Having found out that because I'm a member of JK staff, I'm not eligible to win the Ghia we're giving away, I really need to get the Beetle back on the road!
In my last blog post I wrote about our progress working on Kimberley, explaining that my friend Ashley and I would be getting the chassis clean and ready to be welded up and painted. We spent Tuesday and Thursday last week working on the Beetle, and on Tuesday we started the day by removing all the damaged sound damping. This was not what I expected at all! Some of it was soft and squidgy, but most of it was like glass and just cracked in front of me. We managed to get it all out, though, and were glad when we'd finished.
We were so close to getting everything totally cleaned ready for the new pans, until we found out that I needed a new bottom plate for my frame head. The original was cracked, and some of the washers were welded on, which left holes when removed.
We spent a lot of time cleaning up the main spine of the chassis, and to our surprise this came out extremely well! The rear suspension also cleaned up nicely, although my hands did not!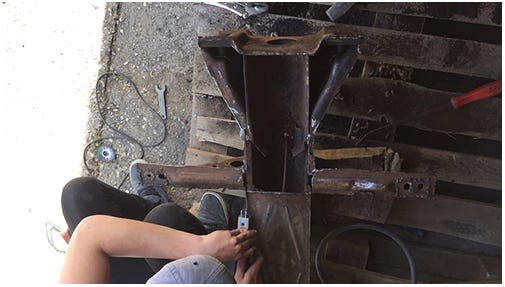 A Quick Timelapse Video
I created a time-lapse to show our progress on cutting it off and cleaning up the rest of the chassis, which can be seen on YouTube:
After another long discussion with my dad, Paul and Neil, my boyfriend's dad, we decided to look for a new shell once again. My dad nearly won a 1974 with pre-1967 panels on eBay, but was outbid at the last second, so this encouraged me to once again post on Facebook pages asking for shells. This time a lot of people got back to me, which was great. With their help I was able to get hold of a new solid shell for my chassis.
It is a 1972 shell, so to carry on with the early look Neil is going to weld on an early rear and front valance, with sloping wings and early windows, but the only difference this time is that the rear window is slightly bigger, so I will not be able to use my rear louver, so the hunt is on for a bigger one!
We'll be picking up the shell on Wednesday 19th April. Hopefully Kimberley and I will able to go to Bug Jam 2017 together!