Mark and Josh from the JK Team headed up to the stunning village of Lavenham in Suffolk for the Lavenham Vintage Volkswagen Meeting, and it was well worth the drive!
The event only takes place once every four years, and was postponed due to Covid, so it was great to be able to attend and to enjoy so many gorgeous vehilces scattered throughout a beautiful medieval village.
There are fairly strict entry criteria for vehicles wanting to take part in the displays at the Lavenham Vintage Volkswagen Meeting, with only vehicles in standard (stock) condition built before August 1967 being eligable to enter the displays. We had Jack, our 1956 Oval Beetle on display, since the race engine which got him through the 2017 Mille Miglia is a reproduction of a vintage Okrassa unit.
It was amazing to see so many other Oval Beetles in one place, especially right-hand drive ones, and to see such a great turnout for a relatively niche event.
We headed through the village to the registration area (arriving a little late, because of some mechanical mishaps on the way), got given a map and a tote bag of things from sponsors (including a JK Guy Sticker, since we sponsored the event!) and then drove off to the village sports field to park up in the display area.
There were dozens of pre-'67 VWs lined up in rows throughout the huge field, everything from T2 Splitscreens to some early Porsches being admired by crowds of people. We worked our way through the rows of Volkswagens, chatted to some friends we bumped into, and went to see the swapmeet area.
Josh managed to resist buying a Stopee brake light accessory, even though he has absolutely no need for it, and we headed into the village for a drink - it was incredibly warm, and the sports field didn't have a massive amount of shade!
The village itself is beautiful, with no two buildings looking the same and lush gardens all over the place. Seeing it in the sunshine filled with classic Volkswagens made it all the more impressive, and really added to a great experience at the show.
We followed the road up to the village square, which was packed with early VW Beetles, Hebmullers, Kübelwagens, and other incredibly rare Volkswagens. It was really cool to see the range of different period accessories that each vehicle displayed, as well as window stickers from different shows and events they'd attended.
The square was also full of people milling around, checking out the vehicles on display, chatting, taking photos, and trying to find some shade.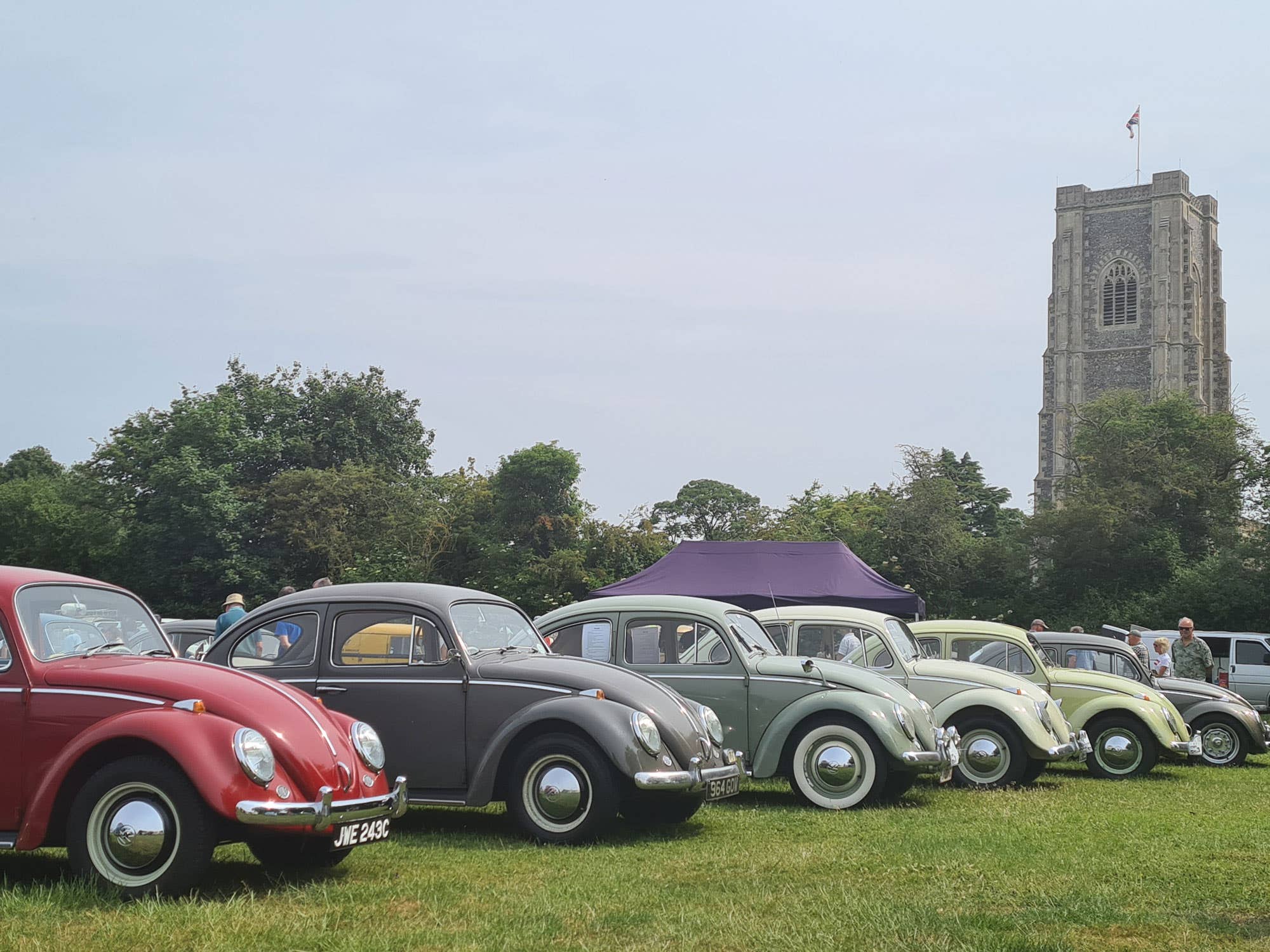 The smallest display area, the Lavenham Press, was also well worth a visit, with a number of early Volkswagen T2 Splitscreens parked up. One of them was owned by a guy named Mark Reynolds, so Mark left him a business card since they've got matching names!
Every street seemed to have at least one classic VW parked up on it, and the whole village was abuzz with locals out and about and visitors to the show looking around and catching up with friends.
We had some great chats with people at the show, saw some incredible vehicles, and will definitely be at the next Lavenham Vintage Volkswagen Meeting!