More from this author
JK Road Trip: One T5, 3 Just Kampers Employees, and Mum.
Written by Meg Cave, the newest (and youngest) addition to the JK Team:


Every May half term my family and I go to Cornwall for my dad's birthday. We went for 9 days, from the 26th May to the 2nd June, our main location was PerranSands in Perranporth. This year was mainly spent showing Luke around Cornwall as he had never been before. This is a blog to show what the three JK staff and Mum got up to while away.
Day 1: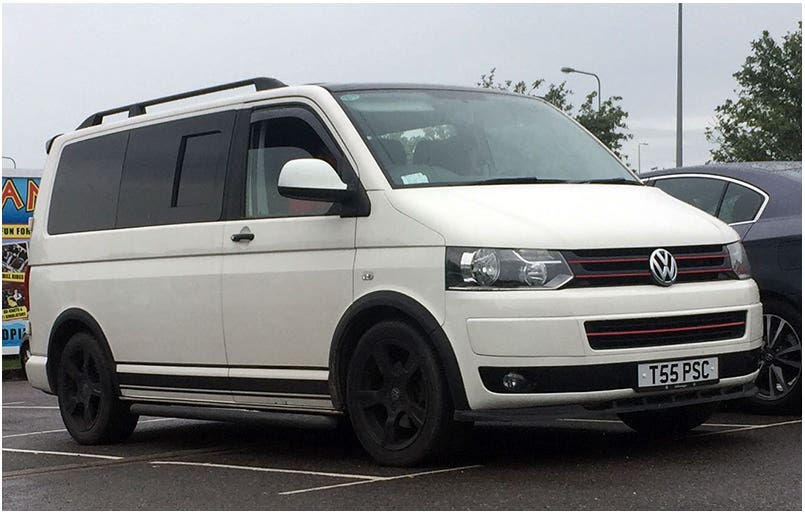 My dad, Paul (Products and Distribution Manager at JK), my Mum, my boyfriend Luke Harvey (Warehouse Operative) and me (Marketing Assistant) made our way to Cornwall at roughly 7:00am.

We left in my dad's 2009 T5 TDi T28. Everything was going well, there was no traffic, we were cruising along nicely - then we hit Stonehenge. The traffic built up all because two lanes went down into one. We got stuck for about 15-20 minutes so this was okay.

After a lot of singing, 40 minutes' worth of traffic near Bodmin, laughs and jokes, we arrived in Cornwall. It was about 11:30 when we got to Redruth, and this is where we went to World of Camping so my dad could buy my mum an awning for their anniversary, well that's what mum thought, turns out dad thought they were going half each!

We went to do a big shop for the week, somehow Luke and I spent £75 where mum and dad spent £40 - must have been all the junk food in our trolley!
We arrived at PerranSands at about 1:30ish, we were greeted with a warm smile from Megan our friend at the Haven. She gave us our caravan key and off we went. The Caravan was amazing, 3 bedrooms, two bathrooms, big living room, and the best bit… a decking with a sea view.

The weather was beautiful when we arrived, so we made the most of it. We took a lovely stroll down to the beach, and even went in the sea! It was freezing… Walking back up to the caravan was horrible, it is very steep, and hurts when you haven't got any shoes on! The first day ended with a lovely BBQ cooked on the Cobb from Just Kampers.
Day 2: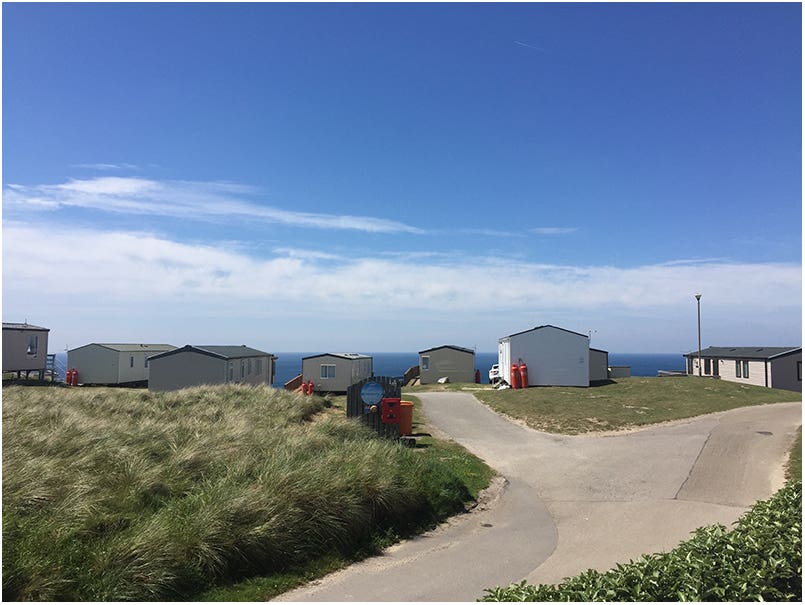 Truro shopping spree! As it was Luke's first time to Cornwall we wanted to take him to as many different towns as we could, because Truro is such a lovely town this is where we began. We took him around shops he had never been in before like my dad's favourite Animal, he ended up buying himself a top straight away! We wandered around a bit more until we found a pasty shop. Mum, dad and Luke armed with their pasties and myself with a chicken and bacon roll, we sat down and admired the town. That evening we relaxed with some lovely fish and chips.
Day 3:
Sunset Surf Café. Dad drove us to a place that Mark from Sales at JK, told us to go. We parked up, saw a Bay window and a nice MK1 Golf, got ourselves a drink, plus a Sex Wax air freshener for our friend. Once the drinks were finished we went for a walk. Little did we know we ended up walking for 2 miles across the beach. When it was decided we had walked far enough, Luke and I went up the sand banks, while mum and dad took the sensible option of the stairs, Luke and I got lost, but finally met up with my parents and started the long walk back to the car.
We went across the sand dunes; our only sense of direction was some stones the stuck out of the ground with an arrow and a town name on it. My poor dad tripped and slipped over, Luke laughed at him only for karma to strike straight away and he fell on his bum!! We finally made it back to the van, a little bruised but otherwise okay!
Our next destination was Hayel, we stopped for some food and Luke and I went on a walk as we spotted a shape under a tarp that looked oddly like a beetle. It turned out to be a Green Baja Beetle, the owners were however not in, so we couldn't find out more about it. While walking back it started to rain, but luckily it didn't last long. We spent the evening in the arcade gambling away our 2p coins!
Day 4
Dads birthday! We spent the morning having breakfast in the surf café, went to the
arcade and gambled a bit, then started the trek into town, we found some caves, and had to take photos of Caves in a cave!
While walking I decided I was going to try get a picture of my parents and Luke every day walking/being in front of me, as a little memory of each walk we did together. When we got into Perranporth we came across a beautiful 1952 first of rear window production, Split Barn door! Our lunch was spent at the Perran Dairy Ice Cream Parlour; this place serves some of the best deserts I've ever had.
After a wonder around Perranporth, we strolled back up and over the hill with our bags full of fudge and rock. When we were back to the caravan, we dumped all our stuff and jumped into the van to go to Newquay, while there we listen to a guy playing the bass guitar, Luke knew what song he was strumming so he started singing along! After a nice stroll around Newquay showing Luke the sights, we went to the cinema, as it was dad's birthday he got to pick the movie, he picked Guardians of the Galaxy 2! This movie was EPIC! Our meal that evening was booked for 8'oclock, and to Luke and I's surprise dad had booked Alfie the VW Campervan! We ate our dinner inside the bus, I sat in the driver's seat as Luke was looking at everything that was missing, and getting upset over the broken parts! We strolled home with our stomachs full ready for bed!
Day 5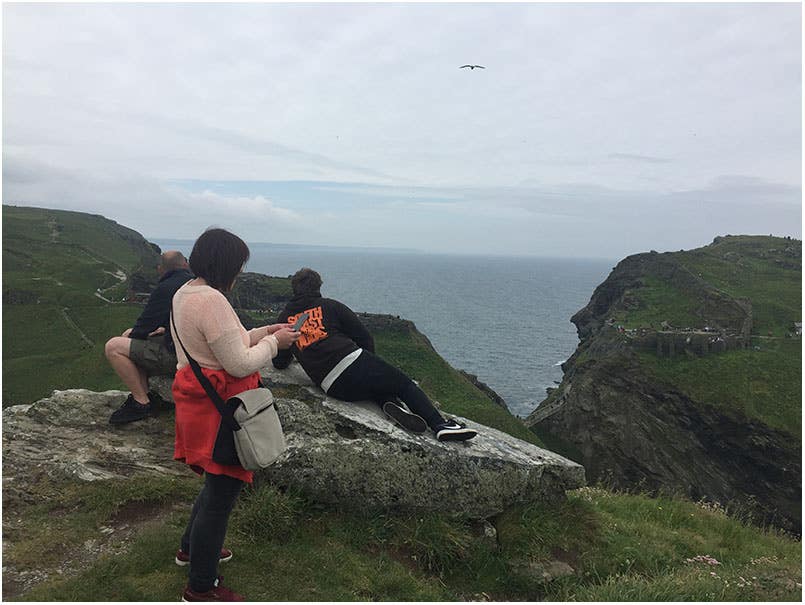 Tintagel and more! My dad drove us on a long journey to the home of King Arthur! The weather was a bit dull, but we didn't let that stop us, we wondered down to the ruins of King Arthurs Castle. There was a cove where the sea looked beautiful, we decided that it was gonna be tough walking back up the path as it becomes extremely steep. Dad said the best was to follow the path up the cliff, so this is what we did until we came to a dead end. Luke found a path up the steep hill, which we decided to take, it was very psychically tough to do, but we made it!
The view was amazing up the top! Once we made it back to the van our next stop was Wadebridge. This is a lovely town, we walked around until our feet got tired and then made our way into the supermarket to buy food for that nights BBQ. We then spent ages driving around trying to find some logs for the fire that was going to happen after the BBQ, we ended up in Padstow and saw a lovely late Bay. The owners were on a family trip, and had just purchased their roof rack from Just Kampers. We found our logs finally at Mole Valley, and took them to Porthcothan where my mums cousin was camping. Dad cooked a lovely BBQ, and then made a roaring fire, everyone got on extremely well and we had a lovely time! Hopefully we will meet up with them next year!
Day 6:
Lands' End, one of my favourite places, mainly because they have a farm where you can feed animals! Luke and I fed, cows, lambs, a turkey, chickens and ducks! One of my favourite animals was walking around in the field, a Lama, however we were unable to feed these animals as they only eat certain food.
We spent some time at the First and Last Refreshment House in England. The view was once again amazing from the edge of England! After walking around showing Luke everything in Lands' End, we drove to a place that Alex from the Sales Team suggested, called Porthcurno the home of the Minack Theatre. On our way, there we got stuck in a car build up as a double decker bus came down a tiny lane and blocked the whole road and more and more cars kept coming down, but by the time we got to Porthcurno It was packed, people were walking in the road, it was heaving! We decided not to stay as it was already quite late in the afternoon and we were going out for dinner. When we arrived back at the caravan we went down to the Surf Bay Restaurant and had a lovely meal in there.
Day 7: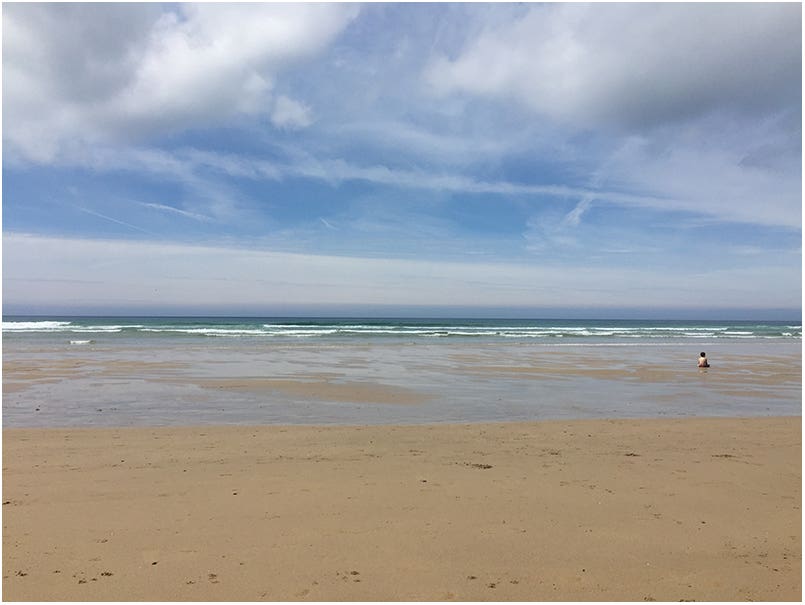 Our last full day in Cornwall! Our day started off with Luke and I cashing in all our tickets from the arcade, we came away with roughly 2,300! Luke allowed me to spend 2,000 tickets of a cuddly Yoda toy, who now lives on my desk at JK HQ! The rest of the tickets were spent on sweets and a yoyo. Luke and I then went in the swimming pool and had a lovely swim around for nearly an hour! When we arrived back at the caravan Mum and Dad had gone down into town, Luke and I decided to go down ourselves, saw my parents on the way and spoke about going in the sea as the weather was beautiful! Once Luke and I were in town, we got ourselves an ice cream and some body boards, walked back along the beach and met my mum on the beach closer to the campsite.
Luke and I then body boarded in the sea for nearly an hour and a half!! When back at the caravan Luke and I fell asleep for 2 hours, when we woke up we were both bright red from sunburn! About 30 minutes after our nap my dad's cousin came around, we had a Cobb BBQ on the decking and then finished our evening with a long stroll around the campsite watching the sun go down.
Day 8:

Goodbye Cornwall! My dad's T5 had done us well for another year. At 9am it was time to leave Cornwall behind us, it took us a long time to get home, as we took all the back routes to try to miss the traffic through Bodmin, but then we got stuck at Stonehenge, we had two stops on the way back, one for food and one for a toilet break. During our Cornwall trip, we saw many different VWs, just on the way back we saw Beetle Juice bringing back a Bay window, a yellow Notchback, type 25 and a few Beetles. The caravan is already booked up for next year, and I can't wait to go back!