If you're looking for a more back-to-basics camping experience, we've put together this guide on how to get the most out of camping without electricity.
Whether you're heading away for a weekend in your camper and don't want to book a campsite with mains electricity, or you want to spend a few weeks getting away from it all in the great outdoors, these tips can make a massive difference to how safe and enjoyable your adventure is.
Wild camping, without the support of a dedicated campsite, or just pitching up where you don't have access to a 240v mains supply, can be really rewarding and let you reset away from the conveniences (and stresses) of modern living.
Tips on going totally without electricity
There are a number of campsites around the UK which offer pitches that don't have any electrical supply, and allow you to enjoy a more traditional camping experience. If you're keen to lean into that and go without power, you've got a lot of options to ensure your trip is still comfortable and convenient.
Pack for the time of year
Without the comfort of an electric space heater or similar, you may find you get much colder at night than you might if you were camping with full access to power.
Consider the time of year and weather forecast when you're packing up for your trip, bringing the right sleeping bag and bedding, as well as plenty of layers, to help keep you warm overnight. If you're heading away for a trip in your camper, then a set of thermo mats can help insulate the inside of your campervan, preventing warmth being leeched out by the cold window glass.
Curtains are a more permanent solution to the same problem, and can be quicker and easier to use once you've installed them.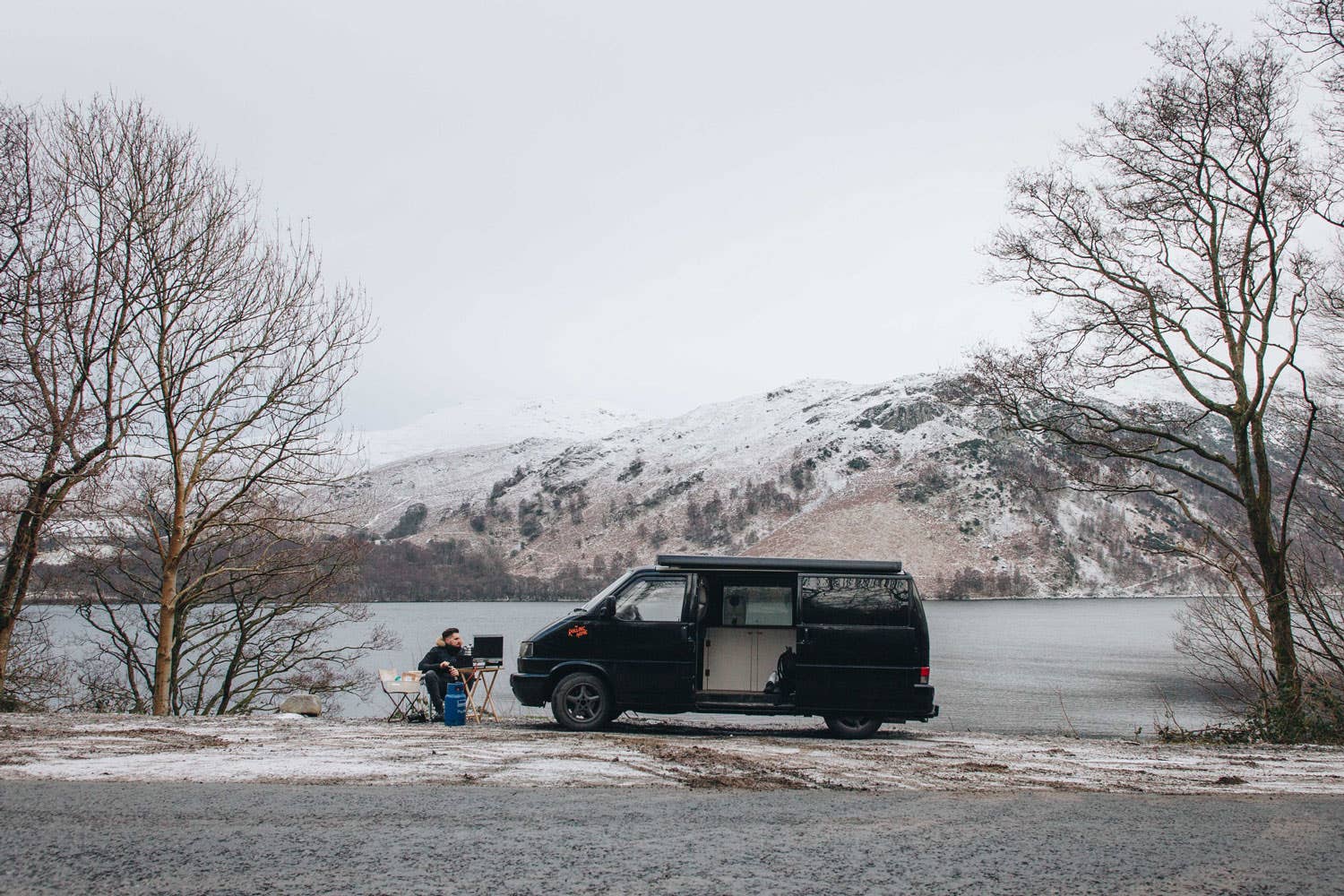 Image by Luke Porter, via Unsplash
Keeping your food cool with a coolbox
If you're away for a two- or three-day trip over a long weekend, then chances are you'll be able to keep the food and drinks you need in a coolbox, and keep everything chilled with ice or ice blocks.
If you take the time to properly organise your food and drink before you set off, keeping the things you'll want regularly at the top, and food/meals for your last day at the bottom, you'll not need to open the cooler as often, and won't need to rummage around in there for as long when you do open it.
Proper planning will mean that you don't lose as much cooling from your coolbox over the course of your trip, so you can enjoy fresh food for longer.
Fuelling your camping kit with gas
If you fancy cooking up some beans over an open fire, we've got the kit you need, but if you'd rather fire up a barbeque or grill, you'll likely want it fuelled on gas rather than bringing coals or other fuel sources along with you.
BBQs like the Cobb do come with their own 'Cobblestone' fuel system, which isn't nearly as cumbersome or messy as usual burnable fuels, which is ideal if you're not keen on carrying gas with you.
Anyone who's comfortable with using gas while they're camping will need to choose between propane and butane as a fuel source, and we've written a whole separate blog on the pros and cons of the two different gasses.
It's also worth your time to check out our guide on gas safety, to ensure you stay safe while you're away.
Image by Sage Friedman, via Unsplash
Consider a powerbank
Just because you're camping away from electricity, doesn't mean the modern world ceases to exist, and you'll probably still need to be contactable.

You can pick up a portable powerbank relatively cheaply, which will give you a means of charging or topping up your mobile phone's battery in case you need to contact someone in an emergency, or you need to be reached by someone who isn't immersed in the great outdoors.
Don't forget a torch!
Even the most hardened adventurer will want to take an electric torch with them, whether it's powered by replaceable batteries, solar power, or a hand-cranked dynamo.
Packing a torch, backup torch, and batteries is a great shout, especially if you don't fancy tripping over on your way to the toilet in the night.
Tips on Camping without Mains Power
If you'd still like to use your electrical appliances, but don't want to find a campsite with access to 240v mains electricity, then there are plenty of options to keep you charged up.
Some points on leisure batteries
You can run anything from fridges to hair dryers from your vehicle's 12v electrical circuit, but doing so over a whole camping trip will likely see you stuck with a flat battery when you go to leave!
Luckily, it's fairly simple to install a leisure battery to your camper, which acts as a second battery to power your appliances and operates separately to your main vehicle battery. This means you can plug all sorts of devices into it without draining your camper's battery.
We've put together a guide on leisure batteries and a video on installing one to your camper, to give you a good idea of how much work is involved before you get going.
Image by Dino- Reichmuth, via Unsplash
Harness the power of the sun with solar
Solar panels aren't just for motorway verges and house roofs – they're now efficient, compact, and affordable enough to be mounted onto the roof of your camper or even folded up and carried about like a tote bag.
Whether you're going to take the plunge and install a solar panel array on the roof of your camper to keep your leisure battery topped up, or you want a portable solar panel which you can use as and when you need it, there's a huge range of different solar options for you.
We've put together a guide on how solar works and how to get the right solar setup for your camper and your needs, which you can read here.
Whatever you're up to, and however you plan on camping, we hope you have a safe and enjoyable trip!