Josh Reynolds
JK's Content & SEO Manager
Published 12 November 2020

More from this author
JK are Sponsoring Team Colorado!
JK are proud to be sponsoring Team Colorado and their historic VW rally vehicles!
Team Colorado are a small team of classic VW enthusiasts with a passion for historic rally events.
Between them Bob Beales, John Cadwallader, Mark Murphy, Mike Leflay and Mark Walters have decades of experience with classic VWs – especially Beetles – and a real skill for historic rally events.
Bob Beales:
Bob has been a petrolhead since his early teens, when he'd take any chance he could to get behind the wheel. He got a VW Beetle to tackle the commute to his apprenticeship, which sparked off a real love for the VW Beetle, and lead to him working at an independent VW specialist early in his career.
He's now the owner of Bertie, the teams yellow-and-black rally Beetle, and his retirement has meant that Bob now has a lot of time to devote to the sport and the vehicles.


John Cadwallader:
Having been a motorsport enthusiast throughout his childhood, John left school early to start an apprenticeship as a mechanic. One of his first jobs was to clean the boss's car when it returned from the Welsh Rally, which really helped to further John's love for rallying, a sport he's still involved with 50 years later.
He's known Bob for a long time, and so getting involved with Bertie was a real no brainer for both of them.

Mark Murphy:
Most commonly known as Smurph, Mark used to work alongside Bob and – as seems to be the case for most of Team Colorado – got sucked into the world of rallying as a result. Smurph blames Bob's infectious enthusiasm, as well as the raw fun of the events
Mark does a lot of photography for the team, so you'll often see him hanging around the background at events with the rest of the team.
Mike Leflay:
Having always had an interest in cars and bikes growing up, and with arguably more hours spent fixing up his motorbike than riding it as a teenager, Mike spent a lot of time as a kid enjoying motorcross.
Mike first met Bob (and Bertie) at the North West Stages event in Blackpool, and their friendship really took off when Mike was asked to be a navigator for an event in Bertie. Mike hasn't looked back since!
Mark Walters:
Often referred to as 'The Doc' due to his in-depth knowledge of both repairs and restorations on all manner of classic and modern VWs, Mark helps to keep the team on the move, as well as helping out with the photography at events.
As well as his work with Team Colorado, Mark is on the committee for the London & Thames Valley VW Owners Club, which also keeps him plenty busy!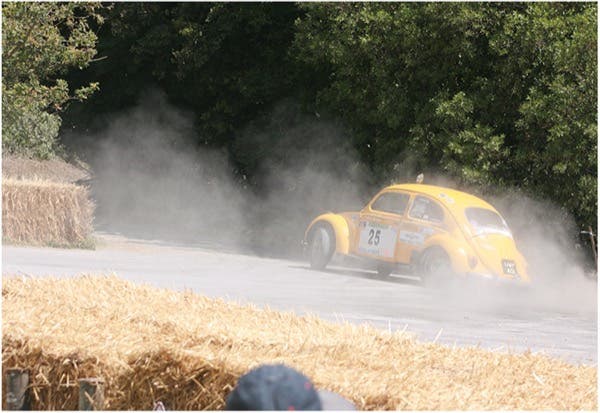 The Team Colorado rally vehicles:
UWP401 - or Bertie - 1958 VW Beetle
After a sad start to life, a few crashed as a stint in a taxi firm, this Beetle was eventually treated right and given a Porsche 356 engine and some German disc brakes. This changed it from slightly-sorry-for-itself private car into a rally winner!
Unfortunately, the engine later blew up and the Beetle sat unloved for a while, until Bob got hold of it.
Bob spent the next fifteen years taking Bertie to all sorts of motorsport events. He had a few issues with the Beetle – including some scary moments with the disc brake conversion – but fixed it up bit by bit as and when he could. The Beetle has had several different engine since it left the factory, including a few 1500 and 1600 Type Three engines and another Porsche engine, but none of them lasted very long.
Sadly, 'real life' got in the way of Bob and Bertie's fun, and the Bug was stored away in a container for several years while Bob raised a family.

The first historic RAC rally and Golden Fifty rally sparked a renewed interest in getting Bertie out of the container and back onto the track. This lead to a 1200 engine being built, and an entry in the First Historic Monte Carlo, which Bob drove to with his dad, tackling an epic five day drive from Glasgow!
For the next five years Bob and Bertie were regular competitors on international, national and club rally circuits, even winning the Historic Rally Championship.
There have been some starts and stops since then, but Bertie has seen a lot of action on tracks throughout the UK and Europe over the years.
ABP592B - or Herbert - 1964 VW Type 3 Notchback
Herbie started life out with a brown bodywork and a cream roof. When Bob purchased the Notchback it really was a basket case, with all the corrosion in places where it shouldn't be! The engine didn't run and the brakes work. The first thing Bob fixed up was the engine and gearbox, which were completely removed. The body was then taken to a local body shop who did a lot of work to remove the corrosion, as well as the defective sun roof. Everything was finished in the same red as the Mercedes Benz that was Bob's daily driver, before having a roll-cage fitted.
The front and rear suspension, brakes, engine and gearbox then received attention. Lights were upgraded, guards and shields were fitted together with the rally seats, harness and fire extinguishers. After a shakedown, the car was entered in the 1992 Rally Britannia- this was a big learning curve!
The Type 3 is the same wheel base as an early 911, with similar weight overhang but not the same power! The engine did not produce the power that was anticipated due to no special parts being homologated. This, together with trying to get the limited slip diff to lock up, resulted in some interesting entries and exits on a number of corners!
The lack of power meant that the diff didn't always lock up and the inevitable happened! Herbert flew off the course, and was stopped from getting too far by two trees! One tree 'caught' the offside front and another to the rear end of the offside front wing. The latter resulting in a kink in the dash panel. The driver's door wouldn't open, so we pushed on and finished the event in a lowly position. The car returned home and a local body shop to be straightened out after the damage.
It took time, as well as some trial and error in different events, to figure out how to get Herbert running as smoothly as possible, and so Bertie became Team Colorado's full-time rally vehicle. Poor old Bertie has been used constantly until now and Bob felt like it was time to give the old bug a rest and revamp the T3.
We're really looking forward to seeing what Bob and the team are able to do with Herbert, as we've always had a soft spot for a Notchback.
Team Colorado's Plans for 2018
You can check out the Team Colorado website for a full lowdown on their plans for this coming year, but we're excited to see them at the VolksWorld Show and at VW Budburg.
These are both excellent events that we're excited to be a part of, and it'll be a fantastic opportunity for all of you who are visiting to chat with Team Colorado about their experiences, their vehicles and how to get involved in classic car rallying!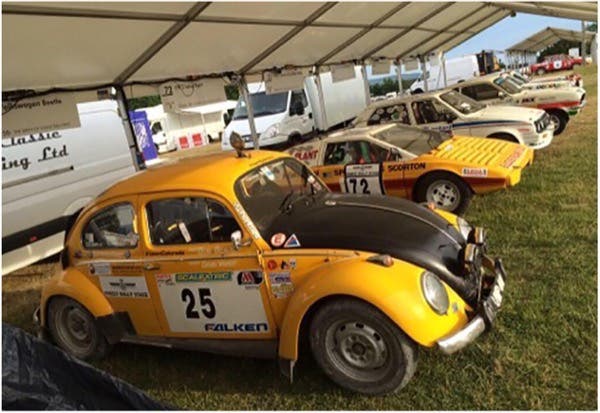 Events in 2018
Here's a quick list of the events that Team Colorado will be attending in 2018 so far:
VolksWorld
24 & 25 March 2018
Bromyard Speed Festival, Bromyard
2nd April 2018
Corbeau Seats Rally, Clacton
21st & 22nd April 2018 - Entry accepted
Rally Trasmiera
10, 11 & 12 May 2018 - Entry accepted
Oulton Park Family Fun Day, Oulton Park
27th May 2018
Goodwood Festival of Speed
12, 13, 14 & 15 July 2018 - Pending entry acceptance
Oulton Park Gold Cup Stages, Oulton Park
26 & 27th August 2018
Firle Hill Climb
16 September 2018 - Date TBC - Pending entry acceptance
Rally Day
21 & 22 September 2018 - Entry accepted
Wales Rally GB
4, 5, 6 & 7 October 2018 - Entry not open yet
Bath Rally
19, 20 & 21 October 2018 - Entry accepted
Rockingham Stages
December 2018 - Dates & Times TBC