JK are proud to be sponsoring Team Colorado and their historic VW rally vehicles!
Team Colorado are a small team of classic VW enthusiasts with a passion for historic rally events.
Between them Bob Beales, John Cadwallader, Mark Murphy, Mike Leflay and Mark Walters have decades of experience with classic VWs – especially Beetles – and a real skill for historic rally events.
Bob Beales:
Bob has been a petrolhead since his early teens, when he'd take any chance he could to get behind the wheel. He got a VW Beetle to tackle the commute to his apprenticeship, which sparked off a real love for the VW Beetle, and lead to him working at an independent VW specialist early in his career.
He's now the owner of Bertie, the teams yellow-and-black rally Beetle, and his retirement has meant that Bob now has a lot of time to devote to the sport and the vehicles.


John Cadwallader:
Having been a motorsport enthusiast throughout his childhood, John left school early to start an apprenticeship as a mechanic. One of his first jobs was to clean the boss's car when it returned from the Welsh Rally, which really helped to further John's love for rallying, a sport he's still involved with 50 years later.
He's known Bob for a long time, and so getting involved with Bertie was a real no brainer for both of them.

Mark Murphy:
Most commonly known as Smurph, Mark used to work alongside Bob and – as seems to be the case for most of Team Colorado – got sucked into the world of rallying as a result. Smurph blames Bob's infectious enthusiasm, as well as the raw fun of the events
Mark does a lot of photography for the team, so you'll often see him hanging around the background at events with the rest of the team.
Mike Leflay:
Having always had an interest in cars and bikes growing up, and with arguably more hours spent fixing up his motorbike than riding it as a teenager, Mike spent a lot of time as a kid enjoying motorcross.
Mike first met Bob (and Bertie) at the North West Stages event in Blackpool, and their friendship really took off when Mike was asked to be a navigator for an event in Bertie. Mike hasn't looked back since!
Mark Walters:
Often referred to as 'The Doc' due to his in-depth knowledge of both repairs and restorations on all manner of classic and modern VWs, Mark helps to keep the team on the move, as well as helping out with the photography at events.
As well as his work with Team Colorado, Mark is on the committee for the London & Thames Valley VW Owners Club, which also keeps him plenty busy!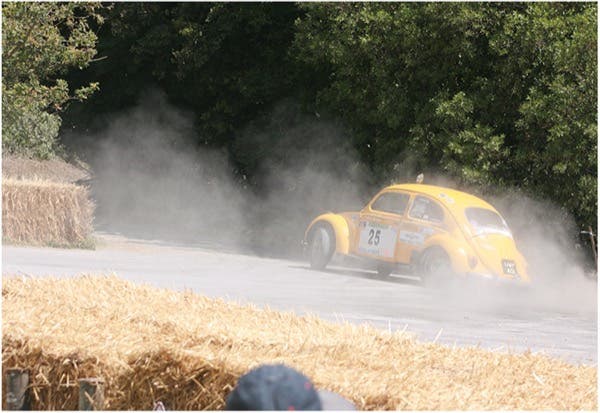 The Team Colorado rally vehicles:
UWP401 - or Bertie - 1958 VW Beetle
After a sad start to life, a few crashed as a stint in a taxi firm, this Beetle was eventually treated right and given a Porsche 356 engine and some German disc brakes. This changed it from slightly-sorry-for-itself private car into a rally winner!
Unfortunately, the engine later blew up and the Beetle sat unloved for a while, until Bob got hold of it.
Bob spent the next fifteen years taking Bertie to all sorts of motorsport events. He had a few issues with the Beetle – including some scary moments with the disc brake conversion – but fixed it up bit by bit as and when he could. The Beetle has had several different engine since it left the factory, including a few 1500 and 1600 Type Three engines and another Porsche engine, but none of them lasted very long.
Sadly, 'real life' got in the way of Bob and Bertie's fun, and the Bug was stored away in a container for several years while Bob raised a family.

The first historic RAC rally and Golden Fifty rally sparked a renewed interest in getting Bertie out of the container and back onto the track. This lead to a 1200 engine being built, and an entry in the First Historic Monte Carlo, which Bob drove to with his dad, tackling an epic five day drive from Glasgow!
For the next five years Bob and Bertie were regular competitors on international, national and club rally circuits, even winning the Historic Rally Championship.
There have been some starts and stops since then, but Bertie has seen a lot of action on tracks throughout the UK and Europe over the years.
ABP592B - or Herbert - 1964 VW Type 3 Notchback
Herbie started life out with a brown bodywork and a cream roof. When Bob purchased the Notchback it really was a basket case, with all the corrosion in places where it shouldn't be! The engine didn't run and the brakes work. The first thing Bob fixed up was the engine and gearbox, which were completely removed. The body was then taken to a local body shop who did a lot of work to remove the corrosion, as well as the defective sun roof. Everything was finished in the same red as the Mercedes Benz that was Bob's daily driver, before having a roll-cage fitted.
The front and rear suspension, brakes, engine and gearbox then received attention. Lights were upgraded, guards and shields were fitted together with the rally seats, harness and fire extinguishers. After a shakedown, the car was entered in the 1992 Rally Britannia- this was a big learning curve!
The Type 3 is the same wheel base as an early 911, with similar weight overhang but not the same power! The engine did not produce the power that was anticipated due to no special parts being homologated. This, together with trying to get the limited slip diff to lock up, resulted in some interesting entries and exits on a number of corners!
The lack of power meant that the diff didn't always lock up and the inevitable happened! Herbert flew off the course, and was stopped from getting too far by two trees! One tree 'caught' the offside front and another to the rear end of the offside front wing. The latter resulting in a kink in the dash panel. The driver's door wouldn't open, so we pushed on and finished the event in a lowly position. The car returned home and a local body shop to be straightened out after the damage.
It took time, as well as some trial and error in different events, to figure out how to get Herbert running as smoothly as possible, and so Bertie became Team Colorado's full-time rally vehicle. Poor old Bertie has been used constantly until now and Bob felt like it was time to give the old bug a rest and revamp the T3.
We're really looking forward to seeing what Bob and the team are able to do with Herbert, as we've always had a soft spot for a Notchback.
Team Colorado's Plans for 2018
You can check out the Team Colorado website for a full lowdown on their plans for this coming year, but we're excited to see them at the VolksWorld Show and at VW Budburg.
These are both excellent events that we're excited to be a part of, and it'll be a fantastic opportunity for all of you who are visiting to chat with Team Colorado about their experiences, their vehicles and how to get involved in classic car rallying!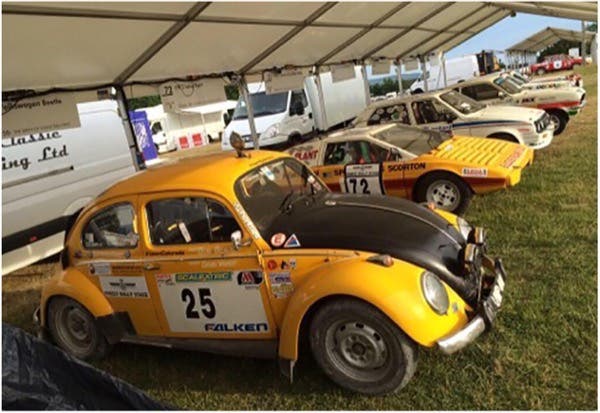 Events in 2018
Here's a quick list of the events that Team Colorado will be attending in 2018 so far:
VolksWorld
24 & 25 March 2018
Bromyard Speed Festival, Bromyard
2nd April 2018
Corbeau Seats Rally, Clacton
21st & 22nd April 2018 - Entry accepted
Rally Trasmiera
10, 11 & 12 May 2018 - Entry accepted
Oulton Park Family Fun Day, Oulton Park
27th May 2018
Goodwood Festival of Speed
12, 13, 14 & 15 July 2018 - Pending entry acceptance
Oulton Park Gold Cup Stages, Oulton Park
26 & 27th August 2018
Firle Hill Climb
16 September 2018 - Date TBC - Pending entry acceptance
Rally Day
21 & 22 September 2018 - Entry accepted
Wales Rally GB
4, 5, 6 & 7 October 2018 - Entry not open yet
Bath Rally
19, 20 & 21 October 2018 - Entry accepted
Rockingham Stages
December 2018 - Dates & Times TBC
Bertie the Beetle Rides Again
Clacton on Sea and Tendring, more normally associated with time spent on the beach, ice cream in hand or old time fun on the pier took on a distinctly different pass time over the weekend of the 22nd April.
Over 6000 spectators lined a route that took in 5 stages and watched in awe as various types of vehicle took to the roads, tyres span, engines roared and in the middle of it all was Bertie the 1958 Beetle.
JK sponsored VW Colorado Historic Rally team are here with a blow by blow account of the first Corbeau Seats Rally experience.
The Corbeau Seats Rally
The first event of this type to be run in England and was being run along the same lines as an Irish one-day national event with five stages in total, with each stage being run three times during the day, covering approximately 45 miles of closed road stages, some very fast sections mixed with some tighter more technical sections.
The whole team and Bertie arrived in Clacton late Friday evening 20th April. There was just enough time to grab something quick to eat and go through the timings for the Saturday and Sunday before heading to bed. So, this is exactly what we did!
Saturday 21st April
Bob and Mike had signing on at 10 o'clock so we were in the Service Park by 09:00. Bob and Mike had their heads in the pace notes leaving Mark and Sarah to get on with vehicle preparation and final checks. Due to a change in the regulations the Fire Extinguisher Installation needed upgrading with a new installation. Around 11 o'clock Bob and Mike were booked in on the recce runs. This gives the driver and co-driver the opportunity to drive round all the stages making additional notes enabling them to increase the accuracy of the runs on the stages.
Whilst Bob and Mike were out and about, Mark and Sarah completed the vehicle checks and finished plumbing in the fire extinguisher systems.
Bob, Mike and Bertie arrived back at service around 13:00 and were greeted with a fully functioning and serviced vehicle.
Scrutineering started at around 16:00 and was done and completed without any hitches and the vehicle locked in Parc Ferme around 18:00 that evening.
This let the team grab the opportunity to have a well-deserved rest and get refreshed and focused ready for the start on Sunday morning.
Sunday 22nd April
We were all up with the larks on Sunday morning. We all had a swift breakfast followed by a drive down to the Parc Ferme to collect Bertie. The service crew dropped Bob and Mike off and continued on to service and waited for the Beetle to arrive.
Bob, Mike and Bertie arrived in service after having done the first two initial time controls and we're ready for the off!
Bertie Bob and Mike left Service around 09:00 and headed off to the first stage. The car performed very well until towards the beginning of lunch where we noticed a slight drop in oil pressure. Bertie arrived in service around 12:00 when Mark & Dan set to work undertaking a full oil change which is not as straightforward as a normal Beetle as we have a sump guard and various other things that need to be removed. This work was completed within our allotted 45-minute service time. We came back out on stage with an engine full of fresh oil and Bertie running very well.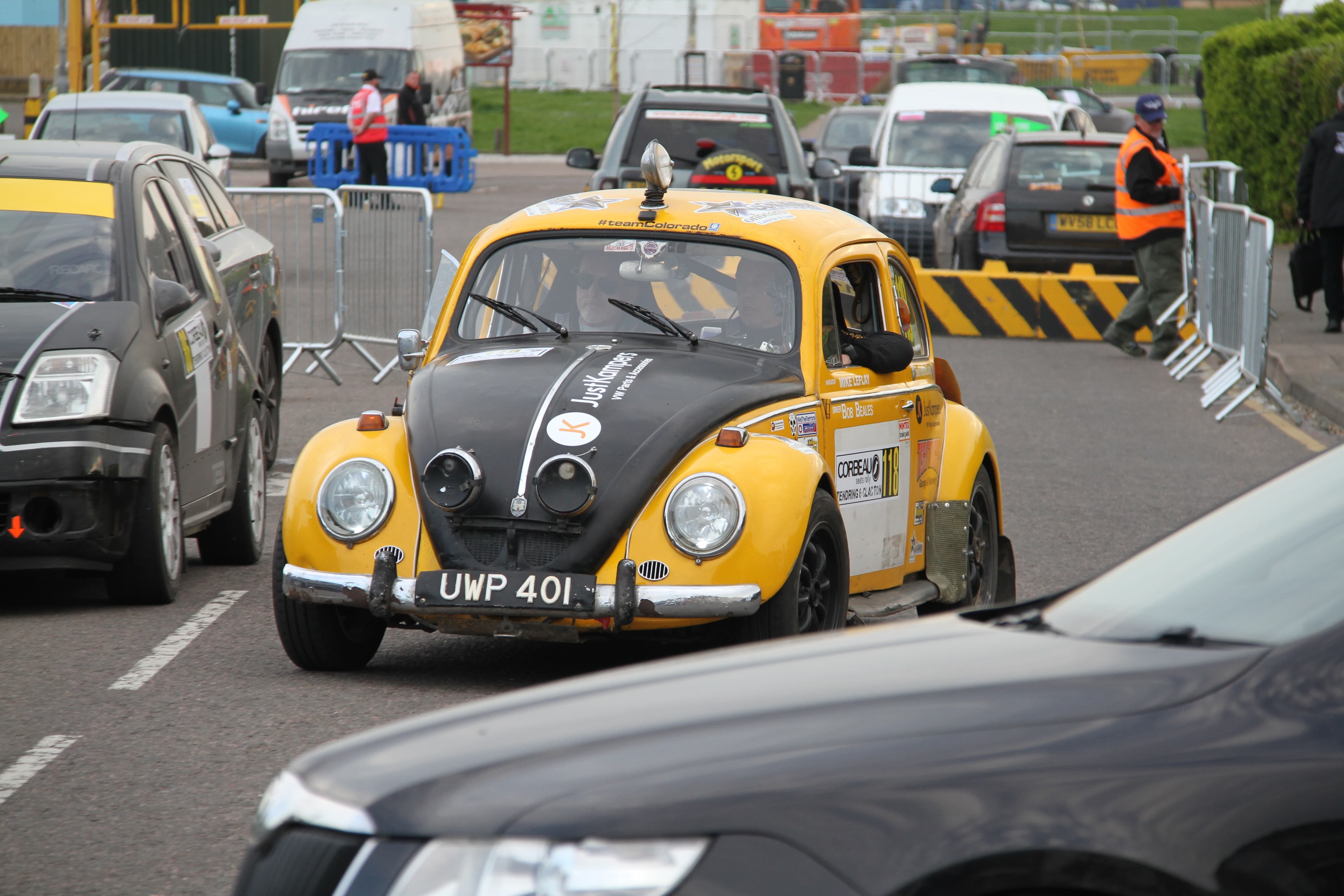 Having done some of the stages earlier in the morning Bertie was getting quicker and quicker, taking 10 seconds or more off each of his previous stage times. We'd heard about some accidents earlier in the day, with some being quite serious. This brings from the back to the front of your mind; just how dangerous Motorsport can be!
All was going well again until towards the end of the mid-afternoon session. We started to discover a bit of brake fade on the drums which made things a little more "interesting". A quick call to the service crew got Dan, Mark and Sarah ready for quick brake adjustment during our allotted 30-minute service period.
For the final session of stage runs in the afternoon Bertie was running like a dream. He rattled through the stages like the pro that he is, finishing the Rally at just gone 18:30.
As we were loading up Bertie on the trailer, the race results came through.
We started car 118 in a field of 120 vehicles. We were amazed to find that we had worked our way up to 69th overall and come in 12 in Class.
Considering Bertie, the Beetle has been a rally car since 1960 and was by seven years the oldest car on the stage we were very impressed with the result!
What a great effort by the team, Bob, Mike, Dan, Mark and Sarah!!
An excellent event, and a big thank you must go to all the spectators, marshals and organisers.
Thanks Go to Just Kampers, Goldstar Onboard and Tech Trucks for getting us to the event and allowing us to compete.
If, like us, you are keen to follow more of VW Colorado's adventures you can find them here
www.teamcolorado.co.uk or on their Facebook page www.facebook.com/UWP401/
Oultan Park Gold Cup
Being part of a great club called Rallying History we have the opportunity to attend all sorts of events across the country.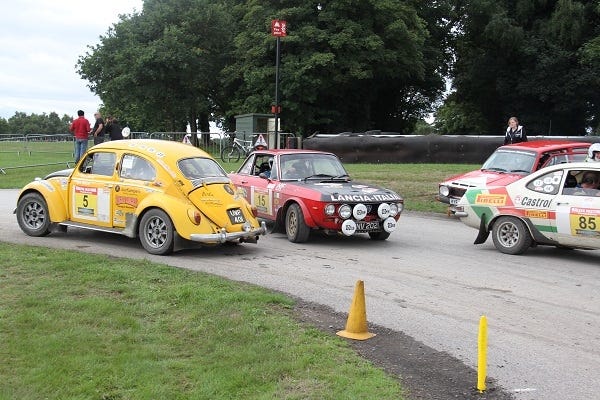 This August Bank Holiday weekend we were invited to attend the Gold Cup at Oulton Park in Cheshire.
The Gold Cup spanned the Bank Holiday Weekend, but the Rally Circuit was only open on Sunday and Monday.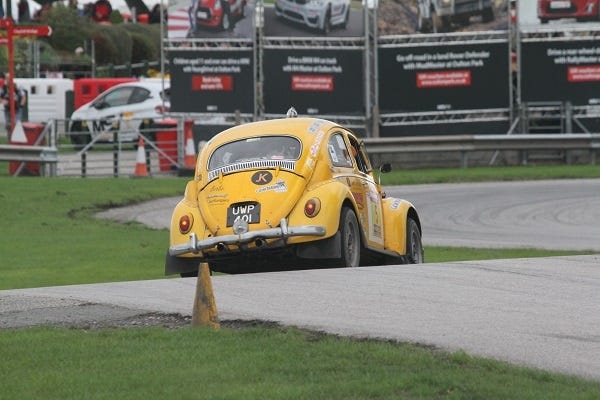 The Sunday was rain most of the day, and with the low friction surface being well watered from the sky, Bertie felt right at home chasing down the far more powerful cars out on the tight and twisty little stage.
On Sunday however, the sun tried to shine, and the weather was certainly, much better.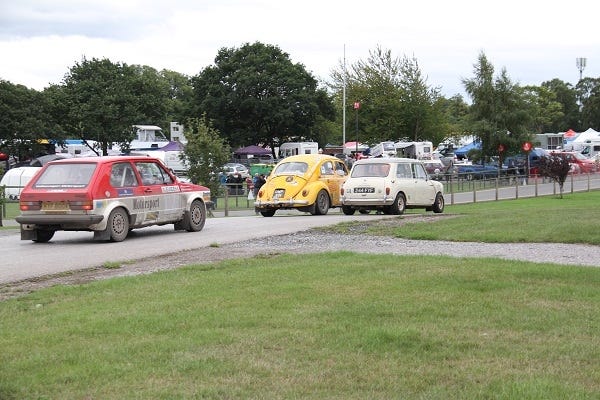 There was a huge selection of Rally cars on display on the track, from Metro 6R4, VW Golf Mk1, Lancia Fulvia, Chevrolet Firenza (if you haven't heard of this car, you will certainly hear it!!) Renault 5 Turbo, all sorts.
We were able to get some passengers, that had signed on and done a safety briefing, out in some of the cars, and we all had fun swapping about and trying out other people's cars as passengers.
Bertie was enjoying himself out on circuit, getting a well earned shakedown in readiness for our event packed September and October.
We hope you enjoy the photos and please take
time to check out the latest with the team at:
You can catch the team in action at the following events over the next couple of months:
16th September: Firle Hill Climb (Bo Peep Hill Climb)
4th-7th October: Wales Rally GB
14th October: Brooklands Motorsport Day
Team Colorado lose their sheep at Bopeep
Team Colardo headed to the Sussex Countryside on the 17th September to take part in the Firle Hill Climb (also known as the Bopeep Hill Climb).This event has some impressive history and the modern version feels like a minature Goodwood in spirit.
Team Colorado had been in discussions with Rob and his team at the Bo Peep Drivers Club since 2017 and earlier this year their entry to this Historic event was accepted.
"Like a mini Goodwood Revival, this event has gone from strength to strength and although only a 1-day event yields a vast and varied entry (limited to 80 cars, for timings and marshalling reasons).
The hill climb is only about 600 yards long but is great fun for spectators and drivers alike.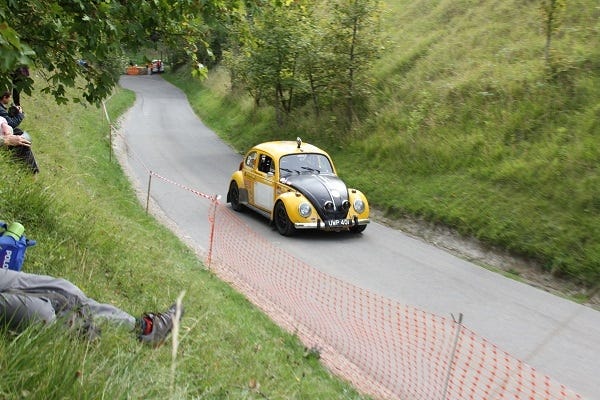 Image credit: Team Colorado
Bertie one of the 80 cars accepted that ranged from a Detomaso Pantera, Ferrari Mondial and Dino, Lancia Delta Integrale. Aston Martin DB5, Morris Minor with a supercharged V8, Bentley Mk6, Mini's, lots and lot of Pre-1989 cars.
Image credit: Team Colorado
We made a couple of runs up the hill and had some fun being cheered on by spectators and fans.
Image credit: Team Colorado
We hope you enjoy the photos and if you are in Sussex next year please be sure to check out this event. It is going from strength to strength."
Image credit: Team Colorado

Firle Hill: A Potted History of the Climb at Bopeep Lane
The origins of the Hill climb at Firle begin at rather a bleak time for motor racing in general. Following WWII, alongside the permanent closure of the once majestic Brooklands and Donnington Park being out of action there were several other sources of frustration and challenges to be overcome. Petrol rationing remained in force from 1939 until 1950, (it was briefly reintroduced for a period of 5 months after the Suez Crisis in late 1956 - early 1957), and another added complication to competition racing was the major shortage of tyres resulting from a ban on remoulded or re-treaded tyres by the RAC.
Still the racing spirit is one of those things that is not easily silenced, and other racing opportunities were sought on a local basis in areas across the country.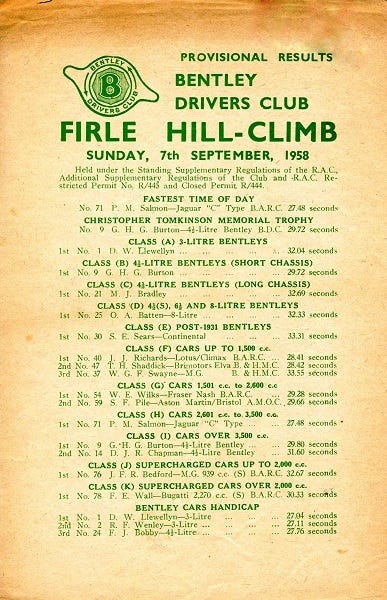 Image found on Pinterest
One such group with a proverbial itch in need of scratching was the Bentley Owners Club. They happened upon a suitable hill on Bopeep Lane near the village of Semeston. In 1949 the first "event" was held. These were years peppered with stories of dedicated racing and grit; one such instance is demonstrated by the account below taken from the October 1955 edition of Motorsport Magazine;
"…and of the 4.5 litre model's George Burton, in his modified three carburettor job made very good time (31.11sec) in spite of having to change gear with his left arm, having broken the other cranking the car."
During the years 1956-1967 the Firle Hill Climb came under control of the B.A.R.C (British Automobile Racing Club). On the 2nd June 1957 the B.A.R.C event combined the Hill climb and 50-mile road race, held the day before starting at the Grasshopper Inn near Westerham, with intermittent driving tests, including one at Butts Hill, Willingdon, and then on to Eastbourne, via Beachy Head.
The Hill climb at Firle was well liked as a venue and the 1966 Autocar magazine noted;
" The hill covers 600 yards, and if the weather is fine the setting is really superb."
The event grew from strength to strength with many a B.A.R.C. attending to take the Bentley Owners Club on at their home ground.
Notable racers include Patsy Burt, a well-respected and well-liked driver who had significant successes throughout the 1950's-1970's. She raced at Firle in her Cooper and Cooper Climax and twice went on to set not just the ladies record but also the fastest time overall – regardless of car class or gender. Her car was always finished in a distinctive 'Burt Blue'.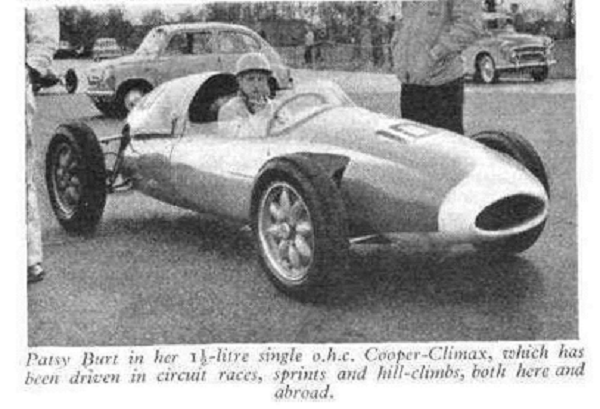 Image from Motorsport Magazine
Clearly racing was an intrinsic part of who she was. The obituary, in the Telegraph on her passing, in 2001 noted that she had "On her 73rd lap retired due to a mechanical problem…"
Racing successfully continued under the BARC until 1967 when an accident involving a Lotus Elan and some ramblers forced its closure after the event was deemed unsafe and unmanageable.
In line with many things of this nature the course became a distinct memory and the drivers who once filled the air with the roar of engine noise and enthusiasm left Bopeep behind for other locations.
It seemed destined to disappear in a haze of childhood memories known to those who had once stood as spectators on the banks and watched the hill climb spectacle unfold.
So, it stayed until 2014 when its steep incline and twisting nature was discovered by Rob Bryant who decided on one of his country walks to take a different path. He was struck by the realisation that "this would make a great place for a hill climb". It seems to have been destined to return and after subsequent investigation he was thrilled to discover it's forgotten history. He founded the Bo Peep Drivers Club and vowed that the hill climb would return!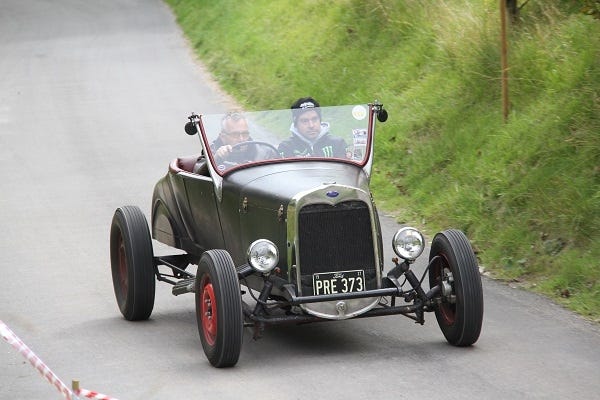 Image credit Team Colorado

Eighteen months on and the event had its necessary permissions, local landowners were on board and the council allowed for the one-day closure of the lane. Four years on from that, the event goes from strength to strength, and, whilst remaining loyal to its heritage it is breathing new life into this once forgotten piece of Motorsport history.
Bertie Celebrates 60th as Class Champion!
Wales Rally GB 2018
Almost a year on from our disappointment at failing to finish Wales Rally GB in 2017 we returned to Deeside in an attempt to regain the K1 class title.
Being held at the beginning of October, rather than the end of the month as in previous years meant that Deeside was warm and sunny. We set up camp in the service park on Thursday morning, gave Bertie a quick health check and then off to noise testing and scrutineering at Coleg Cambria, Connah's Quay, just a short drive from service. Scrutineering was straightforward and carried out by a lady scrutineer who seemed to take a real interest in Bertie and his history. With scrutineering done it was back to Deeside to sign on, and, prepare for the start of the rally on Friday.
Friday morning arrived with another fine morning in Deeside, final quick check over and Bertie was ready for the off and joining the queue at service out, shortly after service out things started to go wrong, with the oil pressure gauge showing low oil pressure and the oil warning light coming on we feared the worst. Luck was on our side, as this turned out to be a wiring fault, so we were able to continue but it did result us being late to the first stage and hence some time penalties, not the start we were looking for but on we went.
The first stage was Cocaenog, just short of 5 miles of Welsh forest, Bertie was in full stride & completed the stage with no dramas. A short road section & we were at the second stage Brenig, this was a tougher challenge over 18 miles of stage around Brenig lake mostly gravel with some short tarmac closed road sections joining up to Alwen so combining what in previous years had been 2 stages into 1 bigger stage. Bertie took this in his stride and was soon through and on his way to S3 Pemmachno, another 10 miles of tough forest gravel stages followed.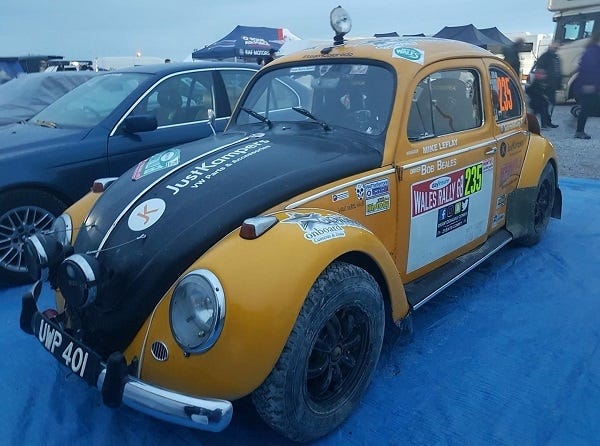 We were soon through this and back on the road heading north to the final 2 stages of the leg; two runs around 1-mile Slate mountain the home of zip world. Whilst only a short stage this was a real challenge for Bertie, some big ruts had been made by the preceding WRC cars as well as leaving lots of large loose rocks on the stage added to some steep climbs, jumps and steep downhill descents, it was immediately obvious this could easily be a "car killer" stage. Bob quickly took the sensible decision to concentrate on getting Bertie round in one piece and not pushing too hard. Judging by the number of cars stranded on the stage with broken suspension this was clearly the right choice. With the second run completed we were on our way back to Deeside for Dan to give Bertie a bit of tlc.
Bertie seemed in good shape, one of the sump guard wear strips had been converted into an "earthing strap" so was removed and a slightly loose track rod nut was all that was found to be amiss. A quick check in the rally office revealed even with time penalties we were leading our class by 5 seconds. So, with it all to do again in the morning Bertie was tucked up in bed and the team were off to the hotel.
Saturday morning arrived with a pleasant surprise a well-wisher had left Bertie a present in the form of a mini Bertie model car. Checks complete we were again queuing at service out. First stage of Saturday was Myherin just short of 13 miles of forest stage and some long climbs making Bertie work up a sweat, then off to Sweet Lamb, over the jumps through the watersplash, then the long climb back out. Bertie was working hard but coping well.
We were back on the road and off to Dyfi. Off through the stage and then back on the road to Gartheiniog and then the final stage of the rally Dyfnant, a slightly shorter 7.3-mile stage through the forest was all that stood between Bertie and the finish. A big rut created by the preceding WRC cars on a tight right hand corner lead to a big bang and the sound of rear tyres rubbing on the rear wings. Bertie had clearly suffered a bit of damage, but he seemed ok, so we had to carry on through the rest of the stage and head back to Deeside to the finish.
A lack of phone signal and a flat phone battery meant we had no idea where we had finished and so ensued a nervous drive back to Deeside. Queuing at Deeside time control a marshal handed us a provisional stage time sheet, we hardly dared look. Thankfully trepidation quickly turned to elation when we realised not only had we maintained our 5 second lead, but we had increased it, and even with our time penalties we were 45 seconds ahead of the next car and clear class winners. Having gone through the final time control we were off over the ceremonial finish ramp to be greeted by the rest of the team all waving and cheering like maniacs. What an excellent end to a great weekend.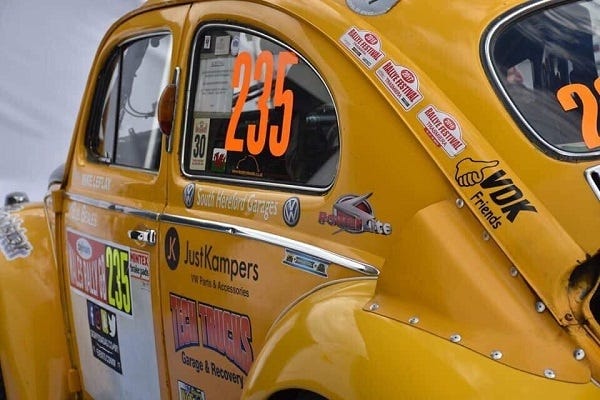 Lombard Rally Bath 2018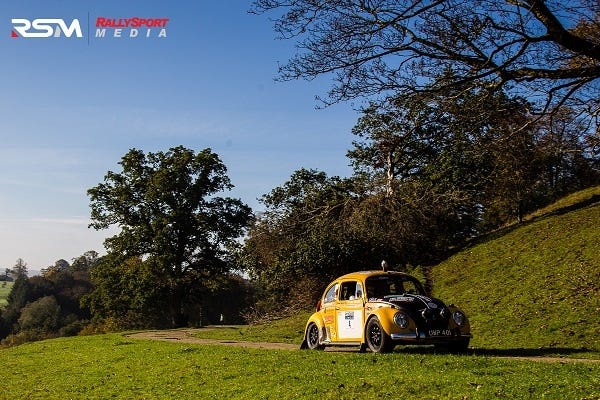 Image Credit: Rally Sport Media
For several years between 1976 and 1986, the Lombard RAC Rally was based from Bath. 2018 saw a recreation of the 1976 Rally Route.
On Friday 19th October 2018, an unusually warm October day, Team Colorado arrived at the Bath Spa Hotel (the original start point for the 1976 rally) to unload Bertie.
There was already an impressive array of vehicles (and drivers) arriving, including Stig Blomqvist in an Audi Quattro; Jimmy McRae in an Opel Manta 400 and Bron Burrell in an Austin Maxi.
A chaotic melee of trailers, cars and milling drivers and co-drivers transformed the front of this usually peaceful hotel into a rally enthusiast's dream! Bertie sat happily in the sunshine, nestled comfortably amongst these other Rally greats and the atmosphere was one of excitement and anticipation.
Image Credit: Rally Sport Media
On Friday evening, after a buffet dinner and several talks and interviews with some of the rally greats that were there, everyone retired for an early night in preparation for the early start the following morning.
Saturday dawned misty and chilly but with the promise of another sunny day. 8am saw Great Pulteney Street, in the centre of Bath, suddenly waking up to the blatting exhausts of 120 plus rally cars arriving at the start line. Bertie was car no 4 and was ready and raring for the off. With Bob and Mike fired up on RedBull and looking forward to this historic event.
Although not a competitive event (more of a "Grand Tour" really), the route was an interesting one, following as much as possible the original route in 1976.
Starting in the centre of Bath, Bob, Mike and Bertie then proceeded to Cricket St Thomas, where there was a reasonable little crowd built up waiting to cheer the cars through. They arrived at Wiscombe Park (having gone via the Colyford Service Station) around 11am for the fabulous hill climb stage.
Image Credit: Rally Sport Media
Here the cars could be tested a little and Bertie went flying up the hill - taking it all in his stride, watched by a big crowd of spectators from a nearby field! Lunch at the Beach Hotel in Minehead followed, then the Porlock Toll Road and then a drive up through Cheddar Gorge, where evidently the echoes of Bertie's engine could be heard far and wide!
Bertie sailed up to the Bath Spa Hotel and finish line dead on time at 5.15pm, having racked up a fair few miles!
Needless to say, Bob, Mike and the team were all ready for some R&R after a day of driving and the event ended with a sit-down dinner and some more interviews with the likes of Stig Blomqvist and Louise Aitken-Walker.
Words: Team Colorado
Images: (in main body) are used with kind permission of Rally Sport Media.
Team Colorado: Meet the Team
Why Team Colorado? What's the history behind the name?
"What else could you call a black and yellow beetle, luckily this type of Beetle does not have to be notified to DEFRA" (ML)
Confused? We were too; Bob steps in to explain…
"Back in the middle 60's I acquired Bertie. He was in a sorry state with green stains on the paint work from standing outside in Bill Bengry's yard. The car had the rally bits on but an old 1200 engine. Obviously, I was over the moon to have my own rally car which I could start working on and using it. I always wanted a yellow car and I sprayed the car yellow and added the Matt black bonnet. Well for some reason I was looking at details of beetles (real ones) and I noted that the one that blighted the potato farmers was a yellow and black beetle which was known as a Colorado Beetle. Well it just had to be Team Colorado, simples!" (BB)
How did you all become a part of this merry little band?
"I don't know how but I have been championing Bertie for a long time and have been very lucky to be able to mix Beetles, Rallying and friends.
Personally, I don't know why the others support and help in the way they do but without them I would not be out competing on rallies." (BB)
"I had worked with Bob for a few years and, one day, it came up in conversation that I enjoyed rallying and cars in general. Bob casually dropped into conversation that he dabbled in a bit of rallying but, little did I know, that I had been in the presence of a rallying legend! Bob invited me along to a day event and, from there, I was hooked!" (MM)
"I was introduced to Bob via our previous co-driver.
I'd also seen Bob and Bertie in some of the VW Books I've been collecting since the early 1990's. We chatted (for ages) and I think he appreciated that I knew and understood Beetle's and offered to help, which Bob accepted - I haven't looked back since." (MW)
"I first met Bob and Bertie at North West Stages in Blackpool several years ago, I was struck by Bob's enthusiasm for rallying, Bertie's character saying to myself I would love a ride in that car one day. Moving on to 2016 and Bob needed a navigator for Wales Rally GB…. he didn't need to ask twice!" (ML)
"I'd seen Bertie out on Rally's and events, but I really met this merry little band when Mike started to navigate /sit in the Silly Seat.
And what a lovely little band it is. Bob ... Bertie & Herbert's Dad, is a true gent, and the whole team are so friendly and passionate about Team Colorado its infectious." (SC)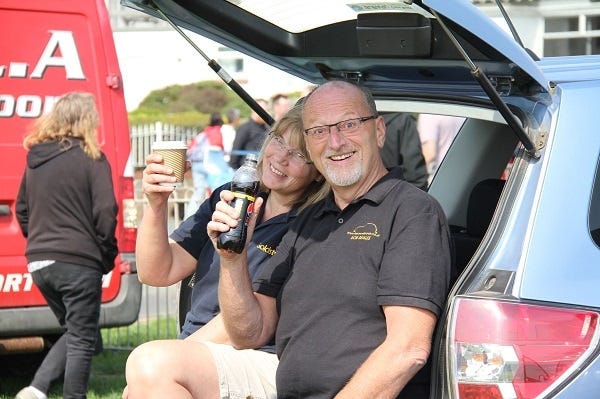 To keep the team together, particularly one rallying in a classic vehicle, it must take quite a lot of co-ordination and time. Who keeps the team ticking over, and makes sure you and the vehicles (be it Bertie or Herbert), make it to the meets?
"The whole team in their different ways, including partners who may not be able to come to events but give an absolute massive amount of back ground support to their partners." (SC)
"Well I sometimes think they are nuts the amount of support the give to me. I feel I'm very lucky to have friends like these.
Well, the organiser is Mr VW Doctor, Mark Walters, who sorts out all the problems, helps with advice, comes up with ideas and is an amazing friend. Always there with a helpful word. Photographer as well! Man of many talents.
Obviously, Mike Leflay is very important to the team as he keeps me on the correct straight and narrow. He also makes the interior of Bertie like a film set as he and his fiancée, Sarah, run a very successful business GOLDSTAR ONBOARD who supply (and fit if required) several camera types and combinations for a variety of sports which can include data logging, GPS tracking and live streaming. They also sponsor us for some of the events we enter.
Sarah supports Mike but is of great support to TC too. She is amazing at finding rooms to stay when on events and is in charge of catering.
Mr Mark SMURF Murphy, a colleague from my past work who enjoyed supporting Mark Walter with organising transport (service between stages) and photographer including videos.
The Mechanics are Dan Wierny and John Caddy Cadwallader. Dan has a very good way of getting on with the job in hand and checking all those little things I forget about!
Caddy has many many years of competing and servicing on events plus a very good engineering head for getting around problems that occurred when rallying. Both these guys are worth their weight in gold.
There is another guy who, although Bertie is not a Toyota, does help with his advices and comments. Mr Warner Lewis, of Lewis RallySport, is always there to help if we have a problem and allows me to use his workshop when needed.
I'd also like to mention all the long-suffering partners, and, thank them for allowing their other halves to come and play!
As I own and have Bertie at home, I get the short straw to swing the spanner's and pinch my fingers."
(BB)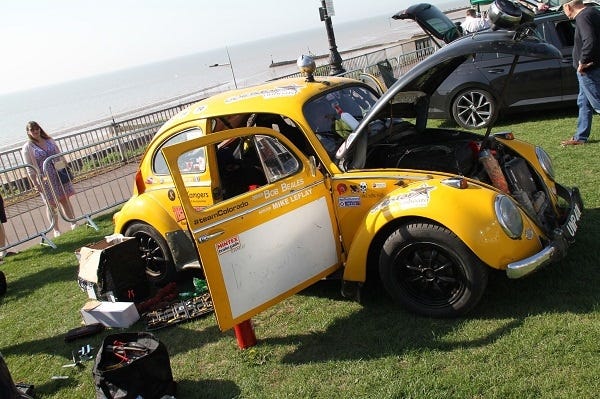 "All the team, except the recently retired Bob, have full time jobs that are separate to rallying. This has its own problems and issues but, as a team, we always seem to make things work. Mark plays a major role in organisation and does a fantastic job of nagging us all when needed (which is quite often!) and Sarah is an admin queen. This is really where the beauty of this team really shines through. Everyone does their bit and, often, friends, partners and anyone who stands too close for long enough can get roped in to helping. The feeling of family within the team is infectious and hard to say no to." (MM)
"Bob looks after the cars so he's ultimately in charge of getting cars to events. The issue usually is more getting the funding in place to allow us to participate and making sure we have more than just Bob and a car at an event - or they become very hard things to co-ordinate.
This is where more of the team come in. Some events don't need a co-driver (like demo-events) which takes some of the pressure off Mike having to attend.
I usually try to attend with Bob - we can tinker with the car and sort out any problems we may have.
For the more serious events (Bath Rally, Wales Rally GB and the like) we prep the car in the proceeding weeks and hopefully only need spanner checks at the events." (MW)
"All of us, Sarah does logistics, hotels, feeding everyone and just making sure everything is thought about. Mark, Bob and Dan look after mechanical prep with Smurf looking after PR and photo opportunities." (ML)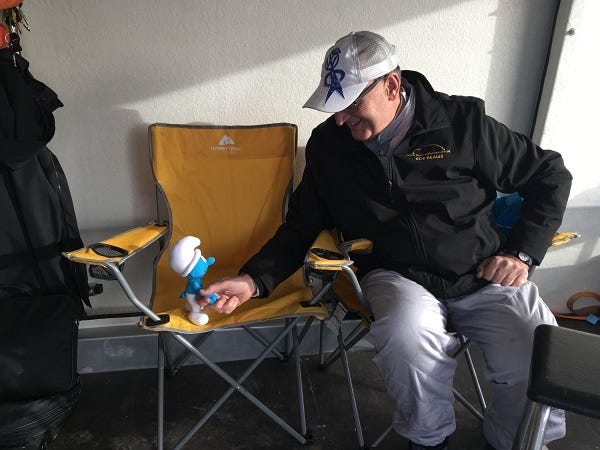 Anything motorsport has a definable buzz to it, a quality quite hard to find elsewhere. Many of us who have stood the other side of the pit barrier would easily recognise the comradery that accompanies the team and may have often looked on in envy, wishing they were a part of it too! Does your reality stack up to our perception?
"In my opinion, some teams could learn a lot from TC, by taking more time and effort to become a family, work together and have FUN!" (SC)
"I think that the reality probably exceeds your perception! Whilst in service, there is plenty of friendly banter, within and between all the teams. The various rallying teams are all in events to win and all are extremely competitive. However, whenever a team finds themselves in trouble, you can always guarantee that someone will offer a hand, and everyone works hard to keep all the cars running. We have certainly helped, and been helped, many times over the years.
A recent example was at the Rally GB Wales a couple of years ago. We were neighbours with a great bunch who were running Landrovers and had been sharing tools and laughs throughout the weekend. On one of the legs, Bertie manage to shed a spring in dramatic fashion. Upon returning to service, one of the Landrover guys took great pleasure in showing us a video he taken at the moment the spring had shot out. We all had a chuckle about it but were still scratching our heads as to what we were going to do to keep Bertie running. It was at this point that the Landrover team member revealed the runaway spring from behind his back!! Having seen the malfunction, he went above and beyond by running down to the track and recovering the spring, knowing that it was likely to be a crucial component. We couldn't thank them enough and have remained firm friends since.
Team Colorado stands out from many others, in that, we always try to get spectators and fans as close to the action as we can, and all the team's members take every opportunity to engage with anyone who approaches us. Wherever possible, we try to give people a seat in Bob's 'hot seat' because there's no better way to appreciate how hard Bertie makes him work. That team appreciation is always extended out onto the track by Bob and Mike who always give a toot on the horn to spectator's and marshals as they pass by, leaving smiles and cheers in their wake. "(MM)
"Yes! For sure!! There is such a buzz at the events, on the stages as a spectator and as a competitor. People love coming to talk to us, we love talking to them and discussing the history of Bertie, Bob and the Team." (MW)
"Yes! TC is how motorsport should be done, everyone is happy to help and do anything that is needed there is a great energy and enthusiasm in the team, that said there are challenges and hard work to be done but with a great team spirit this is never a chore." (ML)
There are obvious challenges associated with classic rallying and perhaps also some not so obvious! Are there any instances that stand out for you as a team?
"Well, as you would appreciate running a historic rally car especially a 60-year-old car, is hard work and requires a lot of attention to the suspension, transmission and engine.
When competing on forestry events the car takes quite a pounding, shaking everything in the car including the driver's teeth! For instance, this year the sump guard has been trashed and we were very lucky not to suffer engine failure as the sump plate sustained damage and only 2 nuts were retaining the plate in place!
Also, using an older car (1958) it becomes harder to locate the competition parts, maintaining the car up to MOT standards (although exempt but required by organisers for insurance of events) and funding the maintenance.
Obviously, we are self-funding except for several generous sponsors, however the we had a hard hit back at the start of the year in so much that the engine tuner had just taken delivery of the engine from Herbert (Type 3 1500s) to rebuild the short motor together with a rebuild of a spare Okrasa TSV34R engine for Bertie. To do this new (£700) and second-hand spares had been obtained. A call from the engine builder rocked my boat when he told me that his workshop had been devastated with a flash flood which contained foul water. He had power washed the parts, but I collected them the next day to find the all the new parts and both engines were still contaminated with silt etc resulting in excessive corrosion to all steel and cast parts. I'm unsure whether they can be reclaimed. I'm still waiting to hear if there is any chance if insurance cover, but it doesn't look good.
This has resulted on delays in getting Herbert out and Bertie having to run another year or so before any major work can be carried out." (BB)
"The challenges are always (for me) making sure we have the spares and tools available to cater for pretty much anything that may happen to the car, so we can repair it to allow us to finish the event.
This is where having the support of Just Kampers comes in as we can stock up on spares before an event.
I think, our biggest "automotive" challenge is keeping the engine together! with a rev counter that goes regularly past and indicated 8000rpm, the poor little 1300 does take some abuse!
Our other big challenge is Bob - Making sure he's not wandering off chatting to people, on time to places and generally on top form. He's not let us down yet, but we are all good at steering him.
One of our friends that videos some of the events has "lost" Bob - which involved him being live on the Internet trying to interview Bob, when he was standing right there, and Jordan couldn't see him! "(MW)
"It is always a challenge getting a 60-year-old car to withstand the rigors of rallying but with a great team it is achievable." (ML)
Why the classics? (Obviously we totally get the level of adoration but there may be less well schooled attendees that don't!)
"A true historic classic is all about originality, and have so much more character & passion." (SC)
"Historic Rallying is different to modern rallying either club or national as whilst competing in historic if you have a problem everyone will help you get going again.
It also gives me a big buzz if we can beat newer and faster cars with old Bertie!
Running the old beetle on events both in the UK and abroad always brings a smile and wave from the general public and spectators. We seem to get a crowd around the car when in service with all sorts of comments from; "my dad had one of these", to, the enthusiast who wants to see in every nook and cranny." (BB)
"I don't think I'd be doing what I'm doing if we weren't rallying a Volkswagen, and especially a Beetle. I love Beetle's and have done since the late 1980's - Beetles fit so well in to Motorsport and try as I might I just don't get drag racing. Rallying however - a totally different skill level!" (MW)
"It is just great to be a little bit different sometimes." (ML)
We couldn't agree more...
For more insight into the Team keep an eye out for Part Two!
Team Colorado: Meet the Team Continued
Rallying (and pit crews in particular) are all about triumph over adversity, thinking outside the box and problem solving – quite often with very little time to do so! What has been your most memorable, most successful bodgit and drive it fix?
"Ha-ha ...Yes, something that still makes me smile is receiving a call from Mike just as they are on the penultimate stage of the 2018 Rallye Trasmeria,
Mark and I were out spectating several km's from Service, but Berties gear coupler had gone, and could we go back and get the spare, so they could quickly fit it to do the last stage (which was up a massive hill)
Off Mark & I go… navigating the map (which is not something I got a badge for in the Girl Guides!) battling through the Service entrance which was now manic with spectators waiting for the big service return finale…
Got it !! handbrake turn and off we go back to the last stage to find them.
However! on route back to the last stage a message comes through from Bob & Mike... we've finished we have made it to the top of the last stage!
Finished ... but how? we have the spare!
Un-beknown to Mark & I, a heath Robinson moment had occurred on the Spanish hillside! As they relayed back, OH, "we don't need it, we chopped some wire from and old fence, bodged it back together, and prayed it would hold up to complete the final stage.
So, whilst Mark and I didn't get to see any of those stages, Bertie made it to the finish …Happy Days!" (SC)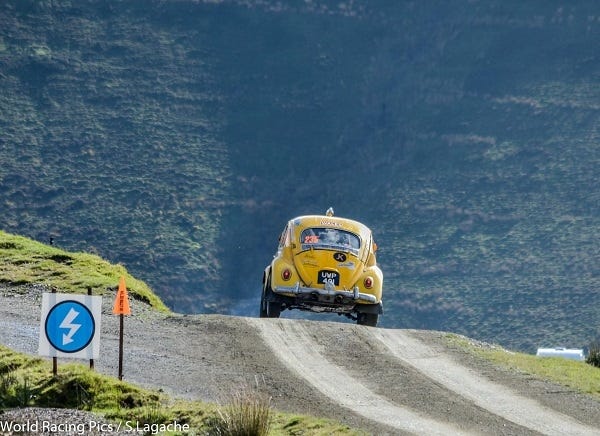 Image credit: World Racing Pics / S Lagache
"Bob is the true MacGyver of classic rallying. One careful look around the inside of Bertie and you'll see what I mean!! Over the years, I've seen him carry out 'on the hoof' repairs using bungees, gaffer tape and even engine repairs with a hot glue gun!! The electrical system includes bits of lamp flex that Bob used as a young man as a 'temporary' repair and then never got around to replacing!" (MM)
"Around two years ago on the Daysure Wales Rally GB we had a front damper mounting bolt shear before the first tarmac stage. We completed the days stages and back in service the boys found that the coil over damper we were experimenting with had failed. Also due to the defective damping on the front the track rod ball joint had almost pulled apart. It was at this point the head technicians from the VWMotorsport Rally team came over to see if they could keep the 4th team VW car going. It was then they realised that Bertie was completely different from the championship winning WRC Polo rally car, and they bowed down to the knowledge of our own skilled mechanics, Caddy, Dan and Mark. Mike and I left them to sort out the problems and when back to the hotel. When the boys got to the hotel, I was told that everything was sorted, so food, sleep and back at it in the morning. As we did final checks, I was told that we had to use the dampers we had on the rear of the car and no damping on the front. The dodgy track rod end ball joint had been changed. Off we went to do the last 6 or so stages…" (BB)
The rest of the team respond…
"I think, the removal of the front dampers and cable-tying of the front tie rod together so we could finish a class win at Wales in 2016. Especially as Gerard-Jan de Jongh and Richard Browne from VW Motorsport came and assisted!" (MW)
"Well… WRGB 2016, securing some seriously worn track rod ends with cable ties I was aware this had been done, we had just run out of options, but the rest of the team kept Bob in the dark. I spent the day trying to get Bob to not push too hard and failing! Never quite sure if Bertie was going to turn in when we got to a corner……. but of course, he did!" (ML)
Bob continues…
"We were successful in winning the K1Class.
On getting home, placing the car on axle stands and removing the wheels it was confirmed that the car had been running without dampers on the front. However, the replacement track rod ball joint was not possible due to the wrong part being placed in the stores. I then noticed that several heavy-duty cable ties had been placed around the joint which stopped it pulling apart. The boys had decided not to tell me although Mike was aware.
I can't really complain as it worked and worked well!" (BB)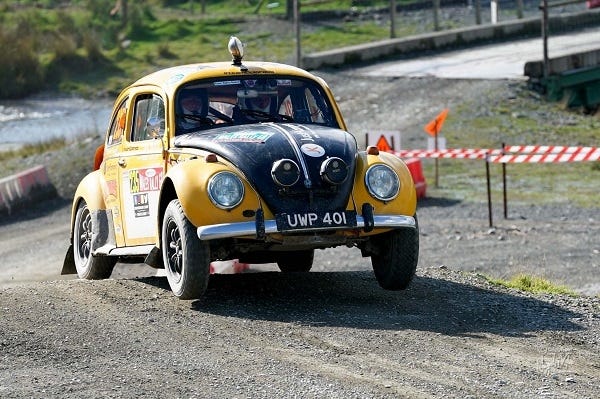 Bertie and the team continue to push hard
As a team which is your most favourite motorsport event and why? (Don't worry we won't tell anyone…)
"As part of the team, we've had fun at them all, but, despite the Wales Rally Gb stages being very demanding on a 60-year-old car and 69-year-old driver it is our favourite! it's still special, the whole atmosphere is buzzing." (SC & ML)
"With regards to my favourite event it's hard to say as they all have attractions, however Rally Trasmeria is such an amazing event, it is one of those that I try to compete on every year. It takes place in northern Spain, about 12km from Santander. It runs on closed roads and in the mountains of the area. The organisation is spot on and the reception from the spectators and the locals, who's villages are closed off because of the rally, is truly incredible.
One is made to feel so welcome and you would think you had just won a WRC event from the reception.
I also like the demo events as it gives us a chance to take people out in the car to experience Bertie at play." (BB)
"Like Bob, for me, I love the Rallye Festival Trasmiera in Spain. Even though it's not really an all-out Rally! The weather is great, the Spanish are amazing, the hotel is fantastic, and the atmosphere is just electric! Maybe not something that's picked up from inside the car, on stage, but as a spectator on the stages it's just awesome!" (MW)
What rally event have you yet to attend as Team Colorado that you would most like to tick off the list?
"An event on the bucket list is the Roger Albert Clark rally that runs around November bi yearly. It represents the old RAC rallies of the 60's, 70's, and early 80's, with usually about 5 days of competition using stages in Wales, England and Scotland, which means approximately 300stage miles. The only thing against it is the entry fee and running costs. "(BB)
"I think we would like to do the Roger Albert Clark Rally in 2019 - I also would like to do the Eifel Rally in Germany as we could combine this with a trip to Wolfsburg." (MW)
"I'd also love to do the Roger Albert Clark rally." (ML)
Bertie has a real rallying heritage!
What are the teams hopes for the future?
"Most importantly, to keep Bob, Bertie & Herbert fit and, on the road, and to keep having fun." (SC)
"I think we need to get the Type 3 "Herbert" on the road (or circuit) for 2019 - hopefully we have now found someone to assemble the engine for us, which is a HUGE leap forwards.
This will allow us to take Bertie off the road and go through him and get up to date with repairs, and still allow us to compete at weekends." (MW)
"Well the future all depends on funding as I'm sure the team would always support as many events we took on. This support together with the sponsors is something that I'm very grateful for as without it we may as well wash and polish the cars every Sunday and take up fishing! (BB)
Keep Bertie and Herbert rallying, maybe a few more international adventures." (ML)
The Driver Experience:
What is it like? Is it as adrenaline filled as we might expect. What does a driver's day look like at a rally event? Is it recce first. What happens…
"Well I hope I can claim to be that person. I honestly don't think there is anything different enables me to drive a rally car let alone a beetle. I just drive the car as fast as I can knowing that there are many more people that can do a far better job. I guess that having driven beetles for something like 56 years I have found the little faults in the car and now use them to my advantage. I think I was very lucky in having parents that loved motorsport and were always supportive. Also having Mr Bill Bengry as a family friend and mentor helped." (BB)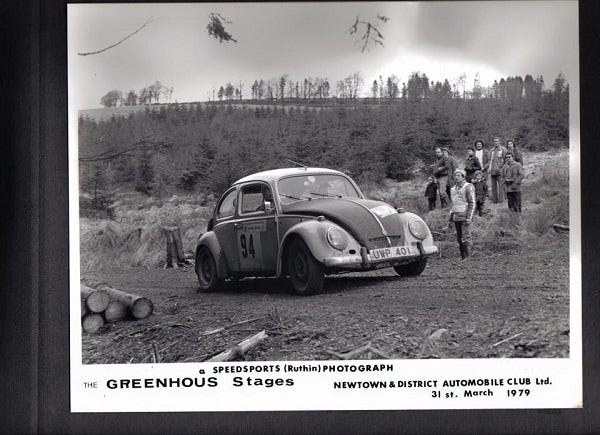 A great team is a necessity in order to keep Bertie rallying
The Co-Driver Experience
Give us the inside scoop on what it's like to be the co-driver. It must require complete trust in the driver's ability to relax enough to be able to do your job. Is that something that comes naturally or is it a relationship that is built over time?
The driver must equally have complete trust in your direction – is it stressful to have such a responsibility?
"Yes, there is a complete trust in the driver, Bob has a lifetime of rallying experience so why would I not have confidence in him, but if it is working properly it is a two way process it takes a while for both driver and co driver to work properly as a team. While the co-driver needs to trust the driver, the driver needs to have complete trust in the co-driver that he is getting the notes right but also that he will quick enough to say if he is not sure or has "lost the notes", a co-driver guessing would soon end in disaster. As a co-driver it is a great feeling when the driver is really listening to you and driving the car according to the notes you are delivering, this actually puts a lot of the car control into the hands of the co-driver, a great feeling but one only a co-driver would ever understand, but as you say it is also a big responsibility.
To co drive you need to be organised, I need to make an effort to be organised, but I can do it when I need to! The map reading has always been easy enough for me, doing this while in a moving is a skill that can be learned, the hard bit is not allowing yourself to be distracted by anything, anything at all, just miss one junction and it can cause serious problems.
A typical event will start by gathering as much info as possible, stage maps if I can get hold of them OS maps, google earth I will look at anything I can get hold of and gather as much info about the route and stages as possible. Second is fuel planning about 90 miles is our maximum range so we need to calculate fuel usage and plan where and when we will refuel.
Depending on the type of event we may get a road book and pace notes supplied in advance if this is the case I will go through all of these with a fine tooth comb and mark, time controls and anything else I need to watch out for, I will also mark any obvious hazards in the pace notes such as a sharp hairpin at the end of a long downhill straight section. On an event we are allowed to recce this will be done in the days before the rally, Bob will drive the stages and I will write notes in my own form of shorthand I also video the recce so I can review everything that was said later when I re write my notes as neatly and as thoroughly as possible, "write a page, check a page" great advise from Nicky Grist a true champion co driver, it is so easy for an error to creep in at this point.
On the day I need to make sure everyone knows where they need to be and when, everyone is given the time they need to complete whatever they need to do. On the rally just make sure we follow the correct route, re fuel when we should and enjoy the stages, make sure we both drink and eat enough, car management on stage (engine temp and oil pressure). I like having a plan B just in case, tablet with app in case the trip meter fails, spare intercom batteries, phone charger, spare anything that I think we might need.
I think you need to be a calm type of person to co drive and having good problem-solving skills helps. You just cannot allow yourself to think about anything else while on a rally stage it needs 100% concentration, I don't find this stressful, in a way it is relaxing." (ML)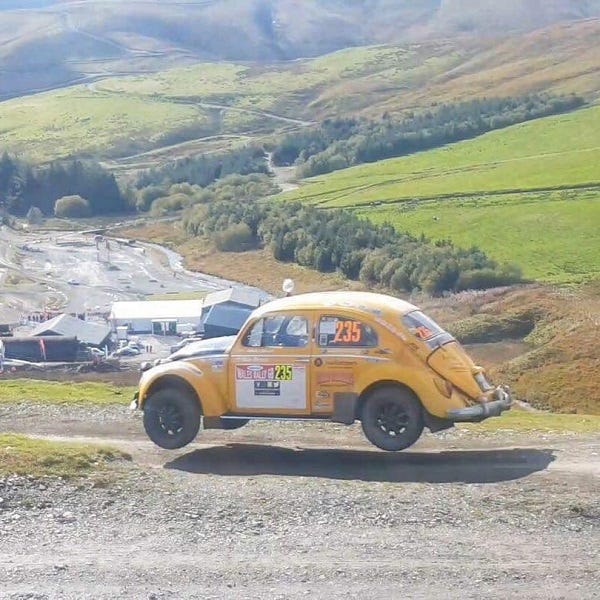 When you spend your time like this - a great pit crew really helps!
Pit Crew:
An invaluable position. Without a great crew behind the team the rally can be over just as soon as it's begun. Is it a shared job in terms of knowledge and resources or is there somebody on the team with overall responsibility to ensure the team are race ready? What does your rally experience look like? How do you prepare? What spares do you routinely have with you?
"My Rally experience is usually quite organised. It will start with making sure Bertie is prepped and ready to go, and so is Bob. Usually Sarah, Smurf, Dan and I will then head off to find a good stage or stages for some spectating. Smurf and I will be taking photos, keeping in contact with Bob and Mike throughout the day. We will meet them during the day (if its permitted, and time allows) and then be back at service to greet them at the end of the day.
Spanner checks on Bertie and then ready for dinner, oh, and maybe a beer or two!
We all share the "pit crew" title really, apart from Bob (Owner/Driver) and Mike (Co-Driver), although they do muck in also. We just kind of get on with stuff when it needs doing. Dan and I are usually left to work on Bertie, but Sarah helps also as does Mark "Smurf" when things are needed. - it's all a huge team effort. "(MW)
"I think I'd be classed as Field kitchen & general tell me what you want, and I'll do it if I can!
Which can be anything from booking accommodation, sorting passes, to re fuelling empty stomachs, along with basically anything else anyone might need, including a big smiley hug at the end of an event." (SC)
Any recollections you'd like to share…
"As a team, we have a laugh at every event. Bob is a real character and, thankfully, his mind has forgotten to tell his body what age he is! Whilst in Spain for the Rallye Transmiera, Bob and I decided to relax in the evening by making use of the hotel's spa facilities. We were a bit naughty and smuggled a bottle of fizz in with us, since we had the whole facility to ourselves. I poured two glasses and carefully waded into the pool to await Bob's arrival. Just as I got about chest deep in the water, I heard a loud 'Wahey' and turned around just in time to see Bob flying towards me with his knees pulled up to his chest. The subsequent tidal wave drenched me and left me holding two glasses of very chlorinated water! What age is he again?" (MM)
Team Colorado: Engine Woes
Team Colorado Engine Woes
So, this all started back in 2018 with the re-commissioning of Herbert our 1500s Notchback. During an engine run, following a gearbox change, a loud squeaking was heard from the engine. It was quickly shut off, but alas, the damage had already been done. We couldn't move the engine by hand! The engine was removed again, and yes, it had seized. We then did an autopsy as to why and, bearing in mind the engine had done around 500 miles before being mothballed, we were surprised that the oil pump wasn't correctly engaged in to the cam gear! Ah well!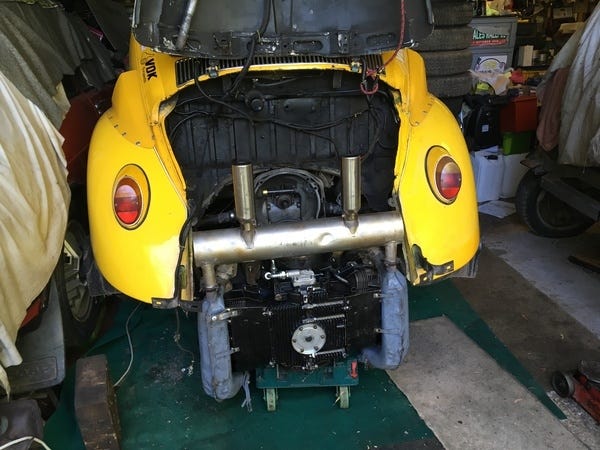 Off to the machine shop and engine builders. We also sourced some new parts, such as oil pump, new barrels & pistons. These were delivered to our engine builder and left with him. Unfortunately, within a week, this part of the UK was subjected to very heavy rainfall and sadly our builder had his engine and gearbox workshop flooded. We were sent photos once the flood water had subsided, of the tide mark of 3-4 feet of water which had included sewage, that had run through the workshop. All the boxes with our engine parts, as well as the hard to find VW tools for rebuilding, lathes etc. had been ruined! We were over there like a shot to collect all these parts. We washed out the mud and flood water from all these parts, however rust had already started to set in. These parts were then left to soak baths of oil to try and stop the corrosion until we could take stock of the best way forwards.
Fast forwards to October 2018, whilst having used Bertie throughout the season, to Lombard Bath Rally 2018. Speaking to a friend, Paul Dickinson who had entered his red & black Rally 1303s, about the trials of our 1500s engine, he very kindly offered to rebuild this for us over the winter season. We couldn't wait! Paul's father used to own a VW Dealership and Paul had grown up on VW repairs and engine building - we were now in good hands. Paul rebuilt the engine for us, and we refitted it to Herbert. Drove the car into the trailer and we took Herbert to the Volksworld Show in March 2019 where he was on display. What a great weekend. Afterward Herbert being taken home on the trailer and parked at Team Colorado HQ. We noticed a small weep of oil from the oil pump the following day. Popped the oil pump out for a new gasket and refitted it. The engine wouldn't turn over! We stripped it down as far as we could on the car and still couldn't turn it? Oil pipes checked for oil, and they were dry! Out came the engine and when removing the flywheel and oil seal we put a breaker bar on the pulley nut and could see the main bearing rocking back and forth! Another seizure! The case went off to the machine shop with the crank for checking and cleaning (again) and all the parts were taken back to the amazing Paul Dickinson for its second rebuild. Then the bad news struck again!
Super Paul to the rescue again by kindly lending us the old engine from his Type 3. At least we could still attend shows. With Bertie and Herbert now on the road we took both cars to Stanford Hall. Sadly, our excitement of Herbert's return was curtailed when Paul called to say that the Cylinder head studs had started pulling out of the case! Ok we thought, on with the engine build for Bertie while we source a replacement crankcase for the Type 3 engine. Later in May we headed off to Newport, Wales with Bertie for a demonstration event at the Celtic Manor Golf & Country Club. As part of this Premier event Bertie and a Bob were getting to know the circuit and layout. Being flat out in 2nd and dropping the car into 1st gear is never a good idea, unless you are trying to lock the rear wheels. Well, let's just say that the rear wheels didn't lock, and the needle on the rev counter hit the wrong side of the stop needle! A valve made contact with the piston destroying it, the head, two cam followers, bending two connecting rods and filling the engine, inlet and exhaust with many thousands of bits of engine. Bertie was now very poorly, and Bob was feeling very embarrassed. Checking carefully through the damaged parts from the Okrasa engine we noticed a bulge in the top of the case where the free rod had tried to escape!!! His case was now scrap too!! Things were definitely not looking up for us now. Two Rally cars and we can't even use one to compete with. At this point we had just sourced another case we could use for the Type 3, things are on the up!
New case delivered to Paul and the engine rebuild starts again. Hunting through Bobs parts we found another Type 1 crankcase! Let the engine build for Bertie commence. The Machine shop checked the case and crank for damage, another cylinder head dug from Bob's spares (it's amazing what we have stashed away) and we started the rebuild. Engine together and fitted into Bertie. Started and runs, oil light goes out after too long of the engine running! Engine out to investigate in case we had missed something during reassembly. Sadly, we hadn't.
Engine back together again with everything lubricated again. Engine turned for ages on the starter to try and get the oil pressure up (our oil light goes out at 20psi) and no joy. We started the car and again the idle oil pressure was still low. We let the engine warm up and the pressure just seemed to get lower and lower as the oil warmed What have we missed? We stripped the engine down again, carefully inspecting and measuring everything. Then we noticed something. The middle main bearing on the crank (the split one) had one half that sat level in the case on one side, in the other case half however the bearing sat down lower by 1.06mm against the saddle. This was where the oil pressure was going! Machine shop checked the case and crank again, and another set of bearings ordered and fitted. Engine assembled again, and run, this time the oil pressure was much, much better. At last!!! We are still checking the engine out and running it in, so watch this space. We WILL be at the Roger Albert Clark rally in November and would love for you to come and support us! Details can be found here - http://racrmc.org/roger-albert-clark-rally/index We can't wait to see you there!!
Bertie's toughest challenge yet...
Roger Albert Clark Rally 2019
Well, where to begin? The 2019 Roger Albert Clark Rally was be the toughest yet, with 300 stage miles in five days. Starting in Leominster on 21 November and finished in Carlisle on 25 November.
As a team, we have been plagued with issues with both our Type 3 Notchback and Bertie the Beetle throughout 2019. Having missed many events, we had entered and subsequently had to pull out of, we were determined to get to the longest and toughest Rally Event held in the UK.
Wednesday 19 Nov.
Bob & Mark's adventure started on Wednesday 19 November with a trip to Leominster to sort out the arrangements in the service park, in readiness for the event start on Thursday 20.
Discussing things with the scrutineers, it was clear that we couldn't (nor could anyone else) use LED Headlight or spot light bulbs. Everything else seemed in order.
We returned to Team Colorado HQ to meet with Dan Wierny our other mechanic and change all the bulbs from LED's back to regular "candles". Bertie was loaded on to the trailer ready fo