Time is flying past, and the start of the 2017 Mille Miglia is rapidly approaching! The whole 'JK Race Team' are really excited to get out there and take part in what's widely regarded as one of the most gruelling rallies in the world.
We'll be starting the Mille Miglia rally on Thursday May 18th and finishing it on Sunday May 21st, having covered over 1,000 miles of Italian countryside, towns and cities as part of a rallying event that's been going strong for 90 years!
We'll be tackling this massive event in our 1956 Oval Beetle, Jack.
Fortunately for us, it's not just time that'll by flying past - Jack will also be flying once he's over in Italy! We've fitted him with a fully kitted out Okrasa engine, which is a replica of a famous race engine which we bought from our friend Bob at BBT.
The original engine was built to settle a dispute between two old friends about whos car was faster: A pre-a Porsche 356, or a VW Beetle fitted with an Okrasa race engine and ancillaries. The pair got their cars in order, and then hired out the Nurburgring for the day so that they could race and settle the bet.
When it was all over, the Beetle with the Okrasa engine was the winner! We've got a copy of the magazine article detailing the whole race here at JK HQ, and it's a really interesting read (once you've translated it from German!).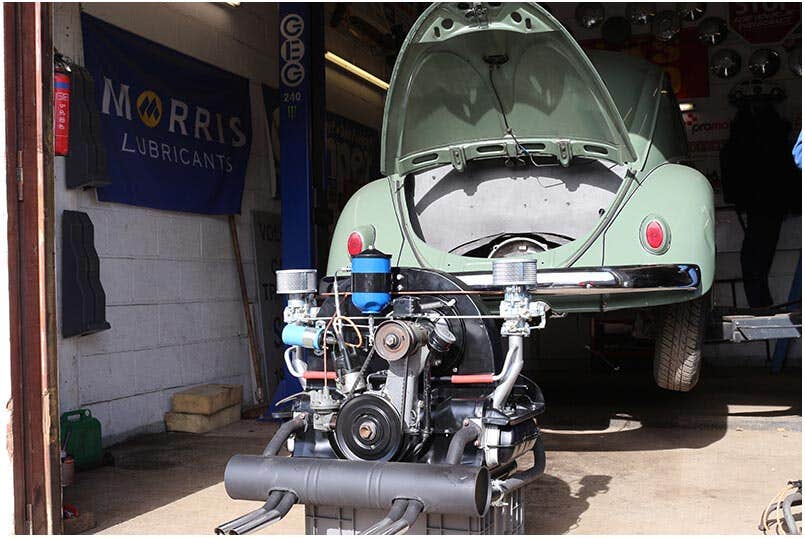 Initially we bought the famous Okrasa racing engine from BBT, but we didn't want to be the ones who 'killed' a historically important engine during the race, which is why we had the replica made!
We'll be taking the original along in the support vehicle (a VW T6 we've had kitted out to tow Jack and his trailer to and from the event), but Jack is currently fitted with the replica and an array of extras and ancillaries.
We teamed up with James from Stateside Tuning in the UK to build us an engine that was 'torquey' and most importantly reliable.
Here's a quick overview of the parts that we've added in:
Wolfsburg West Okrasa kit
DPR fully balanced new 69.5mm crankshaft
8 dowel lightened flywheel
H beam 30hp con rod set
James made for us 22mm small end bushes, bore rods for bushes and bore bushes for pin size + diamond hone finish
80mm piston kit
At JK we modified the tinware and 'stretched' the Abarath silencer (as we had increased the engine stroke)
The Wolfsburg West Okrasa kitis a Dual Port 36HP engine kit with the original carburetor linkage. This is an upper-end engine kit, engineered to the original Oettinger standards. The kit includes everything required to make the switch. All of the original details have been properly preserved, with a level of quality finish you'd expect from Wolfsburg West. Everything from the OEM-manufactured cylinder heads that maintain the original 7.5:1 compression ratio to the reproduction Solex 32PBIC carburetors.