We've designed and created the first fully portable, hassle-free, 120-Watt solar charging system for your vehicle – the JK Solar Charging Screen.
Quick and easy to set up or take down, and just as useful when fixed to your vehicle's windscreen as it is on the beach, we're confident that our new and exclusive solar charging system will totally change the way you use your camper.
We're really excited to be able to announce that the JK Solar Charging Screen is nearly here, after months of design time and multiple tests, and we'll be showing it off at the VolksWorld Show later this month.
What actually is the JK Solar Charging Screen?
Simply put, it's a fold-out fabric screen, which you can attach to the inside or outside of the windscreen on your vehicle. With twelve solar panels integrated into the screen, it'll capture huge amounts of solar energy from the sun, convert it into electricity, and can then charge up your main vehicle battery, your leisure battery, and your laptop, mobile and other devices.
We've made sure that it's quick and easy to use, so that you can get the most out of it. There's absolutely no need to do any cutting or drilling into your vehicle, or to modify the electrical systems at all.
The JK Solar Charging Screen is able to keep your leisure batteries topped up by feeding them power via the DC lead which plugs into the 12v 'cigar lighter' socket in your car, van, camper or motorhome. There's also an optional adapter if you need to directly charge your main vehicle batteries, or need to get a flat battery working without having the jump-start it.
There's also an integrated power pack, which has an outlet for you to plug in things like laptops, as well as USB and USB-C ports.
A few key features:
Works straight out of the box, with no need to alter or modify your vehicle or its wiring,
Fully portable, and just as useful at the beach, park or garden as in your camper,
Uses twelve, high-efficient monocrystalline solar panels to charge your batteries,
Includes DC power outlets, as well as USB and USB-C sockets,
Brand new and exclusive to Just Kampers, with a patent pending.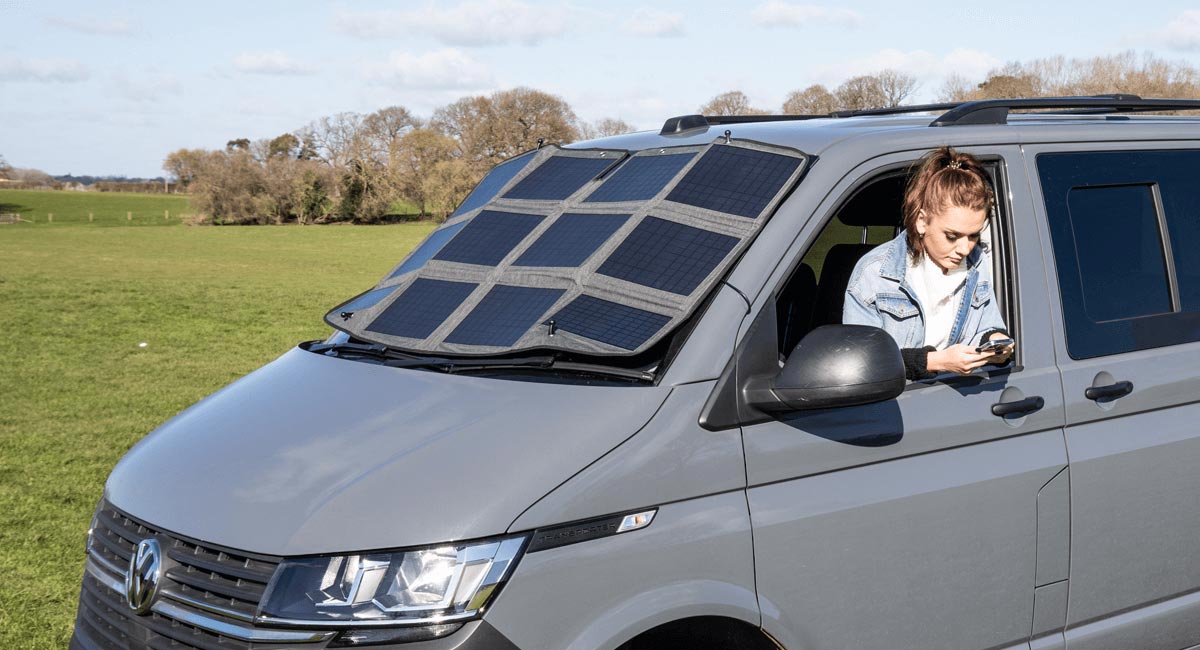 Heidi from the JK Team gave the final design a test at JK HQ, to see how quickly it would charge her phone.
How do I set it up?
It's really simple to do – there are six surprisingly strong suction clamps supplied in the box, which can be secured to the inside or outside of your windscreen. Once they're in place, you can fix the JK Solar Charging Screen to those clamps, then connect the power lead to your vehicle's 12v socket, and you're done. /p>
It takes moments to do, and is just as quick to pack away again. /p>
We've also ensured that the charging screen is easy to fold away, and comfortable to carry, so you can take it with you while you're enjoying the great outdoors. To test one of the final prototypes, we gave it to Al from the JK Team to take when he went rock climbing, and he was really impressed with it!
Al from the JK Team took a prototype of the JK Solar Charging Screen with him when he went rock climbing.
So, how does it work?
Without getting into the surprisingly complicated details of how solar panels work, the JK Solar Charging Screen uses twelve highly-efficient solar panels, each made up of loads of monocrystalline solar cells.
We chose to use monocrystalline solar cells, rather than polycrystalline, because they work better in lower light conditions. This means that the JK Solar Charging Screen is still incredibly effective when mounted on the inside of your vehicle's windscreen, despite the glass blocking some of the solar energy from the sun.
Because monocrystalline solar panels still work great in low light, you'll be able to use our solar charging screen all year round, and in all weathers, too.
Do I need to modify my vehicle at all?
No, not even a little bit of modification or alteration is needed to use the JK Solar Charging Screen, which is great!
We love solar panels and solar charging systems at JK HQ, and a lot of us use them ourselves. However, a lot of them need to be integrated into your vehicle's wiring circuits, bonded to the vehicle, and require you to cut holes in it. While none of these things are a huge deal, we know it puts some people off, which is why the JK charging screen is a simple 'plug and play' system which works straight out of the box.
You won't need to alter or adjust any settings, as the solar charger will just feed your vehicle batteries, laptop, mobile devices and anything else you've connected to it, until the batteries are full. We've ensured that it can't and won't overcharge your main vehicle battery or leisure battery, and therefore can't cause damage or shorten the battery's lifecycle.
Mark Reynolds (Left), who founded Just Kampers back in 1989, and Jerry Ranger (Right), CEO of Texenergy, reviewing the final designs and improvements to the JK Solar Charging Screen.
A long (design) journey
We've gone through a number of different designs and configurations before settling on the final design for our JK Solar Charging Screen.
In order to perfect the design, and get the solar screen made to our standards, we worked alongside Jerry Ranger of Texenergy, who has received a number of awards for his innovative work with solar products, including two Queen's Awards for Enterprise, plus multiple ISPO Gold awards and a Red Dot award.
It was really important to ensure that the screen fits any vehicle, and can be kept securely in place for hours on end, without needing to check or adjust the heavy duty suction clamps.
The placement, size and composition of the solar panels, the way in which it folds away, the material and colour of the material and handles, and the layout, length and type of charging cables have all been altered and amended multiple times, and we're now really happy with the final result!
After extensive testing and trials, both in controlled lab conditions and out in the wild, we're ready to show off the new JK Solar Charging Screen at last.
If you're heading to the VolksWorld Show this weekend, we'll have the solar charger screen on display at our outdoor stand. Don't worry if you can't make it to Sandown Park, though, as there's loads more photos and information available on our website.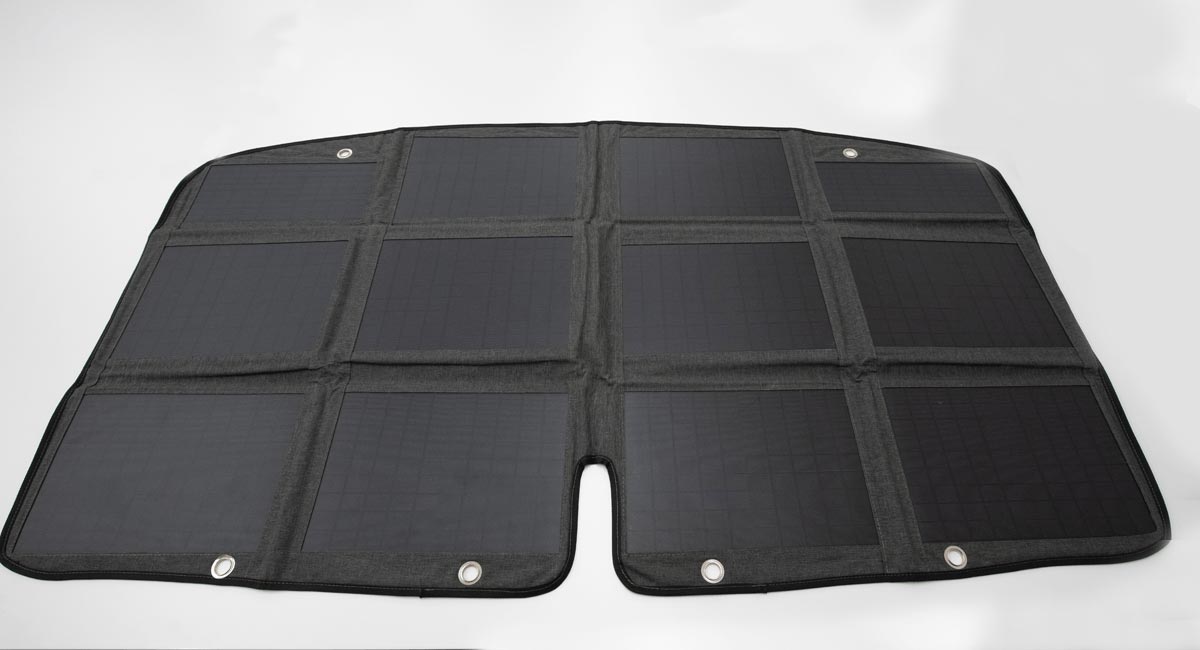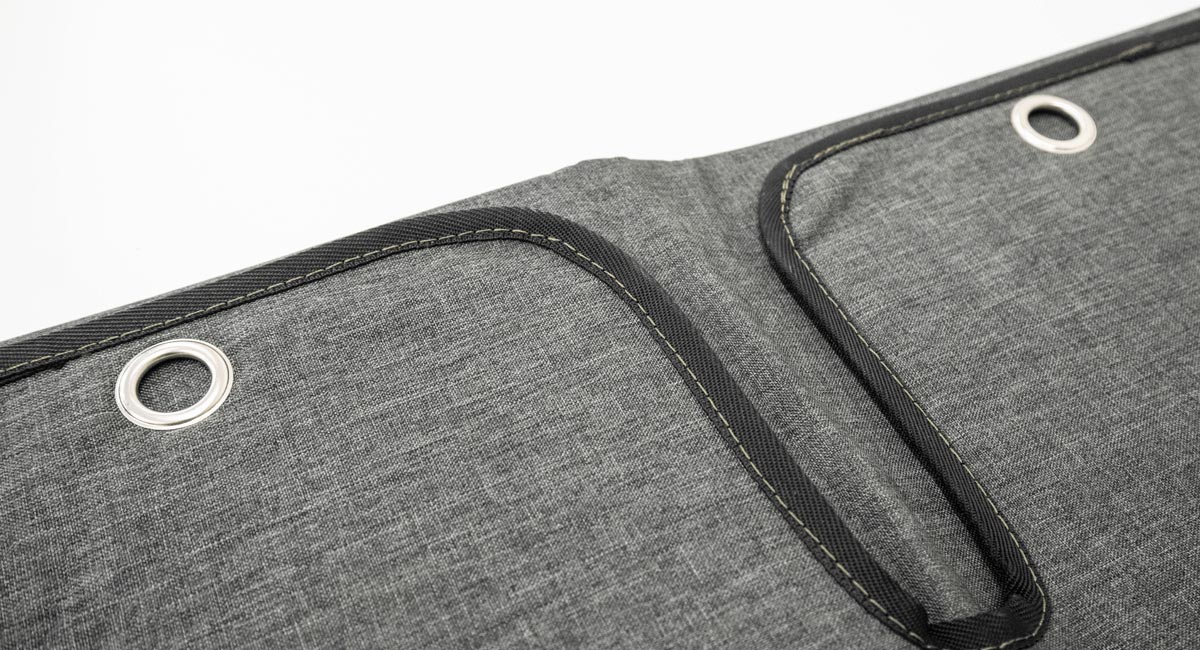 Some closeups of the JK Solar Charging System, which we've created to a high standard. Expect way more photos when the first wave of stock arrives in April!
A couple of our design sheets, showing dimensions and the components which make up the JK Solar Charging Screen.
Mark Reynolds (Left), from Just Kampers, and Jerry Ranger from Texenergy, shaking hands after signing off the final design.