Interview with the founders of JKHire
Just Kampers Hire - the newest member of the JK Team. The founder's, Mark and Karl, share a bit about themselves and what they love about JK Hire and vanlife in general.
Tell us a bit about you.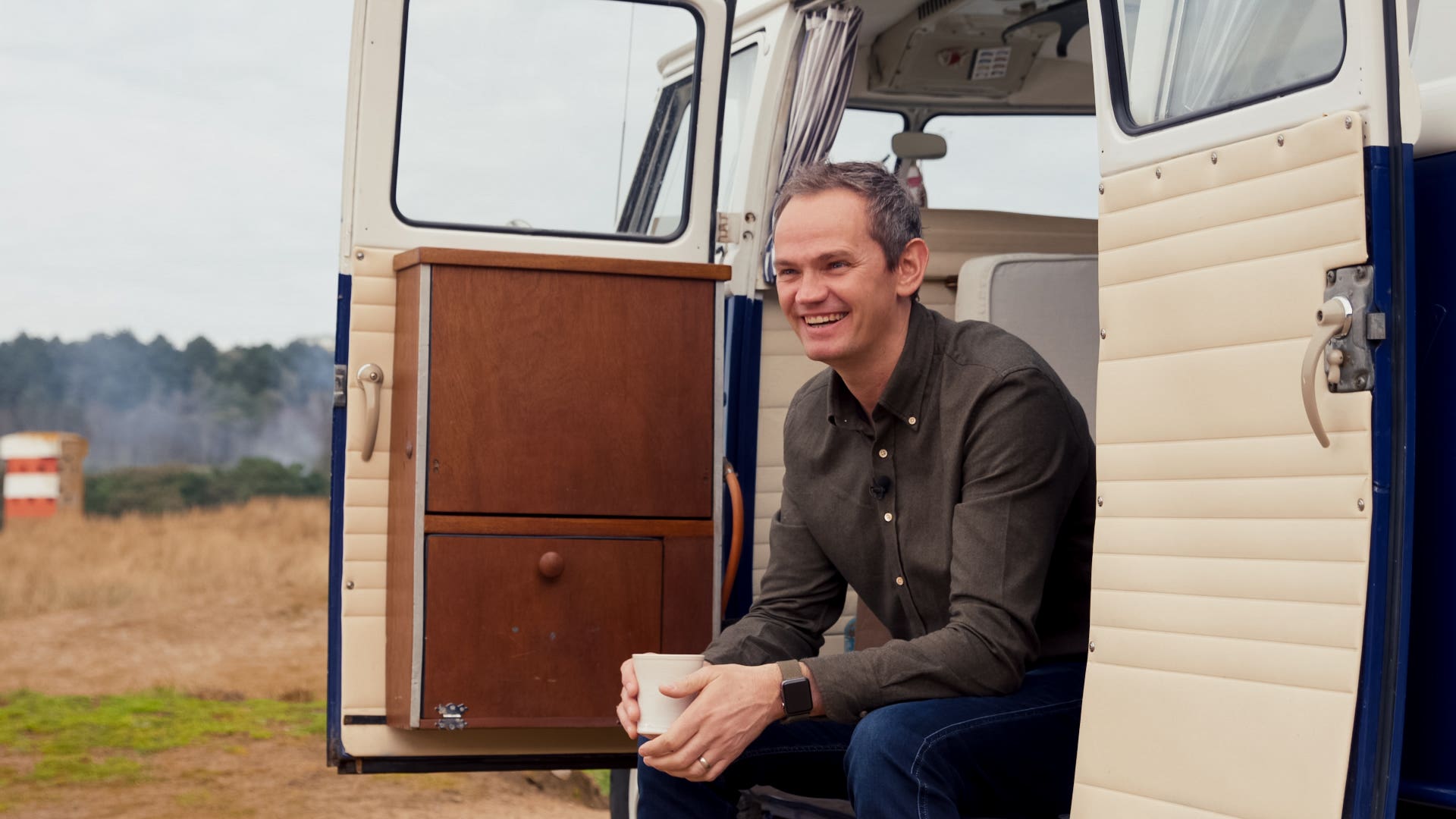 Karl: I've been involved in e-commerce for about 20 years now. I bought my campervan in 2006, had it renovated and then my first trip away was in 2007 where I headed down to Italy for 5 weeks. I have been in love with van travel ever since.
For me, the travelling lifestyle started with my family as while growing up my parents spent 7 years building a boat from scratch and when I was 8 years old the whole family headed off for 5 years living and sailing around the Mediterranean and Caribbean. Since then, the travel bug has never gone away.
Mark: I'm the owner of Just Kampers having set it up in 1989 and have been interested in VW's since the mid 1980s.
Originally I was working for Lex at Henley Beetles and my wife and I, in the late '80s were building a camper to drive down to South Africa in.
However, we never set off as the excitement of setting up the new company took over. Just Kampers has now been running for 31 years and I'm so proud of what we have achieved.
How did the Just Kampers Hire team begin?
Karl: Mark and I met through a friend and started talking about his idea to start a rental business and it went from there. It's something that we're both very passionate about. Using Mark's knowledge of vehicles as well as my e-commerce experience, gave us a great platform to start the business.
Mark: I've wanted to do hire/rental business for over a decade but this project is all about IT security and a great online platform for owners to showcase their vans so with Karl having so much experience and being IT savvy it brought what we needed to the new venture.
What makes JKH different?
Mark: From Just Kampers early days in 1989 when we were a workshop, we've grown into a parts business, expanded into an insurance business and now we have the hire rental business. It seemed like a natural progression for the business to grow in and a way to utilise our experience to help others earn money through their vans.
I've been really keen to do Just Kampers Hire for a long time but the whole security bit made me really nervous as I would never ask a customer to rent on a platform I wasn't confident renting my own van on.
Karl: Compared to other vehicle hire businesses we try to make it as simple as possible whether you're the owner renting your van or the customer trying to hire a vehicle, the whole process is seamless.
We wanted van owners to feel confident with the whole process and know that if anything did happen such as a breakdown or an accident then they're automatically covered by our insurance if their own does not already include hire drivers.
Tell us about your love for campers.
Mark: I've had over 200 VW's; it's been a lifelong passion. My first camper was a 72 camper in 1987. I'm now trying to limit myself to just 7 VW's.
Karl: I love the idea of just going somewhere and if you really love that town or spot you can just stay there for a few days. I love the flexibility to be able to alter the plan as you go.
Who is your favourite person to travel with?
Mark: My favourite person to travel with is my long-suffering wife Kerry who I've been married to for over 31 years. We've done some epic trips together including driving from LA to New York in a 1972 camper
Karl: My favourite person to travel with would be my wife. She's been pretty tolerant if anything ever goes wrong, which is rare, but when it does, she's all in and enjoys it as much as I do, and it all becomes part of the experience.
Tell us about your favourite trip?
Karl: My favourite trip we've been on so far was to Scandinavia, we went off kayaking on the Norwegian Fjords as well as climbing Trolltunga. The photo on top of Trolltunga is still my screensaver on my computer and on my phone.
Mark: My favourite trip that we've done together is to drive done to Tuscany in Italy. We went via Dijon in France on the way down, then had two great weeks in Italy and came back via Switzerland and Germany. Much more relaxing than when we drove across America.
What is #vanlife to you?
Karl: #vanlife is about freedom, and it's about just slowing down and enjoying the journey.
I love the idea of just packing up the van, heading off somewhere and if you really love a town you can just stay there for a couple of days and the beauty is you have everything you need already with you.
Mark: To me, vanlife is the opposite to my overly organised work-life which means a holiday is a proper break. And I would say if you don't like where you've ended up or the weathers bad you can just pack up and move on