In the 70's, straight was great, but in this day and age interiors have to be bendy to be trendy.
The current hot ticket in Camper interiors is to go curvy or go home. It's almost like every interior specialist has set aside their straight edge and gone crazy for curves. But when an interior can look this good, why not?
Is there a downside to all these rounded edges? Perhaps it's form over function, as you might not get as much in them as a regular box within a box, and the look might become dated in time, but let's enjoy it while we can.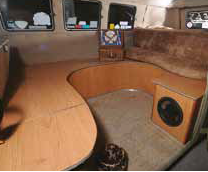 What this interior loses in floor space, it makes up for with sociable seating.
The work of Interior Motive, these curvy cabinets have been trimmed in American black walnut veneer.
Less cabinets, more seats and a head unit let into the base make this the ultimate party Bus set up. It was built by Custom Classic Retro to a customer's spec.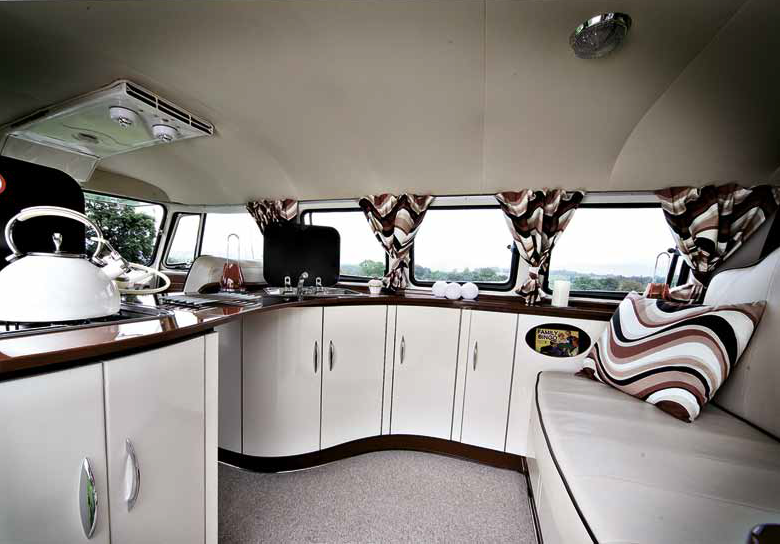 Designed and built by its owner, this interior shows the only limit your imagination.
Good and bad - odd sink arrangement, but a little extra worktop space, thanks to the curved cabinet it sits in.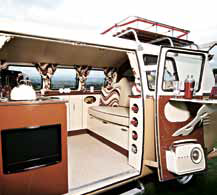 TV has been mounted in the cabinet, so it can be watched al fresco. A bit crazy but it's nearer the wine rack.
Note how the walk-thru has been retained and the seat cushions have been contoured to match the cabinet shapes.