Last Thursday, we (Mark and Josh Reynolds) set off with Jack the Giant Slayer to head over to HO17 in Germany. It was the first time we'd been back in the Oval together since the Mille Miglia last month, and the cab felt much smaller than we remembered! It was a cosy trip over to the event, but, as always, it was a lot of fun.
We headed to BBT in Belgium first, though, to hang out with Bob and meet some friends at the BBT Open House & Cruise. It was great to get another look around BBTs massive car collection and see so many amazing vehicles parked up ready for the event. We met up with some friends, gawped over some cars, and then got ready to join the cruise the next morning!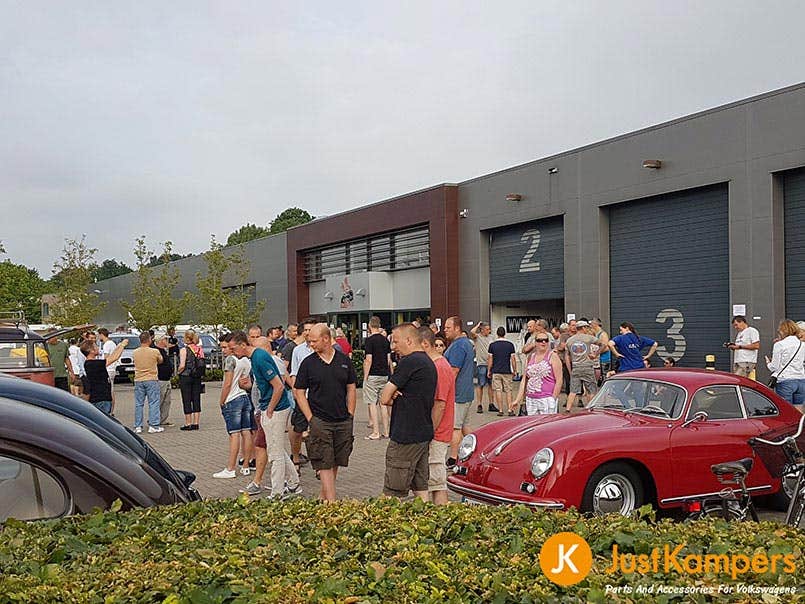 The BBT cruise was excellent, as always. We'd had heard how fun it was, and weren't disappointed – there were dozens of pre-1957 VWs on the road, all driving in a convoy from BBT to Hessisch Oldendorf 2017, which was amazing to be a part of. All the other drivers on the road were clearly amazed to see so many classic vehicles driving together, and we got a lot of waves and smiles as we went.
Video: Our trip to Hessisch Oldendorf 2017:
Check out our quick video of the highlights from our trip to Hessisch Oldendorf earlier this summer!
Arriving in the town of Hessisch Oldendorf itself was also fantastic. The whole centre of the town was taken up by the largest collection of pre-1957 Beetles we've ever seen, plus a whole host of gorgeous T2 Split Screens. These 'veterans' were joined by a whole load of Karmann Ghias and Type 34s, plus Kübelwagens, Schwimmwagens, Hebmüllers and Rometsch, plus a range of coach-built vehicles that are very rarely seen 'in the metal'.
Each group of vehicles had their own section of town, and the owners were guided to park up with other vehicles of the same kind by a number of orange-clad volunteers.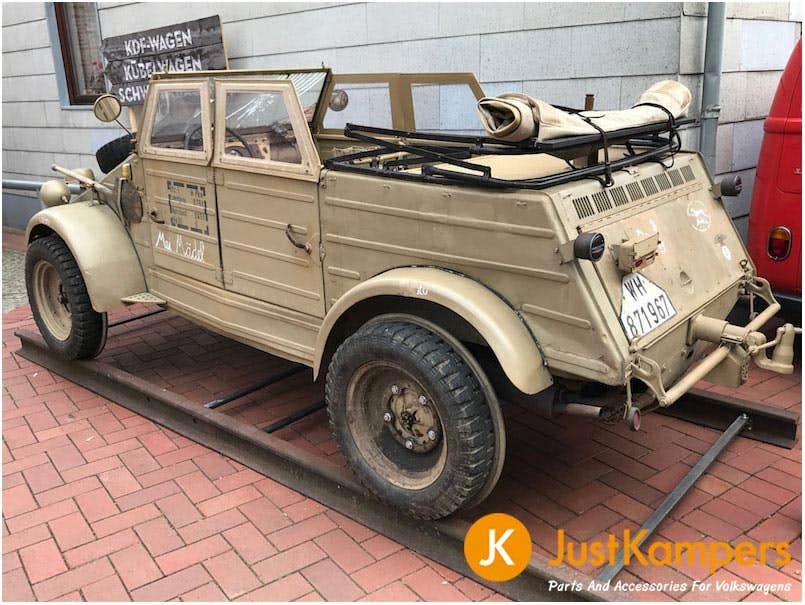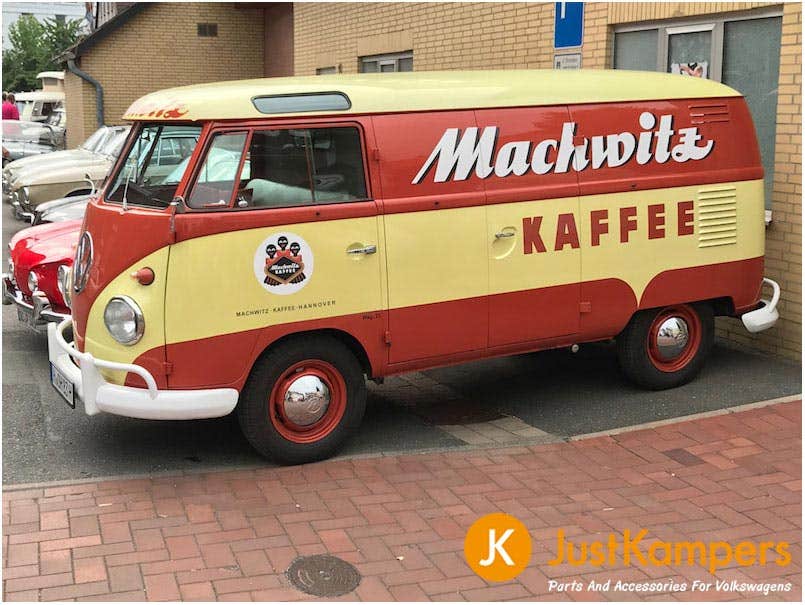 The overall effect of the event was breath taking. The town of Hessisch Oldendorf is lovely in itself, but to see it filled with such a number of beautiful, historic vehicles was just incredible. HO is always talked about as one of the best classic VW events in the world, and it was easy to see why.
It felt to us like HO was focussed on the quality of vehicles on show, and the quantity was just a by-product of it's massive success and popularity. Every vehicle we saw was either more-or-less original or restored with a level of care and sensitivity that really shone through. There were a few lowered vehicles on display, sure, but not a rat-looker or basket case in sight. Everything was shiny and chrome, and many of the vehicles looked like they'd just rolled off the production line.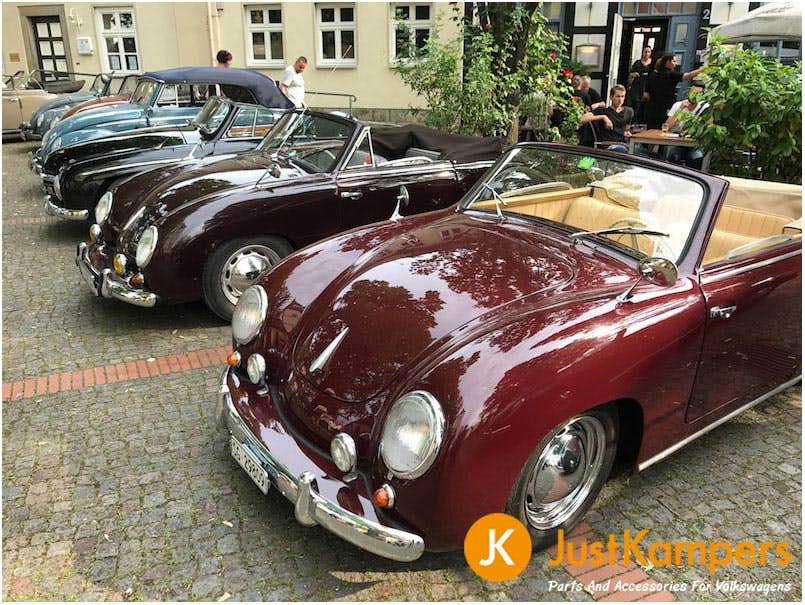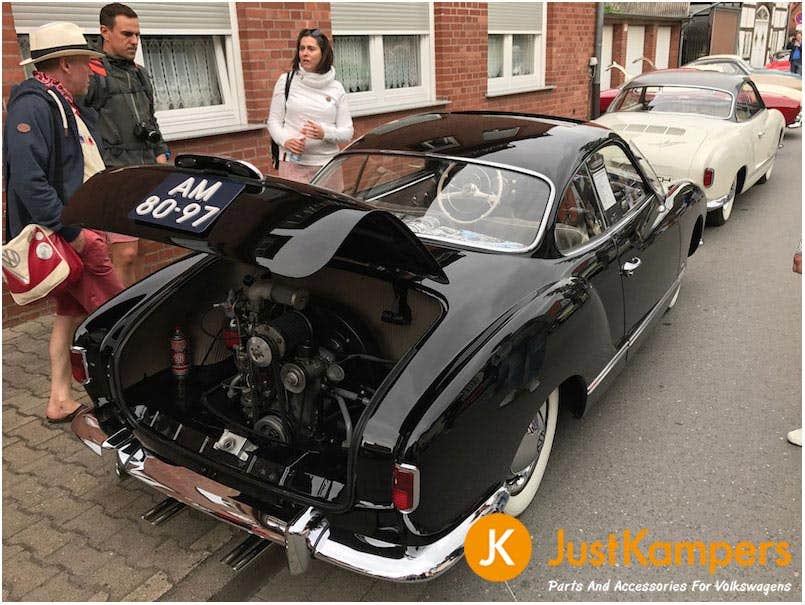 Jack the Giant Slayer got a lot of attention, which surprised us, to be honest. Sure, we'd just got back from the Mille Miglia, but as one Oval in an event with dozens of even more eye-catching Ovals, we didn't expect to really be noticed. We were always super happy when someone came up to us to ask about the Beetle or the Mille Miglia or congratulate us on finishing. 'Ah, you're the Just Kampers guys! How was the Mille Miglia?!'. Obviously the fact that we'd kept the race numbers on the car was a dead giveaway, but a few people knew us by name without seeing us with Jack, which was mad.
Making our way around all of the different vehicles took us a long, long time, especially as there was so much to photograph and investigate. It took us a while to get around to the Swap Meet, but we were glad we finally did!
Mark had set off with a list of bits he wanted to find for Jack, as well as his '67 Beetle Cabriolet, but wasn't sure he'd find them all as some were a bit obscure (like the finger pull that goes around the push button on the glove box!). We found every piece we were looking for, and all at pretty decent prices!
There was such a wealth of NOS parts, vintage products and nostalgic odds and ends that it took us hours to make our way through and check out every stand.
There was everything from a 12v hotplate and original 1950s radios through to NOS Barndoor brake drums and original 'double glazing' systems for the T2 Split Screen. It was a real treasure trove of amazing parts and accessories, and was really cool to go through.
A real highlight for us was the 'Schwimm swim', where a number of Schwimmwagens headed up the road from the event, then got in the driver and swam back down to Hessisch Oldendorf! It was amazing to see these incredibly rare, valuable vehicles splash around in the fast-flowing river. We spent a long time down at the finish point, watching people head out on the Schwimmwagens after paying a charity donation and videoing the whole thing. We even took Jack across the river on a ferry, which he really enjoyed!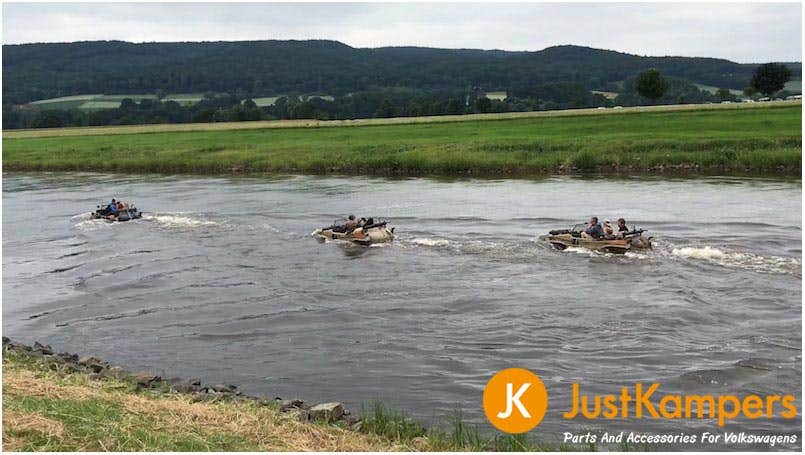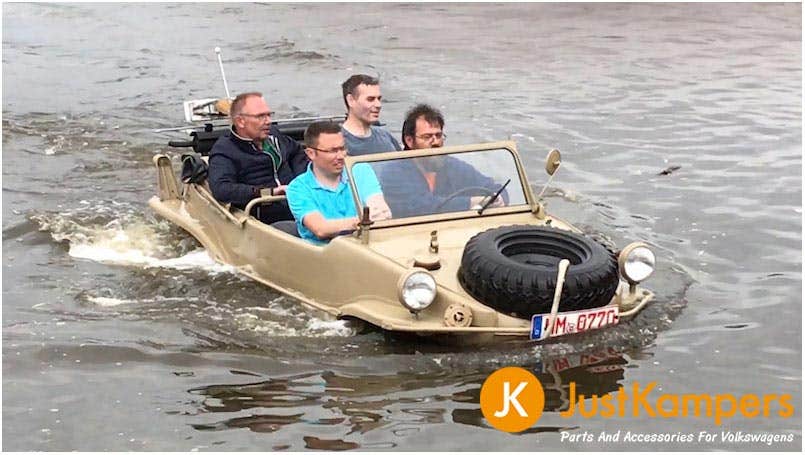 Overall the event was a fantastic weekend, with loads to see and do. The show was over all too quickly, especially considering it only happens once every four years!
Before we knew it it was time to head back to England, but what an amazing time we'd had. If you ever get a chance to head over to Hessish Oldendorf when it's next on, then you should definitely go for it. The event is unlike any we've been to before, with a really laid back, informal atmosphere but some of the most gorgeous cars ever on display.
For more photos go to our Hessisch album