Many people all over the world are feeling cheated of their annual holiday this year, due to travel restrictions put in place to limit the spread of coronavirus. Not only have restrictions included flying, and international travel, but also staycations that involve staying anywhere other than your home overnight. For those who enjoy camping and campervan holidays, this has caused a lot of upset. Fortunately, however, as coronavirus levels continue to fall in the UK, the situation is set to change.
When will campsites open?
On Tuesday 23rd June, Boris Johnson announced that much of the hospitality sector – including campsites – will be able to reopen in England and Northern Ireland on July 4th 2020. Campsites in Wales will be reopening on 13th July, and in Scotland on 15th July.
The reopening of campsites is great news for families, couples, and singles who are keen to get out and about and enjoy some camping holidays this summer. However, while the falling coronavirus rates mean that camping has been deemed safe once again, there are a number of precautions it's important to take.
Camping and coronavirus
As an outdoor activity, many would argue that people who go camping during the COVID-19 outbreak are relatively safe. Considering that the equipment and accommodation used is privately owned, it would be fair to say that there is perhaps less risk of picking up the virus via touch than there would be in shared accommodation.
Campsite facilities
Having said this, there are shared facilities in campsites that must be considered. Depending on the campsite, these may include:
Toilets and showers
Washing up areas
Kitchens
A bar or restaurant
Play area
Outdoor sports courts
Shop
When such facilities are used by multiple people, as will be the case after July 4th, it's important to take the proper precautions.
Can I stay in my camper van during COVID?
Until recently, the government advice said that overnight stays anywhere other than your home were not allowed. As of July 4th, however, with the gentle reopening of the hospitality sector, individuals are allowed to stay elsewhere, including in their campervans. No more than two households are allowed to stay together though.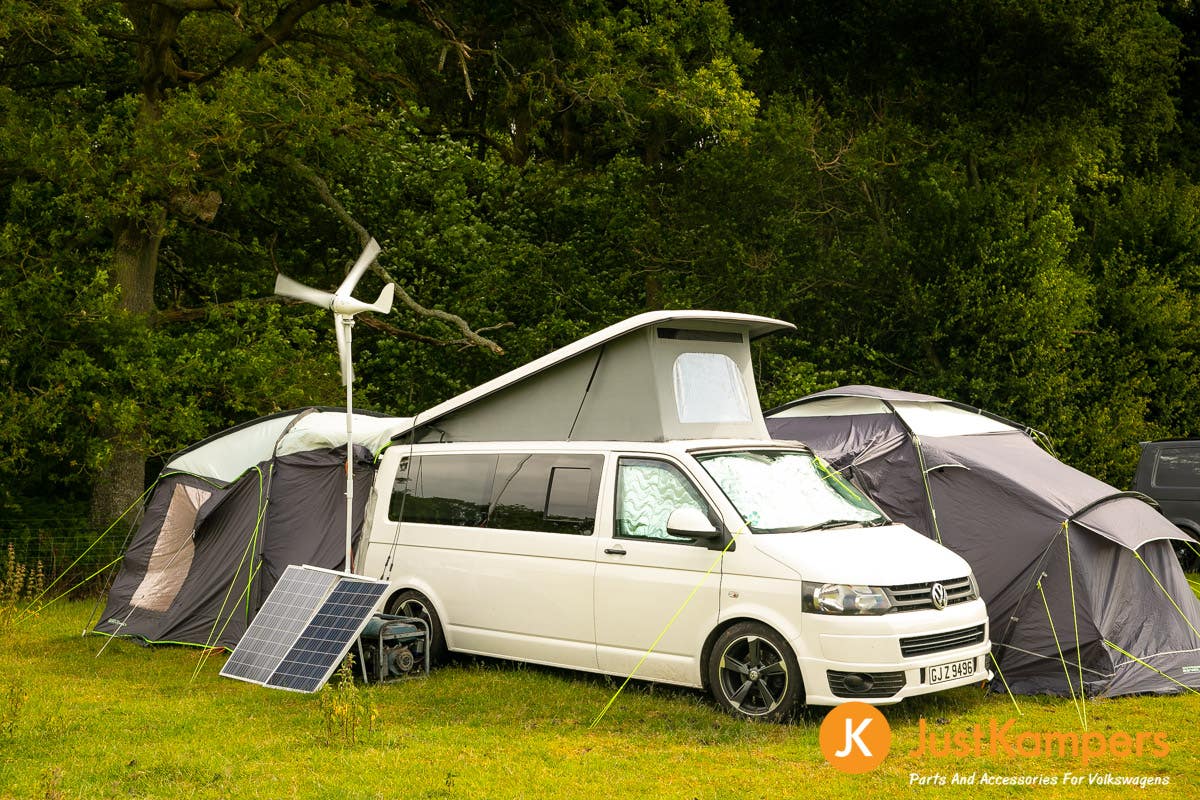 Is it safe to go camping?
Some groups, particularly those including vulnerable people, or those who have been shielding, may wish to wait a bit longer before venturing out on a camping trip.
For most of us, however, it has been deemed safe to go camping as long as adequate social distancing and Government guidelines are adhered to.
How to stay safe while camping during COVID-19
In an effort to keep everyone safe while camping during the pandemic, there are numerous actions that everyone should take:
Keep to the government's recommended social distance between yourself and those outside of your household
Wash your hands and use hand sanitiser frequently, especially after visiting communal areas
Wear a face mask in busy, communal areas
Regularly clean equipment and surfaces
Wear disposable gloves while using communal equipment
What campsites are doing to keep guests safe
In addition to asking visitors to practice safety measures like the above, the owners of campsites will be making a range of changes to help ensure their guests' safety. Changes are likely to include:
Higher contactless payment threshold
Contactless check-in facilities
Screens between staff and customers in retail areas and canteens
Social distance floor markings
Increased space between pitches
Increased space between vehicles
Limited capacity bookings
Hand-sanitiser and hand-washing stations
It's important for guests to realise that such measures are there for the safety of everyone, and to adhere to them as much as possible.
Can I camp with friends during COVID-19?
Camping in a group is popular among UK holidaymakers, but there have been strict rules surrounding the number of people the public can meet, and in what context. During his address on June 23rd, Boris Johnson also advised that people from two different households can meet – as long as they maintain social distancing.
This means it's likely that two families or groups, from two households, will be able to go camping together. Further clarification regarding camping group sizes is yet to be announced by the UK government.
As the UK slowly returns to normality, and there are more freedoms regarding socialising, leisure time, and holiday making, we can look forward to enjoying highlights such as camping once again. While the risk of contracting coronavirus certainly still exists, as long as campsite staff and guests work together to take precautions, it should be possible to enjoy camping as a safe holiday option once again. If you're planning to take a camping trip this year, take a look at the latest camping equipment to make sure you're well prepared.