Just Kampers
Written by the JK Team
Published 11 November 2021
More from this author
Going Green - The Story Of The Electric Camper And Motorhome
There is an increasing level of interest in eco-travel and growing pressure on the tourism and vehicle manufacturing industry to start going greener.
There are few more sustainable ways to travel and holiday than by exploring the UK in your own electric campervan. And with the UK planning to ban sales of diesel and petrol vans by 2030, they are the vans of the future: eco-friendly, silent running, snappier driving and zero emissions.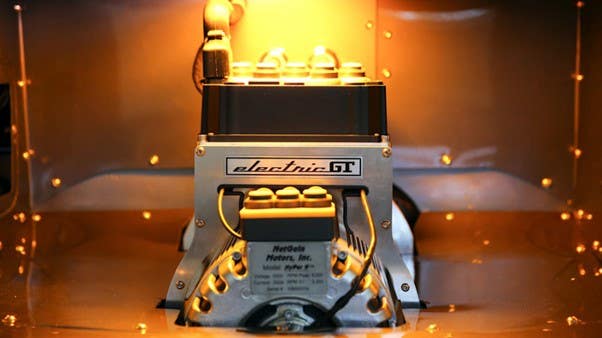 Volkswagen Type 20 Engine - Photo by Volkswagen
The History of the Electric Van
Unknown to most, Volkswagen have had e-campers cruising German roads for almost 50 years. The idea was originally developed by Adolf Kalberlah who, alongside a small team of innovators in Wolfsburg, started to look at the future of driving technologies.
Together they developed a complex battery system and tested processes for controlling motors. Just two years in, the team launched its first vehicle; a T2 campervan with an electric drive unit. As long as it was only driven in the city, a charge would be enough to power - around 62 miles - and it was possible to recharge anywhere with the charging cable working in any-220volt outlet.
They were a little too ahead of their time and out of the 200 test vehicles only some 20 e-camper vans were ordered. The "clean drive" technology was pricy, the battery made the vehicle heavy and regular maintenance was a challenge.
In 1981, Kalberlah helped develop a limited production of an electric VW Golf which he himself used almost daily.
47 years after their first attempts, the electric vehicle is accelerating into the mainstream. A few things are driving this change; an improvement in electric vehicle batteries, government grants for free adopters; more availability of charging points and countries looking at putting in restrictions on the traditional petrol and diesel cars.
First Electric Campervan
The first European model of the electric van comes from the Dutch company Camperfixx, which had already been converting light commercial vehicles to electric power.
The camper is called the e-Fixxer XXL, based on the longest model of the Peugeot Expert, Opel Vivaro, Toyota Proace or Citroen Jumpy. The conversion costs around 21,000 Euros at time of release but there are also DIY kits available which brings the cost town to approximately 6,000 Euros.
The power train consists of a 100kW or 136 hp electric motor and the extensive battery pack has a capacity of 75kW which gives this e-camper a range of 330 km according to the consumption standard of WLPT, which is the global standard. Thanks to its fast charging, the battery is 80% full again within half an hour.
First All-Electric Motorhome
The first all-electric motorhome was released in 2019 in Europe, named the Iridium E Mobil and the product of a cooperation project involving Stuttgart-based electric vehicle specialist EFA-S, Germany's WOF motorhome distributor and a motorhome coach builder in Switzerland.
The motorhome's range is currently between 120 - 180 miles between charges, however they are hoping to increase this range over the coming years.
The Lithium iron phosphate batteries can be charged using conventional 230V 13A sockets, as well as standard electric car chargers providing up to 22KW and rapid charging stations providing up to 50kW.
With prices around £150,500 at time of release, and no right-hand drive version or distributor in the UK, it's still a pipe dream for most.
The Future of the Electric e-campers and motorhomes
The eco-conscious campers are still limited and we still have a few years before the e-van becomes the norm, but the drive to develop and make them cost effective is running strong and 2020 saw many announcements from newcomers and industry strong runners alike.
Here's a few notable releases
Volkswagen Type 20
With a holographic display, biometric face recognitions security system and voice assistant, this electric campervan based on the shape and style of the 1962 Microbus Type 2 is leading the pack with its modern technology features.
Commissioned to celebrate the company's Electronics Research Laboratory, the T20s' 10k Wh battery isn't designed for speed and range as VW are not planning to mass produce this bus, but it's a beautiful and fun addition to the e-camper range.
Volkswagen Type 20 - Photo by Volkswagen
Nissan e-NV200 Electric Campervan by Sussex Campervans
This impressive all-electric campervan has been a long term project for Sussex Campervans. The base model is a Nissan city van and has a turning circle of just 11.1M so it's easy to drive and agile even round a city centre. However, for a slimline vehicle it still has a generous amount of space for a comfortable night's sleep.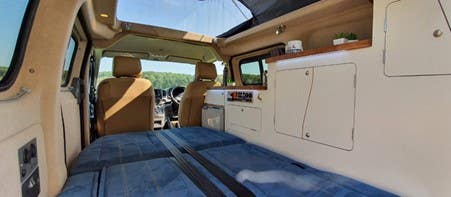 Nissan E-NV200 - Photo by Sussex Campervans
Iridium E-Mobile Electric Motorhome
Built under the brand Iridium, a cooperative of German companies has come together to create this 2nd generation of E-Mobile which uses 140kW powertrain. Based on a Mooveo motorhome, built on a Fiat Ducato platform and with a range of 249 miles from its 180kW battery pack.
Featuring a dry bathroom and separate shower, kitchen and double bed, the dining area in the front can seat 5 people when you swivel the front cab seats.
Iridium E-Mobile Electric Motorhome
Dalbury E-Electric Campervan
The new e-camper by Hillside Leisure is based on the Nissan e-NV200 and comes with excellent interior craftsmanship and space-efficient design. Suitable for the single traveller or couple, it makes a great daily drive too.
This camper boasts 80% charge in 30 minutes, 105 mile range and running costs of just 2p per mile.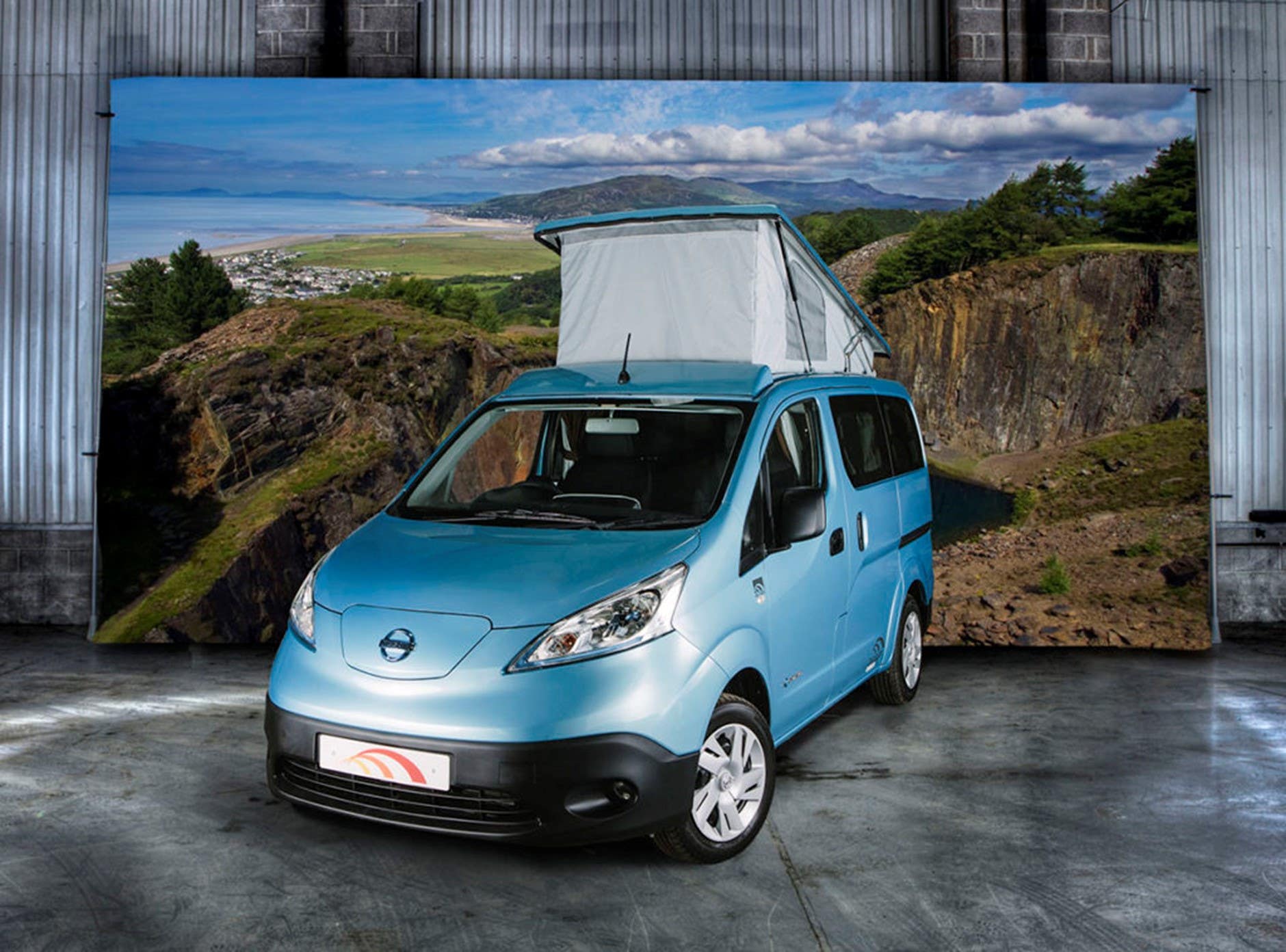 The Dalbury E-Electric Campervan - Photo by Hillside Leisure
Volkswagen I.D.Buzz Electric Campervan
You'll have to wait until 2022 for this new electric microbus, with space-age yet familiar styling bringing an iconic vehicle into a new era and a satisfying futuristic look.
Twin electric motors give an astonishing amount of four wheel drive power and is claimed to develop 369HP, with a 0-60 time of under 6 seconds. More remarkable is the 370 mile range!
Volkswagen I.D.Buzz Electric Campervan - Photo by Volkswagen