Getting back on the road for Spring.
If you are anything like me, you'll have a mental (or if you're more efficient, a written) list of jobs to do on your VW over Winter.
My list had lots of maintenance / servicing jobs that I'd put off last summer, because I was too busy enjoying driving my air-cooled VWs while the sun was shining! Now we're heading into spring, the VolksWorld show is looming and our Lands End to John O'Groats trip at Easter (in aid of Breast Cancer Now) is just around the corner, I thought it was time to stop making excuses and get in the garage!
So here are the main jobs I've been focusing on over the last couple of weekends. Hopefully they will jog your memory of what yours needs too. I have not gone into any great detail, I'll either be patronising you or you need to watch some of the 'How To' videos we have made, covering most servicing jobs and as always, a good workshop manual will be invaluable.
Good Luck! Mark.
Rust:
Hopefully, you have kept your VW dry over winter, but check the whole car for rust and treat it before it sets in. I was sad to see there had been a brake fluid leak which had stripped the paint and started to rust the inside of the spare wheel well in my Cabriolet. To stop the rust getting any worse I applied a covering of Ankor Wax, see our test video to see why.
Brakes, steering and suspension:
It's well worth jacking up your vehicle (see our JK How-To Videos on jacking up the front and rear if you are in any doubt on how to do it safely) and removing all the wheels so you can take a proper look here. Removing drums allows you to see any brake fluid leaks before they become dangerous, especially on an early single circuit brake systems. Check for play in the wheel bearings, king and link pins (if you've got them), damage to ball joint and track rod end boots. Grease all grease points and give the brake hoses and metal brake lines a close check for corrosion and damage.
Tyres and tyre pressures:
After having a scary blow out in a Bay Window some years ago, I'm a bit paranoid about tyres. As long as you have the same size tyres front and rear, I'd annually 'rotate' the tyres from front to back and vice versa. Check the sidewalls for any damage and legally the tread must be 1.6mm in a continuous band around the central three quarters of the tyre. Personally, I'd swap them out if funds allow at 2mm. Lastly check and reset the tyre pressures all around, including the spare. I always set the spare to the highest pressure (normally the rear) as you can let air out if you fit the spare on the front, but 'Murphy's Law' says you haven't got a pump with you when you need to add some air by the side of the road in the rain!
Engine service and Fuel hoses:
Give the engine a full service, including changing the oil, if the vehicle has been standing, you can get condensation building up inside the engine. Now is also a good time to check the fuel lines. I found that two of my hoses had badly perished since I inspected them last year. Modern unleaded petrol has ethanol in and that is not suitable for the traditionally braided hoses used on VWs as it actually brakes down the rubber and splits them. I've now changed all of my fuel hoses to the ethanol proof hoses we stock at JK.
Top Tip: If you have trouble starting your VW after six months + of sitting, it may be the fuel has gone bad. I learnt this after having trouble starting my lawn mower after winter!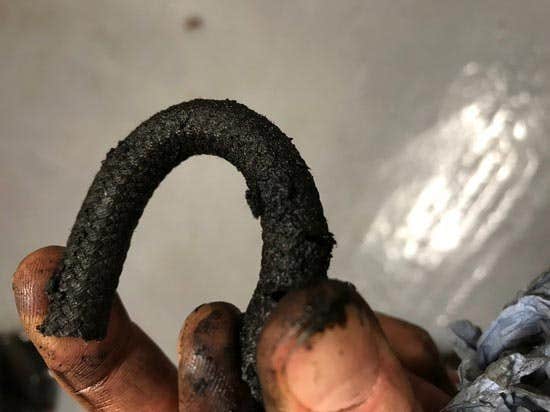 Gearboxes and linkage.
I feel sorry for VW transmissions, they get a bad reputation, but like everything, regular servicing ensures years of happy motoring. The amount of times I've bought a VW and gone to drain the gearbox oil and a black smelly sludge is all that is in there, suggests they're usually overlooked!
If you don't know when the gearbox oil was last changed, now is the time to do it. I change mine every year, VW said every 3 years when they were new.
Also, check the gear linkage. If someone wiggles the gear lever (making sure the vehicle is safely jacked up), check from underneath that there is no obvious slack before the selector moves in the gearbox. If there is, it's time to replace linkages and bushes. All the accessible moving parts need a good greasing up and check the rubber boots on the linkage are not split or missing.
Check the electrics and lights:
A quick run around with someone to help you will make sure all the lights work, if there are problems, check the fuses first, if there is still a problem, clean the earth terminals first and then lastly the bulbs. Check the battery terminals are clean and secure. If there are signs of corrosion, remove the battery, clean the terminal, apply a smear of grease and top up the distilled water. While the battery is out, clean the battery tray and treat any rust as necessary.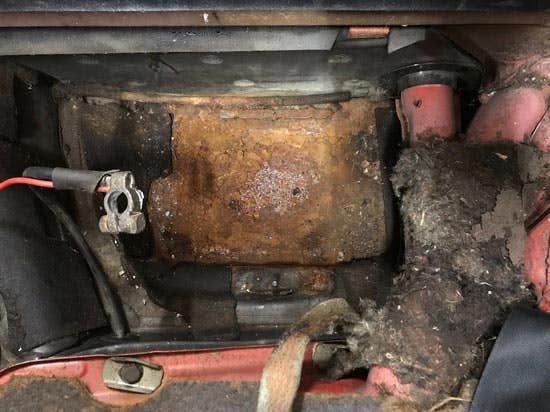 Big clean and a vacuum out:
This is also a good time to check for any signs of rodents and other undesirable visitors that may have chewed through seatbelts, seats etc. Give the windows a big clean inside and out, I always use Rainex on the outside of my windows, it really does make a difference as it helps disperse water without having to use the wipers as much. Check that the instrument gauges are working correctly. A good tip I received from an old VW mechanic was if your VW has been standing for a while, open the doors gently at first as this avoids tearing any door seals that may have become stuck in place.
Is it Taxed and MOTed?
I know, I know, if it's over 40 years old it does not need an MOT. Don't skimp, here is my view why you should MOT older cars.
Firstly, it's great to get a second pair of eyes to check it over. Two years ago, I took my beloved '67 Cabrio for its MOT, I'd checked it over in advance, it's only done 70,000 miles from new and we'd driven it all over Europe. In my mind I was MOTing it as a formality. During the test, the MOT tester kept asking me to turn the steering from left to right. I thought it was a wind-up, but he'd spotted the inner track rod had serious play. After taking it home with my head held in shame, failure certificate in hand, I found the track rod end was literally about to break. It would have failed within the next thousand miles or so and probably written the car off!
The second is history. If and when you want to sell you VW, there's no better or more trusted proof of history and condition than an audit trail of MOT's that the buyer can independently check online. If you were the buyer and the history just stopped, wouldn't you think "if he's tried to save £50 on an MOT, what else has he skimped on?"
The third, for me at least, is true peace of mind. Now more than ever the responsibility of keeping our classics roadworthy, and more importantly safe, rests with us. It would be great to think that we all have the knowledge required to ensure this is the case, but, the reality is that most people don't. When you are considering safety, it's not just in relation to you and your passengers but other road users too. I'd like to think I have a lot of knowledege gained over many years but I would far rather go through the MOT process and continue to be safe - at the end of the day - it's worth it.
Is it Insured and off the SORN register?
Check the policy is still valid and if you had SORN'ed the vehicle, notify DVLA it's going back on the road. Don't forget that we can insure your VW and we are so sure it's the best value for money, we'll give you £50 JK voucher if we are wrong! To make the deal even sweeter, all customers who insure with JK, receive 10% off our huge range of parts and accessories too.
Breakdown cover:
None of us plan to breakdown, but as anyone that's been stranded somewhere or had the misfortune or having to pay to get a car recovered from a motorway will tell you, it's better to have breakdown cover and not use it, than need it and not have it!
With that in mind we are launching Just Kampers UK and European breakdown cover. Just Kampers Insurance came from several bad personal experiences of other insurance companies and our breakdown cover's a similar story. My credit card gave me breakdown cover. Sadly, I didn't read the small print (who does!?) last year that said they'd removed all the useful benefits, but unsurprisingly the annual fee was the same! So, when I was unfortunate enough to need a breakdown truck (not in a VW I hasten to add!), I found myself with no cover and a large bill. Hence, we are in the process of setting up JK Breakdown cover.
There'll be more details coming soon but we're working hard to get the kind of cover that really works at a price that's fair.
Lastly, get out there and have lots of fun in your VW this Spring and Summer...
Mark