Gas: Why It's No Laughing Matter
Some time ago we wrote a blog about gas, the different types and the regulations relating to installing gas systems in your campervan you can read more about this here.
With the addition of some new gas safety products though we thought we'd take some time to investigate a little further, give you an insight into the dangers and hopefully empower you to be gas safe.
As much as some of us use gas regularly in conjunction with stoves, fridges and heaters in our campervans there is no getting away from the fact that improperly fitted / maintained appliances or connections can be deadly.
In its natural state LPG (Butane and Propane) and Natural Gas (Methane) are all odourless gases. The distinctive smell that we all associate with "gas" is an added chemical compound, Mercaptan, added by the gas company supplier as a safety measure.
Without this added odour the potential for fire or explosions due to gas leaks would be far greater. Interestingly though there are a small number of people who cannot detect the distinctive smell.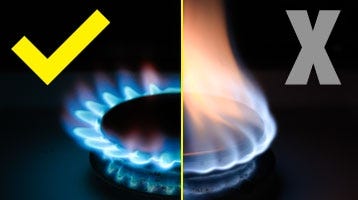 Crisp and blue flames are what you should see. Yellow, limp flames are a sign the gas is not burning correctly and could be a source of CO gases.
For anyone undertaking conversions in newer models a Gas Locker will be a commonplace addition. For others it might be something you may not have considered or even been aware of. The idea behind them is to provide a sealed box in which you keep your gas bottle. Made from mild steel with a detachable front access point, each locker is leak tested and conforms to BS EN 1949:2002. The base of the locker features a 55mm lip below the front opening that contains the gas in the event of a leak.
As LPG gas is heavier than air it will naturally settle or pool in the lowest point available.
The Gas Lockers are available in two sizes, either for the Campingaz 907 or Calor Gas 4.5kg bottle.
J41866 Gas Locker Small for Campingaz 907 (Locker Only)
J42099 Gas Locker Medium for Calor Gas 4.5kg (Locker Only)
The small locker is also available as part of a comprehensive kit that contains; metal locker, gas bottle strap, gas pig-tail hose, gas regulator, 8mm rubber grommet, the all-important gas drop out vent, gas warning sticker and spanner. J41867 Gas Locker KIT for Campingaz 907.
Research has shown that an audible alarm is far more likely to wake you from your slumber than any odour and so the addition of a gas leak detector might also warrant consideration should you wish to further protect yourself. (Many of these can also detect Narcotic Gases and guard against Gas attacks that had reportedly been prevalent in Europe – although, this is a subject for another blog as reports of these are often widely questioned.) These alarms should not be confused with a Carbon Monoxide detector.
Carbon Monoxide is odourless and is a by-product of fossil fuels, such as wood, gas, coal and charcoal being burnt. Carbon Monoxide is no joke, being responsible for around 50 deaths in Britain each year with up to 4000 being treated annually for C/O poisoning.
Carbon Monoxide is absorbed by the haemoglobin in the red blood cells that normally carry oxygen around the body. The C/O prevents it from doing this and the organs become starved of the oxygen needed to function and subsequently start to die.
A lungful of C/O would kill almost instantly but symptoms caused by lower levels are often mistaken as food poisoning or flu. They include: persistent headaches, sickness, tiredness and a general weakness.
The aim of sharing this information with you is not to impart fear, but, should having this information prompt you to carry a Carbon Monoxide Detector in your vehicle then it can only be a good thing.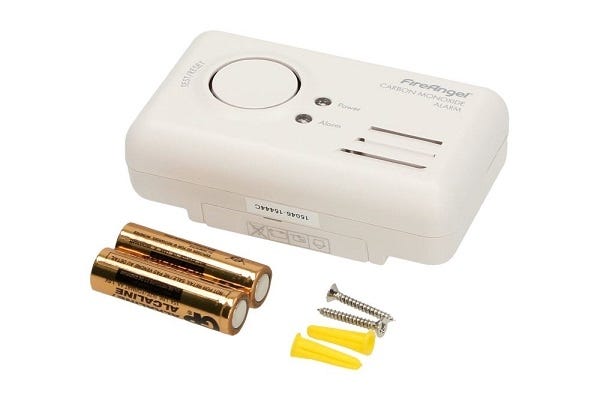 A portable detector can be used at home and away, even if you travel abroad to an apartment or hotel complex over the summer it's worth considering allowing packing space to take it with you. Carbon Monoxide poisoning is a threat in all sorts of environments.
This writer, having done the research, will be taking hers wherever she ventures on holiday.
Even then there are measures you need the following to ensure your continued protection.
C/O detectors have a shelf life – typically 7 years so remember to mark the date of purchase and change when necessary, test the unit and check batteries regularly.
Other protective measures you should take:
Should you inherit someone else's van conversion – get it checked by a Gas Safe Registered engineer (It might spur you on when you realise that there is no legal requirement to be Gas Safe Registered when fitting gas systems or appliances in campervan/motorhomes unless you intend to hire them out as a business – you only have to be competent! Whilst you would hope that your idea of competence is the same as someone else's; are you willing to risk it?)
Have all gas appliances and pipework checked regularly
Maintain adequate/unobstructed ventilation
Never be tempted to leave gas appliances on for warmth at night – throw on another blanket and snuggle instead!
If your conversion has you cooking inside your vehicle, ensure you have windows open
Never use a BBQ, fire pit in an enclosed space and be aware that either can still omit C/O gases even after being extinguished
Wood Burners in vehicles and bell tents can also be a source of Carbon Monoxide so use your C/O detector
Turn off regulators when gas appliances are not in use
Carry fire blankets and extinguishers
Most of all, continue to cook, stay warm, enjoy your campers – and be gas safe.