Billy Connolly once said, "Forget about getting a tan – when I go away on holiday I have to sunbathe for a week before I go white! A Scotman's natural skin tone is a kinda blue colour."
My reason for quoting the big yin is not only that to bring you this feature we ventured north of the border, but also to highlight the wonderful juxtaposition of a sun-bleached Bus and Falkirk!
The current owner, and the man who couldnae' give two hoots about the confusion of his friends and family over the style of his Bus, is James 'Gumbo' Forsyth. After cutting his teeth on a 1302 Bug before moving on to a Mk1 Golf then a Late Bay Panel Van, James had a gap to fill when he sold the latter to fund the purchase of a house in 2012. "I waited about as long as I could to look for another one, which happened to be early 2013." Unsurprisingly, it was the internet that turned up the goods and, even less surprisingly; it was the Early Bay forum hosting the ad, proving you should never discount the obvious. In fact, you can still find the original build thread on the site, started in 2009 and entitled 'The Bang Bus', which every owner has added to and continued.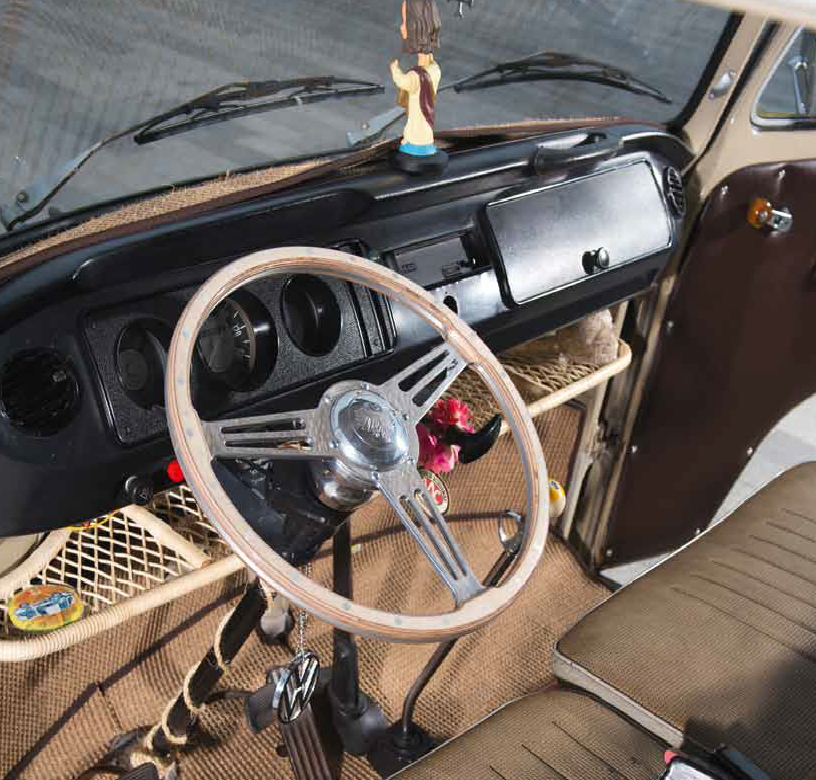 "It was a 1969 Microbus, imported from Austria in 2005, and ticked most of the boxes for what I was after, so off I went to Birmingham to take a look. It was a bit rough around the edges paint-wise (not in a good way), but it had a lot going for it, having already been battered with the lowering stick and having a fresh 1600cc engine fitted."
The engine was built in 2012 using an AS41 crankcase, machined for full flow oiling and fitted with dual thrust cam bearings, a larger 26mm oil pump and Engle 100 cam, while fuel is supplied via twin 36 Webers. The work had all been done by Stefan Rossi at Aircooled Engineering (www.ace-vw.com or tel. 07521 510015) and the result is a perky, yet reliable set up.
Right to go lower?
The lows had been achieved by tubbing the front arches over a king and link pin beam, narrowed by four
inches and fitted with dropped spindles. The chassis was notched to clear the steering rods and driveshafts, whilst the engine bar was shaved and the stock rear spring plates ditched in favour of adjustable ones. This paragraph was made possible thanks to the skills of Slamwerks in Derbyshire.
"I decided I wanted it, so made a deal with Mark, the previous owner. However, not before he managed to drop my phone on his kitchen floor. Mazel tov! The deal was done."
James had no intention at that point of doing much work on the
Bus, being a strong believer in the fact that VWs are built to be used and abused. What's that saying about best laid plans though, or in this case no plans?
"My wedding to Denise was booked for September 2013 and our friend Richie Caldwell, (Camper&Bus cover star October 2013) had agreed to let us use his nice shiny split for our wedding car on the big day." As it happened, a few weeks prior to the wedding, Richie received an offer on his Bus he found hard to refuse, leaving Mr and Mrs Forsyth to resort to plan b – the slightly rough looking (and remember, not in a good way) 1969 Bay.
The best man
"In its current state we couldn't use it, but luckily for me, my best man went above and beyond," explains James. The best man in question, Ian Nisbitt, had worked in a paint shop for years, and in light of his pals predicament, kindly agreed to paint the Bus at short notice. "On went a fresh coat of Savannah Beige and we had the roof painted white," continues James.
It was literally four days before the wedding when the Bus was pulled from the paint booth. Happily for the new Mr and Mrs Forsyth, Ian had played his cards right and it was nice to see the shiny Bus stole the show for the new generation. Didn't he do well?
"After painting it, I didn't look at the Bus in the same light anymore," admits James. "It was just too shiny." So, whilst holed up for the winter, James had discussion with Jerry Longdean at Deadline Paint (tel. 07787 920890) about how to 'rough up' the paint a bit. "We talked about rubbing the paint through to the metal in places, and letting it get some surface rust, but I didn't like the sound of that in the Scottish climate!" Finally, some inspiration arrived in the form of Simon Wilson's sun-bleached Early Bay, featured in the January 2014 issue of this very mag. "Almost instantly I decided that a top-half respray with some faux sunburn was the way to go."
Prior to paint, James had Donald Harvey at DTH Performance install a front air shock kit that Denise had bought him for Christmas from Kieft en Klok – no wonder he married her, eh? "Whilst it was in with Donald, I also had him service and tune the engine. The work was much needed as, in truth, I had neglected it a bit."
When the Bus arrived back from Deadline Paint, there were confused looks on the faces of numerous friends and family. "Normally, when a Bus comes back from paint it looks brand new, but this time it looked worn out, but I couldn't believe how good it was," recalls James enthusiastically.
From then on, James concentrated on what he describes as the fun stuff. "I fitted overriders, bottle openers, some more stickers and painted the roof rack with white Hammerite."
Give it a Wurl
When James bought it, the Bay was fitted with BRM replicas, but he's changed to 15-inch steels from '56 Oval Window Beetle. "I'm a real fan of steels and, as soon as I found these, I had them powder coated in off white, with the hub caps done to match."
The interior was never going to have a cooker or sink inside, and is a great example of what thinking outside the box can create. "Personally, I just prefer to use a BBQ or a portable hob in the Bus, so it was always going to be about the seating."
Having considered a wrap-around set up, James settled on shabby chic. "I got my hands on a big trunk and up-cycled it into a bench. East Coast Trimmers in Fife helped match the upholstery to the existing rock 'n' roll bed and I tracked down a guy in Glasgow who makes reproduction juke boxes and had him make the Wurlitzer-style speaker fronts that I grafted onto the trunk with modern speakers behind."
The rest of the interior is made up from 4mm ply and faux leather, with a full Mad Matz carpet set, some bamboo shelves and the obligatory split charging system, all thanks to James' own hands.
In just 11 months, James has transformed his Bus into his own personal vision of a Camper. After all, isn't that what we are all trying to achieve?
"I still need to do various jobs, the biggest being the headlining. It's not perfect, and it's probably never going to win any shows, but I didn't build it to please anyone else, I did it the way I wanted it to be."
It's clear that having your Bus the way you want is reward enough, but for James Forsyth, maybe landing the cover slot on C&B will prove a real Brucie Bonus?
James 'Gumbo' Forsyth
James would like to thank a few people for their help with this Bus, namely, "My wife, Denise, for putting up with my never ending VW obsession, Elle at East Coast Trimmers, Jerry Longdean at Deadline Paint, Donald Harvey at DTH Performance, my mate Ian for painting the bus the first time round, and lasting, McIntyre Valeting for cleaning the Bus for the shoot."