About Kit and eDub Services
Hello everyone! My name is Kit Lacey, Managing Director of eDub Services Ltd and owner of the world's first all-electric classic camper to hire. I'm a Yorkshire chap based in Knaresborough near Harrogate with my wife, Madeline, our daughter Ariella (4) and son Solomon (1). We're nestled between the North York Moors and the Yorkshire Dales; two incredible National Parks. We spend much of our free time exploring the outdoors as a family and walking our German Shepherd, Roxie.
We were attracted to Knaresborough, where we live and work, as it's a typically beautiful town in the countryside. It has lots of nice pubs and local shops to keep us occupied, making it a brilliant place for anyone who wants to start their campervan holiday. My rental journey is shared between myself, my brother and mum who also live nearby. It's safe to say we've always been a fan of the outdoors and campervan holidays; it definitely runs in the family!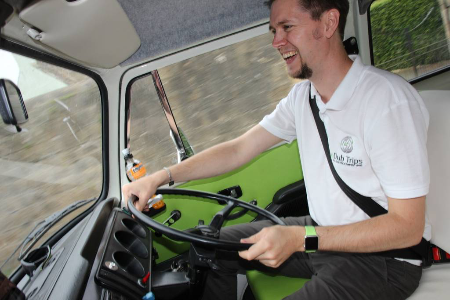 About Indie the camper
I've been attracted to VW Campers for as long as I can remember, and me and my wife had been wanting an excuse to purchase one of our own for a long time. However, as with any classic vehicle, reliability and efficiency were two of our main concerns, and once we had decided to start our own campervan hire company, we knew that customers would care about this too!
So, in 2014 we bought Indie with the vision to convert her into an electric campervan, so that customers could experience both the charm and fun of a classic camper without needing to worry about a mid-trip breakdown. At the time we didn't realise that we would be the first 100% electric classic campervan hire company in the world, which we are proud to say happened in 2015. Not only did this feel like a huge personal achievement, but we also felt excited to be a part of a more sustainable way to travel in the future!
Indie is a 1973 VW T2 Bay who is an American import, and we managed to get her at a decent price because her engine was on its last legs. This didn't matter to us anyway as we were kitting her out with a new electric one! Her name takes inspiration from the place we purchased her, Andrews Indianna, which she effortlessly pulls off.
In terms of her best features, she has an unusually spacious pop top roof which is perfect for sleeping in, with two extra adults being able to crawl up there comfortably, as well as another ¾ bed in the back giving you plenty of space. The front seat is a Flip 'n' Sit seat, so when you're parked up, you can flip it round and use it as a sofa facing into the van, giving you 30% more living space.
She also has a dual gas hob meaning you can cook quickly and safely without draining your battery pack and becoming stranded, and you'll also have running cold water too. To keep your Champagne and milk chilled, there's plenty of fridge space!
Above all, what makes her so unique is her electric features, which make her really attractive to customers. Firstly, there's the power. She has a 'Turbo Switch' on the dash so when you're approaching a hill you flick the switch and off you go! You also don't have to worry about reliability, with the days of chugging to a stop on the side of the road being far behind you. Plus, with no emissions, you don't feel guilty about exploring the beautiful green countryside, and instead of needing to make regular stops at the petrol station, you can simply plug her in at your campsite while you relax and take in the surroundings.
Their campervan rental journey
As you can imagine, electric conversions do cost a fair amount of money, so as a business venture, we saw campervan hire as a brilliant way to meet a wide variety of people, provide a unique service, and make some money while doing so! North Yorkshire is a perfect place to explore so there's no better place to offer a staycation with a twist. You can hire out Indie from March to October, lining up perfectly with the wide range of campsites available to families, couples and everyone in between.
We are enjoy meeting new people with their own stories to tell along the road. Our guests can collect Indie from Knaresborough and will be welcomed with a full tour of the camper, taking a little test drive before setting off. To get them happily on the road, we offer tea, coffee milk and hot chocolate. Whether they're heading off east to explore the North York Moors or the stunning Yorkshire Dales in the west, straightaway they will be off into the countryside to really get used to Indie's speed and abilities. The adventure begins as soon as you leave our driveway!
eDub Services has been in business for several years now. We have been purchasing VW parts from Just Kampers, some of which went towards the conversion of Indie and our other electric campervans, which makes them part of our personal journey!
Some tips for Indie travellers!
As campervan holidays are all about space, you'll want to pack light and use the space in the most efficient way to get the most out of days and nights spent in the van. Although it might feel like a game of Tetris at first, you'll soon get a knack for it!
My second tip would be to look out for places to plug Indie in, there will be more than you expect. If you're exploring a town or tourist attraction, you'll find charge points on Zap-Map (zap-map.com), normally with great parking. Just use the included cables and plug in.
Finally, we just recommend you get the most out of being on the road, so make use of her turbo switch to steam off at the green light. You can expect brilliant views as the visibility inside the van is amazing, eyes on the road while driving of course!
Recommended stops for your journey
Everywhere in North Yorkshire is beautiful so you'll honestly be spoilt for choice! The road to the coast is a bit straight and boring but there are some real jewels once you get there, such as Robin Hood's Bay and Whitby. We love driving deep into the Dales to just cruise the rolling hills or heading down to Skipton for some more adventures. There's a beautiful Himalayan Garden not too far from us which makes a great little stop off on the way to your first destination.
Find out more about eDubs
An eDub Trip is unforgettable. Find Freedom and book today.