Here's a story that took place in Arlington, Virginia USA this summer.
Thanks for reading.
Been sequestered for about a month on a little project.
Won't bore you with too many details, but a little history might make for a better story.
About 5 years ago I bought this car that had been sitting in a dark dank basement garage for about 17 years. The technical term is "Barn Find".
It was relatively cheap and had been nicely painted but the floorboards were beginning to rust, and the mechanicals was a disaster.
So, I fixed it up. About 2 years ago it was running perfectly and looked great.
So, I took it to a VW Car Show/Race south of Richmond Virginia.
By way of background, for the last 10 years or so I've participated in both the show and the race portion of this show. The racing involves individual cars driving around cones in a giant parking lot. There's a lot of 4-wheel drifts and sliding around, but speeds are relatively slow, and nobody has ever gotten hurt or damaged their car in this type of race.
One year, my daughter (mentioned below) also raced – the yellow car.
So we had two entries as a father-daughter team!
She won first place!
(Red Ghia in the foreground, Yellow Ghia behind it)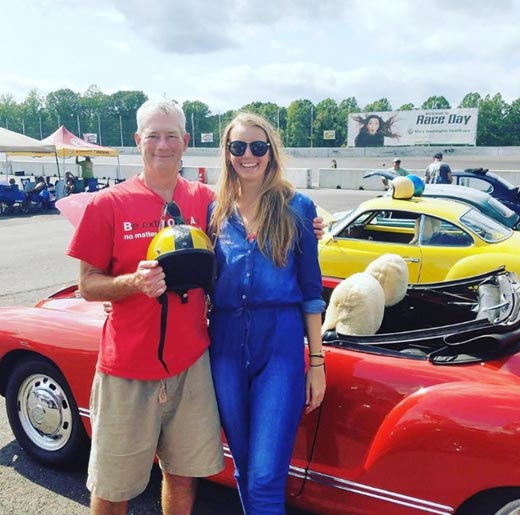 But I digress.
So, on Memorial Day in 2018, I took the red Ghia Racing in the "Slalom" Race around cones in a parking lot.
It is important to note that this particular car was built in 1968, and VW used a rear suspension called a "Swing Axle".
This is the same suspension design that a Corvair has, i.e. "Unsafe-at-Any-Speed" fame.
In this design, the wheel stays perpendicular to the split rear axles rather than perpendicular to the ground, creating something called "wheel tuck".
Here's a pix of the sidewall of my rear tire where you can see the scraping.
Here's a description and graphic: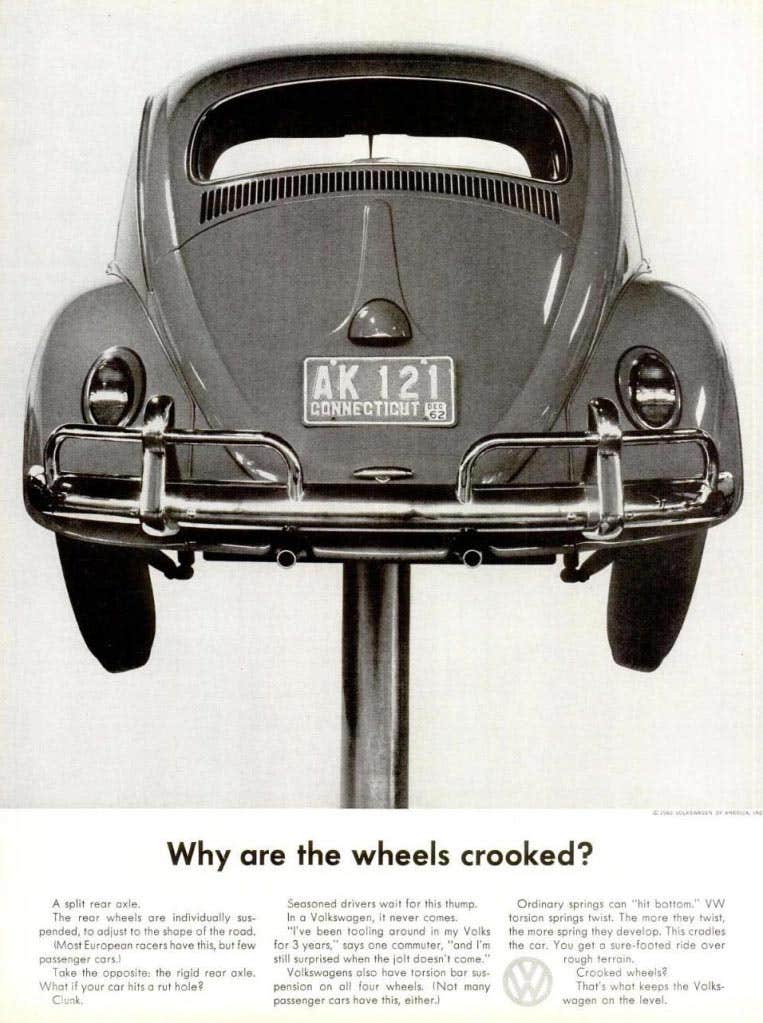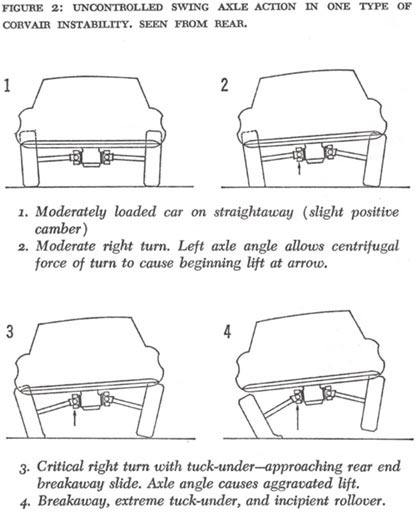 And here's my car doing the dreaded wheel tuck at the race:
Well, that was turn # 4.
By the time I oscillated between several left and right turns, disaster struck.
Nobody got hurt. But my wife almost had a heart attack running across the tarmac.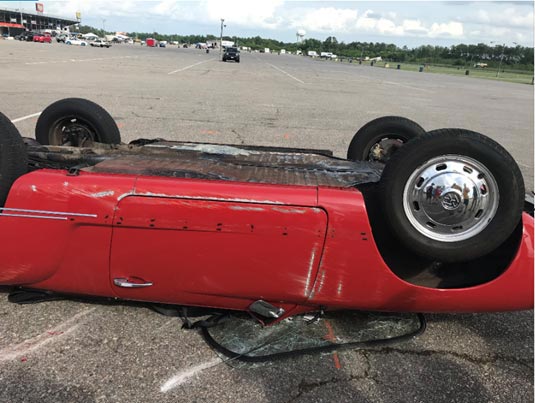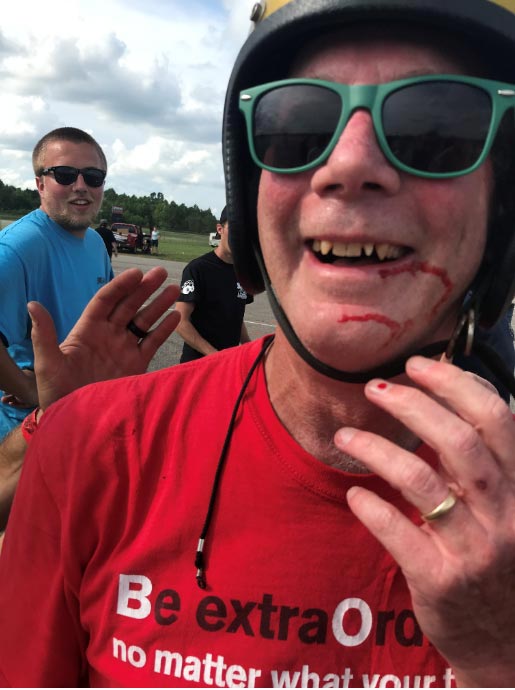 We towed the car to Alabama and had a shop weld in a new windshield clip and bang out the major dents.
Then I got estimates of the final bodywork and paint from between $5-30K.
Ouch! So, the car kinda languished for a while and I worked on the house.
Fast forward to mid-July of this year when my daughter calls to make a request.
You see, she had postponed her 8/8/20 wedding in San Diego (for obvious reasons) but now says she wants to have a "micro-wedding" at our church on the original date. (3 weeks out)
It's complicated, but the groom's parents can't travel, so no guests are invited, just my wife and me in attendance.
Then she drops the bomb.
She wants to take my yellow rusty Ghia on her "mini-moon".
Evidently, my wife's Honda mini-van will simply not do. (again, seems obvious to me, but…)
The yellow Ghia used to be kind of a cool car, (see below) but now it is mostly a rust bucket.
But then I think …..maybe I can finish the very cool Red Convertible Ghia in time???
So, it's off to the "races" (perhaps a poor choice of words) and I sequester myself in the garage for the next 3 weeks.
Bodywork is a very humbling experience.
You either become very proficient at mixing and spreading Bondo, or become a good sander.
I am now the proud owner of hands that are missing their fingerprints.
(Hmm… Let's see, I'm wearing a mask, no fingerprints, need some extra cash….hmmm…)
So, I somehow completed all the bodywork, sanding, removing everything and take it to Maaco for paint.
(Maaco is a cheap-o place in the US to take your ride for a paint job)
Maaco wanted $5,000 to paint the car! That's 5,000 American dollars!!
I couldn't show my face in public if I paid Maaco that kind of money.
So, I told Maaco that I would do it myself, and if it looked like crap, I would tell folks that Maaco did the work!
Back to the garage, more bondo, more sanding, primer, more sanding, more sanding.
Now for paint.
I don't have the equipment or skill to spray paint my car, but I found an ingenious solution on the inter-web.
You can google it, but it is basically called "The $50 Paint Job" (by the way for those math-challenged, that is 1/100th the cost of Maaco!)
(or I could paint my car 100 times with the money I saved)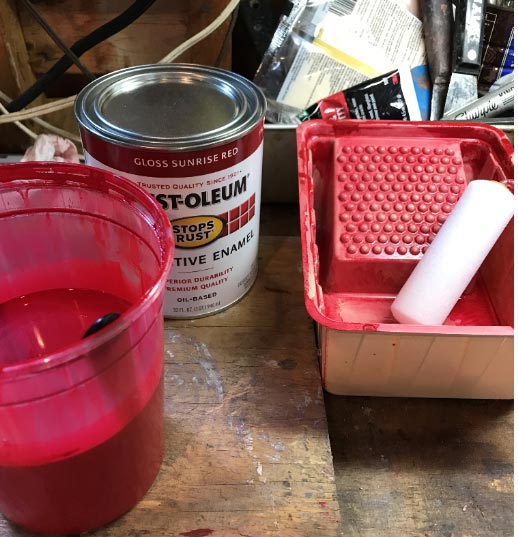 Fifty Dollar Paint Job
Basically, you are painting your car with a roller.
(so for those of you who are counting, that will mean my car gets "rolled" twice…sorry)
The trick is to dilute the paint enough so that it self-levels. Which it does, amazingly.
Also, since it's diluted, it's going to take many coats.
Mine took 6 coats over 3 days.
If you make a mistake or create a paint-drip, you just sand it out and catch up with the next coat.
By 8/3/20 my paint is done.
And it is much better than I expected.
But I still have to install a new convertible top.
New windshield glass.
New dash.
Bumpers.
Lights.
Interior.
Carpet, etc.
Wait, the wiper motor assembly got damaged in the rollover. Scramble to find one locally.
Which I did.
VW folks are very nice.
Finally, it is ready.
Well, ready enough for the Mini-Moon.
Except for wait. The engine won't idle.
Arggg!
Must be bad gas. So, limp to the gas station for fresh gas.
Still no idle.
It's Friday night. Wedding is the next morning!
Argg!!
That night we all go to our favourite local restaurant for the "rehearsal" dinner in the parking lot with a band… including distance dancing.
My other daughter showed up unannounced From LAX for the wedding, so it is really fun.
After dinner, I'm back in the garage to work on the idle.
"NASA was about the scrub the launch during the final countdown!"
I was frantic.
I took out more little jets and cleaned more little orifices than I thought the carburettor could possibly have.
Until finally, at midnight, my efforts worked.
The engine ran great!
Wedding at 10am the next day.
My daughter Jane and her new hubby Joey drove off into the sunset.
Joey's a great guy, but still needs to learn to drive a stick. (Should of made that a wedding prerequisite)
Oh, well, otherwise, he's a really nice guy; and as my daughter says, "trainable".
Perfect for my Masters-in-Electrical-Engineering-daughter, who among other great qualities, is race car driver…. of sorts.