Yesterday (Thursday 22 June) we celebrated Drive Your VW to Work Day 2023, and managed to get even more Volkswagens into the yard outside Just Kampers than normal.
Although originally set up the celebrate the Volkswagen Beetle, the event has morphed over the years and now Drive Your VW to Work Day is a more general celebration of the undeniable joy of hitting the road in your Volkswagen and arriving at work in style!
Loads of the JK Team have got classic and modern VWs, and a lot of us headed into work at JK HQ in our Beetles, T2 Bays, T25s, and more modern Transporters, and even snuck out of work for a bit to have a photoshoot outside!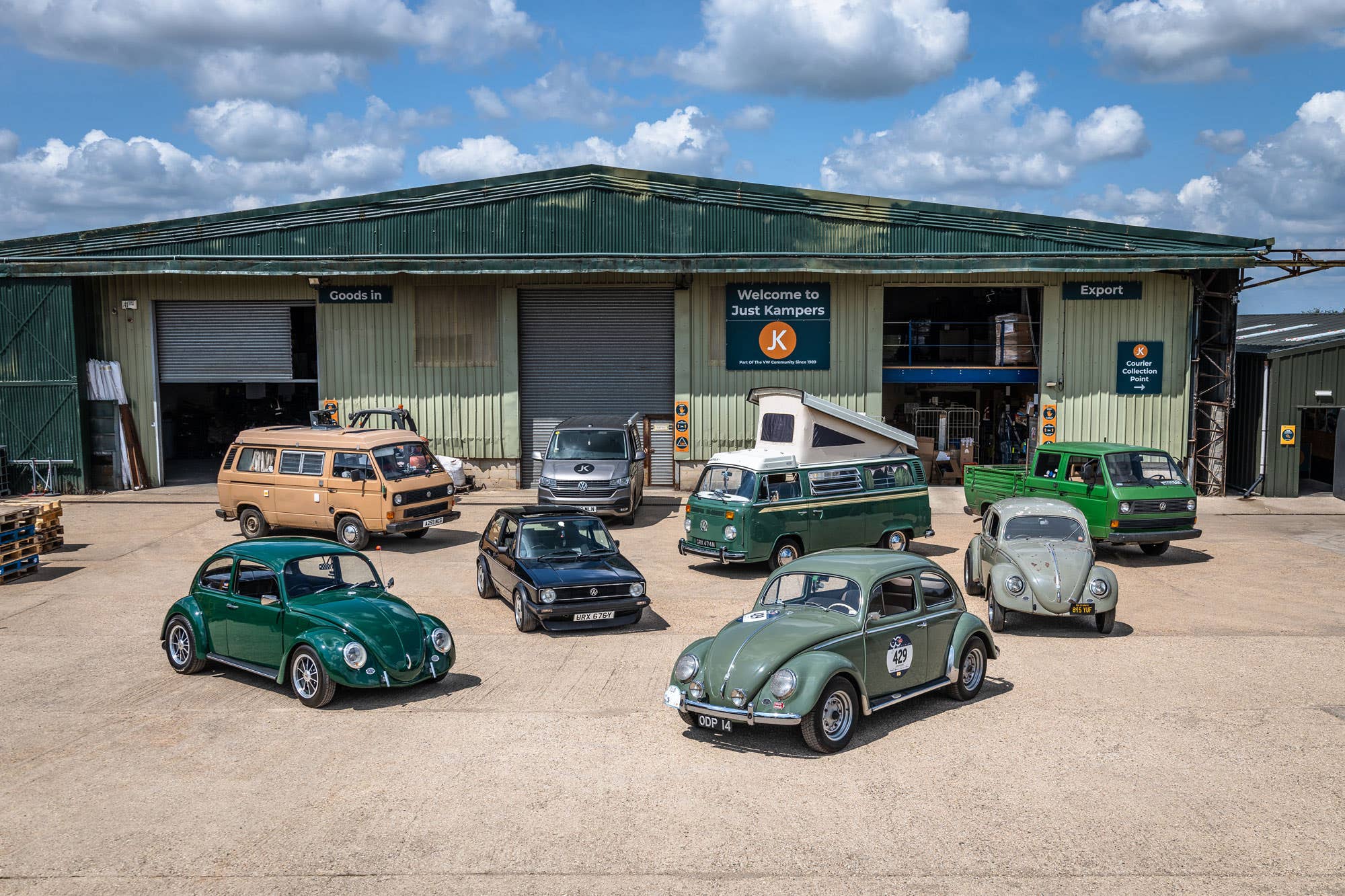 Whose VW is Whose?
Working from the left of the picture to the right, we've got:
Beige 1984 T25 – Gemma Halliday, Purchasing Team
Gemma has had her T25 for years now, and it's a beloved workhorse in her family, which has taken them on loads of camping holidays over the years. In fact, Gemma and her kids will be driving the T25 over the Belgium next week for a few days of European camping.
Green 1969 Cal-Look Beetle – Jason Sims, Marketing Team
Jason's Cal-Looker is named Val, and the pair drive up from the coast to JK HQ and back for Drive Your VW to Work Day, which meant that Jason arrived with an even bigger smile on his face than usual! If you were at Classics at the Clubhouse earlier this summer you'll have seen Val parked up at the JK stand, and might have spotted Jason wandering the show with his family, taking pictures and chatting to people.
Black MK1 Golf - Ian Wheeler, Goods In
Ian (or Weener, as he's known to a lot of you!) has a few VW projects squirreled away around the place, as he's got a lock-up nearby that he uses to work on his Volkswagens. His T2 Bay, Oval Beetle, and Sandrail projects proved too much hassle to move, so he parked his MK1 Golf in the yard for our photoshoot!
Silver T6 - Shaun Kirvan-Cranfield, Sales Director
Shaun's 'daily driver' is a VW T6 which we used to test out some of the camping and conversion products we stock, before they made it to the range. While his T2 Bay will always be his favourite, the modern Transporter has definitely grown on him, and Shaun's certainly put the miles in, using it to travel to different shows and events across the UK and Europe, visiting trade customers, and going on trips with his family.
Green 1974 T2 Bay - Shaun Kirvan-Cranfield, Sales Director
The VW T2 Bay (Doris) which Shaun co-owns with his wife, Caz, was here to have some potential new products tested on it, but Doris looks so cool with her new chrome overriders and stripe decals that we couldn't resist driving her across to join in the photo! Shaun, Caz, and Doris have been all over the place together, and you'll likely have seen Doris parked up at all sorts of different VW shows and events, including Classics at the Clubhouse earlier this month.
Green 1956 Oval Beetle - Josh Reynolds, Head of Marketing
Alright to technically I don't own the Oval, as it's a JK pool car that any of us can use, but I definitely drive it the most and I did drive it to work that day. Plus, I was the navigator when the Oval (dubbed 'Jack the Giant Slayer') did the Mille Miglia in 2017, so I've spent over 1,000 high-speed miles with Jack and we've grown very close! Earlier this month I drove the Oval to Lavenham and back, so you might have seen it parked up there.
Green 1956 Oval Beetle - Chet Barrow, Trade Sales Team
Another green 1956 Oval Beetle, but a very different one to 'Jack'. Chet's Oval is right-hand drive, for a start, and has a 2007cc engine, orignally built by John Walkett.
The engine has a pair of ported 0044 heads, 120 cam, I-beam Rods, balanced bottom end, lightned flywheel, equalizer pully, deep sump and external oil filter, cromo pushrods and twin delorto 40 DRLAs combined with a MSD 6AL ignition, Kennedy stage 1 clutch and AS code GT swing axel gearbox.
It sounds as cool as it looks!
Green 1990 T25 - Tim Halliday, Purchasing Manager
Tim made a flying visit to JK HQ as he had the day off to get his other VW T25 - also built in 1990 - through an MOT. Still, he was kind enough to pass us the keys to his double cab and we parked it up for the photo - why not add one more green Volkswagen to the lineup? Tim has kept the T25 to the original spec, and has a roof tent for it so he can go wild camping - the back still had some firewood and kindling from his last trip, which is now incredibly dry thanks to the sun!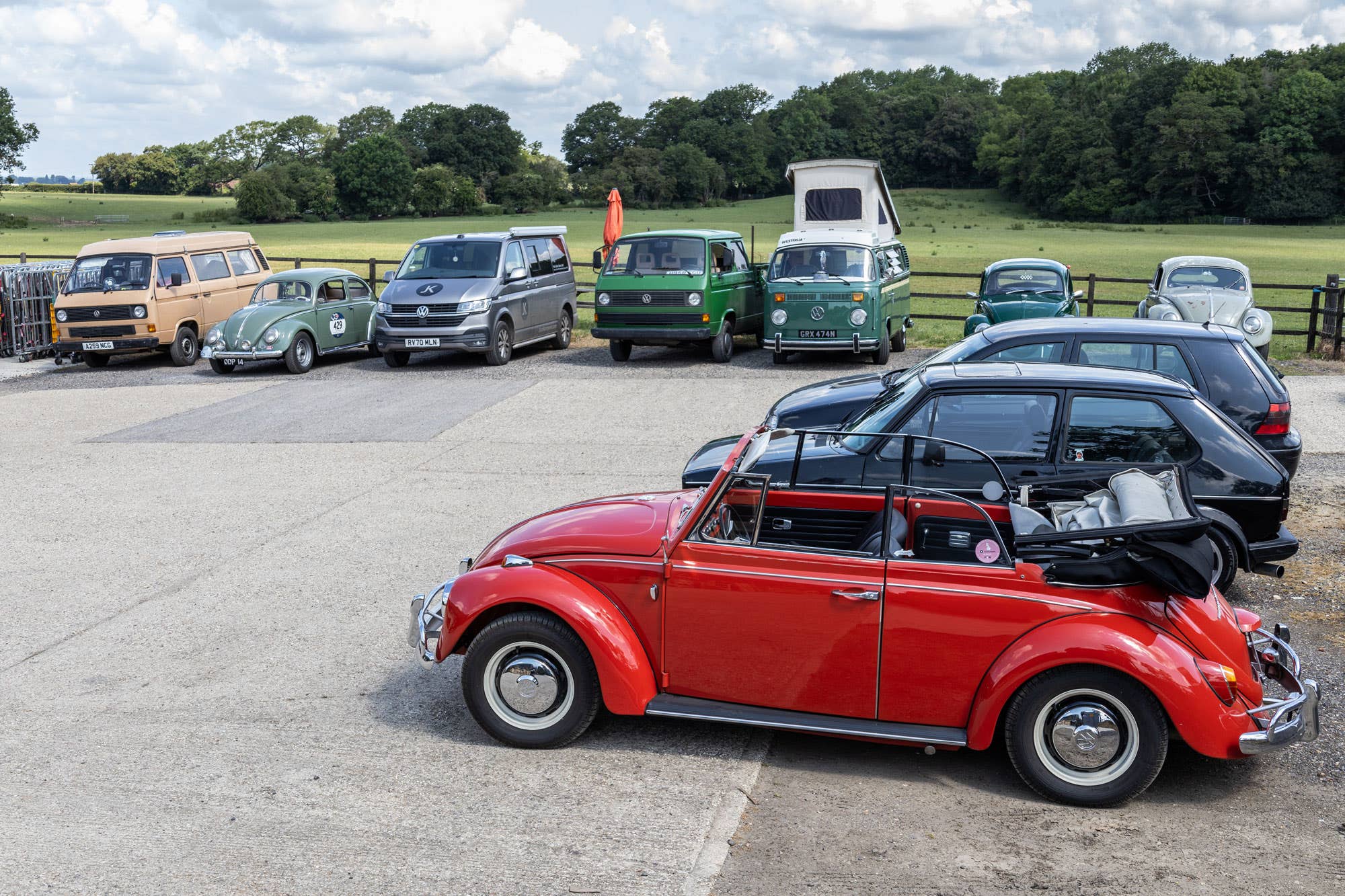 Don't forget Ruby!
Red 1967 Beetle Cabriolet – Mark Reynolds, head of Just Kampers
Mark, who set up Just Kampers back in 1989, dropped by for Drive Your VW to Work Day in his belived Cabrio, 'Ruby'. The two are a couple of weeks apart in age, and Mark takes any opportunity to drive Ruby, regardless of the weather. He had to head off before we laid all the other VWs out for photos, but she definitely adds a splash of colour to an otherwise very green line-up of JK Team vehicles!
Is that all of the JK Team's VWs?
Absolutely not, not even close! Steve Gosling, our Director of Digital and Ecomm, was out for the day, so he couldn't bring in his Beetle, Karmann Ghia or T2 Bay.
Carolyn 'Caz' Kirvan-Cranfield doesn't work on Thursdays, so her 1954 Oval Beetle wasn't at JK HQ.
Ian Brown's 1970 VW Beetle race car was technically at Just Kampers, but it's in dozens of pieces as he's in the process of rebuilding it!
Gemma couldn't drive her Beetle in, as she wanted to bring in the T25 so she could check it over before her trip to Belgium.
Pete Dempsey is doing some work on his 1970 T2 Bay, Betty, so she wasn't drivable on the day.
We could go on, but you get the idea!
In fact, a lot of the VWs which didn't make it in to Just Kampers yesterday were in peices, undergoing restorations, or their driver was away!