Davina The Buggy
For many of us VW's start out as a desire to be slightly different, an opportunity to stand out and make a statement about who you are. At least that's how it starts. Then you find you have a new member of the family who is consistently requiring your cash, time and dedication. They are slightly cantankerous and regularly frustrating but just like family; you would never be without them! You take a journey together, grow up together and they take a place in your heart.
For Lea and Anna Morgan the journey has been much the same!
Introduce Your VW…
Her name is Davina, (rather unappreciated by Anna, who is painfully aware that the BB was christened after Leas appreciation for Davina McCall!). She is a GP Mk2 body, currently running a 1600cc with dual 34ICT's. She sits on 275/60R/15 and 215/60R/15 on Cooper Cobra Tyres.
We bought her in 2004 but took our time and eventually got her on the road in 2007.
Why a beach buggy?
We already have VW's in the family and had been going to shows with my brother and sister in law in their Bay. We've always enjoyed owning something a little bit different so after looking at what was around we decided a beach buggy was the only way to go. We liked the idea of being able to personalise something and make it our own, and, VW's seemed to favour the DIY mechanic so it seemed perfect.
After a few months of looking we settled on this Mk2 SWB GP which we found in Norfolk. Looking back everyone around us must have thought we had completely lost it! The people we bought it from obviously loved it, but it was clearly a fixer upper and sporting a particularly bright shade of yellow, no windscreen and an ever so slightly dodgy fuel tank – more on that later!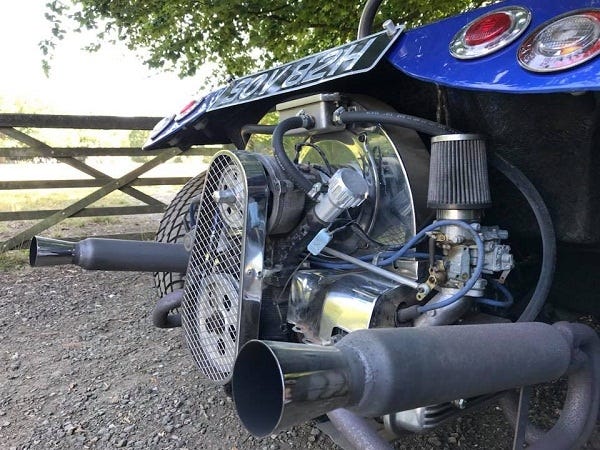 What has the journey looked like to where you are now?
She originally came with 295 and 235 tyres but those coupled with the world's smallest steering wheel rather limited the turning circle so we reduced them down to a more sensible size! Pretty much everything apart from the floor pan, body and seats has been replaced. The floor pan was solid but was still stripped back to bare metal and the body was treated to some TLC and a new colour – it's a Mazda Metallic blue, not strictly in keeping but we love it!
It has been rewired – the wiring was a mess before, it's had new windscreen, bonnet, steering column, chrome tinware, carpets, loads of visual bits for the engine as it's in full view, refurbished beetle speedo and Sunpro dials, new lights, fuel tank, fuel filler cap etc, etc. The list really is exhaustive.
, To be honest, it has been a pleasure to do. We took our time because we like everything to be just so. It's quite difficult to undo something if you find you've cut the wrong size hole or misaligned a dial after the fact!
It's been completely pulled apart and rebuilt properly. Lots of help from friends and family have made her what she is today. We love the attention she gets, and the smiles on everyone's faces as you drive by. Yes she is completely impractical for most of the year but when the sun is shining, there really is nothing better!
Any advice for anyone else looking to buy a Beach Buggy?
Be prepared to put yourself in some very awkward positions during the building process as the access is not great! Possibly some Yoga may benefit you! Also don't expect to get back the money you put in. It's an obsession not an investment!
What are the plans for the future?
Possibly a roof to increase its usability, or, at some point we may have to face the reality that we are no longer a two person family and replace her with something a bit more practical. Ssssh don't tell Davina!
Otherwise we'll be relying on Caz and Shaun to take our son in their Bay whilst we cruise in Davina and have some child free moments...now there's a thought. Maybe we'll keep her after all!
Best and Worst Moments?
Worst moment was driving home the day we purchased her. A journey that involved no windscreen, a massive fuel leak which we only discovered on the garage forecourt as we watched the petrol we put in come running back out as we were filling up and the subsequent three hour journey with a jerry can full of fuel between us. The headache lasted two days after!
The best was the 15th July 2007 – the first time the engine started. It was a long journey and we can't quite explain the joy when she roared into life!
https://www.youtube.com/watch?v=LL9Coy85o6E
We like to say the day she was finished but anyone who owns any type of VW will know that day never really comes!
We've owned Davina for about 16 years give or take. She's part of the family - and probably always will be!
Get A Just Kampers Insurance Quote