Just Kampers
Written by the JK Team
Published 24 December 2021
More from this author
Comfort Food Classics for Winter
The best winter food derives, we think, from the nations who regularly embrace truly wintery conditions. So, when we think cosy winter food our minds take a journey to the French Alps cooked up in the Omnia Stove Top Oven
Nothing says comfort food more than the gooey cheesy goodness of Tartiflette, it's just too good to miss.
Typically eaten with the addition of a green leaf salad, pickles, and charcuterie to make a meal. This is well suited to camper life, with ingredients that are quite forgiving and easy to transport.
Fairly simple – as the best things are – and with a little bit of prep this is an absolute winner on cosy wintry nights in a camper (or at home).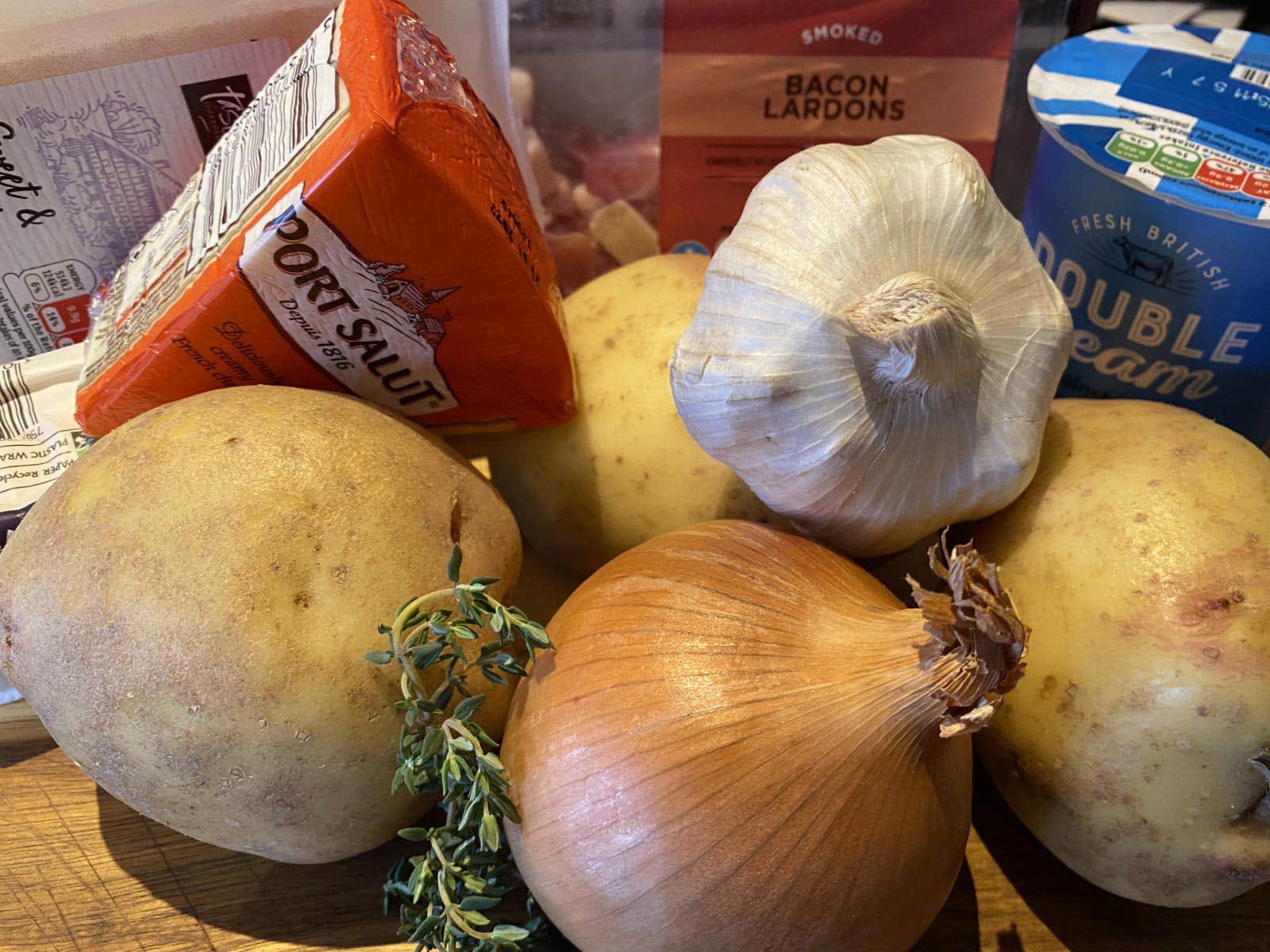 Tartiflette Recipe:
Potatoes 4 large
Onions 1 (chopped)*
Garlic 1 clove (chopped)*
White Wine 75ml*
Bacon Lardons 1 pack/250g
Cream 300ml
Reblochon Cheese 1 4" round (250g+)
(If unavailable- as I found- you can use a collection -or one of- Taleggio, Port Salut, Gruyere or any cheese you enjoy. I went completely overboard with all three! Quantity here is subjective. Cheese Gromit?!)
Salt and Pepper (to taste)
Fresh thyme
Serves: 4 (or 6 when served with suggested additions)
Equipment:
Omnia Stove
Omnia Stove Liner
Pan (You can limit this to one if organised and looking to save on washing up, two if not!)
Chopping Board
Sharp Knife
Method:
(*You could, if desired, separately pre fry the onions and garlic, and bacon, finishing with the white wine and keep in pots in your fridge or cool box to eliminate another step- and cooking odour- ready to use when you are building your tartiflette, but honestly, it isn't at all taxing to have to do this at the time.)
Cut the potatoes into slices and parboil gently for three minutes. Remove and allow to steam dry on kitchen paper.
(Because of lack of space, I stacked mine in three layers with kitchen paper between them – this actually helped when it came to layering- completely unintentional, but it meant that my layers were even without having to think about it! )
In order to ensure I kept washing up and space required down, I used the same pan that I'd used for the potatoes – with a quick wipe in between- cooking the bacon lardons next. Utilise the bacon fat to slowly cook the onions, on reduced heat, to soft and caramelised before adding the garlic and cooking for a further two minutes.
Use the white wine to deglaze the pan and cook until the liquid is much reduced. Set to one side.
Cut the cheese in half and then into slices.
Place the liner into the Omnia and use potato slices to layer with the bacon, garlic and onion mix, cheese and cream and repeat.
Finishing with the cheese layer.
Preheat the base plate for a few minutes and then cook on high heat for five minutes before reducing the heat to medium for about 25/35 minutes.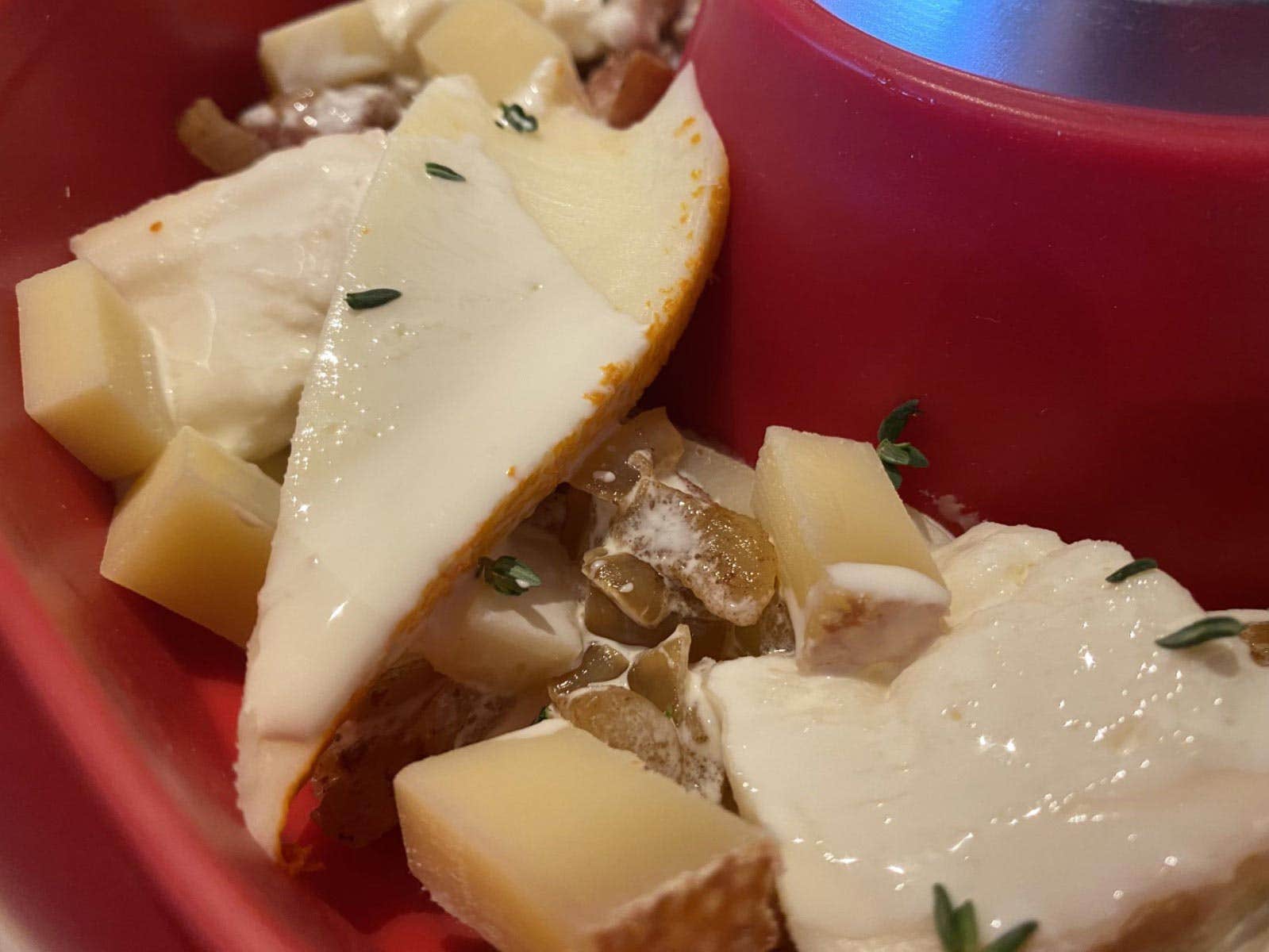 When ready, the cheese and cream will be bubbling and melted and beginning to slightly brown.
Serve as is, or traditionally with the addition of some charcuterie, mini gherkins, pickled onions, and a green salad.
Pair with a glass of the remaining white wine as a further accompaniment.
You can thank us later…
(This also makes an equally delicious vegetarian option with the omission of the bacon and charcuterie options).
My Omnia review:
Having read many positive accounts regarding the Omnia I had high hopes for the functionality of the Omnia. I offered to have a go and see what the outcome was. So, my honest review is this:
I had access to the bundle kit which included the Omnia, the silicone liner, the storage bag, baking rack and thermometer. First impressions were that it's compact, well made and pretty easy to use.
I had set myself a task of cooking two dishes – recipes to be adapted by me to the Omnia. So, it was a proper test - of me and the stove!
I was really pleased with the first recipe – Tartiflette. Which was an unparalleled success and was concluded by the family as yummy enough for third helpings! The second – my attempt at baking a variation on an easy Swedish apple cake was less so. Principally I think because I lost my nerve and lifted the lid too early – the equivalent of opening the oven halfway through your bake. It was edible – my teen son happily ate his way through it - but not in so much as I would share the recipe (without having time to tweak it) here.
I have to say, in both cases, I was really impressed. I'd definitely advocate the use of the liner -it made a big difference to the cleaning up. I loved the thermometer when baking. Didn't have the opportunity to use the baking rack but I can see myself using it with croissants in the mornings. It really does mean that for a small stovetop piece of equipment you have the functionality of an oven. For what it gives it more than earns its small space within your camper.
I also learned the following – be patient (don't lift the lid!), don't overfill it and you need a lower flame than you think!
In short, will I be purchasing one myself – I'd have to say a resounding "Yes". It might be a bit sad but I'm actually looking forward to seeing what else I can cook in the Omnia. I'm looking forward to being the 'Nigella of the campsite', serving fresh-baked croissants in the morning, gooey tartiflette come dinner time and a sticky ginger cake come evening to enjoy round the fire in the evening. Smug? Me? Well, yes, just a little…