The urge to climb outdoors in a beautiful setting, combined with a riverside location ideal for the children to play and spend idle hours listening to the river as it flows gently passed our gloriously positioned camping pitch, provided the impetus for us to make the long (695 mile / 11 hr) journey to La Blaquiere Campsite in Les Vignes, France.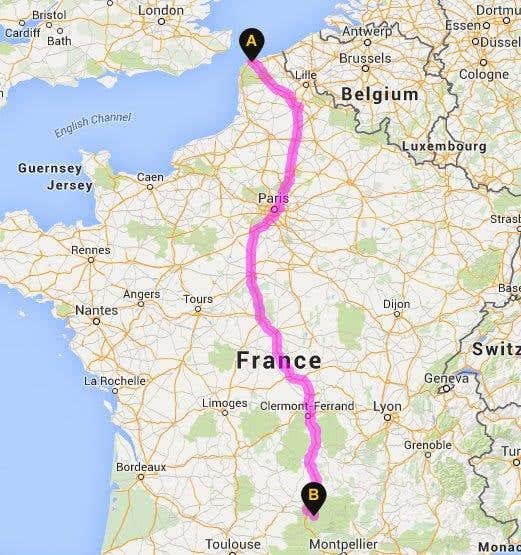 Travelling such a long distance with a young family, (Boy 10 and Girl 7 - who incidentally hates travelling and frequently moans 5 min's into a 15 minute journey!), we knew that this was going to be a challenge!
Despite loving our Bay "Doris" dearly, we felt that such a journey at her pace might be somewhat (for want of a better word) tedious! With only one week to spend at our destination, and a desire to get there as quickly as possible and squeeze as much into the week as we could, we decided that she would sit this one out!
The faithful JK T5.
With the company T5 on offer and the full complement of camping gear, we stole away in the dead of night. Our hope being that the children would sleep the majority of the journey to make it as painless as possible!
With Operation Stack in full affect, little sleep and a long journey ahead it seemed that the odds of a perfect family existence may be a tad unrealistic as we set off rather more like the Griswold's than the Partridge family!
I had put in a bit of extra effort prior to our departure – and if you are travelling with children I'd highly recommend you doing the same!
A visit into town and one of my favourite inexpensive stores I managed to find a few treats / small surprise
gifts that could be utilised on site and also on the journey to keep the kids entertained – these were wrapped and secreted away in the van prior to departure. A quick search on Google also provided lots of lovely free printables to keep them entertained – the most popular being Car Bingo and Consequences! And the very best discovery….Good Backseat Behaviour Reward Tokens! These the children earned throughout the journey (whilst awake anyway!) in a very non-specific manner – which meant that 2 minutes of peace or a kind word between them were equally rewarded in line with an hours good behaviour. Not knowing when to expect them kept them trying extra hard to behave at all times!
They collected their rewards which they could save up to use against bigger surprises or swap a minimum of three for smaller treats. Yes in essence we 'paid' our kids to behave - there's no shame here - it worked and made our journey so much easier!
So, despite Operation Stack, an enforced and completely unexpected diversion that took us into the depths of Paris in the dead of night (we did at one point think we would never make it out!), grumpy sleep deprived occupants and many miles to cover, we made it!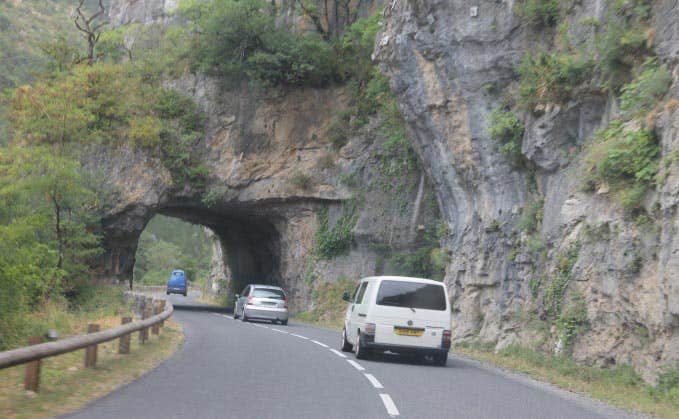 Shaun has driven through Europe many times, but it was my first experience of driving on the 'wrong' side of the road! I have to say I loved it – the roads were fantastic – particularly the toll roads – which cost much less than we were expecting. I will admit to letting out a self-congratulatory squeal of delight on successfully negotiating my first roundabout,to which my 7 year old daughter exclaimed – "Really mum? It's only a roundabout!" (I'm still proud!)
As we neared our destination the roads became smaller and the scenery increasingly dramatic and breath-taking. Rocky cliffs rose up next to us and as we drove through glorious stone tunnels the walls of the gorge grew either side of us and we began to glimpse the beautiful river following the road below us.
We all began to experience that feeling right in the pit of your stomach when you just know that this was going to be a holiday, indeed a place that would become very special to us. The excitement starts here!
Very soon we were at the entrance to our campsite and home for the coming week La Blaquiere http://www.campinggorgesdutarn.fr/index.php/en/
Our experience prior to arrival had already given us an indication of how friendly and eager to help the staff at La Blaquiere would be. When, quite near to our departure we requested to completely change the type of booking we had with them, they went out of their way to help. Transferring our booking deposit across and ensuring that we were positioned close to the group of friends we were staying with. (Thank you Caroline!)
As soon as we arrived we received a friendly welcome, and, although as we were early our pitch was not yet available, we were invited to park up and explore the campsite while we waited.
The campsite is peacefully situated by the river in the heart of the magnificent gorges of the Tarn, in Lozere and I can only describe its situation as truly spectacular.
La Blaquiere benefits from its own private 'beach', there is a small beach bar/restaurant serving simple but delicious food, a trampoline and play area for the children, table tennis, a volleyball court and a small shop in reception selling all the essentials as well as taking orders for the fresh bread and pastries for the following day.
We were situated close to the second of two amenity blocks – the less well-appointed of the two- whilst this might be described as fairly simplistic, it proved to be perfectly adequate and was consistently cleaned to a high standard.
Our glorious riverside pitch was vacated early and we were allowed on to make camp. We definitely did well with the location of our particular pitch – being a motorhome pitch it was a generous size (slightly bigger than the standard pitch sizes although these too were more than big enough to accommodate a van and awning as our friends in their T4 and driveaway awning found to be the case).
After arriving we pitched our ever faithful Outwell Country Road awning. We'd decided that as we were all sleeping in the van (the kids in the Skyline Roof conversion and us below) and that as the T5 already has a Fiamma F45 attached and we intended to use this frequently for shade, we would pitch the awning separately and use it independently for storage of food, clothes, cooking, climbing paraphernalia and an impromptu dressing room….I know,'posh' aren't we?!!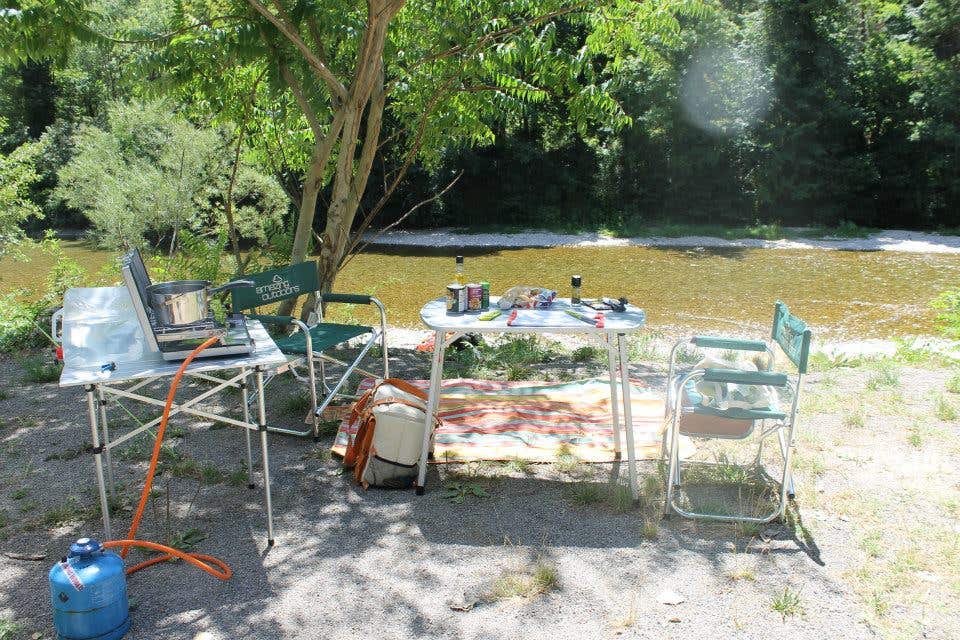 Not a bad location for the kitchen!
Despite being so tired we could barely function (us, not the kids who it would seem had benefitted from enough sleep to be running around like overexcited loons who were just desperate to be in the river!) we managed to get our camp set up quickly and the van unpacked.
While Shaun had a sneaky 5 minutes (aka 2 hour sleep) I kept a bleary eye over the kids as they played in the river and instantly regretted the water soakers which they used with great enthusiasm to soak a weary and rather devoid of sense of humour mum! I'm normally pretty easy going but faced with what felt akin to jetlag, and two overexcited children equipped with water soakers, I was rather relieved when Daddy returned to the land of the living!
An early dinner and an early night were on the cards, allowing us to appear fresh faced and slightly less dysfunctional when the first of our friends arrived the next day!
Guy (Climbing Coach extraordinaire!), the ever lovely Gemma and their beautiful baby Bee had soon arrived in their T4 and were quick to set up camp, and, we were set to explore the delights of the Tarn area. Having already spent the previous week at a different location not so far away tiredness was not a factor for them! (Well outside of the sleeping pattern of an 18 month old in the heat – but that's another story!)
<< Guy and Gem's lovely T4 and Country Road Awning
Over the next few days our group expanded to 18 adults (plus a few friends of friends), 3 kids and Cleo the dog! We were fairly well dispersed across the campsite as only a few of us had booked pitches close to one another, so we were far from that unruly group of friends that become overbearing for anyone close by and we did represent a mixed bag in terms of countries of origin, so it wasn't like an invasion, but we certainly raised the English contingent on site! The campsite along with the area in general is attended by people from all over Europe, but as yet it is a gem relatively undiscovered by us here in the UK. (In fact it's a secret I almost don't want to share!)
Over the next few days our group expanded to 18 adults (plus a few friends of friends), 3 kids and Cleo the dog! We were fairly well dispersed across the campsite as only a few of us had booked pitches close to one another, so we were far from that unruly group of friends that become overbearing for anyone close by and we did represent a mixed bag in terms of countries of origin, so it wasn't like an invasion, but we certainly raised the English contingent on site! The campsite along with the area in general is attended by people from all over Europe, but as yet it is a gem relatively undiscovered by us here in the UK. (In fact it's a secret I almost don't want to share!)
We did spot many VW's whilst we were there, mainly T4's, T5's and a couple of lovely T25's that were on site. I only spotted one bay on our travels – ironically it went passed so quickly that I failed miserably to get a picture!
We came to discover the Gorges Du Tarn after a recommendation and invitation from Guy who described its beauty but also the amazing climbing there was to be had there.
As climbers we found this to be true, with something for all grades, great friction on the rock making it a pleasure to climb on and the beautiful surroundings heightening the sense of freedom.
Being the least able and experienced climber (along with the most anxious!) I had my
reservations about combining our family holiday with a climbing one. I needn't have worried. Somehow the Gorges Du Tarn (and the Gorge De La Jonte – which we also visited for probably my most favourite crag day) were empowering – my anxiety slipped away and I climbed without fear and better than I ever have.
For everyone who went- including our keen 10 year old climber son and our not so keen 7 year old daughter the climbing was amazing and we all enjoyed challenging ourselves at different grade levels.
However not everyone climbs; so what does the area hold for non-climbers…..?!
The scenery as I have already said is incredibly beautiful, the river provides ample opportunities for canoe adventures (these are very popular and the river flows with the constant sound of laughter and the occasional excited squeal of joy from passing canoeists!). We went canoeing with Canoe Le Soulio (www.le-soulio.com) who were very professional and provided an extra English speaking instructor to talk us through the ropes (or paddle!) at the outset of the journey.
We chose the 10km length run as we thought that this would be about right with the 2 children. We all thoroughly enjoyed it! There were enough mini rapids to keep things interesting but nothing too challenging and plenty of moments to enjoy the peace and tranquillity of spots only accessible via boat on the river.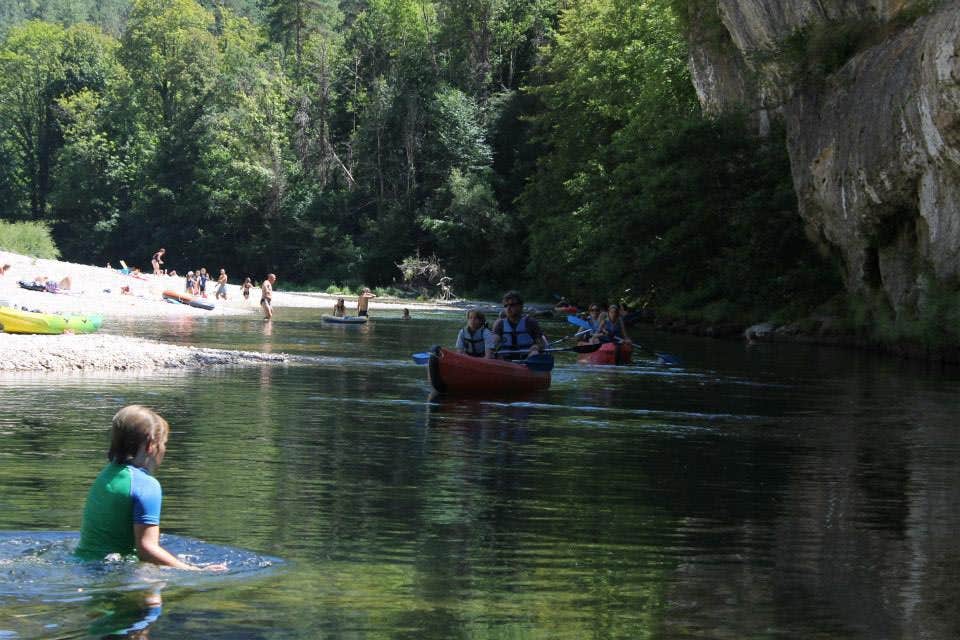 (You will want to take or buy water shoes – for playing/swimming in the river and the canoe trip – the beach/riverside pebbles are beautiful but can be a little painful to negotiate without water shoes….who knew I'd get to wear jelly shoes at my age!)
Beyond that there are hiking and mountain bike trails through this beautiful Unesco designated World Heritage Site, a Wolf park, a Vulture viewing park – the vultures fly free high above the gorge and are spectacular to watch – (if slightly unnerving as they circle above you whilst on the crag – my 10 year old started to question why they were following us on a particularly challenging part of a hike into a crag!), there are beautiful underground caves, gastronomic gems waiting to be discovered….or you could just relax in the glorious sunshine with occasional dips in the crystal clear river to cool off!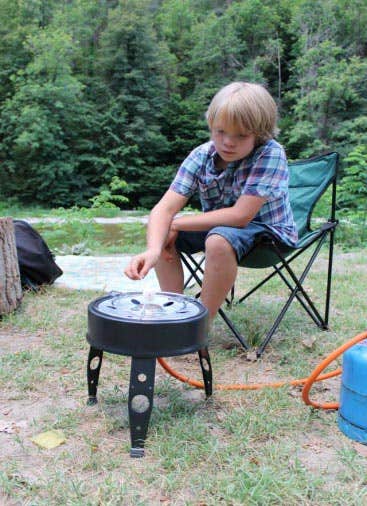 The campsite also has special food nights – which includes a regular weekly pizza night where you pre order pizzas during the day and they are cooked on site later in the day. They are delicious – my only complaint being we should have ordered more!
Other than that our smaller immediate group had co-operative cook -out nights where we all pitched in to help (Floyd on France has nothing on us!). With the aid of our Cadac Safari Chef and a two burner stove we regularly produced meals for us all which included beautiful French sausages; foil baked new potatoes with tomatoes, garlic and herbs in olive oil; baked Camembert with Calvados and fresh baguettes; Mozzarella Tomato and Basil Salad; Foil Baked Nectarines with Calvados and Honey served with Crème Fraiche – and the slightly less inspired but equally delicious Toasted Marshmallows!
As our pitch offered the most space and least intrusive area for those around us it quickly became the hub for our evening cooking activities, evening catch ups, games and chatter. It often rang to the sound of our
daughter's rendition of The Cup Song and impromptu games of "Bee's Asleep, Don't Wake Her Up. Com"!!! (A challenge of balance created by Guy and Gem after a particularly taxing evening getting the baby to sleep!)
We loved everything about our holiday – the people, the campsite, the climbing, and the river; in fact we even stayed on an extra night just to squeeze a little more in!
I have come away with the feeling that climbing people are made from the same stuff that Vdub people are – and that I have gained a whole new group of friends.
We're already planning next year…..maybe we'll see you there!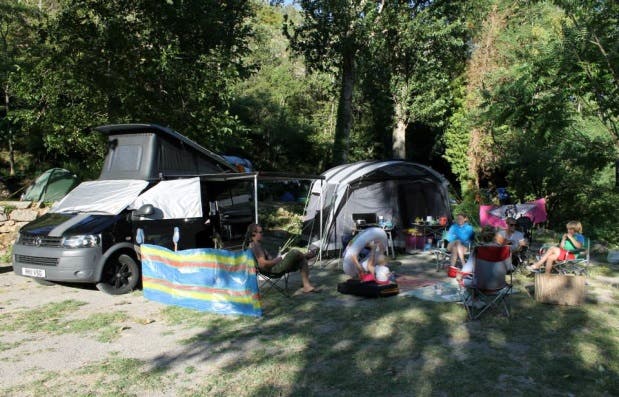 Our Camping Gear:
In this section I detail the camping gear we took and a brief description of how useful it was. I have to say that I would genuinely recommend everything here – we all know that vans (some more than others) do not offer a huge amount of storage space- so everything you take needs to earn its place or be space saving and compact- there was nothing that we took that didn't do one or the other if not both.
Skyline Roof Conversion – Part Numbers J39927 and J40181
The roof conversion allowed us to sleep 4 in the van in great comfort. It's professionally finished and well thought out. It's a bit challenging to get up to the kids at night or help them down if toilet runs are needed! That's not actually a fault of the roof. The ideal solution would be to install a Double swivel seat base, which means the seat can be flipped round for easy access to the roof and make it more sociable if you are sitting in the van when it's parked.
http://www.justkampers.com/t5-roof-conversion-short-wheel-base-fitted-swb-comes-with-standard-white-gel-coat-and-grey-canvas.html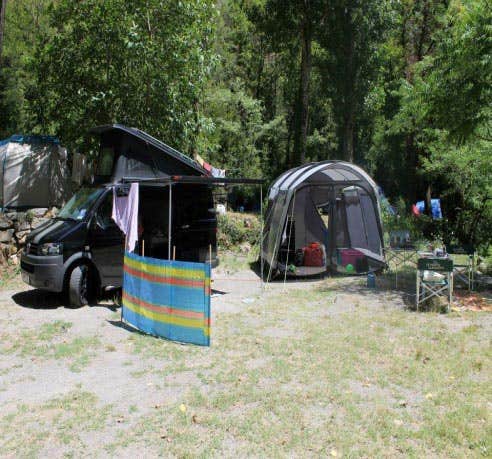 Outwell Country Road Awning – Part Number J17151
This is a personal favourite of mine and I've been a real advocate for them since we worked with Outwell to help them produce their first driveaway awning some 4 years ago now. It functions exceptionally well. We have a first generation one and have used it in all weathers. It has lots of design touches and attention to detail that you'd expect from a quality tent manufacturer and provides lots of space and comfort.
http://www.justkampers.com/outwell-country-road-campervan-awning.html
Outwell Country Road Carpet - Part Number J18049
Yes I know – a carpet in a tent – reeeeeaaaalllly?!?!! Well yes actually. Once you've had one you won't want to camp without it. It offers enough extra comfort to protect feet from stones underneath – a lovely surface for children to play. All in all a great addition and once again one I'd recommend. http://www.justkampers.com/outwell-country-road-awning-carpet.html
Directors Chairs – Part Numbers J12239, J39794, J39669, J39795 (various options of singles/pairs and JK logo or Campershop Logo)
Although the ones that feature in our pics are a much older version and therefore a different colour and logo to this year's stock – they are exactly the same design. We have had ours for a long time and they are just as good as the day we purchased them. The side table is always a very useful addition, the chairs themselves are robust and will last you many years to come as they have us! They might be considered a bit space hungry but you trade a bit of space for a far superior product in terms of functionality and its robust nature.
http://www.justkampers.com/search/result/?q=directors+chairs
Deluxe Table –Part Number J16631
Is a great piece of kit – with legs that slide away underneath it and a carry handle underneath, it is just the right size to be functional but also comparatively lightweight and exceptionally sturdy.
http://www.justkampers.com/deluxe-folding-camping-table.html
Outwell Collapsible Goods- Part Numbers Kettle J29435, Washing Up Bowl J40103, Medium J29430 and J29429 Bowls.
I have to be honest and say that prior to going I had my doubts about this stuff. I had kind of written them off as a bit gimmicky and was a bit concerned about having boiling water in a kettle made out of some sort of plastic! However I have found them to be excellent. The washing up bowl was ideal and took up next to no space at all compared with a non-collapsible one. The bowls were fab for cooking, and also as food and fruit and veg' receptacles, and the kettle was brilliant.
http://www.justkampers.com/search/result/?q=collaps
Campershop Melamine Dining Set Part Number J39670
I love the new set –it's a really quirky cool design and the melamine is upgraded and therefore even better quality than the previous one. Yeap – it's a keeper!
http://www.justkampers.com/campervan-print-16-piece-dining-set.html
Cutlery Set – Part Number J39676
Compact, convenient and with the entire cutlery you need for four dinners its ideal!
http://www.justkampers.com/campershop-cutlery-set-2015-4-person.html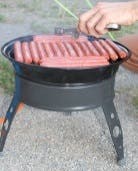 Cadac Safari Chef Part Number J39084
Brilliant bit of kit! It is compact and yet highly versatile. I was a bit concerned prior to going away that it wouldn't be practical for the amount of people and therefore would go unused. How wrong could I be! Highly recommended!
http://www.justkampers.com/cadac-safari-chef-lp.html
Solar Shower Part Number - J17120
A stable van favourite – ideal for a wash up, rinse off and so small to pack- it's one that makes it onto our list every year. Unfortunately they are that popular we have sold out for this year but they will be back again as part of the new camping stock in time for the new season next year.
Tailgate Vent Lock – Part Number J29558
This was one of the most useful bits of gear we took and yet one of the smallest. It allows you to lock the tailgate with a small gap at the base. This allows constant ventilation when in use but prevents access to the vehicle. We used this overnight and when parked on site during the day when we were not with the van. We found it did a fantastic job and allowed those sleeping in the bottom of the van to do so much more comfortably. Happily mosquitoes were not an issue where we were, but had they been I would have wanted to rig a net in place to prevent them joining us overnight!
http://www.justkampers.com/tailgate-vent-lock-vw-t5-2003-on.html
Outwell 12 – 240 Adaptor – Part Number J29147
We already had a 12v electric cool bag that we were happy enough to use but this 12v /24v adaptor meant that we could plug it straight into the electricity supply on site when we arrived. This meant we could keep cool the necessary supplies on the road but also use the cool bag as an effective fridge for our holiday.
http://www.justkampers.com/outwell-ecocool-ac-dc-adaptor-12v.html
European Travel Kit –Part Number J31239
A comprehensive kit containing all the legal requirements for motoring in Europe. Supplied in a zip carry bag it offers peace of mind and we hadn't even boarded the tunnel on the way out before we'd already used the beam adaptors. Try not to leave these bits to buy at the tunnel – they are ridiculously overpriced!
http://www.justkampers.com/ring-european-travel-kit.html
Mains Hook Up Adaptor 2 Pin – Part Number J11850
Some sites in France will provide you with these if you arrive without but others you will not be so lucky. Our campsite was ready to loan one but we were happy to carry our own regardless.
http://www.justkampers.com/continental-mains-hook-up-adaptor-2-pin.html
External Cab Mat T5 – Part Number J15082
We used this to provide privacy at night and to keep the van cool during the day, as well as screening any goods that we didn't want to keep on view.
http://www.justkampers.com/external-thermoscreen-silver-for-vw-t5-2003-2015.html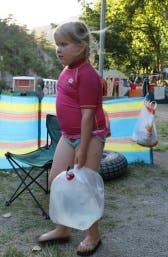 Expanding Water Carrier – Part Number J13570
An oldie but a goodie. Folds so is space saving and perfect for keeping in the van.
http://www.justkampers.com/15-litre-expandable-water-carrier.html
Our Thanks;
Thanks to the "Boss" for trusting us with the company T5 and the opportunity to test so much of the camping gear! We really appreciated it! (We're on for next year?!)
Special thanks go to all the staff at La Blaquiere Campsite- we had such an amazing holiday with you all and could not fault your service or your beautiful site. We were touched at how pleased you genuinely appeared to be when we said we would definitely be returning!
www.campinggorgesdutarn.fr/index.php/en/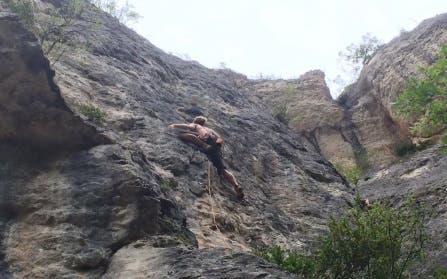 Thanks to Guy Davenport - (Climbing Coach/Instructor) – for getting us "ready for the Gorge!" Guy is a climbing coach working out of the Summit Climbing wall at Surrey Sports Park in Guildford, Surrey. He is one of a handful of coaches in the UK to have completed the highly regarded Neil Gresham Coaching Masterclass and is an amazing instructor. He has been coach to my kids and I (not an easy task!) for the past couple of years.
With his patient rather determined approach, he is able to consistently push you to new heights and have you surprising yourself by what you manage to achieve. I would now actually describe myself as a climber- which believe me is not a description I arrive at lightly!
If you fancy having a go or already climb but want to polish those skills, and are local to the Surrey / Hampshire area I would definitely recommend you get in touch with him.
You can reach him via email guydavenport76@gmail.com
And finally, thank you, to all the gang who made it such an amazing holiday!
Thanks for reading and hopefully enjoying our French Adventure!
Caz, Shaun and the Gang!