Just Kampers
Written by the JK Team
Published 18 March 2021
More from this author
Christmas Quiz 2020
Christmas Quiz Challenge
Board games are out this year so get those thinking caps on and crack out our Christmas Quiz. It is a mix of classic quiz type questions, care of resident quiz master, Lorah and a dash of genius via the illustrative talents of Lucy Inglis in the form of a car quiz. Challenge yourself or family members and see who will reign supreme…
DOWNLOAD AS A PDF
In the song "Frosty the Snowman", who or what made Frosty come to life?
How many reindeer are featured in the poem "Twas the Night Before Christmas"?
In "The Muppet Christmas Carol", who played Scrooge?
What holiday movie sequel includes a cameo by Donald Trump?
How many presents were given in total in the song "12 Days of Christmas"?
Shakespeare wrote a play for Elizabeth I as a Christmas present, which was it?
In which country was eggnog invented?
Which famous author wrote the first-ever Kings Christmas Message broadcast in 1932?
Who banned Christmas carols after the English Civil War?
What colour are mistletoe berries?
Which reindeer name means 'thunder'?
What is Santa called in Germany?
Why was the Grinch so mean?
Which American holiday was Jingle Bells originally intended for?
Which food should you stir clockwise when making to give you good luck during the 12 days of Christmas?
What is the date of the Twelfth Night?
Who plays the Prime Minister in Love Actually?
On which street does a Christmas miracle take place?
Santa hasn't always been dressed in red, which colour did he wear previously?
Which ocean is Christmas Island in?
Picture Quiz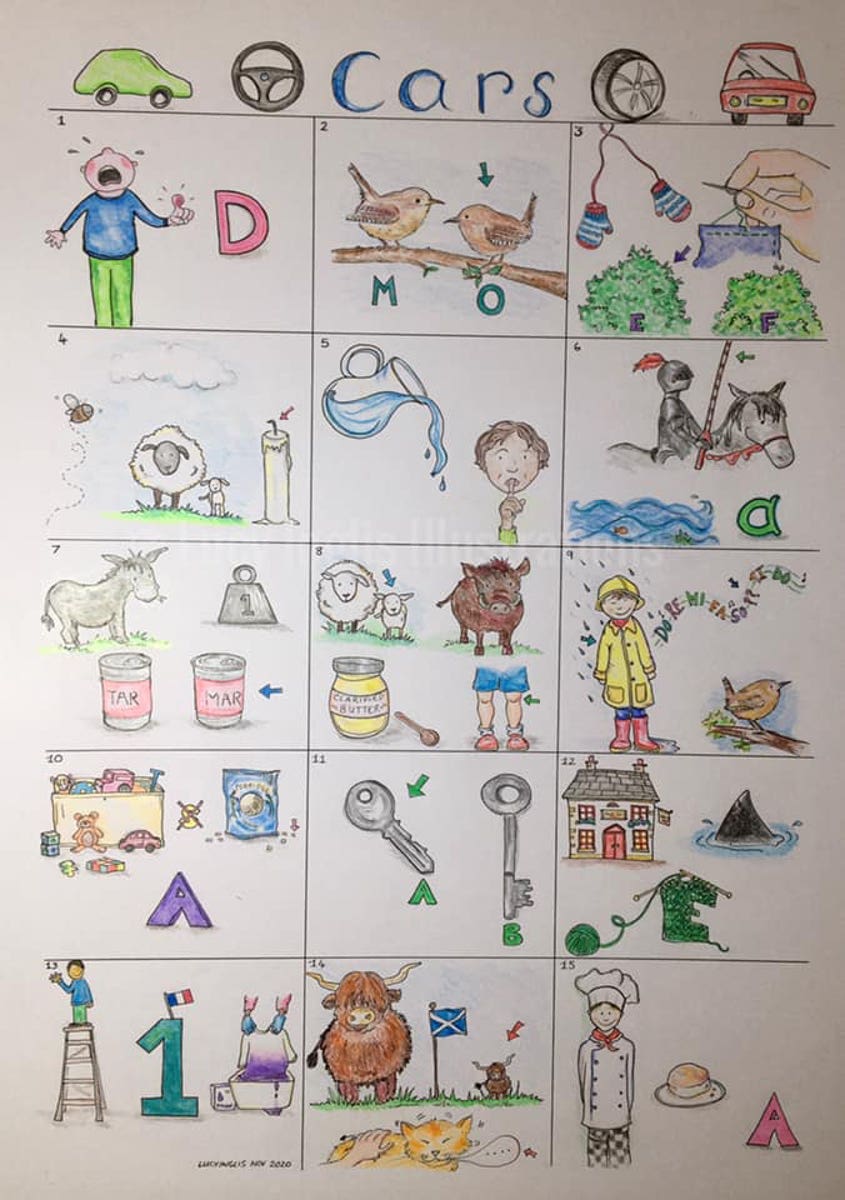 To enjoy more of Lucy's illustrative quizzes, visit her FB page or www.lucyinglisquizzes.com
Thanks to Lucy for agreeing to share the quiz with us!
Scroll down for quiz answers…
Quiz Answers
Old Silk Hat
8
Michael Caine
Home Alone 2
364
The Merry Wives of Windsor
England
Rudyard Kipling
Oliver Cromwell
White
Donner
Kris Kringle
His heart was two sizes too small
Thanksgiving
Mince pies
5th January
Hugh Grant
34th Street
Green
Indian
Picture Quiz Answers
Audi
Renault
Mitsubishi
Buick
Porsche
Lancia
Aston Martin
Lamborghini
Mclaren
Toyota
Kia
Infiniti
Hyundai
Mini Cooper
Chevrolet